The journey continues :) After the Watson Bra success I decided to make some swimwear from that pattern, too. I mean, I really like the shape and I knew it would fit me well,so why not! The sewing process was quick and not that hard. I bought some swimwear lining, which is super elastic and thin and a metal closure. The widest one I could find was 25mm wide, so I had to redraw the centre back of the band, which is a lot wider, as I decided to sew the Watson Bra variation with the wide band.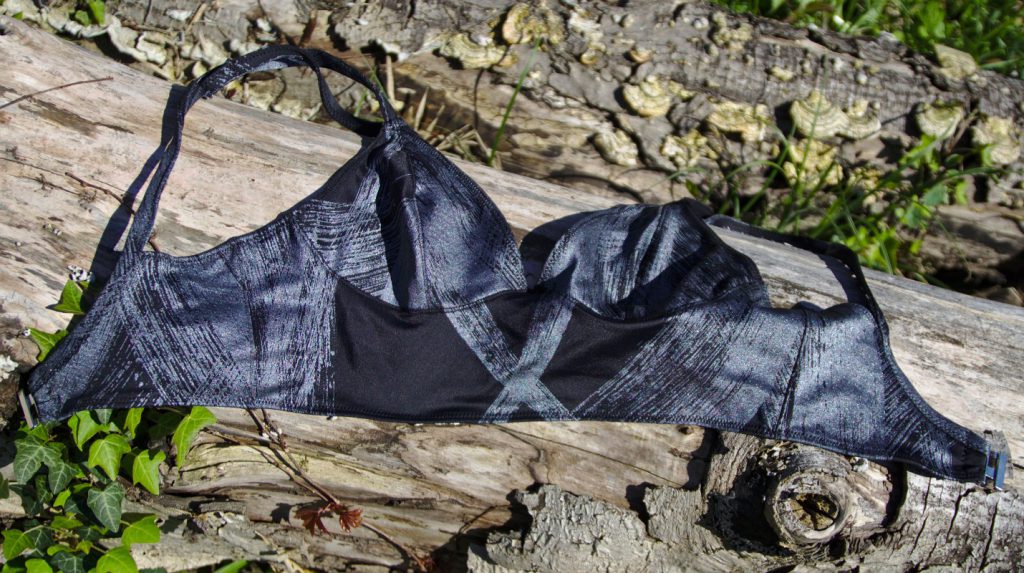 Instead of all those elastic you use in bra making I used swimwear elastic. It really smells like it's elastic and feels like an inflatable mattress and so always encased it somehow so that it won't touch my skin directly. I simply attached the rubber band, turned it to the inside and stitched over that part again.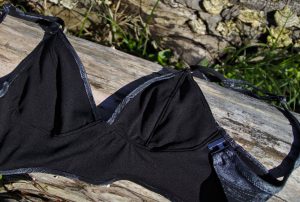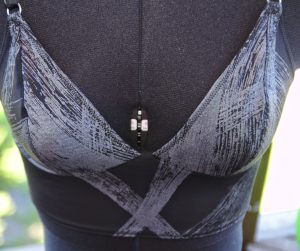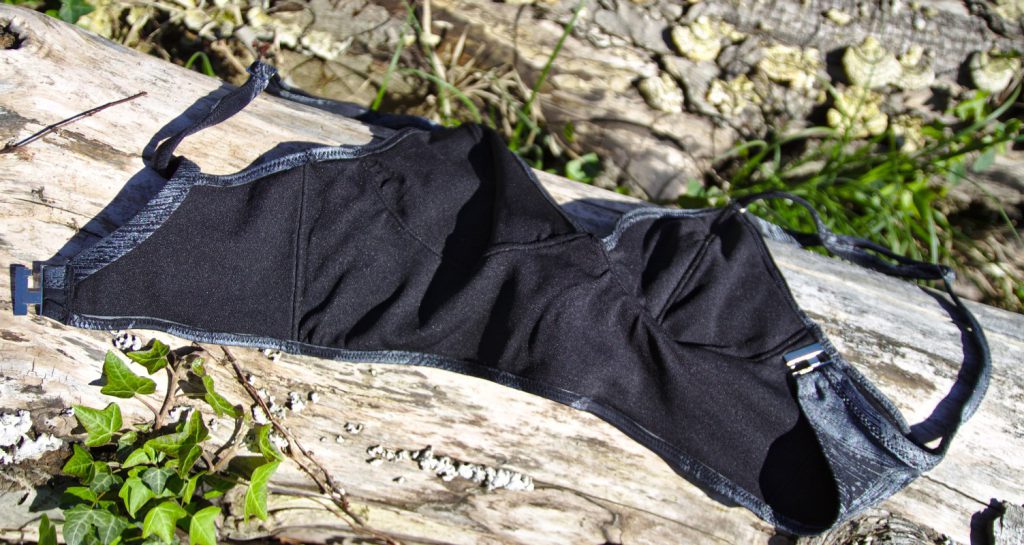 I used the swimwear fabric to make the straps. To keep them from stretching out I applied the swimwear elastic to the inside of the straps, too.
I bought the fabric on ebay a while ago. I bought a whole bunch of swimwear fabric. This is great to save money, but most of the fabric aren't really my taste. I'm not been sure if I would have bought that fabric if it hasn't been part f a bundle. Because, well, it is black. But on the other hand there is silver glitter on it! That's a definite pro!
I also sewed to matching panties. The pattern I used for the first one is that included in the Watson pattern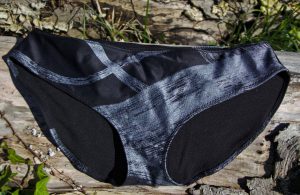 and the second one is made with a pattern that I hacked myself. Basically it has more hip coverage and no side seams but diagonal seams at the front and the back.
What can I say? The Bikini fits me perfectly and I really like the coverage it gives. Usually my swimwear covers way less of my body.. I think I might be getting old ;)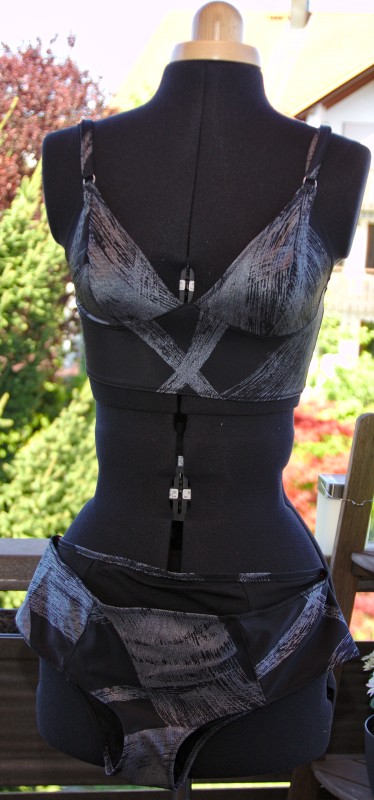 Bt that was an easy victory. I mean I don't have anything against easy visctories but it still bothered me that I couldn't get those underwired bras to fir my body. The easy victory and Carolyn's beautiful versions of the MakeBra DL03 finally gave me the motivation to give underwired foam lined bras another chance. I could have made another Boylston Bra, but I had problems figuring out what the problem is with me and that pattern and more important I don't really like the shape of the cups. Also I hadn't abandoned the hope for a a pattern that simply fit me personally better. And I have only read good things about MakeBra and that pattern in particular. Plus I really like how the seams of the cups of that bra run and its overall look.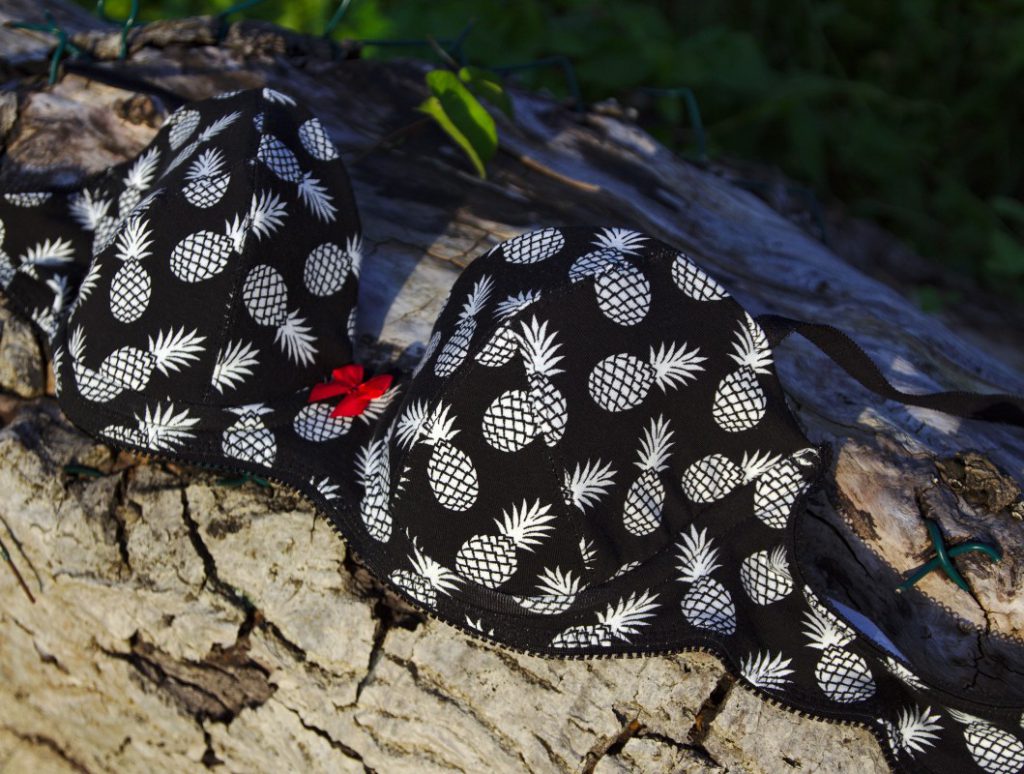 So I had enough reasons to justify buying another bra pattern. I ordered it on a Saturday and wanted to start immediately. I thought that wouldn't be a problem, because the patterns are sold as PDFs. I didn't see any hint during the ordering process, that the pattern is sent to the buyer 'by hand', meaning that someone of the sales team sends you an email with your pattern. And as on Saturday no one works at MakeBra, I only got the pattern on Monday. I mean it cannot be  big problem to work with an online store that does that automatically. And it must be even less of a problem to give people a hint that they won't get their patterns before Monday if they order at the weekend. I could have ordered on Thursday or Friday, if I had known.
You can buy the MakeBra pattern either in one size or in three sizes. Three sizes then cost the same as two sizes bought individually. But you cannot pick those 3 sizes. You pick your size, they send you that size plus one size up and one size smaller. So I don't really see the sense in buying three sizes. You could just buy one size. If it doesn't fit you you will know if you need one size up or down and then you can order that one additional size. So worst case is you pay for to sizes, which is the same price as three sizes, best case is you only have to buy one size. It would only be reasonable to buy 3 sizes if you could choose those three sizes. You could then use the pattern to make that bra for someone else or whatever.
I think it is hard or even impossible to sew a quick test bra. You will always need to attach the underwire chasing, the underwires, the band, the closure. And thus I simply made a bra whole bra from a  leftover fabric that I don't have strong feelings for. I really liked about the pattern that the band is full and you sew it in one step. You don't even have to line it with powermesh and I didn't. I ordered size 70C, and usually I wear a 65D, but for the trial version I decided to leave the band as long at it is in the pattern.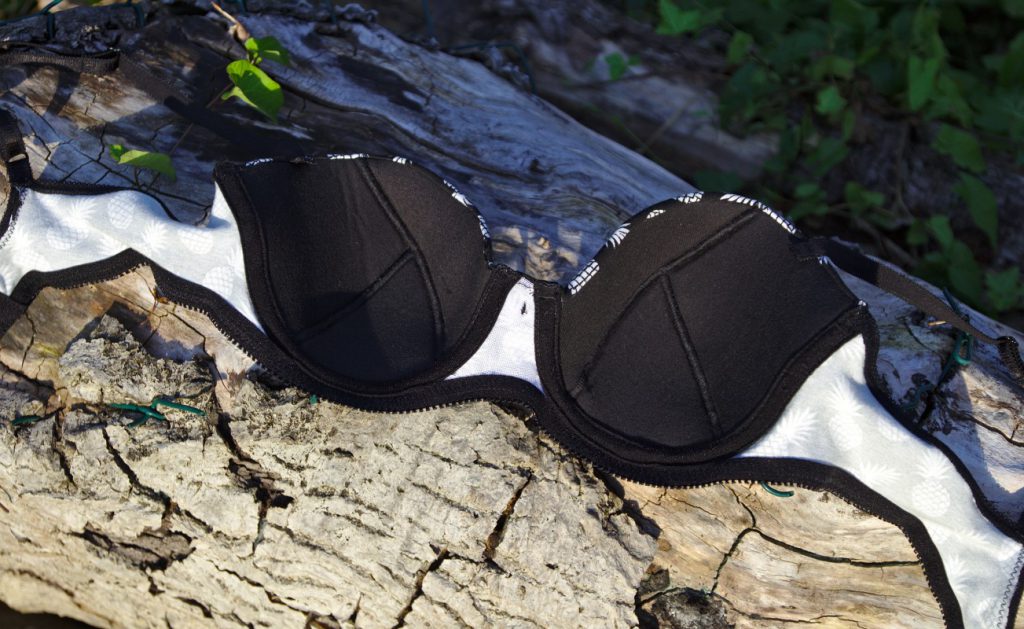 Also it is nice that this bra has pattern pieces included for the foam lining. The Boylston bra didn't have these as it wasn't designed to be lined with foam. As the pattern calls for fold over elastic at the top of the bra the pattern pieces didn't ahve seam allownaces included at the top. But I didn't want to use fold over elastic and so I simply added seam allowances at the top but not for the lining pieces.
There is a video by MakeBra on how to sew a similar foam lined bra and there are instructions on how to sew a bra with a full band. Both instructions are not for this specific pattern and you don't get a set of instructions wit the pattern. You only get the pattern and you will have to work with the instructions I linked up. They are both not that good, as seams to be normal with bra making instructions. I had problems assembling the cup as there was one piece without notches or anything and I couldn't figure out which side goes where. I think that all pattern pieces are labelled on the right fabric side. Also there are no tips on the stitch properties like length and width and such.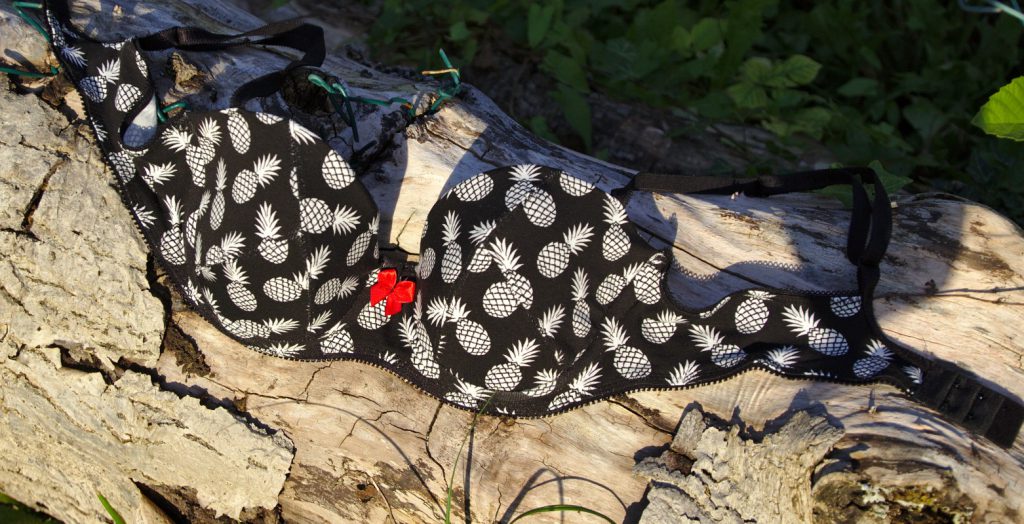 Well, as you can see I made my way through ;)
The band was too loose, I already had expected that. The underwires however felt much more comfortable and right fitting as in my previous attempts. That's because I put more thought into picking them. Befor I simply bought some underwires for my bra size not beeing aware that there are a lot of differnet types and shapes of underwires. This time I printed out the 1:1 drawing of the underwires that the pattern calls for (you can find that drawing here). I took that drawing and held it over 1:1 drawing of the underwires of a shop that sells bra making supplied in Germany (sewy fyi) and decided to go for these. Et voila, the fir is much much better!
What didn't fit was the top of the cup. There was way too much free space there. I had this problems a couple of times now. Ether the cups cut into my breast and make them look like there was 4 of them or there is too much free space at the top. And then I remembered that when I measured my bra size a year ago. and I mean really measured it with laying on the floor bending over doing crazy things, my measurements suggested that most of the volume is located at the lower area. I did all this measuring with the help of a German webpage. It was also said there that it is advisable with kind of breasts (how does that sound?!) to wear bras that don't go that high to prevent gaping! Ahaa!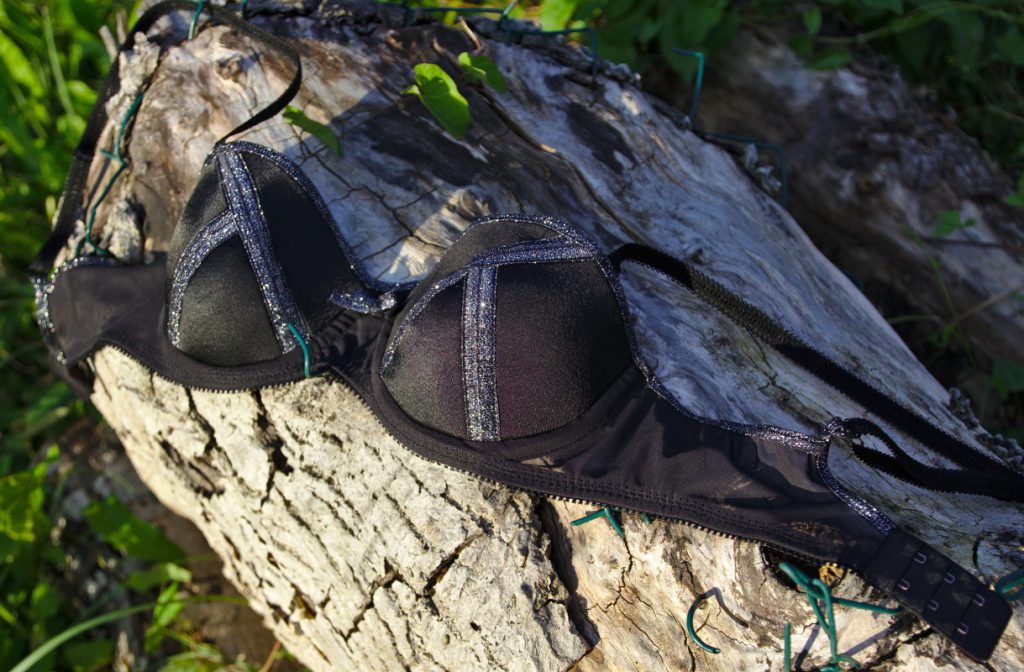 So and now let me tell you about the one crucial detail that makes this pattern way better than the Boylston Bra for me: there is a seam that runs through the top of the cup! So the only thing I had to do to get that gaping under control was to take in that seam. Super easy!
I made a second version to test my alterations. I wanted it to be really quick and so I simply hid all the seams under some silver glittering fold over elastic that I bought in Iceland. Looks a little cheap BUT also pretty cool and so much fun to sew! ;) And the best thing is that the cups are fine now, wooohooo! I also shortened the band, and I like the length.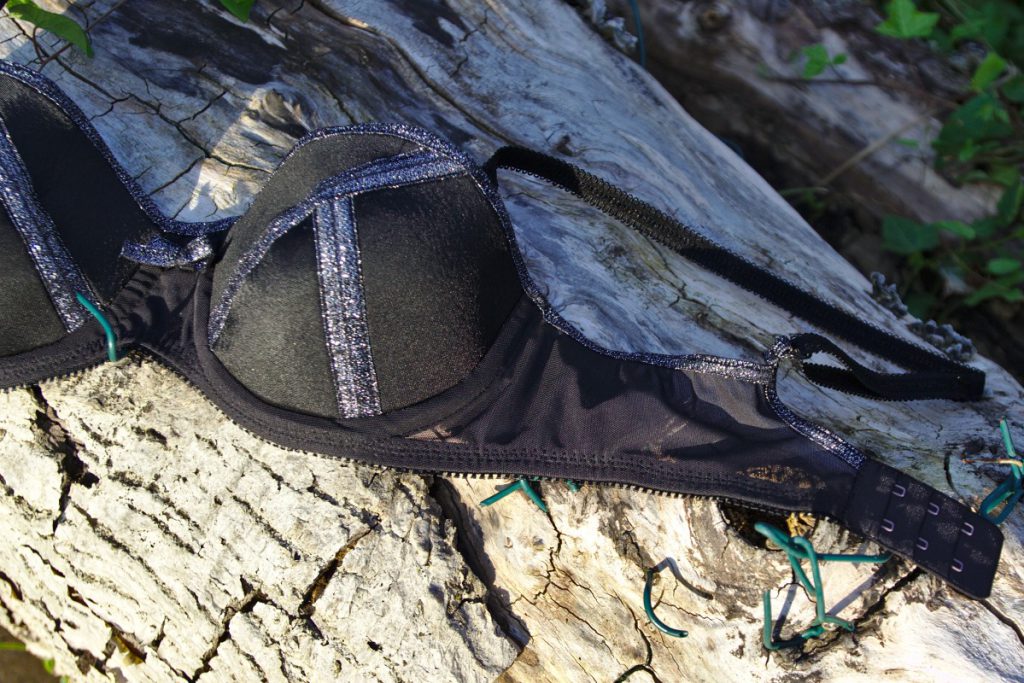 I wore the bra a couple of times now. I wouldn't say that it is perfect and super comfortable. I still have some issues BUT it doesn't sit worse than my rtw bras which is a huge step up. The main issues hat remains is that the wires press too hard against my ribcage at the top but at the same time the band is too loose at the bottom. All the pressure thus is distributed only at the top of the wires and that is uncomfortable. I think the problem is the way th bridge is shaped, I think I simply have to take out a little at the bottom of the bridge and I'll be good.
I ordered some laces and fabrics and supplies, I'm soo motivated right now! I want to get this done! Sewing bras is so much fun and sooo much more fun than buying them!
Also also sewed some matching panties. I used the Seamwork Magazin Geneva pattern. I don't like sewing panties, but I also don't want to buy them plus it is super grown-up to have matching underwear. ;)
I hope it won't be long until I'll show off some more bras ;)
Macht's gut!
Katharina