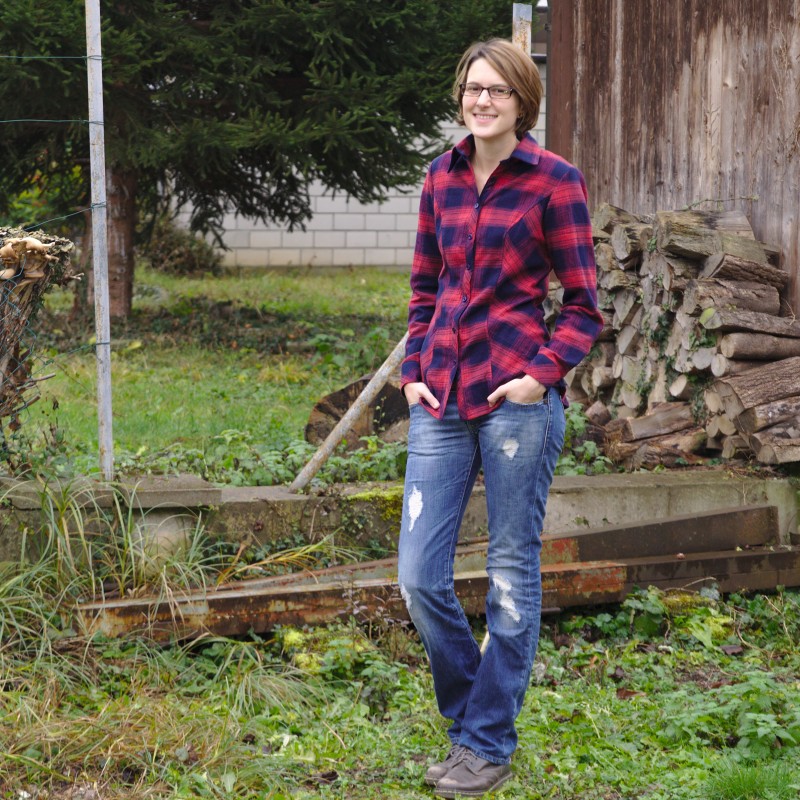 After finishing the dress I showed last week, I decided that now was the time to sew something foolproof. And something fun. Ans what is more fun than making and wearing a flannel plaid shirt? I love sewing shirts, I love working with woven fabrics and what I love the most is cutting plaid on the bias :) And another plus: flannel feels great against the skin. To me flannel shirts are secret pajamas :)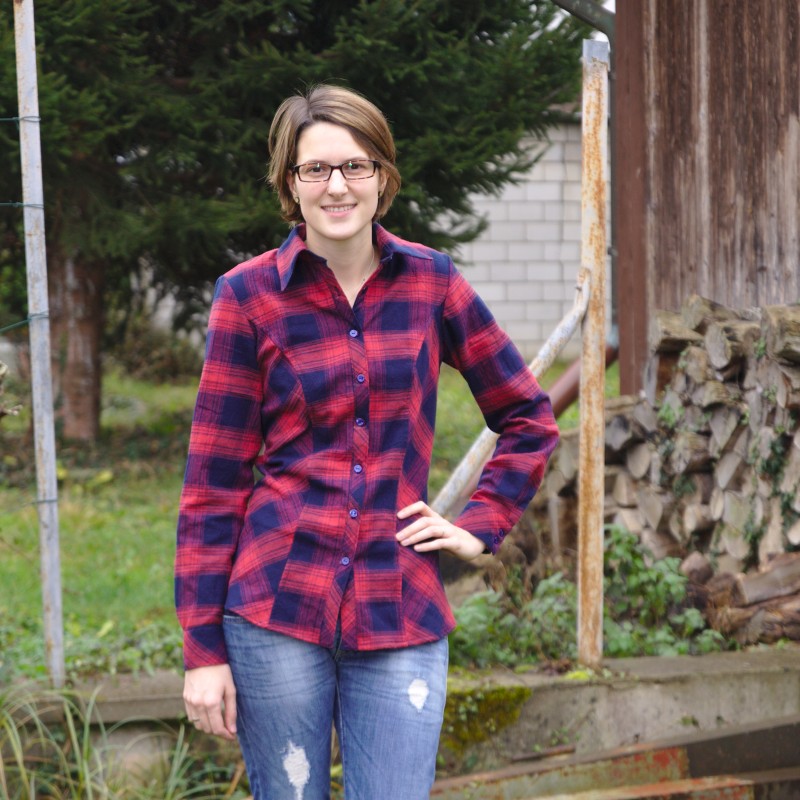 To keep the risk as low as possible, I chose to give my favorite shirt pattern Butterick B5526 another try. I was inspired to try this this pattern by Lauren aka Lladybird . It took me a little to get the size right and since them I have made several shirts from this pattern. I like the fit, especially the fit of the sleeves. The arm scye is wide without looking too wide and I can move freely in my shirts. I also like how the sleeve cuff placket is done, it is by far the simplest and easiest and thus cleanest method I have tried. Another feature that I like is that there is a collar and a collar band. Looks nicer and more professional to my eyes.
I bought the fabric on a fabric market. It is 100 % cotton flannel but it is quite light. I'm not that convinced that it will endure very long and I mostly bought it because I liked the colors. I'm trying to buy more high quality fabrics but its fabrics like this one that are very hard for me to resist.
Like I wrote earlier I cut some pieces on the bias, namely: the side panels of the back and front, the cuffs and the button plackets. I usually also cut the collar and collar band on the bias, but in my experience the effect kind of gets lost because of the shape of the collar and because the collar band is hidden most of the time. So to save some fabric I cut those pieces on the grain. I usually need about 1,30m of 1,40m wide fabric to make this shirt. This time I had 2m and used maybe 1,80m of it. The side panels produced a lot of waste fabric.
Most of the seams are flat felled. I'm not that good at making those. I had some troubles wit them in the past especially when making jeans and using topstitching yarn, because that meant that I had to sew on the right side not seeing the flat felled seam. Because I didn't use topstitching thread here I could sew the last seam from the left side of the garment which made the whole process a lot easier.
I didn't flat fell the sleeve seams. I don't think that is physically possible. But I sometimes read that someone flat felled all the seams of the shirt she has made and I ask myself if she is saying nothing about the sleeve seam because it is obvious that it cannot be done flat felled or because it is possible but I cannot see it. So if you know more than I do, please let me know. Because I didn't want to rethreaded my serger for these two seams I made them both french.
When question arose whether to flat fell the armscye seam or not, I took a look at Carolyns Tutorial and decided to make french seam here too. Because: they are a lot less work ;) I really don't like making flat felled seams, maybe I should buy this special presser foot.
I didn't sew anything by hand. The instruction did tell me from time to time make a slip stitch here and there but I simply ignored that, pressed really good, pinned even better and topstitched the collar and the button plackets from the right side with my machine, catching the opposite layer in this step. I'm not always successful with that. Sometimes I redo whole seams, sometimes I sew the part that wasn't caught by hand.
The buttons are from my stash. I have a huge stash of dark blue buttons, because I always need them, because I sew a lot of blue and red shirts ;).
During the process I was unsure whether I might have overdone it this time with the plaid on the grain cutting. But now I really like the effect. No question: this shirt was what was missing from life/wardrobe ;)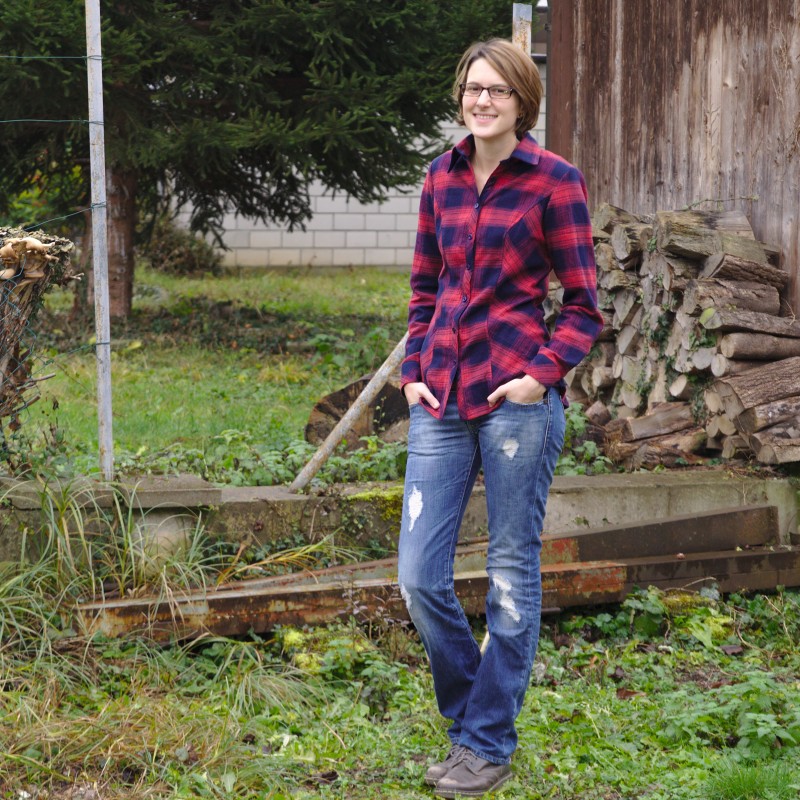 And that is it from me today. I wish you joyful holidays, and relaxed Christmas!
Macht's gut! :)
Katharina