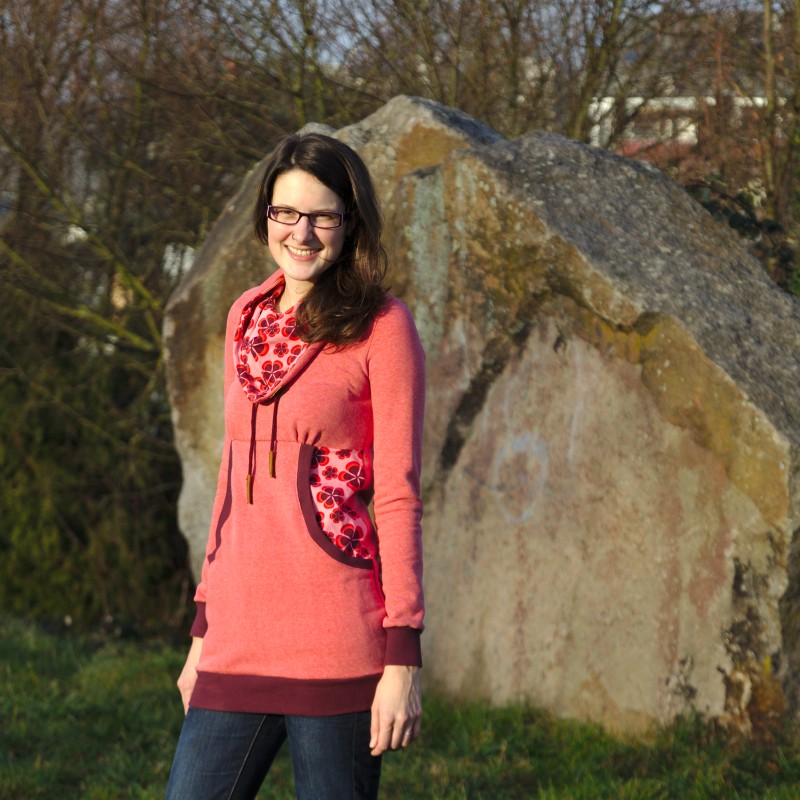 Winter's become cold here! And the sweatshirt fabric's become inexpensive. Those were two of the main reasons why I sewed another sweater. I have to kind of force myself to wear dresses when I ride my bike to train station and I thought it would come handy to have one more sweater. I decided to go for a pattern that is famous, almost holy amongst German sewing bloggers. It is called Martha! And made my Milchmonster.The main attraction of the patter is that you can make it up as a breastfeeding friendly shirt. And that is kind of the reason why I didn't try the pattern earlier. When I see one of those sweaters it makes me think of breastfeeding. However I always thought it looked nice. The different fabrics make it look handmade in my opinion, but thaht isn't always bad!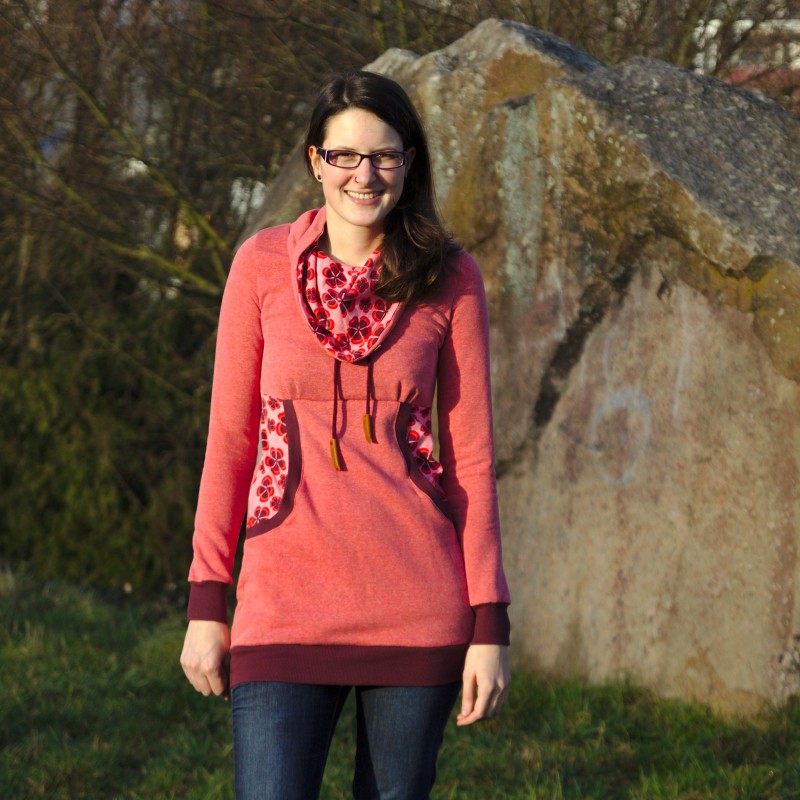 I bought the fabric at a fabric market in Mannheim. It was a total disaster because it was so full of people and I had real troubles finding a parking space. So I decided I had to make good for that to myself by buying tons of fabric, hehehehe. I bought this one for 12 €/m which is fine as it was 1,60 m wide and I could squeeze this one and even another sweater out of it.
The knit fabric with the flowers is also from the same market. I realized at home that they work great together. I bought the ribbing here in Karlsruhe as well as the drawstring.
I sewed size 36. At this point I might tell you that this again is a German pattern, I'm sorry. But I wouldn't recommend buying it even it is was written in English. My troubles began with choosing the size. For an hour or so I searched for the sizing chart. There is none! Instead the designer (who claims to fit sizes 34 to 40 in rtw clothing) instructs to fold a fitting rtw tshirt like a butterfly and see if it matches the seam lines of the pattern. Afterwards she apologized that folding a shirt like a butterfly sounds so confusing.. Why on earth didn't she just add a sizing chart? The sweater doesn't fit me absolutely right. The shoulders are too narrow which leads to slightly too short sleeves.. I should have folded a tshirt… ;)
This wasn't by far the only the only bad thing in the instructions and pattern. There are no notches on the pattern pieces. Instead the designer recommends to mark the right and left sleeve with sticky notes. The shoulder seam lines of front and back aren't the same length in the pattern and the back is much narrower than the front and I don't know why. Another thing is that the sleeve ribbing is sewn on in one layer and the lower edge is left unfinished. Why oh why?
What I don't understand is how so many people have tried this pattern and were satisfied with it. It has been tested and all. And no one reported about those issues? Why not? Am I the crazy one?
Well those German patterns are often different from the English written ones. There are no seam allowances included, the instruction are less elaborate and the pattern testing is a farce. It is more about advertisement than about improvement. But this pattern really tops them all of.
The collar shaping is peculiar to me too. It looks like a napkin to me. But well that is a question of taste I guess.
I lengthened the pattern, nothing unusual there.
I stabilized the drawstring holes with some leather bits and I also encapsulated the end of the drawstring with it.
This was a really nerve wracking project and I didn't have much fun during the process. I won't recommend the pattern and I won't sew it again. Nevertheless I like the finished product. Doesn't fit perfectly and the collar is peculiar but the fabrics make good for that and it really is comfy I tell you that!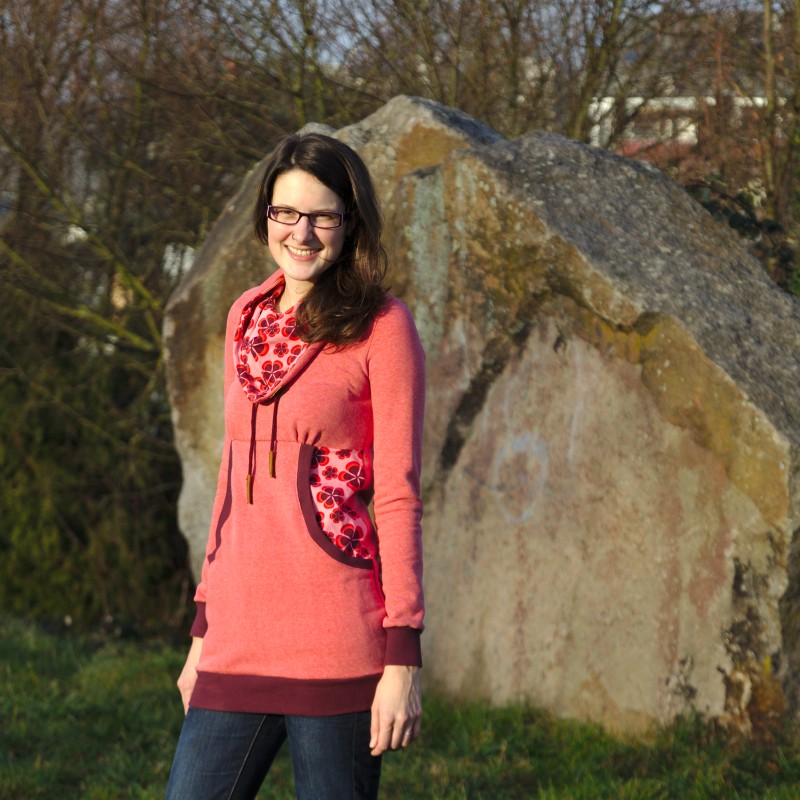 Macht's gut!
Katharina