And another week of May has gone by. Slowly the daily picture taking becomes routine and I got to the point where I wouldn't be that sorry to stop taking daily pictures of my outfits. But there is only one more week to go, totally doable. Here comes what I wore last week: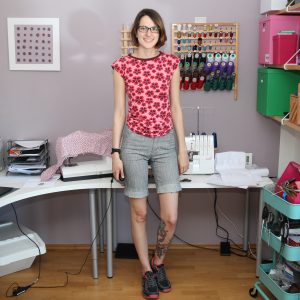 Wednesday was so hot that I wore my Birkin Shorts with an unblogged Kirsten Kimono Tee for lunch and my Watson swimsuit in the evening! I swam in the lake nearby for the first time this year and the water was still pretty cold.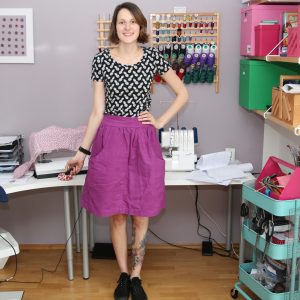 On Thursday I spent most of the day in a pair of Hudson Pants and a Plantain Tee in front of my computer, working from home. I did take a walk in the evening and wore an unblogged pineapple Renfrew Tee together with my pink Brumby skirt. The skirt and I didn't become best friends. the fabric was too stiff for this pattern, I only wear this skirt occasionally though I love the rich color.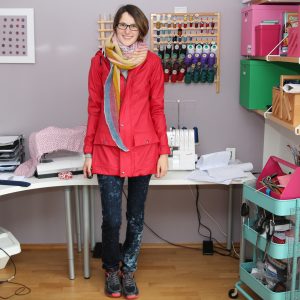 It rained almost the whole day and just as I was thinking about not leaving the house on Friday it stopped and I took a a walk with Marvin in my latest pair of Ginger Jeans, a Lynn Pullover, my Minoru Raincoat and a shawl I finished recently. I will blog about it soon.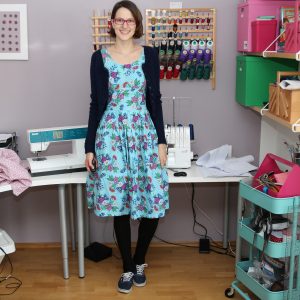 On Saturday I pulled a pair of tights out of the closet again :( But I made up for it by wearing my Dragor summerdress for the first time this year. I wore my navy blue Miette with it.
Marvin and I went hiking on Sunday. We went to the Monastery of St. Michael in Heidelberg there are a lot of nice hiking trails there. I cannot wear too tight pants when I'm hiking and so I often wear knit dresses. The dress in the picture is the first dress I ever made and I still love wearing it in summer. When hiking I find it very practical to have some layers that I can put on or pull off, and so I wore a cropped Renfrew tee over dress and a pair of rtw tights underneath.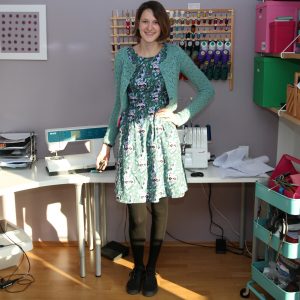 Monday tend to be a little better, when you wear a racoon dress. It was still a little chilly in the morning so I put on some tights and my turquoise Hetty Cardian. This the second time in May I have worn it, without noticing. I love this Cardigan and sadly that shows.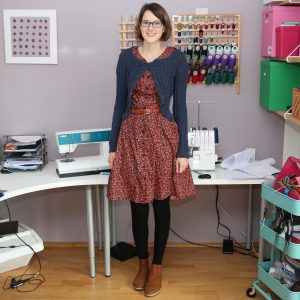 Yesterday I wore a Hawthorn Dress to the office. In the morning I was cold so I wore an Agatha Cardigan over it. Around noon it had already gotten too hot for me even without the Cardigan. I'm very hard to please temperature-wise ;)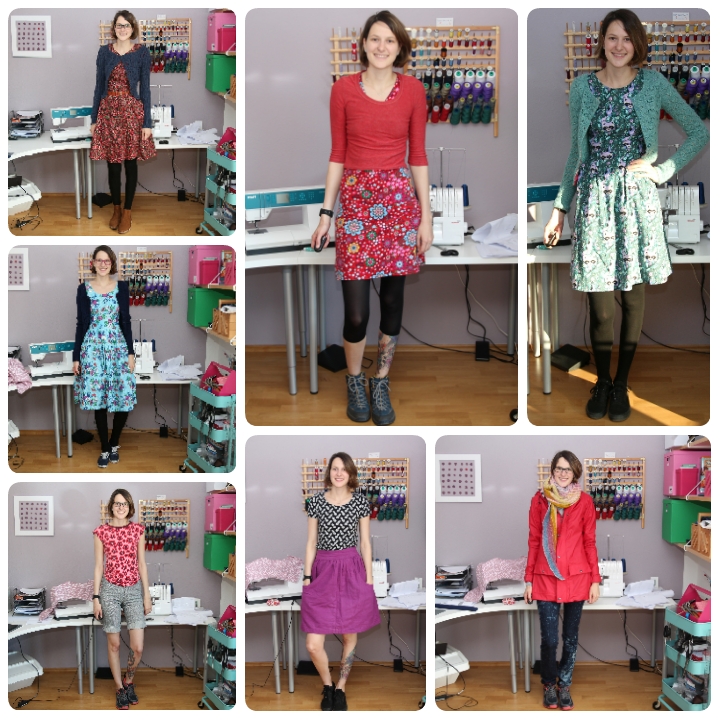 That was my third of May and when I look through the outfits I definitely have some favorites and some of them are even new combinations. I still have some highlights in my closet though and I look forward to wearing them next week :)
Have a great day!
Katharina