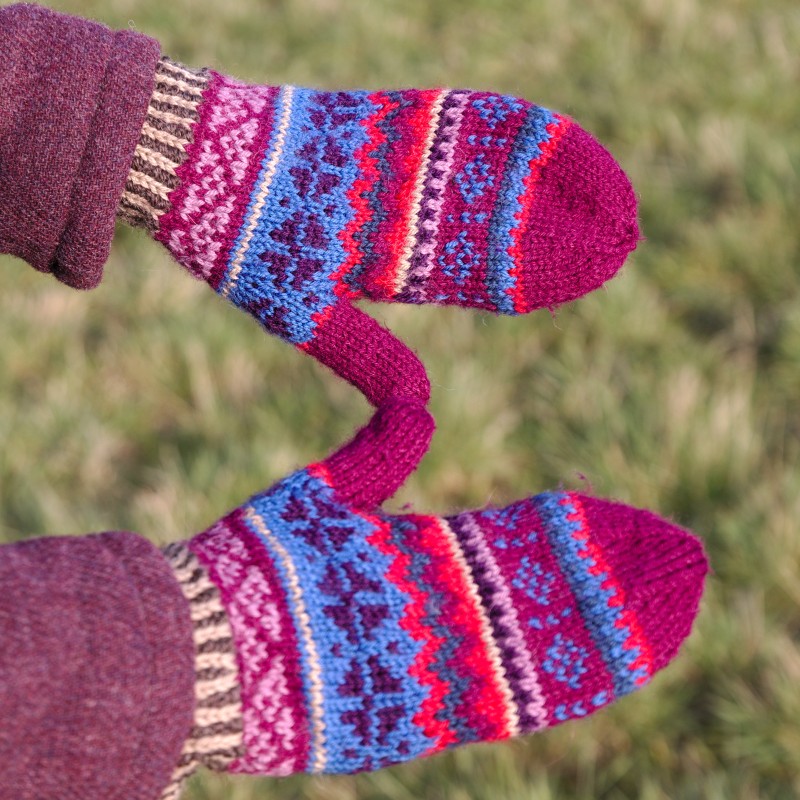 I'm much taller than average. Not only does that mean that I have problems finding rtw pants and tops that fit. I have always had problems with tights with too short legs, too short bra straps and gloves that had too short fingers and didn't fully cover my wrists. When I remember all those times I involuntarily wore cropped looking tops and rolled up sleeves or menswear or garments that I bought 4 sizes too big, using the additional width as additional length, I'm really really glad that I started sewing and liked it! It brings such great side effects! I've been sewing for over 5 years now and there are hardly any garments in my closet that are too short. Apart from a Gryffindor tshirt, that is a little short, okay, but I needed to buy it ;). I even sewed tights and bras. The only thing I have been avoiding is making my own gloves or mittens. I have one pair of rtw gloves that I wear. The cuffs were designed to be worn rolled to the outside. I got rid of a seam that fixed the cuffs and thus the gloves were at least long enough o cover my wrists fully. I have no excuse for not giving gloves a try earlier. It's just… well you know.. things you really need aren't that much fun to make ;) I feared that making gloves would be as dull as making tights or underpants. As it turns out: they are quite fun and once I started I didn't stop until I had made 3 pairs. Here's the first: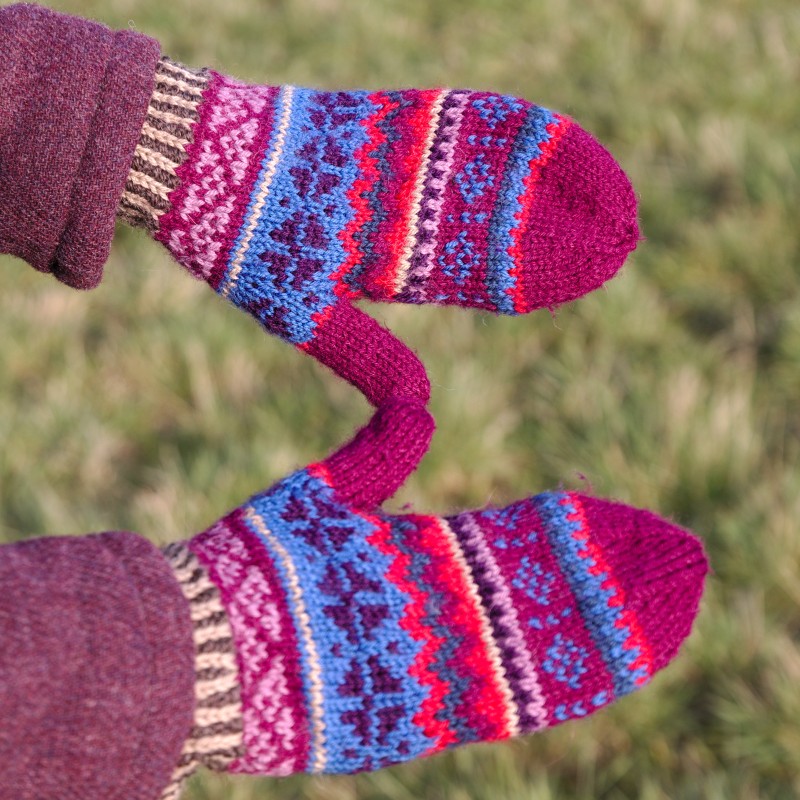 I started with mittens that I made from a lot of Dk yarn left overs. The yarn is mainly Drops Karisma and Drops Lima. Unfortunately Drops Karimsa is a superwash treated yarn which means it won't felt. I bet felt would help a lot against cold winds blowing through in between the stitches. I used the instructions for the Garnstudio Fire Crystal Mittens. I didn't chose the colors by what would look nice but by what I had in my stash, I nevertheless like how they turned out. I lengthened the mittens' cuffs and fingers while I was knitting, it was easy to try them on during the knitting process.
I knitted the cuffs with 2 colors and that made the cuff a lot wider than it would have become had I knitted it in one color as per the instructions. So next time I will either cast on fewer stitches or knit a cuff that is supposed to hold something up with only one color. As you can see the cuffs are too wide and the mittens always slip a little down when I wear them.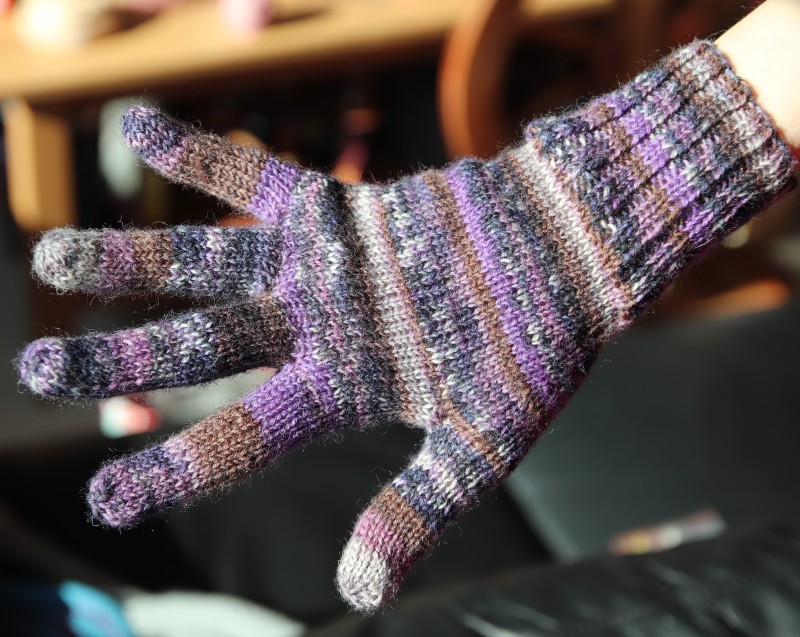 And while I was at it, I mad a second pair, this time: gloves! I found instructions for gloves knitted from sock yarn at the Garnstudio webpage. I have soooo much sockyarn in my stash and I'm trying to use all of it up sock by sock or in this case: glove by glove. I wasn't sure which size to pick, I chose size S/M for the mittens and so I went with size S/M for the gloves too.
They turned out pretty tight, still okay though. And they are long enough! Not only do they cover my wrist, my fingers also fit into them perfectly! The instructions said you should knit the little finger 5.5 cm long, my little finger is 7 cm long. In fact every one of my fingers is 1.5 cm longer than the measurement given by the instructions, so no wonder I had troubles fitting my hands into gloves. Even though I lengthened a lot I used less than 50 g of yarn.
Knitting the gloves was fun. I thought knitting the fingers might be nerve wrecking, but it was totally okay. I use dpns, but used only 4 of them instead of 5 for the fingers. I also used shorter than usual dpns, mine were only 15 cm long and I think that helped a lot. The only thing that was annoying was, as usual, weaving in all those loose ends, but I was done with that in under an hour I think. I thought about trying to match the stripes on both gloves, but I figured that that would be pretty tedious with all those cuttings and rejoinings of the thread and the thin fingers, so I didn't even try ;)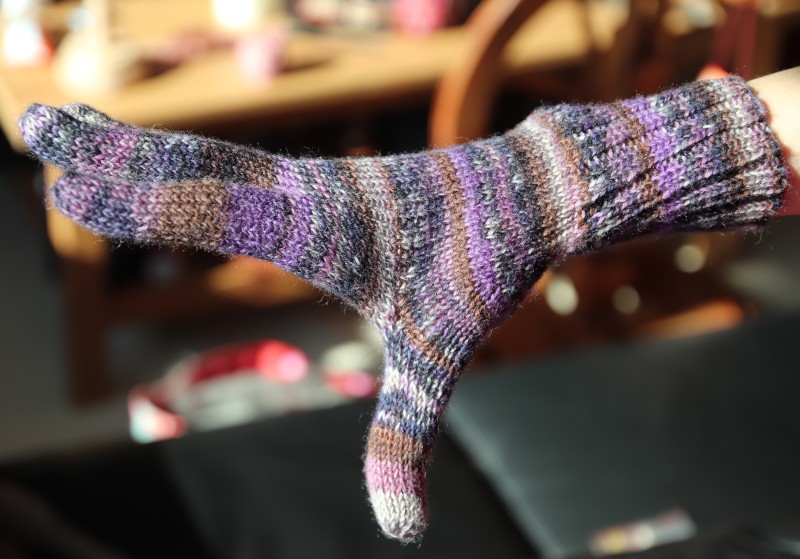 I talked a lot about gloves and mittens and so Marvin told me he had been meaning to buy new thin gloves. So thin that you could operate a camera while wearing them and I suggested that I could make him a pair of sock yarn gloves too. And so I got rid of another skein of sock yarn ;)
There actually also is an instruction for sock yarn gloves in men's sizes at Garnstudio. The stitch amounts differ from those of the women's gloves, but apart from that the instructions are basically the same. I ended up using a little over 50 g for both gloves and I again knitted size S/M, because I thought that when you wear size medium in tshirts you also wear gloves in size medium. But now I'm not sure if there really is a correlation, as Marvin's gloves turned out a little tight too! He likes them this way, so I'm not complaining.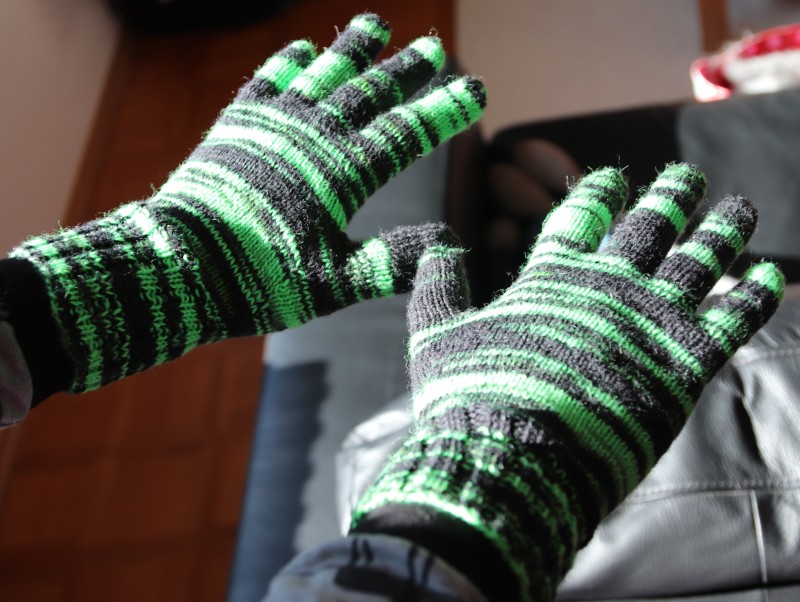 I really liked the instructions. They are pretty basic, but clear and I think they are a great starting point for everyone who wants to make super special patterned gloves. I didn't have enough time to try patterns, as winter is almost over here and you never know when summer is going to strike and make all woolen items obsolete.
It has been pretty cold here the last 2 weeks though and so I have only worn the mittens so far. They've kept my hands warm, when I was outside for an hour and it was around 0°C cold. I also wore them while riding my bike and soon realized that they are not keeping the wind out enough.
The gloves are for warmer temperatures, maybe 5 – 15 °C, right now they are definitely not warm enough, but I'm sure their time will come.
Sooo, for next winter I'll need a pair of super warm gloves or mittens. Maybe I will even try to sew them and use some windproof interliner or something. Does anyone of you have tips? I would love to hear them!
Macht's gut!
Katharina