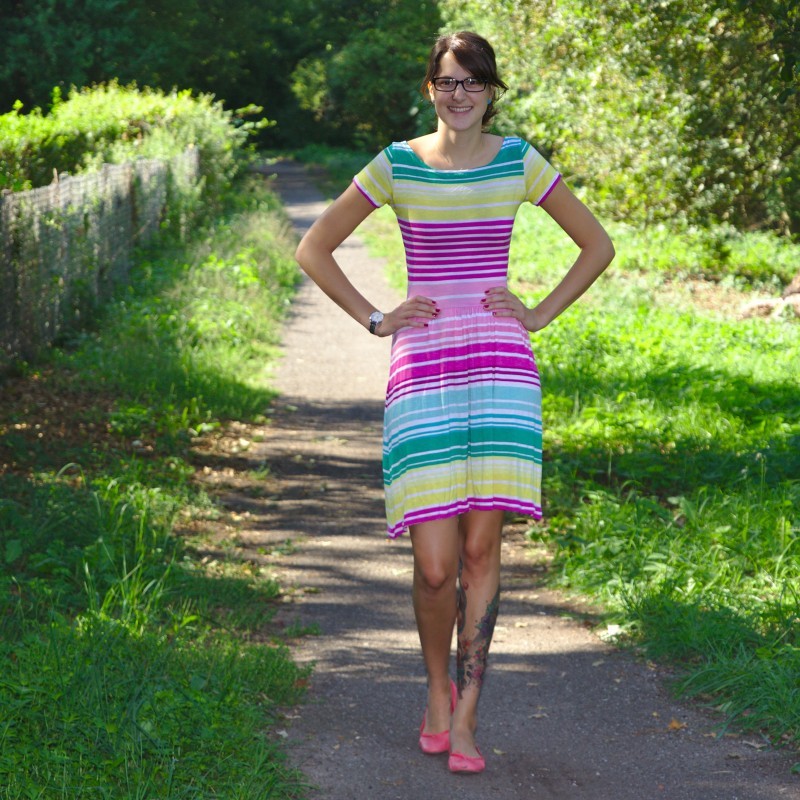 Hello and a nice Sunday to y'all! Summer seems to end here soon it seems. It is raining more an the temperatures drop and I still have some clothes that I made for summer and haven't blogged about yet. Might even be, that I haven't worn some of those yet, whups. I think I sewed more than I actually needed this summer due to my month off in June! But whatever I like autumn better anyway and I usually wear me summer clothes till the begin of winter, everything goes with tights and jackets (and I love a good excuse to sew me some jackets ;))Also in June I made this Moneta from this beautiful fabric I bought in Maastricht! have i already mentioned that I love Holland? ;) This is the last fabric in my stash I bought there but I'm lucky enough that the dutch and their fabrics visit Karlsruhe again in October, fabric market yay! I originally bought the fabric to make another Tiramisu from it, I thought the stripes would look great, But somehow the pattern wasn't appealing to me this summer so I made another Monetat instead (here is my first one). I have some leftovers now, think I'll make a shirt from it.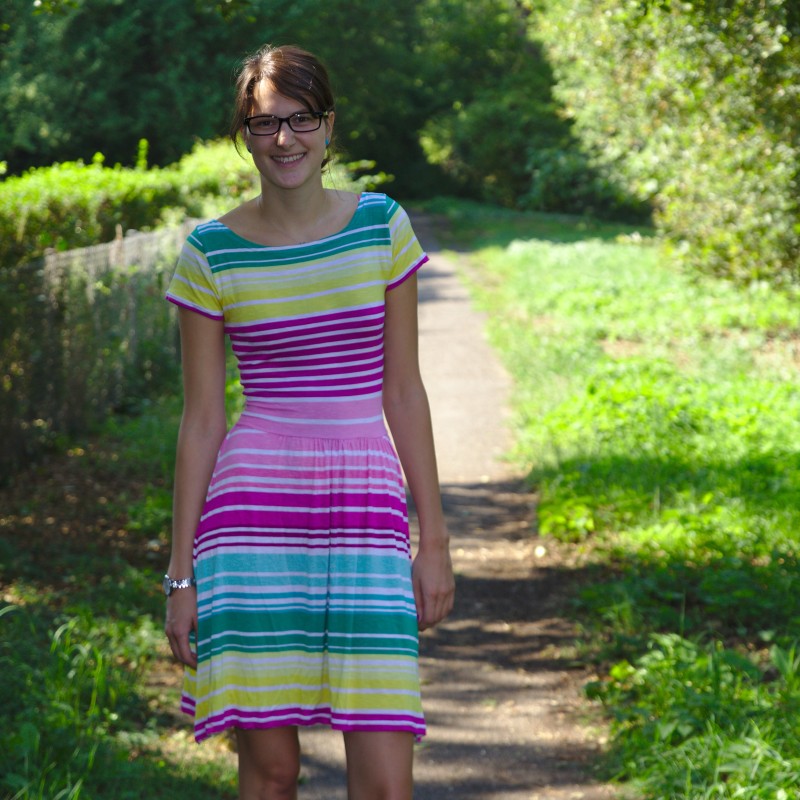 I don't actually know what is in that fabric. Seams there might be some cotton and definitely some kind of plastic, but it was cheap and look at those colors!!
There isn't much to say about this dress. again I sewed size S, according to the chart I would need size XS but that sounds so small, and S fits me well. I had enough fabric to try to match the stripes and some match and some don't. Not perfect but totally okay. if I must I'd say I matched 90 % of the stripes. I omitted the pockets, because I don't like pockets in knit dresses. They always shift around look stupid. At first I tried to do an invisible binding at the neckline but it wouldn't work out and so I went with the instructions, serged the neck, pressed it once and sewed it down with a twin needle. I don't know what is up with the hem. I didn't realize that something was wrong with it before I took those pictures…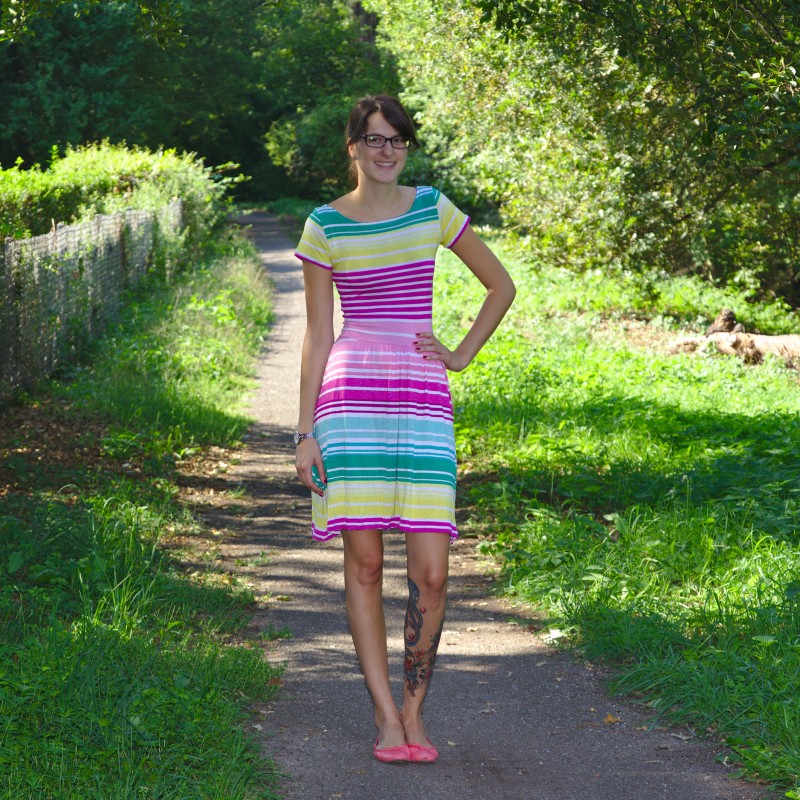 The waist gathers didn't turn out that great, too. They're a little uneven. I blame my serger. It was totally swamped with sewing the elastic and the fabric together… Maybe that was a little bit my fault too, but I'd like to have an excuse to get a better serger and tadaa here it is!
all in all I'm pleased with this dress. The fabric was kind of hard to work with but it does look very pretty and don't think anyone (who doesn't sew) will notice the flaws. Now i need to sew me a jacket, so that I can wear this dress a little longer this year. you see I really have no choice than to spend on my money on fabrics and all my free time on sewing ;)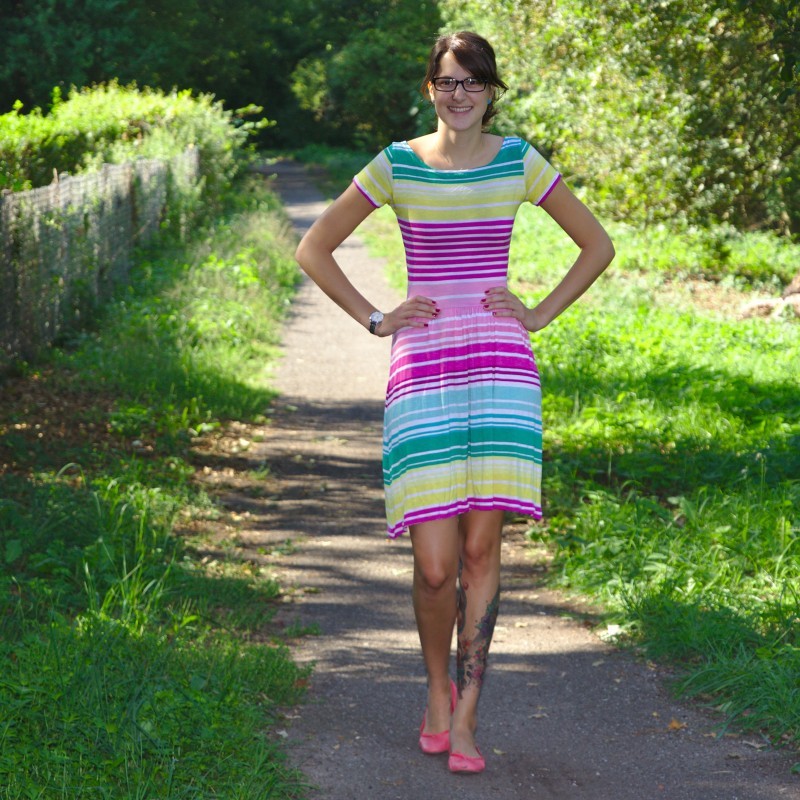 Danke für's Vorbeischauen und bis bald! :)
Katharina