As promised I'm showing you my second Outfit Along outfit. Quick reminder: the outfit along is a yearly challenge to knit one part of an outfit and sew another. Lauren manages the swing part and Andi picks the pattern and helps with the knitting part. I finished my first outfit about a month ago, I sewed shorts and knitted a top and I decided to make another outfit because I still had some time and because I wanted too ;PWell the real reasons for that second outfit was that when I bought fabric for the first outfit I forgot to bring the yarn I already bought along and the fabric I got didn't go that well with it. So I chose another fabric and bought wool that I thought matched, again I didn't bring the fabric along and well, it didn't match. So I bought some more fabric ;)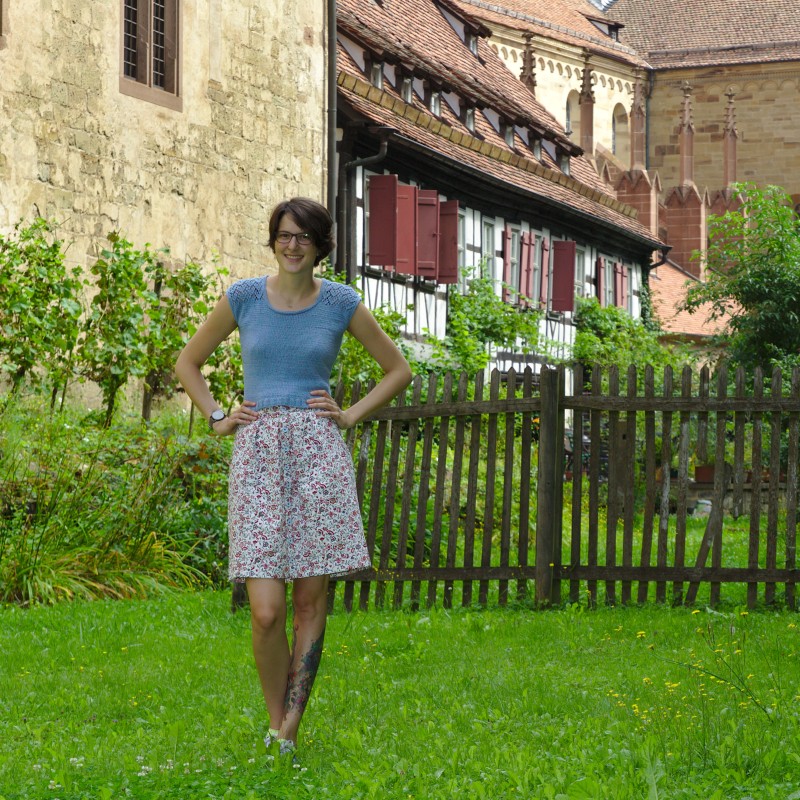 There was no decision to make it was clear to me that I'd make another Zinone. The first one was so much fun and I love wearing it! The yarn I bought  is Drops Belle, it is part rayon, part linen, part cotton and feels great against the skin :) I bought it at my local yarn store.  I still cannot believe that moving into a smaller town did actually bring me closer to a wool store that sells Drops yarn, which is my favorite. In general I have the impression that in this village that I now live in there are waaaay fewer stores but much more stores that I take an interest in. There's a lot of gastronomy here. I live just a few kilometers north of the official beginning of the black forest. A lot of vine is grown, produced and sold here and I guess that is why there are a lot of restaurants here. That's great when I work from home! Or when I don't want to cook. Which is always.. ;) Also there is a small sewing supplies store. And the prices are super reasonable and there are actually two yarn stores here! What I want to say is that living in a big city kind of lost it's attractiveness to me.
Back to the yarn. I bought 300 g of the color jeans blues (no 15) and used 250g of it. I knitted one size smaller this time, XS and I made a lot of waist decreases so that the waist is much tighter than  in the original pattern.
That was my intention ;) I wanted to make this version cropped but I didn't like how wide it looked in the pattern pictures. The top still isn't super tight but not that floaty wide and I like how it turned out. I wrote about the instructions in my previous Zinone post. In summary I'd say the pattern is suitable for intermediate to advanced knitters because the explanations are kept short and the lace part isn't that easy to knit. But it's fun!
To complete the outfit I sewed my quadrillionst Kelly skirt. Somewhen last winter I saw Christiane's version and it must have get stuck in my hat that much that I not only bought the same fabric at Ikea without noticing but also picked the same pattern as she did.
I sewed the skirt in my Megan Nielsen size S. I lengthened the pattern when I first sewed it. For this version I shortened the skirt a little, because, you know I needed a justification to sew my fourth or whatever version of this skirt. And now no one cansay I made the exact sme skirt 4 times ;) I also didn't construct box plaesta as called for, but regular pleats. I wuldn't have thought but I know think this gives the skirt a more aline shape and it looks less flared.
I used baby blue buttons that I had in my stash. I wanted them to match the top and I wanted to make sure that if I ever meet Christiane our skirt's wouldn't get mixed up. You never know!
I used two threads of regular thread as topstiching thread to make the topstiching more visible, because I didn't have matching topstiching thread and I was too lazy to get some..
Marvin took those pictures of me an Sunday when we visited the Maulbronn Monastery. The moanstery is an UNESCO World Heritage site. And it is located about 30 km from where we live. This is so crazy. We're living here in southern Germany for about 2 years now and up until now we didn't even see all of the UNESCO World heritages in a range of 30 km! There is sooo much to see here. If you ever get to visit Germany make sure to come to Baden-Württemberg (and to pay me a visit!) there is so much to see here if you are interested in history, architecture and nature and the food is great. People are a little strange though, hahaha.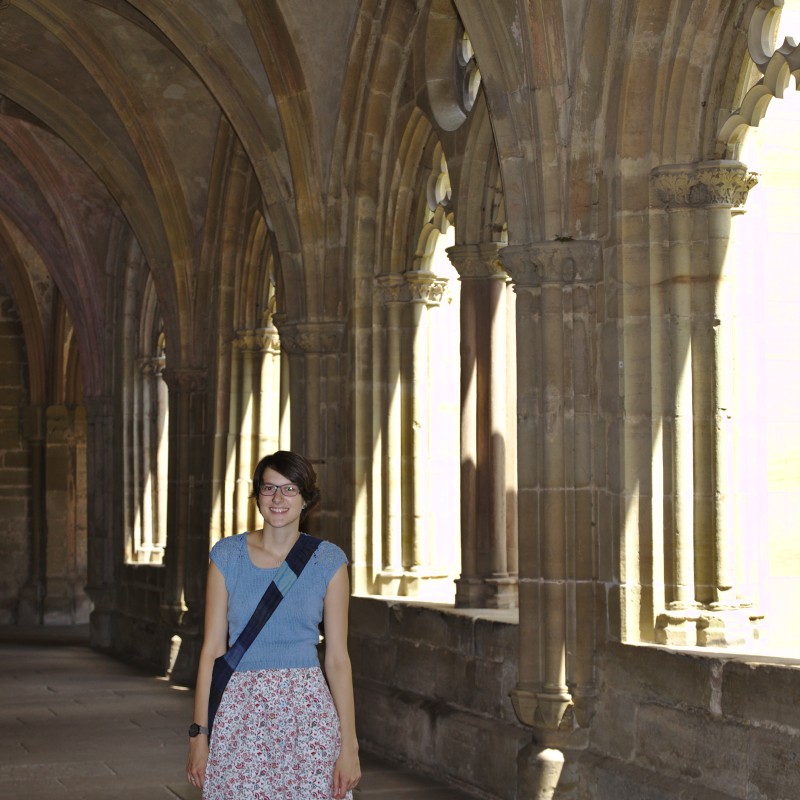 Thanks to Andi and Lauren for organizing the Outfit Along! It was again a lot of fun and for the third time in a row I actually tried something new! This time I knitted a summer top and I liked it! :) You should totally check out the outfits all the participants made and if you want read a little more on this project on Ravelry :)
Macht's gut!
Katharina