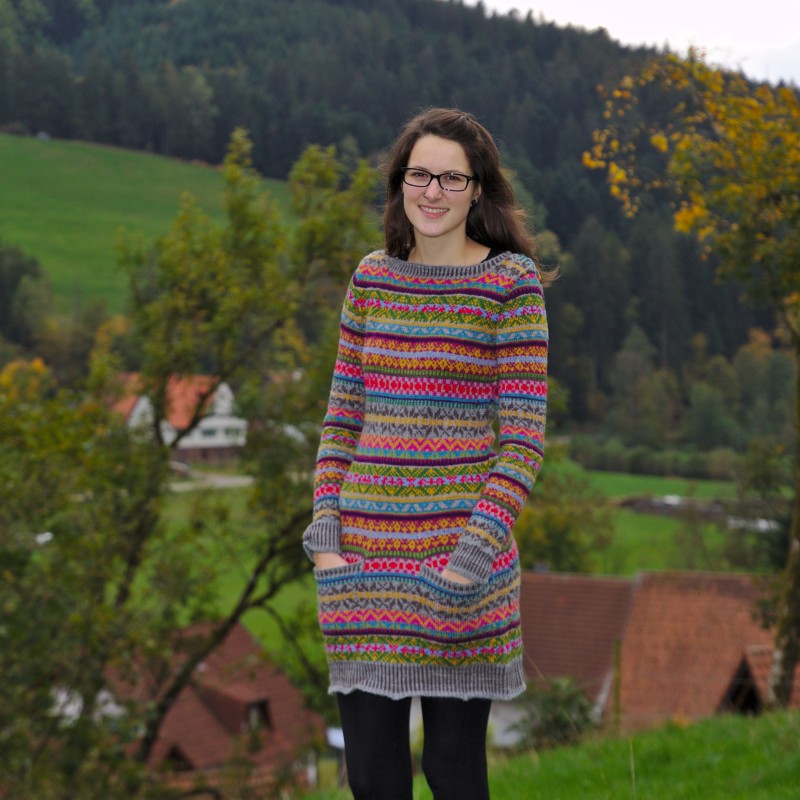 Today I got another (ex) holy grail for you! It is a knitting holy grail this time. You see, my analogy doesn't make sense. I have some grails, and they often change. Every time I reach one I got three grails more. But maybe that is exactly what a holy grail is ;) However, this project was a really huge one, it took me two month. Mainly because I couldn't move it or take it with me, as it was so huge. Also I already finished it back in June, but it was way too ht to show it off back then.You see how I raise the tension? You wanna know what I did? ;) Muhahaha! Mesdames et Messieurs here it is: the Sage Tunic, a pattern by Marie Wallin!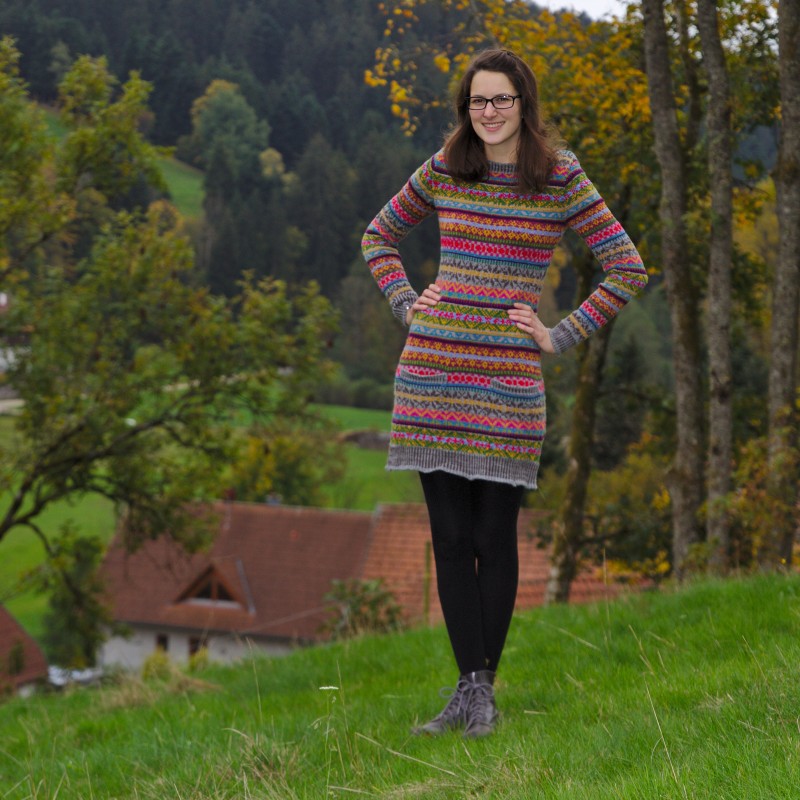 I instantly fell in love with this sweater/tunic when I saw it. Marvin also liked it a lot! And that boyfriend of mine got good taste (in knitted sweaters at least, oh and in women of course ;)!) After I'd decided that I really needed that pattern it took me quite some time to get to it. It is only available as part of a book. And the book isn't available in Germany. So I ordered it in the UK via ebay and spend around 20 €, which is a lot for one pattern. Especially because I'm really not a fan of all of the other designs in that book, they are just a little bit too crazy/high fashion for me! But whatever, I wanted that sweater!
he next obstacle I had to take was the yarn. The suggested yarn was Rowan felted tweed. I was not surprised as Marie Wallin works /used to work for Rowan but I was not amused. I once had a friend over who was wearing a cardigan she knitted from that yarn and the alpaca was all over the place. At the end of the evening I was surprised that she was still wearing the cardigan as a whole, because 75 % of it seemed to be on my floor, haha :D Okay, it wasn't THAT bad, but the yarn is really expensive and there are only few stores that sell it here in Germany, and so I decided to go cheap and order me some Drops Karisma. I had to order much more yarn, because the yardage of Karimsa was a little shorter than the one of Felted tweed. And as the instructions didn't say anything about the actual yardage I ordered way too much yarn.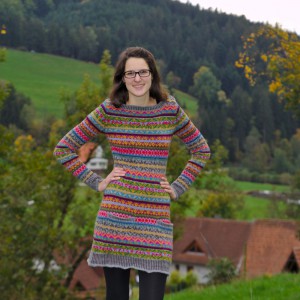 There was also no chance at no time that I got the swatch. It is 29sts x 30 rows = 10×10 cm. How is it even possible to get that amount of stitches with a DK yarn? With 3mm needles I needed 24 sts x 30 rows for 10×10 cm and decided to change the pattern. That was a little harder than I thought. I simply divided all stitches given in the instructions by 29 and multiplied them with 24. But I didn't change anything in the fair isle pattern and so sometimes I wasn't able to end with a full repeat of the pattern.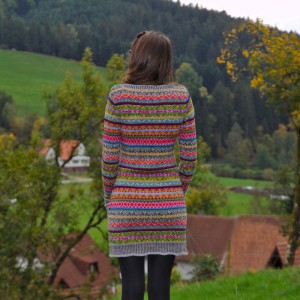 I also decided to knit in the round. The pattern tells you to knit flat in rows, but it was actually easier to knit I the round because of all this colorwork! However I knitted in rows after reaching the sleeves, I did not dare to do steeks an cut the whole thing open (another grail…;))
s usual I needed to lengthen the sweater. That was also a little hard. The increases and decreases were already marked in the fair isle pattern table, but as my swatch was off I needed less decreases and increases and I needed them farther apart than in the pattern. I somehow managed the lengthening, but as already said, I was not able to always knit full repeats of the pattern at the end of the round.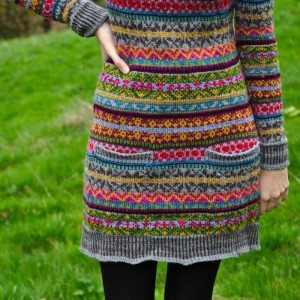 I might have overlengthened this thing a little. I always find it hard to get the right length when knitting bottom up. But I don't mind, that the tunic turned out so long, actually I like that a lot :)
I directly knitted the pockets to the bodice as it is done with Andi's Armande, I think it made things easier.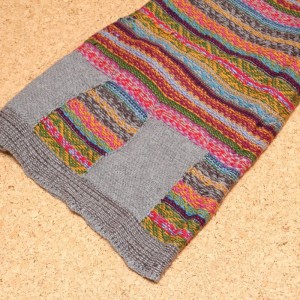 In addition to all my troubles I really struggled with the instructions. They are kept very short. Very very short! Also the table that shows the fair isle pattern is tiny! And in black and white. There are 17 colors included and each of them has another symbol. This is so confusing! And as there aren't so many symbols you can use it is sometimes hard to not mix them up, especially if you have to scale the pattern up to 200 %. Some of those symbols looks just the same.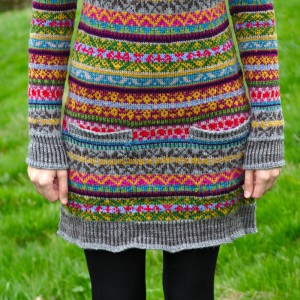 I used 2,5 mm needles for the ribbing and 3 mm needles for the rest. I used metal needles, I don't think wooden needles are any good for this kind of work. There is always a lot of tension involved!
I made a listing of the yarn that I actually used to make this sweater. I also wrote with which color I replaced the colors in the instructions. I knitted size S by the way. But as I lengthened the sweater and all I don't think you'll need more yarn for the bigger sizes than I used.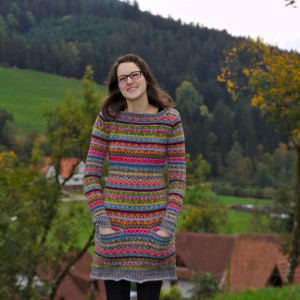 knitted the sleeves in the round, too. I made hem full length and pais attention to match the patterns of the bodice. I even tried to match the colors at the sleeve caps but that didn't work out 100 %. Sewing the sleeves to the bodice was hard, because of all the bulk.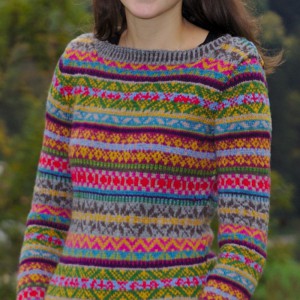 It took me a while to weave in all those loose ends! And I didn't like that part of the work. Sooo many loose ends! If it was possible I didn't cut the yarn if I would need that color again in not so far a distance. But sometimes a color didn't reoccur for several rows and then I cut it. Sometimes I sat on my sofa with 8 skeins attached to my huge sweater, I didn't dare moving ;)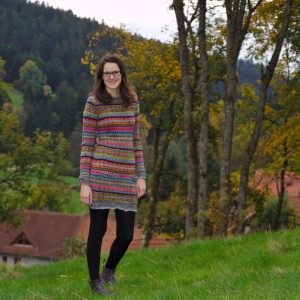 I wet blocked the sweater and it locked way better afterwards. I knitted the colorwork with a thimble (and I hope dict.cc got me the right translation ;)) in which you can thread two threads. It makes dealing with the tension and everything very easy in my experience. I twisted the threads after every 3 stitches so that there are no long loose threads at the left side of the garment.
I'm sure I have forgotten something about the sweater. If you're having any questions just write me a comment or mail :)
I have some summarizing words and then you are free to go ;):
I wouldn't buy the book again. I really like the sweater and all, but the instructions were way too short, too tiny, too black and white and too inflexible.
I would use Drops Karisma for this project again. It is a beautiful yarn, you can buy it in a lot of colors and it is slightly felted which makes the knitting easier in my opinion.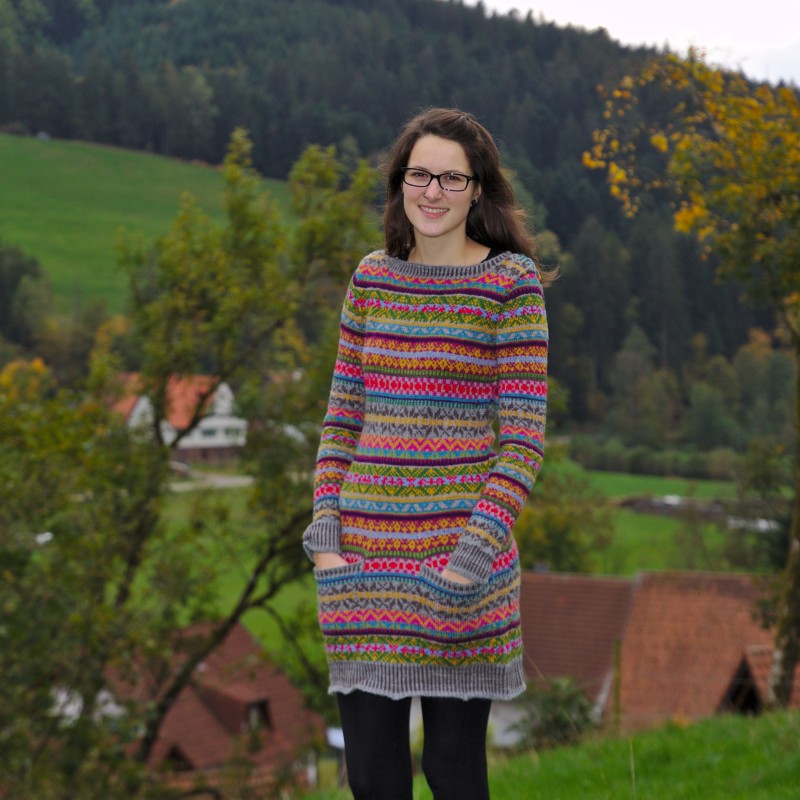 Now I have a bag full of yarn left over. I already made a strikkedukker from parts of it (and named it Gunilla) and I have great plans for the rest of it! :)
Have a nice day and greetings from the black forest! :)
Katharina