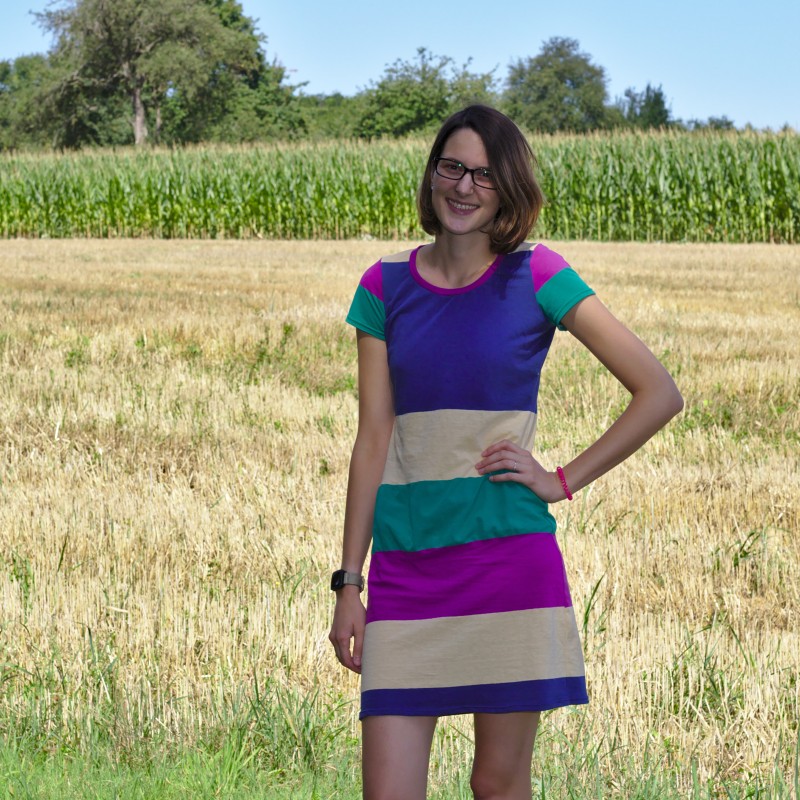 I think it's strange that there is no market for hiking dresses. Well, no, there actually is one, hiking dresses are rare and there are only a few on the market, but they definitely do exists. So let me rephrase: I think it's strange that I never see anyone hiking in a dress. What is even stranger is that people keep staring at me when they see me hiking in a dress. As if I was the idiot! Ha! They don't know what they're missing! Hiking and dresses go so well together. Even Marvin envies me! Well, to be fair, wide pants work well too. But they are never as breezy as a nice little dress. And you certainly can't move as freely in a pair of pants as you can in a dress.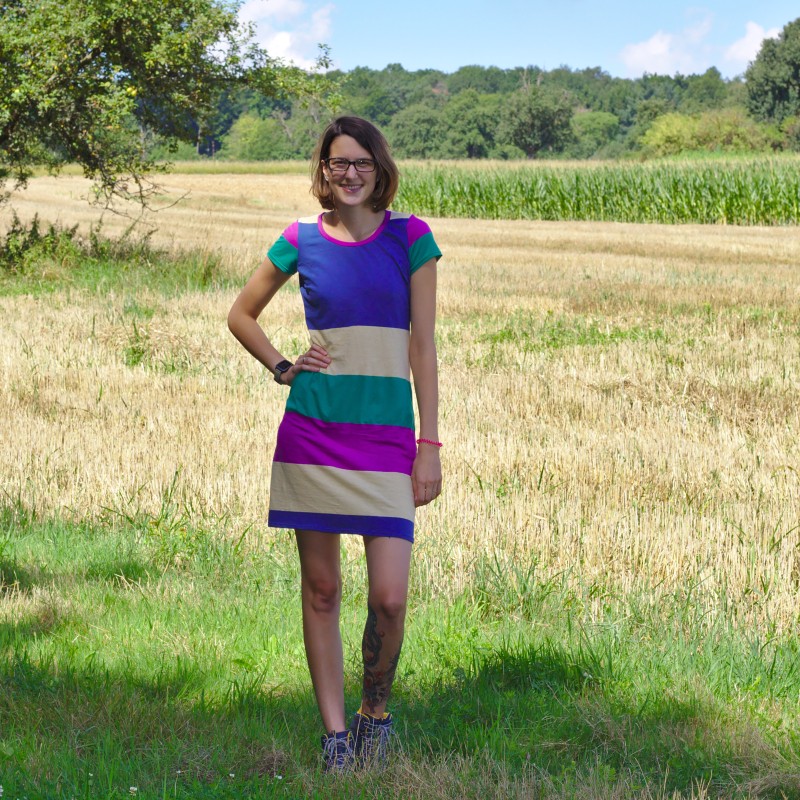 I have a kind of peculiar hip, well two to be exact. I'm not allowed to wear tight jeans when I'm walking a lot. I also should wear good hiking shoes. Which I do. My problems got way worse after a long trip last year, were I was wearing a stretchy but tight pair of jeans. Since then I've been testing different garments and shoes, and I use these hiking stick thingies, which helped  lot, I have to admit (I always feel a little stupid though..). After that year I now know that dresses work very well for me.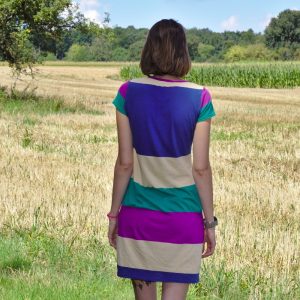 Best are dresses that cover my shoulders, upper arms and neckline, as I tend to get sunburns quite quickly. I know that the skirt should not be too tight, but is also should not be too wide, as it might get caught somewhere in that case.
So what I need is actually fairly simple and plain: an elongated t-shirt if you will. My favorite tshirt pattern of all times is the Sewaholic Renfrew and so I used this pattern to make myself a hiking dress. I simply elongated the dress down to my hips, so that the skirt had the same width my hips have + some ease of 2 cm and seam allowances. From there on I elongated straight downwards, until I had reached my desired length.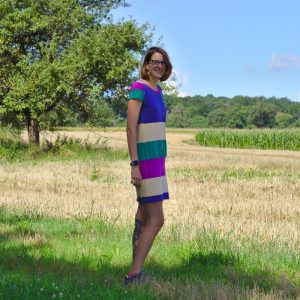 I had the fabric in my stash for about 3 months. I bought it at a local fabric market. It is of poor quality but I couldn't resists those colorful stripes. I love this color combination! As you can see in the picture above the different color blocks did not only have different colors, but the fabric was different too. The green is much more stretchy and thus looks a little baggy. The fabric did also feel and look different. The fabric also was super skew after I had washed it, but I still managed to cut all the pieces on the grain. Well, as I said, this isn't the best quality.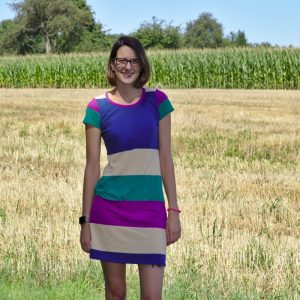 I was super clever and took some time to place the stripes in a manner that the yellow stripes are neither covering my breast nor my underpants area, because the yellow stripes are a little see through. Genius to think of that, right? Right? However, that meant that there was lot of boring blue around my chest and so I decided to cut the sleeves in purple and green and the neckband in purple. Because I like purple! I didn't topstitch the neckband, because I couldn't decide in what color to topstitch ;)
Buuuuut what I did was to finish the back neck and shoulder seams with a stripe of green fabric! That was fun and it looks soo neat! :) Here's what I did:

First I sewed the shoulder seams and the then applied the neckband. Then I sewed the fabric strip with the right side to the top of the seam allowances of the back neck and shoulder seams. I then flipped the stripe to the right side and turned the unsewn edge under the seam allowances, the seam allowance was now completely wrapped by the strip. I then stitched the strip to the shirt from the inside at the top and at the bottom of the strip. If that makes sense.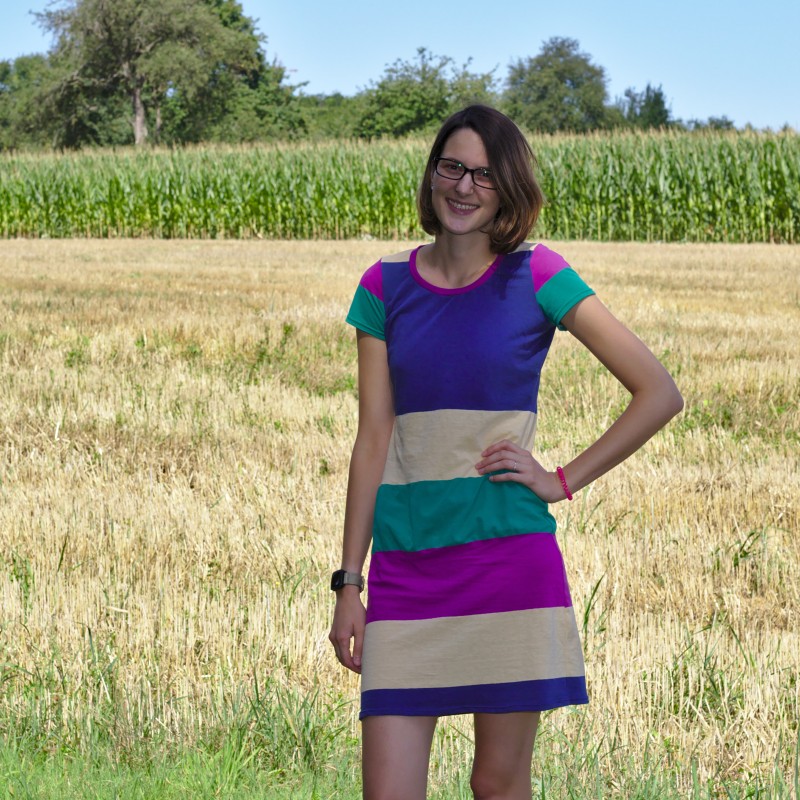 I already tested the dress and liked it a lot. Super breezy and comfy! And super cute! Look at those colors! People were only starring because they envied me!
Habt nen tollen Tag!
Katharina