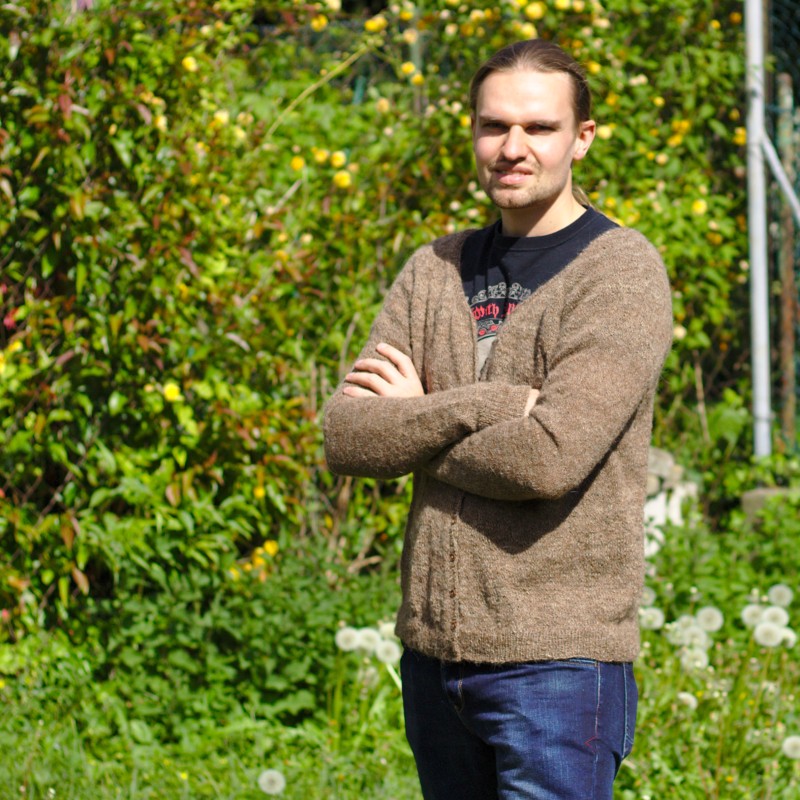 I tried to get my hands on some local Alpaca fibre, but my favorite dealer (we often go there and take a walk with the alpacas) didn't have any left when I started spinning and he referred my to another alpaca farm not far from here. I phoned with the lovely owner and she sent me 900g of already washed and carded fibre of her Suri Alpacas. And this is were the story of Marvin's new Alpaca Cardigan starts.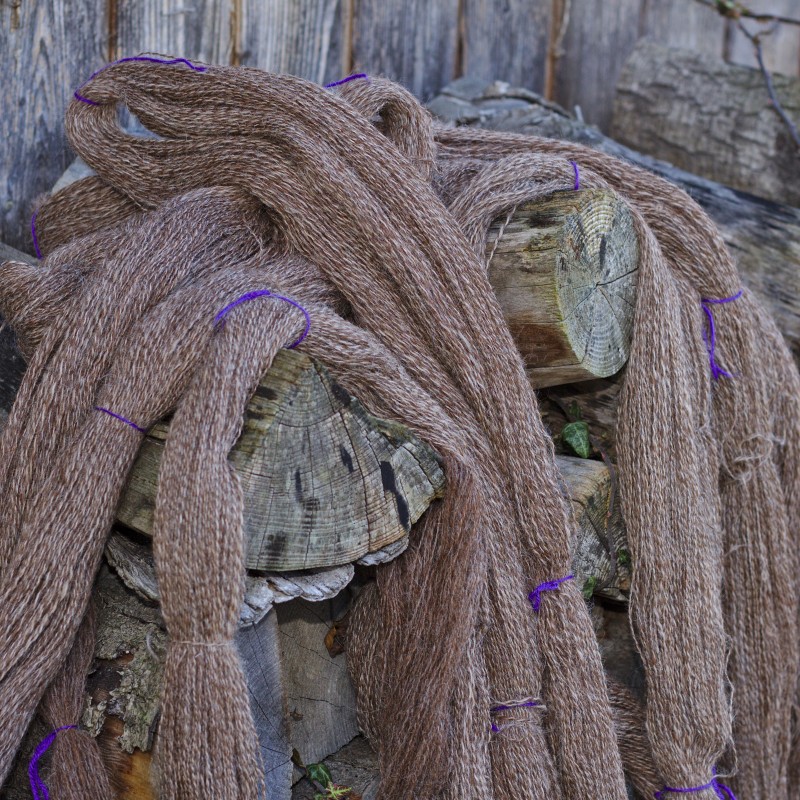 For starters, there are 2 types of alpacas. The Huacaya and the Suri Alpaca. The Huacaya is the more typical alpaca with the fluffy hair and the Suri has longer, silky and sleek fibre. When I was almost done with the spinning I read that spinning Suri fibre is harder than spinning Huacaya fibre because Suri fibre is so sleek. But as I didn't know that, I just started spinning without worrying and I think it was harder than spinning sheep wool, but not that bad :)
Marvin asked for a very lightweight and thin Cardigan that he could wear when he rides his bike to work. And so I tried to spin as thin as I could. I was aiming for sport weight.
From my wool spinning experiences I knew that the yarn regains volume when you bath it the first time, so I tried to spin thinner than what I wanted. Turns out that Suri alpaca fibre does not seem to gain volume when it is bathed and so I ended up with a pretty thin yarn ;)
I 2-plied the singles because I thought that the yarn would get thicker and because Marvin liked the effect of a lighter brown thread plied with a darker brown thread. Because I spun so thin it took me about 2.5 month to finish.
I ended up with a grist of  circa 490 m/ 100 g  and 15 WPI (wraps per Inch), that is Fingering weight, but still thinner that what I had anticipated.
Oh well, what could I do? Knit some gauges to see how the yarn behaves. I started with the thinnest needles I had: 2.5 mm, but didn't like how the swatch looked, the stitches look so irregular and there is so much space between them. So I ordered 2.0 mm needles and knitted another swatch with a doubled thread and 2.5 mm needles.
That swatch turned out a lot thicker and as you can see in the photo it tilts to the left, which can only mean that I over- or underplyed my yarn. The effect is not visible, when I knitted with only one thread however.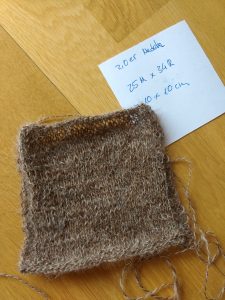 When the 2.0 mm needles arrived I knitted another swatch and showed all three of them to Marvin. He decided he liked the third one knitted with the 2.0 mm needles best.
So I knitted a men's cardigan in size medium with 2.0 mm needles! How crazy is that?! It took me 5 weeks to finish it, but it felt like a year. Also because Marvin wanted the cardigan to be plain which meant lots and lots of stockinette stitch. And because I thought of the pattern by myself.
Once you know your gauge and the finished measurements of the garment it is not hard to think of a pattern by yourself. Provided you know the rule of three! :) Okay, that is not entirely true. I had again problems with shaping the neckline. I wanted a v-neck but it was super hard for me to figure out how deep it should go and what slope would look good.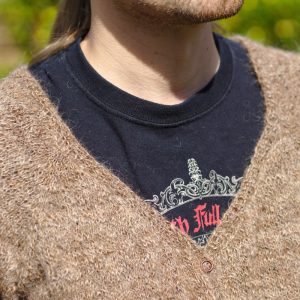 It now doesn't look as I had imagined it, I wanted it to be a little higher. I guess I wanted too many things. Raglan sleeves a shaped back and shaped shoulders and a v-neck. But I learned a lot and I had a lot of fun. Until the neck was completed. After that things got dumb. Lots of stockinette!
I used small wooden buttons and had to replace them all after the photoshoot, because they were not big enough to keep the cardigan closed. So now, the cardigan has bigger buttons and everything is fine.
The whole cardigan only weights 290 g which is close to nothing ;) But it is still warming, because of the alpaca fibre, but not too warming, so that Marvin can wear it when he rides his bike. To keep the cardigan so lightweight and space-saving I didn't stabilize the button bands.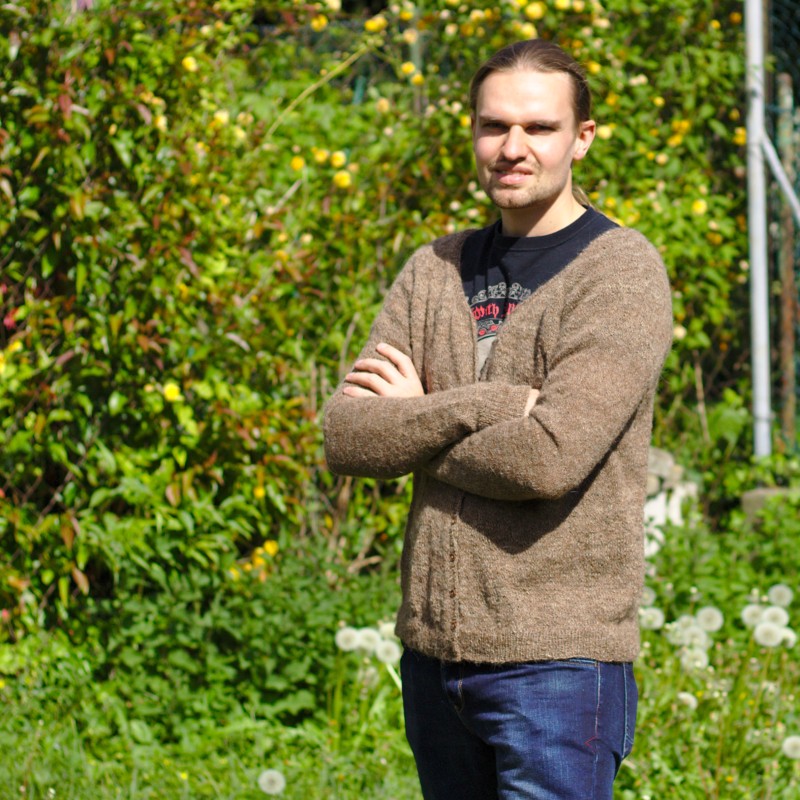 With all that being said: I like how this turned out! :) The color is great, the cardigan is light and Marvin is happy with it. And I still have a lot left to make myself something from it. I'm thinking about dying it just a little bit purple. Or pink ;) If you want you can here take a look at the project on Ravelry.
Macht's gut!
Katharina