Spring is lurking around the corner and I have nothing to wear ;) So I started my seemingly annual T-Shirt sewing marathon. This is the third time in a row that I sew myself a pile of T-Shirts in April. I first cut them all out, then I sew the shoulder seams of each tee, than the neck binding of each one and so on. Just like I think it is done in a sweatshop ;). The last two years I started this marathon because MeMadeMay was about to start and I felt I didn't have enough basic tees.This year is different. I have enough tees and I'm not planning on participating in MeMadeMay this year. It was a lot of fun to post pictures of my daily outfits on Flickr and it was even more fun to see what other sewists all over the world wore each day. I know that MeMadeMay is more about setting your own goals and wearing more of your memade clothes. But I wear my memade clothes all the time anyway and I participated, because it was so nice to get in touch with sewists all over the world. Last year the umber of people that participated via Flickr was really small, there was much more going on at Instagram. Additionally I had more and more problems with freaks adding my pictures to their favorites and writing me comments and I had to check every week to block these people. Than there was this huge Yahoo data leak that got public and so I decided to delete my account. Instagram is no alternative for me because of data privacy reasons and because I don't like the format. I thought about sharing my outfits on the blog. Maybe I will do that. But I won't reach all those people that I reached the last two years and I don't get to see their outfits either. Plus in the last two years at the end of May I felt obligated to take and post pictures and kind of forced myself to do so and I don't want to do that anymore, because for me it takes away the fun big time (yes, I have watched 'Trailer Park Boys' again).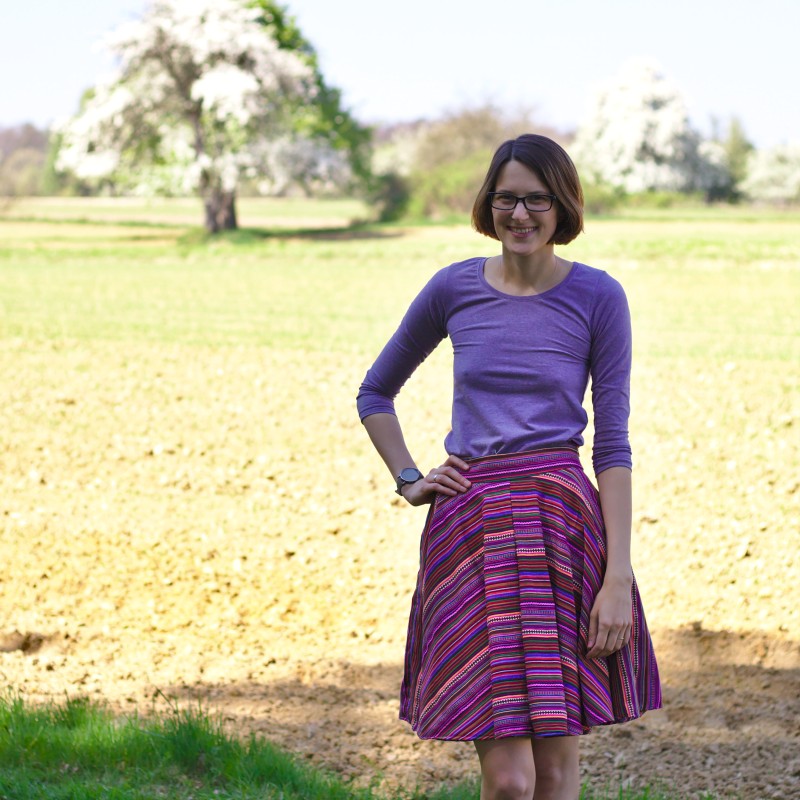 However, a week ago I caught the t-shirt sewing fever for no obvious reason and here I am sweatshopping :) The first one is already finished. Half an hour before we wanted to take the pictures I had the thought that this purple fabric would look great with my new culottes. The pattern was already cut out and so I quickly sewed this tee :)
The pattern I used for the culottes is Tania Culottes by Megan Nielsen and I sewed it for the third time. I don't wear the other two culottes any more but more for fabric reasons, and so I decided it was time for a new try. I really like how these culottes look and how comfy and practical they are. Plus Megan republished the pattern and added more variations to it. I got the update because I bought the old pattern. In the old pattern there was only one very short version that I lengthened when I made the previous two Tanias. That was tedious work. The updated pattern has 3 versions, the short one, a kneelong one and a calf long version. The longer version is also less wide, so that it still fits on a 145 cm wide fabric.
I wanted to make the second kneelong version and I printed all of the pattern pages. There were two pattern sheets (what I mean with that is two huge A0 pages that were divided into multiple A4 pages) and I didn't find anything indicating what sheet you have to assemble to get which version. So I thought I needed both. Turns out: version 1 & 2 are printed on the first sheet and version 3 is printed on the second sheet. The waistband pieces are printed on both sheets, so I really didn't have to assemble both sheets, but as I didn't know that, I did. I lengthened the kneelong version by a few cm, but when I tried to fit my pattern pieces on the fabric I realized that that wasn't possible, the length of the skirt seems the to be the maximum length to use all of the width of a 145 cm wide fabric. Plus I only had 1,5 m of fabric which forced me to shorten the skirt even a little more.
I bought the fabric when Marvin and I last visited his parents. I think it is much easier to shop for fabrics where they live and the fabrics are less expensive there. This particular one even was on sale for I think 6 €/m and it was hidden somewhere in a shelf, but I found it anyway. I didn't know what I wanted to do with it so I only bought 1.5 m. The vendor told me people are making jackets from this fabric. And because I liked the idea I bought another 1.5 m in another colorway :) The fabric is mostly cotton, but as it seems to be an outdoor decoration fabric or something, it has about 30 % of polyester in it, too.
So, ya, I only had 1.5m. Nevertheless I was eager to match the stripes at the center front and back. You cannot see that now ;) That is because I confused the center seams with the side seams, the pattern pieces look just so unusual. The side seams are perfectly matched, but the center seams are not. There was nothing I could do. I don't even know if it would have been possible to match the center seams, because of the fabric amount restraint. Oh well, I'll just go ahead and call this designer feature..
The sewing was done pretty quickly. The fabric is very thick and does not wrinkle, what makes it hard to press. Also I couldn't press as hot as I would have liked because of the polyester in the fabric. I finished the seam allowances with my serger and because I didn't want any visible seams on the outside but at the same time didn't feel like hand stitching, I stitched in the ditch to attach the inner waistband and I used a machine blind hem. I pressed the finished hem on the first leg. And the I don't know what happened, but I didn't press the second leg's hem. This time I was also clever enough to attach a label to the inner back side of the waist band, so that I an see which side is the back. The pattern pieces for back and front are different but once assembled I am not able to see which side is which.
There is an invisible zipper in the side seam of the culottes and I don't see how you could move the zipper to the front or back, because of the huge pleat. That means that there are no in-seam pockets :(
Oh, I sewed size S! According to the measurement chart I would also fit in a size XS, but since I have sewn every Megan Nielsen Pattern in size S and it fit me I went with size S again. There is some room at the waistband. The waistband is not holding the culottes in place at my waist, but it sits on my pelvis. So I guess I could go down a size, but the skirt is really comfortable the way it fits.
I didn't line the culottes, the pattern does not include lining and I wanted to wear the culottes without tights.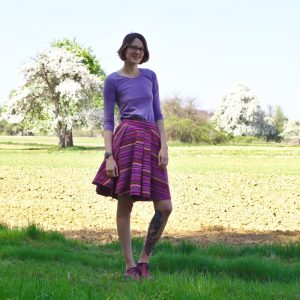 I liked the instructions. I have liked all of Megan Nielsen instructions so far. The technical drawings are very explanatory I think. I didn't have problems with the assembly at all.
Now to the tee. The pattern I used is Plantain by Deer&Doe, and I sewed size 36. The pattern is available for free (which basically means you pay with your personal data;)). I sewed this pattern once before but I never blogged about it. Although I had raised the neckline by 2 cm for this previous version my boobs were all over the place, the neckline was still waaaay too wide. So for this version I raised it by 5 cm and now I think 4 cm might have been a good amount. The tee is a little tight I have to admit. I am in between sizes of Deer&Doe patterns plus the fabric doesn't have that much stretch. But well, I think it will be fine after wearing and washing it a little.
I don't have much to say about this t shirt. I didn't even bother to look into the instructions, after two t shirt marathons I can sew t shirts blindfolded, hehe. Worth mentioning is maybe that I always finish the raw edges of the hems with my serger and use a twin needle to stitch the hem, that way I am usually able to avoid channeling.
I am not sure about the silhouette of the Plantain. I wanted something different than the Renfrew silhouette which I usually go for and now that I've tried something different I kind of think I should have stuck to my beloved Renfrew silhouette.  But at the same time I think wearing something a little different than usual is nice too. So well, I'm okay ;)
So, tell, me what are your spring/MeMadeMay sewing plans? :)
Macht's gut!
Katharina