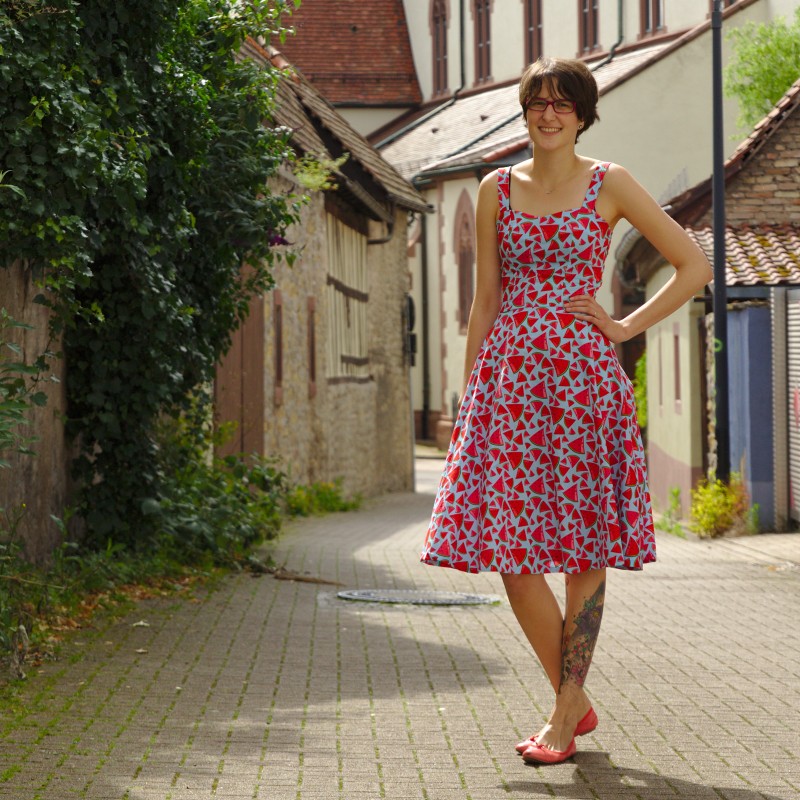 Well, I'm not really carrying them, I'm wearing them. But as the German word for carrying is the same as the one for wearing, this is a super funny pun in German, you just have to believe me ;) It would even be better, if I had actually seen Dirty Dancing. Shame on me: I haven't! Now it's out. But I can make good for that! I have a new dress to show off! And yes, it is over and over with pieces of watermelons! I bought it at the end of summer last year and as this obviously is a fabric for a summer dress I waited til recently to turn it into a dress.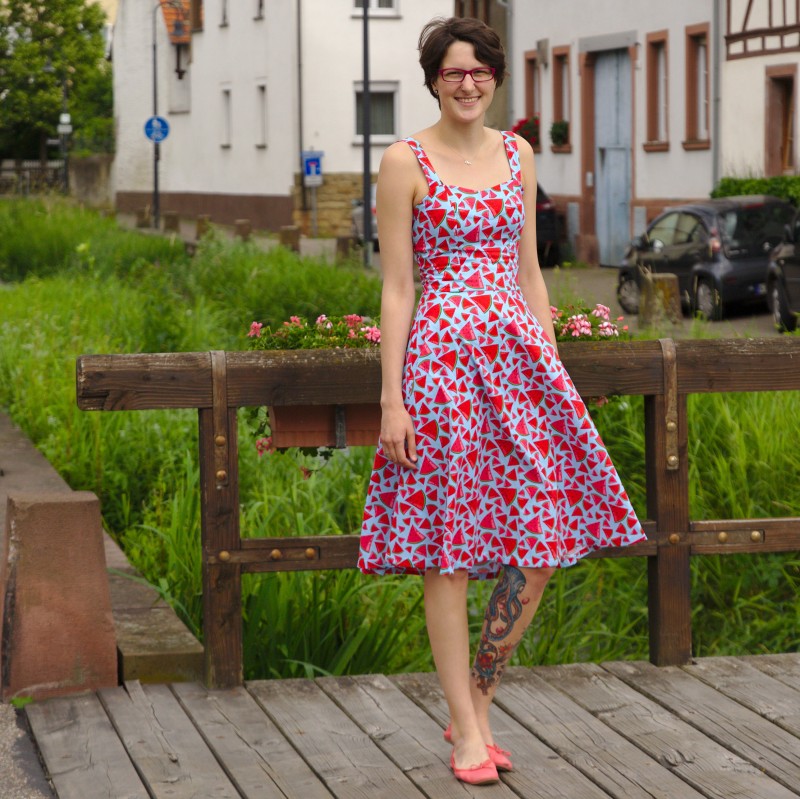 The fabric is from a German label. For children's fabrics. Yes yes, I'm not ashamed! The good thing is, that almost all fabrics that were produced for German labels are at least 1,40m wide. this one was 1,50m and that is perfect for a real nice flared skirt! So at the beginning all I could think about was : Flora Dress. But when the day came I felt adventurous and brave and so I grapped a book from my shelve that has been there for like ages and looked it through! You know, I'm not a sewing book kind of person. I also don't really like sewing with magazines. This is too overwhelming for me I guess. I see all those clothes and cannot decide and see there's more. Ouf. But this book doesn't have that many patterns and there was this beautiful dress that stick out to me instantly. The book is called 'Essential Sewing: A Manual for Learning to Sew With 25 Projects', it is written by Tessa Evelegh who seems to be the author of all those Great Sewing Bee books. I was working with the German version of this book. I won it at a small contest. The book itself seemed nice, not too overwhelming, with some general instructions at the beginning and some patterns later on. All the time I thought that there were no seam allowances included in the patterns and that I had to copy the patterns. But I took a closer look and saw that actually 1.5 cm seam allowances are included in the pattern. AND you can download the patterns as pdf and print them with an ordinary printer.
AND there are some really beautiful dresses in that book! I instantly fell in love with the neckholder dress and , as I said before I was feeling adventurous, I decided to give this dress a try! I obvioulsy didn't do the neckholder. I'm just soo lazy that if I need to wear a special bra with a garment, I don't wear it. And so I used simply straps to keep the dress up :) This made it in my mind redundant to sew the dress with boning in the princess seams. Also I didn't have boning at hand and so I decided to not use any, as it is suggested by the instructions.
The Dress is unlined and the edges are finished with facings. The pattern pieces for that are included. The zipper is in the located in the left side seam and not in the center back. That makes it impossible to add in seam pockets but still I wanted to give it a try. I started the zipper a little below the neckline, I think it makes for a cleaner look. But it also makes getting into the dress much harder :D I can now feel the zipper when I'm walking as my upper arm moves over it a lot. I don't think it's bad, but you should definitely consider that if you are sensible.
The skirt is a half circle. I lengthened it, but really didn't have to as there is 5 cm hem allowances included. Why? You really need to make a narrow hem here as the skirt is curvy. I also lengthened the bodice by 4 cm which is standard for me. I decided to go for size 36 as the measurements were the closets to mine in the measurement chart of the book. I made a muslin and everything looked fine, so I got started
I'm super pleased with the fit, it fits me very well right out of the box (book, or wahtever..Internet..pdf..) What I was absolutely not pleased with were the instructions. They were sooo sparse. My first problem was that I didn't know which edge of the front and back side pieces was the side seam edge and which was the edge that had to be sewn to the center pieces. There are no notches in the pattern. And the instruction says something like: assemble the bodice. Sew the side pieces to the center pieces. And that's it! Nothing about pressing, or finishing your raw edges, not a word. I mean this book is meant to be for beginners. If you are a beginner and try to sew this dress you must think you're too stupid. And that's totally bad!
Btw I think the for the side front pieces the side seam is on the left side, for the back side piece the side seam is on the right side of the pattern piece.
This was just the first thing I stumbled upon making this dress. There was more. Like: insert the invisble zipper to the left side seam. Yes.. thank you! I mean, at east you can look into the first section of the book were inserting zippers is explained in general.  The drawing are not helping either.
I mean this was no problem for me. I have sewn some dresses. I mean there is nothing complicated about this one. Just assemble the pieces and you're good. But what I really dislike is when instructions are written like the author simply doesn't care. When someone makes a beginner's sewing book and is so unpassionate about it. I mean you have responsibility if you publish a book. A beginner might stop sewing because he thinks e sucks at sewing.
What I did was to simply assemble the pattern pieces. I inserted and invisible zipper to the side. I made straps that are about 3 cm wide. I made all seams french (and I'm not sure I'm expressing that right here..) except for the side seam were I inserted the zipper. I topstitched the facings and sewed them by hand to the dress' bodice. I blind hemmed the skirt by hand, after letting the dress hang for a while, but the seam stayed even. I kind of like clean finishing my dresses from the inside now. But I still hate hand sewing hems. I hate hand sewing in general. But I like how a hand stitched blind hem looks ;) It actually doesn't 'look', it is invisible, hahaha!
I had some troubles with the straps. Didn't get them to the right length somehow. It took me a while at least, but now I'm satisfied. The skirt turned out way longer than I initially wanted it. I usually wear my skirts shorter. But I liked it on this dress, especially because the bodice shows more skin than I usually prefer. And so I stayed with that longer length and I like it :)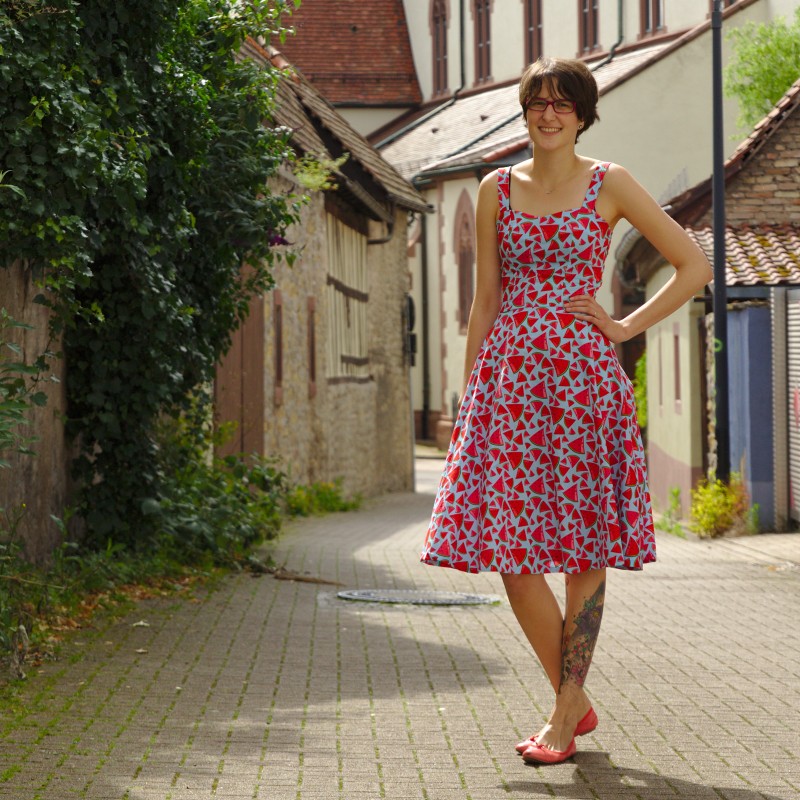 I'm wishing you a great day with or without watermelons!
Macht's gut!
Katharina