Recently I managed to sew three fitting bras for myself. And as soon as I completed this task I began questioning whether I really needed them. It was a lot of fun sewing the bras and and all those bras that led to theses three fitting bras, but somehow I never really questioned the bra wearing itself before in my life. It just happened as if it was something natural, something you do, when you grow up. But wearing a bra was most of the time uncomfortable to me and I never felt like I needed the support that much.I mean, even when it fits your body perfectly it still works with compression. And I think there must be a good reason to go through each day wearing something that compresses you. That is okay, when the compression helps with issues like back pain etc. But I don't have those issues at all. I am fine without a bra and I think I am even more comfortable and painfree without one. I think I only wore a bra for the shape.
So I started questioning bra wearing. A quick web research showed that there is no evidence that wearing a bra has a positive impact on the breasts themselves. And that there are even people saying they're having a negative impact. They claim, the breast tissue and breast muscle and all of that become weaker because the breasts are supported by the bra. It's also not clear if that is true. Nobody really seems to know what effect a bra has on the breasts, women have simply not been wearing them long enough to provide enough data to make a clear statement. What everyone seemed to agree on was that every woman had to decide for herself.
As I felt I had never decided that for myself I decided to ban underwired foam cup bras from my closet for a while and see how it feels.
That meant that I wore my two Watson bras to their limits and I needed new ones. So I made two.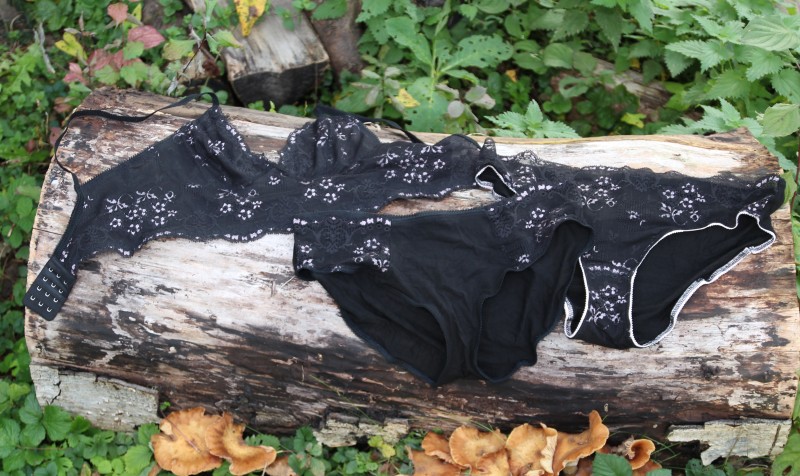 For the first one I used some stretchy wide lace that I bought locally. I had about 1,5 m of it and I made a bra and two undies. I had all the supplies I needed at home, and I think most of it came from an Austrian web shop wien2002.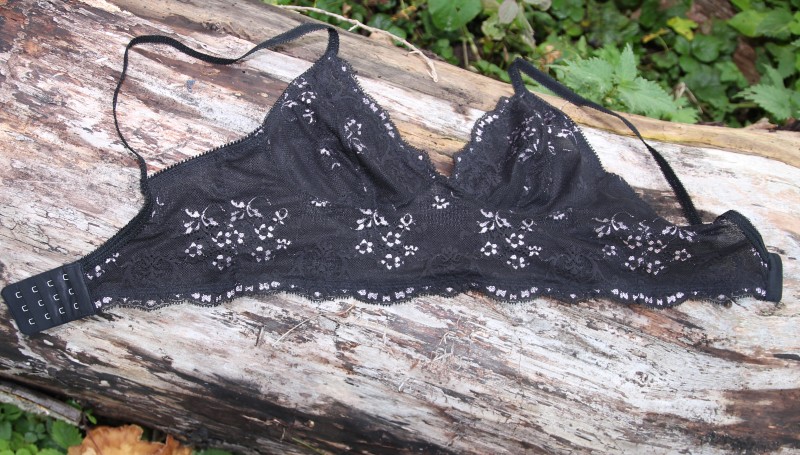 I used the scalloped edge of the lace at the border of the cups and at the bottom of the band instead of using elastic there. I simply sewed the elastic behind the edge. I doubled all pattern pieces with black power mesh to give them more stability and to encase the seam allowances to make for an easy and clean finish.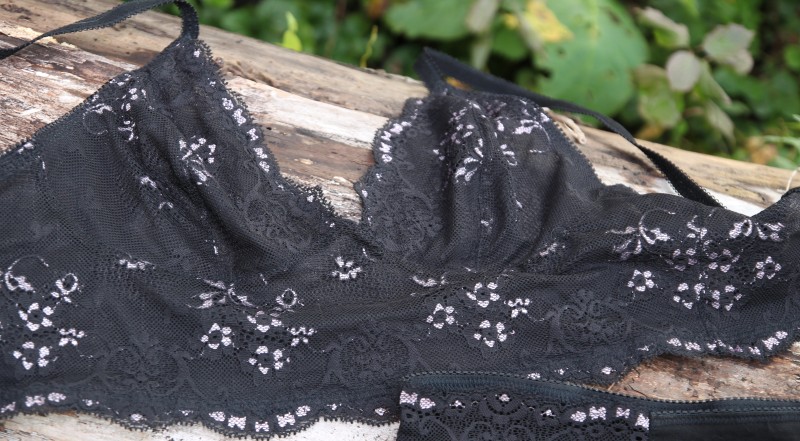 All my Watson Bras so far feature the wide band and I really like how that wears. I distributes the compression more evenly and I never had problems with the band rolling up or anything. Everything stays were it should.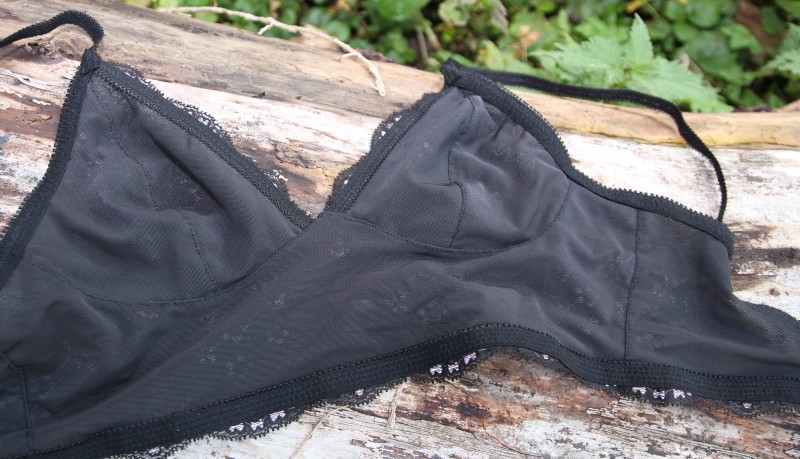 The sewing process was easy and fast. If you don't have to set in wires you can be done within an hour or so. I used my already altered pattern pieces, that cut in size 70C with a shortened band. You can read about the alterations here.
Because I was fast done with the bra I could convince myself to sew two pairs of undies. Sewing a pair of undies approximately takes as long as sewing the bra, I'm telling you. When I was still buying rtw clothing I was always complaining about how the undies costs almost as much as the bra, if you buy them in the store. Oh how naive I was! They should cost twice as much. They don't only take as much time but they are much more fiddly and boring to make. And when you're done you have a pair of undies. I mean, that really isn't that glamorous. If you tell people you make your own undies, they are not impressed. But if you tell them you make your own bras they cannot believe it.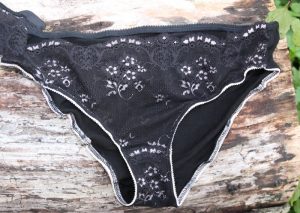 But as I don't sew for other people and because I always need undies, I finally convinced myself to make a pair.. And maybe I had a little bit of fun too. But just a little. I made one pair from the pattern that comes with the Watson bra. And I somehow managed to forget to stabilize the scalloped edge with elastic. Well, I don't recommend doing that, the elastic in the lace looses its effect very quickly and the undies don't stay up that nicely ;) I could easily fix that. But I think fixing undies is even less fun than sewing them.
I used my favorite undies pattern Geneva for my second pair. The black fabric is some cotton jersey with a lot of spandex which is very comfortable.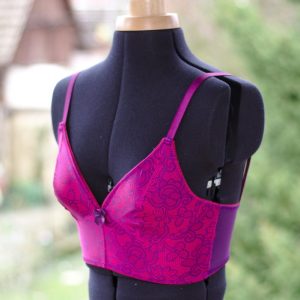 Let's move on to the second bra.Now that I decided to stop wearing underwired bras I had some already sewn undies that didn't match a non wired bra, and luckily I had some left-over fabric from one of those bras. It is some very stretchy microfiber fabric with a lace pattern digitally printed on.
And because of no reason, instead of cutting the front band piece on the fold I cut right through the middle of it. That's why you're seeing this decorative seam in the center of the bra ;)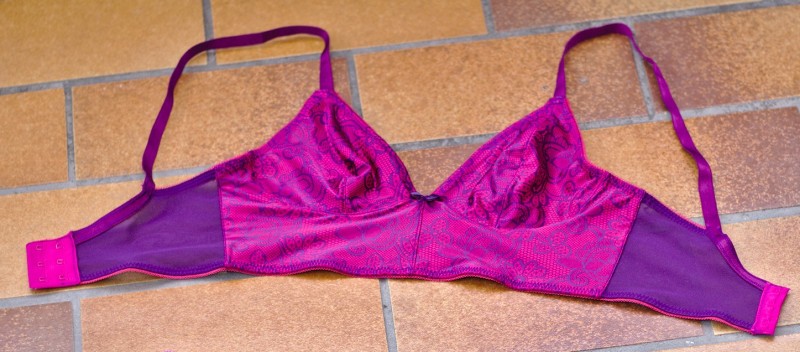 For both colors it was impossible to find color matching supplies for. I had the purple powernet in my stash, I used that to completely line the bra. I also had the strap elastic in my closet and this time decided to not use sliders and simply measure the straps the right length and sew them on.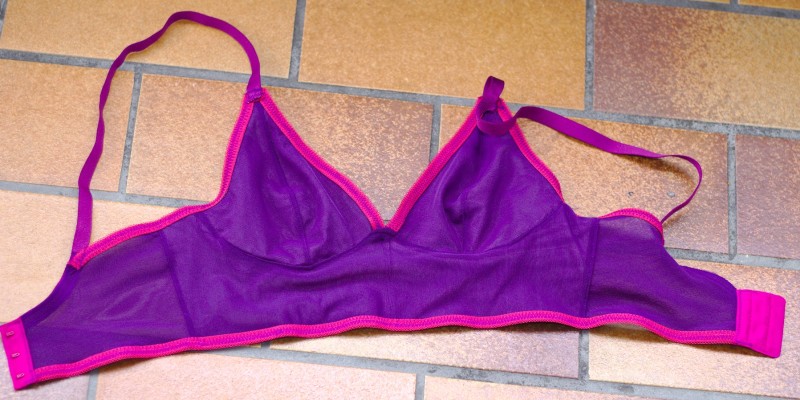 Powernet and strap elastic do not really match the fabric. I tried to find a closure and plush back elastic that matches any of these 4 colors I already used, but instead I ended up buying a pink closure and pink elastic that have different colors too. So what you see now is 6 different colors in one bra.
If that wasn't enough, I didn't buy enough plush back elastic to use it for another pair of Watson undies I made and so I used another different shade of pink elastic for the undies. Oh well.
I promised myself to only buy lingerie fabric in basic colors in the future.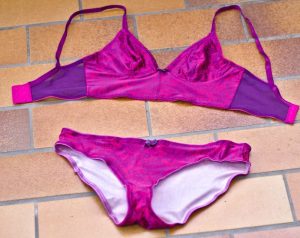 Right now I don't feel like I'm missing something. If I need support or another layer underneath my garments I wear my Watson Bras and I feel much more comfortable when I return home after 11 hours of work and commute. I don't think that I will go back to foam cups or underwires. But even if I go back it will be a conscious decision and not something I do because I have always done it.
Thanks for reading!
Macht's gut!
Katharina