Hey there! I am Katharina! I live together with my boyfriend husband Marvin in Weingarten, Southern Germany and I make my own cloths. (Here are my wedding related posts;) )
I started knitting when I was a child, but I wasn't that interested in it back than. At the end of 2011 I restarted, Susanne, Marvin's mother, infected me! She is a great and experienced knitter and taught me a lot! Thanks Susanne! :)
One year later I started sewing. I blame the Internet. Sewing seemed so much faster than knitting and it is. Since then I have started sewing all my garments, right now there are only few pieces in my wardrobe that I bought. That is because I am 1,86m (6'2″) tall and garments I buy in stores generally don't fit me right. There always comes a point in one's live were there is no more room for new garments in the closet. I had that moment about two years ago ;) So I decided it was time to find another hobby that makes me take longer on finishing a garment. What better to do than start spinning ;)
So I am spending all my money on fabric and yarn (and shoes, I love shoes!) and in 2013 I bought an expensive sewing machine. It is a Pfaff Expression 3.2 and I love it! I also own a serger. A Bernina 700D to be precise. All my knitting I do with those knit pro needles, they are great (but I always break the small ones by sitting on the them)! :) My first and current spinning wheel is a Woolmaker's Bliss.
In between sewing and knitting I work as a software engineer, I go to the gym and I camp. Marvin and me own a little caravan with which we go on vacations :) I am a real fan of camping and of Marvin! He's the one taking the photos here, in case you have wondered :)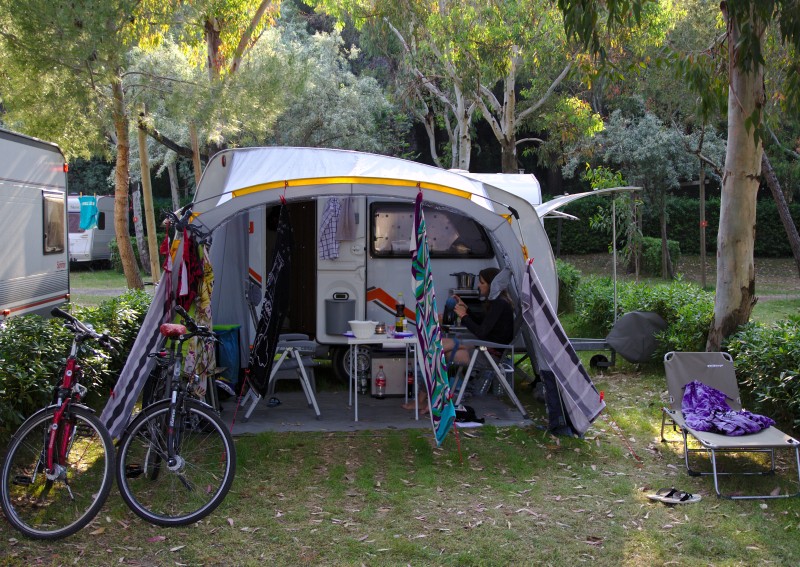 I have sewn in 3 different sewing rooms so far. You can read about my second one here and about my current and third here.
When I started this Blog I wrote all my post in German only (now I'm writing them in German and English, obviously). If you're interested in any of those older posts, let me know, I'm happy to translate and help :)
Katharina