I made another dress! :) And this time I thought it was worth it taking proper pictures and translating the post. I have neglected the English version of this blog a little, because time is sparse right now with starting a new job. But it's getting better, so here it is: the post about my new dress. The story started with the fabric which I bought when I was in between jobs and had almost two full month of work free time. It was great! First thing I did was to buy some fabric and this is the third dress I have made from this batch (first dress, second dress). I found this fabric in the patchwork isle of the store. It has llamas on it :) As you might know, I'm a huge Alpaca fan but until then I had resisted buying an alpaca themed fabric although I have seen them all around for a while now. But all of them looked too childish for my liking. Alpacas with suuuper big eyes, or even hearts instead of eyes, hearts everywhere and usually in baby blue or pink. No thank you! But this one was different. The colors aren't cute, the llamas aren't either. The fabric is pretty soft and even drapey, a light woven cotton fabric, perfect for a a dress if you ask me. It was a little expensive, I think around 16 €/m (and only 110 cm wide), but I thought that now that I have finally time to spend some of the money I have been making those last years on something that I knew would make me happy I should do it.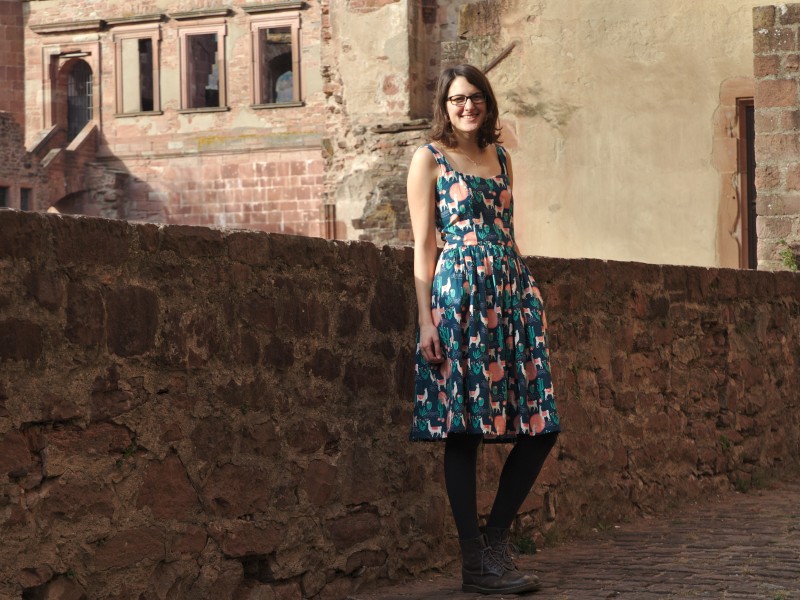 Back home I thought about what fabric would be great for which pattern. I also thought about what dress pattern would be worth making again in a bigger size as another project of mine was to gain some weight during my time off. I feel healthier now but about 60 % of my woven dresses don't fit me any longer. I can press myself into most of them, but I wouldn't want to spend more than 10 minutes in them. So now I have to re prepare every pattern I want to make. One pattern I wanted to remake was the Kim Dress. I only made the dress once and never wore it, because it fell apart during the photo session. I tried to repair it but I never dared to take the dress out on the street. Lesson learned: never put any strain on seams in silk fabrics.
But I still had the dress in my closet for sentimental reasons ;) And I could try and see if the old size 4/8 still fit me. It didn't ;) I could also have taken a look at the finished measurement chart of the dress, you might think. But in my experience By Hands London's finished measurement charts are always off. The finished garments are always larger than what the chart says. And I have noticed something else: my old pattern says the finished bust circumference of this dress in size 6/10 is 86.25 cm. The chart on the website says the it is 87.25 cm. So they seem to have updated their charts. However I just measured the bust circumference of my finished dress and it is a little over 90 cm. So I would still always sew at least one size smaller than what is suggested by this chart. That's what I did at least.
I sent the pdf away to get plotted and afterwards cut size 6/10. I straightened the shoulders and lengthened the bodice, as I usually do. I made a muslin and had to correct the shoulder angle, but then I was ready to go.
The pattern features two neckline variations, a straight one and a sweetheart neckline. I chose the sweetheart neckline. The fabric isn't that cute, so better make up for it with a cute neckline ;) There are also two skirt variations included in the pattern. The first one is a wrap pencil skirt and the second one a more flared rectangular skirt with gathers at the waist. And of course I chose the gathered skirt. This skirt variation also has a pin-tucked hem. I omitted the pin tucks, because of the print but I didn't shorten the skirt.
I made the dress from only 2 m of 110 cm wide fabric. The suggested amount of fabric for my size, variation and fabric width is 3.4 m and I am very proud!:D 2 m is my go to amount of fabric that I buy when I don't know what pattern I will be making but I know the fabric is going to be a dress.
The colors of the dress remind me of autumn and winter and so initially I planned on fully lining the skirt. But the fabric is really soft and the whole neckline of the dress is very summery and so I decided to only line the bodice to still have the option to wear the dress in summer also. And in winter I'll be wearing a slip dress underneath. Which you can see in some of the pictures… I used some rayon lining for the bodice, a left over from this dress. The instructions guide you step by step through how to completely line the bodice so that the only stitches you have to make by hand are the ones that join the shell and the lining at the waist seam (and you can always stitch in the ditch here and avoid sewing anything by hand altogether).
I also added pockets to the dress. Because pockets. There are no pockets in the pattern so I draw my own and made sure the top if the pockets is caught in the waist seam, so the pockets won't flap around :) I didn't have enough fabric to also cut the pockets form it and so I used some left over Ikea fabric for that.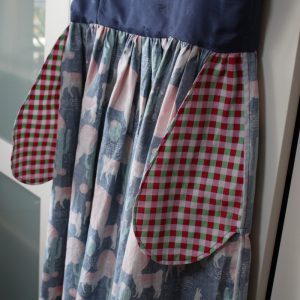 I french seamed all the seams of the skirt. But only because the skirt is gathered. So if I some day need to make the waist wider I can simply make the skirt wider by taking out some of that gathering. Otherwise I would have overlocked the seam allowances, because I have learned from my mistakes. I machine hemmed the skirt hem.D
I even french seamed the seam underneath the invisible zipper and here you can find a tutorial on how to do that.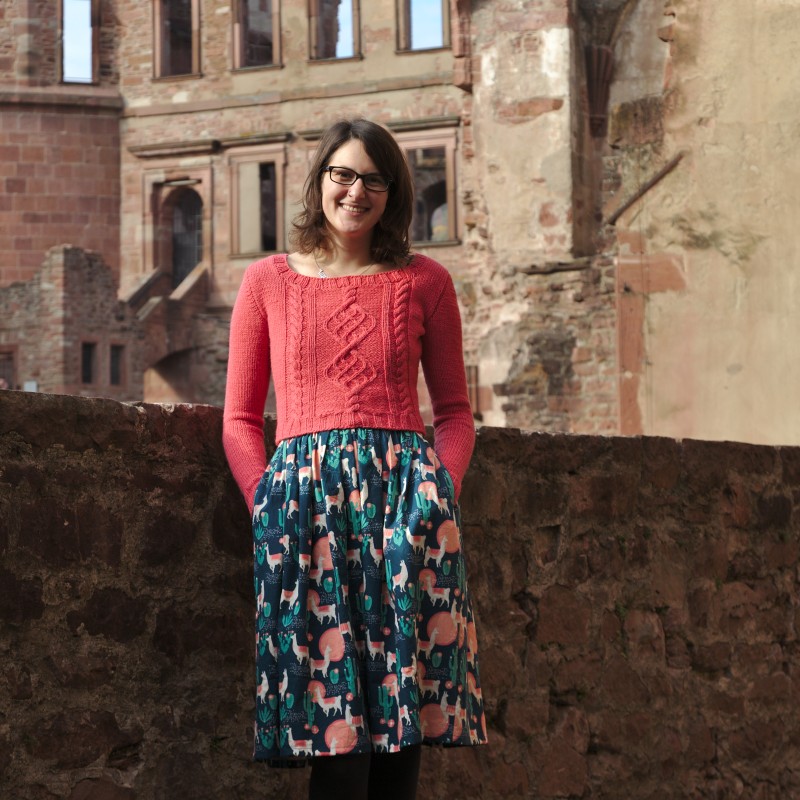 I really like that dress and I have gotten some compliments for it so far :) It also goes great with a lot of my hand knits as the Chuck sweater you see me wearing in the picture above. In the backdrop you can see the Heidelberg Castle. While being in Heidelberg (which is a 30 minute drive from our place) I found a great fabric store! And I will tell you all about it soon!
Macht's gut!
Katharina