I wrote my first knitting pattern! Not for the cardigan, I'm still planning to do that, but for a pair of socks. I felt like I needed to start a little smaller and less complicated. And so I wrote a pattern for the socks that I made about 2 years ago. I changed a lot and in the end only the pattern stayed the same.
I named these socks 'Erika'. Because I name my patters alphabetically and because that was the first name that popped into my mind. I'm not that good at name giving. Now you might wonder, what happened to the 'D'. Well the 'D' is a little behind, but it will come!
But back to the socks!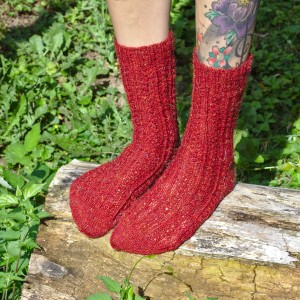 They are knit from the top down and feature a heel flap and a very simple toe.
The pattern consists of mock cables and a twisted rib and is knit completely without the need of cable needles.
The pattern also works great for toe-up knitting, I did that with the socks that I made two years ago.
Also the socks looks equally great on men's and women's feet :)
You can knit these socks with an arbitrary amount of stitches, as long as it is a multiple of 8. For  the instructions I picked 3 exemplary sizes:
56 stitches
64 stitches and
72 stitches.
The gauge for this pattern is: 28sts x 40 rows = 10 x 10 cm. You'll need about 100g / 400 m of Fingering Weight yarn and a set of 2.5 mm dpns (or size needed to obtain gauge) to knit one pair of socks.
You can download the pattern for free here.
I had a lot of help bringing this knitting pattern to live. First Susanne eradicated blunders and afterwards Brigitte aka Punktemarie and Julia aka Papiliorama took care of the details. They all helped my so much, thank you! And they knitted some beautiful socks.
Brigitte even knitted a second pair in ankle length.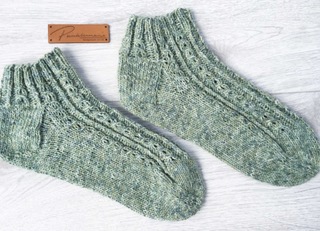 The pattern is also available through Ravelry. I really hope you enjoy it! I would love to get feedback and comments if you decide to give Erika a try :)
Happy knitting!
Katharina