I designed another sock knitting pattern and I'm releasing it for free here today. I started writing the pattern more than a year ago and then more important things got in the way. But now that I'm on maternity leave I finally finished those last 10 % ;) I named the socks Hildegard, because I wanted the name to start with 'H' as I name my patterns in alphabetical order and so like usual I just picked some random old fashioned sounding German name. But more about the socks!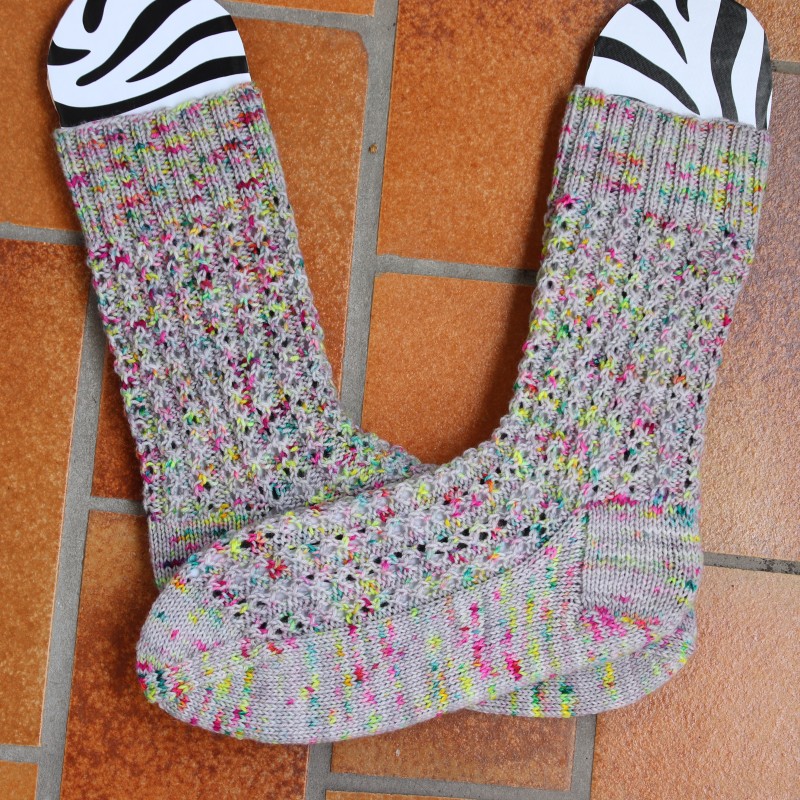 They are knit from the cuff down and feature an easy-to-knit and nice-to-look-at lace pattern. The heel is worked with a heel flap and the toe is kept very simple. This is my favorite way of knitting and wearing socks. I have tried many heels and some toes and also different approaches to knitting socks and this way has turned out to be my personal favorite. The heel, the toe and the bottom of the foot are knit in stockinette stitch so that the socks are not only beautiful but also comfortable to wear. The lace pattern also works great for toe-up knitting.
You'll need one skein of sock wool (approximately 100 g / 420 m of Fingering Weight yarn) and one set (=5) of double pointed needles (or whatever you prefer to use to knit small circumferences in the round) in a needle size that lets you obtain the gauge, which is 28 M x 40 R = 10 x 10 cm.
The basic instructions do not differ profoundly from my previous sock knitting pattern. However as the lace section is different I chose different exemplary sizes this time:
I also improved the instructions and adapted them to my current instruction style. Marvin even upgraded the layout. I suck at layouting and I think he has done a great job :)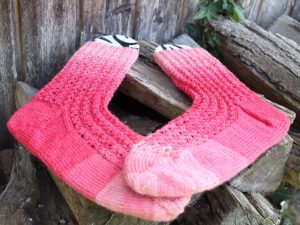 The instructions are written round per round. To keep things short I use common knitting abbreviations that are explained in a glossary. The instructions feature a charted and a written description of the lace pattern.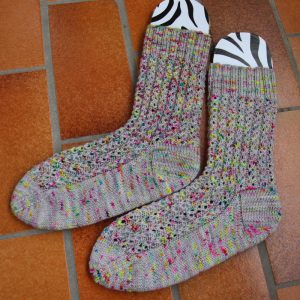 I had no pattern testers this time, so if you find something peculiar or even plain wrong please write me an email. I knitted two pairs of Hildegard socks myself. The first one from a hand dyed yarn I bought at local wool festival.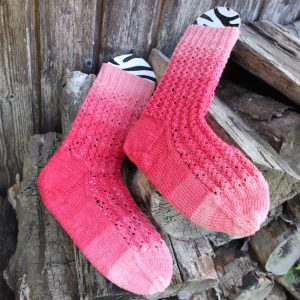 The second one I knitted from skein of Schachenmayr Regia Pairfect, that was gifted to me.
I hope you enjoy knitting these socks as much as I did!
Macht's gut!
Katharina