Last March I was at the Wolllandia wool festival in Pforzheim, only 30 km away from my home. It was the first time this particular festival took place and there were hordes of people there. The space was very confined and there were lots of booths and sooo many wool you could buy! All of the sellers were indie dyers or people producing something related to wool and fiber arts. I went hunting for some fibers and I was successful :)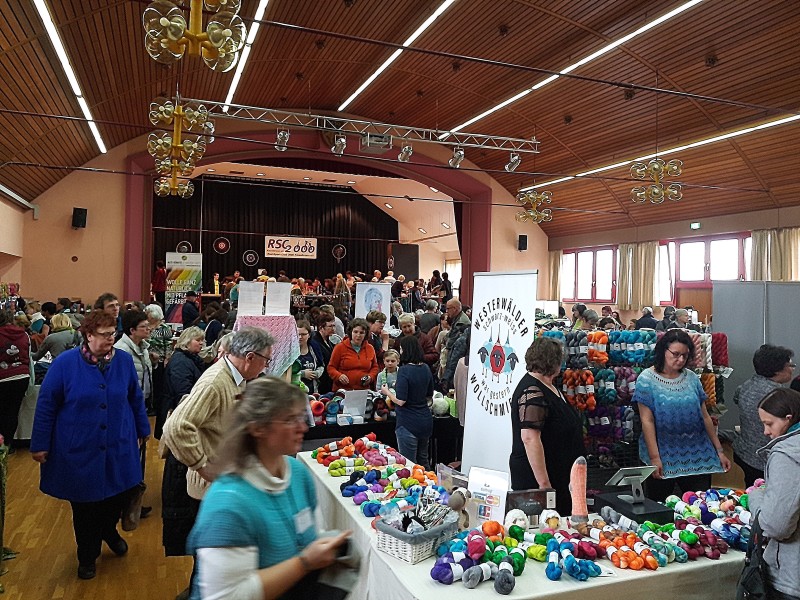 The wool that this post is about was dyed by Heike aka Frau Wöllfchen. Most of the fiber you could buy at the festival was Merino or Silk or a Merino/Silk blend. But Heike had a secret stash of less noble fibers that she had dyed for people to use in spinning courses she offers (like Falkland, Icelandic, Sothdown ..).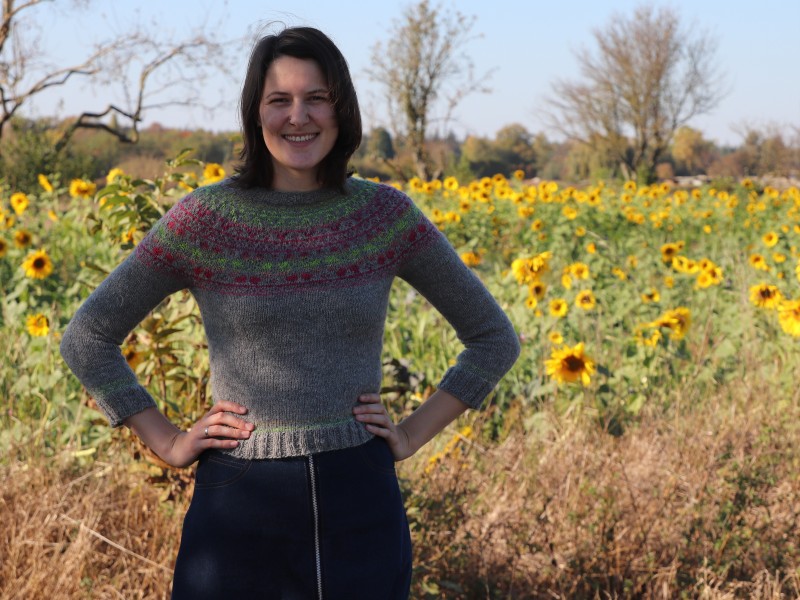 I like Merino but there are so many other sheep breeds out there with super interesting wool. Merino is great for some projects but if you want something really durable and something that keeps its shape there is better suiting fiber out there.
So I bought this beautiful piece of roving dyed green and pink and named 'First Bloom'. The label said the roving is from a polar fox. Which is a fox, not a sheep. I was confused but I also didn't ask Heike what kind of sheep this is supposed to be, I thought that the Internet would provide me with an answer. It didn't really. I think in German 'Polarfuchs' is something you call Icelandic sheep. At least some German online shops seem to do that. However there are also shops that offer roving from Icelandic sheep and from Polarfuchs as if it was something different. So I still don't really know from what kind of sheep the roving initially came from. It definitely came from a sheep though and not from a fox ;). It felt similar to Icelandic, but if you have any clues I would love to hear them.
Spinning the roving was very pleasant and fun.
I chain-plied the yarn to keep the colors consistent.
The yarn that I made weights 151 g and is 373 m long. I didn't measure anything else, but I guess this is DK weight. And the yarn weight seemed to be pretty similar to the left over I had from the Gotland lamb yarn I made earlier this year.
I decided to use the grey yarn as maincolor and the pink/green one as the contrasting color for the yoke of an Icelandic style sweater. And as I had already swatched the grey yarn I told myself that I didn't really have to swatch the other yarn as well, as I was only going to use it in the yoke ;)
Luckily I got away with it! I knitted the sweater without instructions, this is my own design. I designed the yoke with help of LibreOffice Calc but didn't take into account that the light green is not contrasty enough on the grey. So you have to believe me that the pattern I thought of is really very pretty. Because it is very hard to see. As I didn't have that much yarn left I didn't have to bother figuring out the best length for the sleeves and bodice. It was clear that this sweater needed o be rather short in total :)
I had to knit the yoke twice because during my first attempt I made the increases too far down. So I read a little and I thought I'd share my new found wisdom on the blog ;) Until the yoke has reached the shoulders you should knit completely flat in a circle. I found the advice that in order to so you have to increase 4 sts every row (or you know, 8 sts in 2 rows, 12 in 3 and so on). Once you've reached the shoulders you can stop increasing.
I also added some short rows to the back to shape the neck, because I like a shaped neck better. I knitted the short rows between parts of the pattern, so that the pattern looks a little different at the upper back compared to the upper front.
I also found a new method to knit stranded. I'm a continetal knitter (and I would say 99 % of the German knitters are) and I now knit with 2 threads on my left index finger. One thread is wound from behind around my finger the other one from the front. It was a little hard at the beginning and I had to concentrate but now I'm pretty fast using this method :)
And in case you're wondering: yes it was waaay too hot to wear that sweater. These pictures are not taken under a beautifully warm autumn sun, it was freaking hot as if it was summer. The temperatures are again unusually high here as they have been since April. But I eventually have to wear all those knitted sweaters I make. Soo it seems I have to live with being freakishly hot wearing them ;)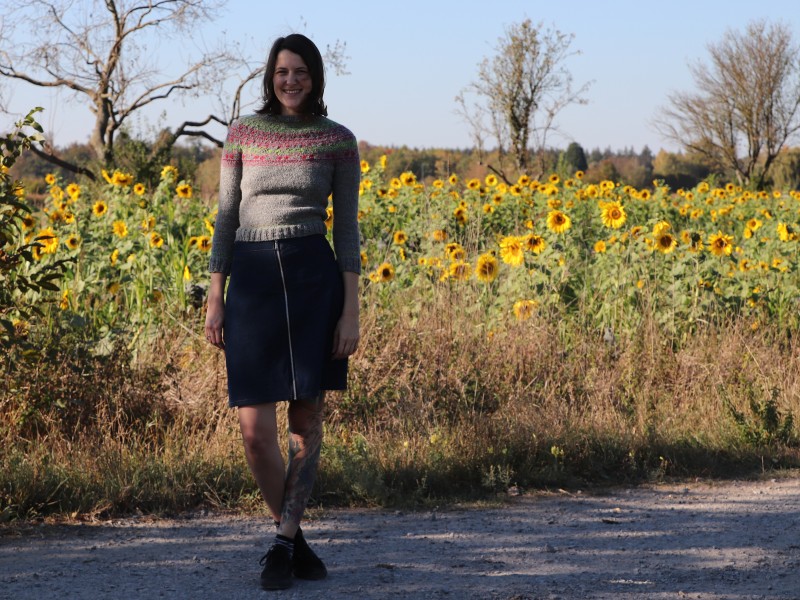 And that's it1 If you want you can find the project on Raverly by clicking here.
Macht's gut!
Katharina