Hello there! Long time no see! I have been neglecting the English version of this blog for the last months. I just was lacking motivation and free time. I'm planning on at least translating posts about stuff I really care about in the future. And this post is on of those :) It is about the release of my second knitting pattern. A linen summer top that I have made two times before (here and here) and last summer I found a commercially available yarn that I liked for this pattern and started writing the instructions. The pattern is again only available via Ravelry. You don't have to be a member to buy it, but you'll need to pay via PayPal.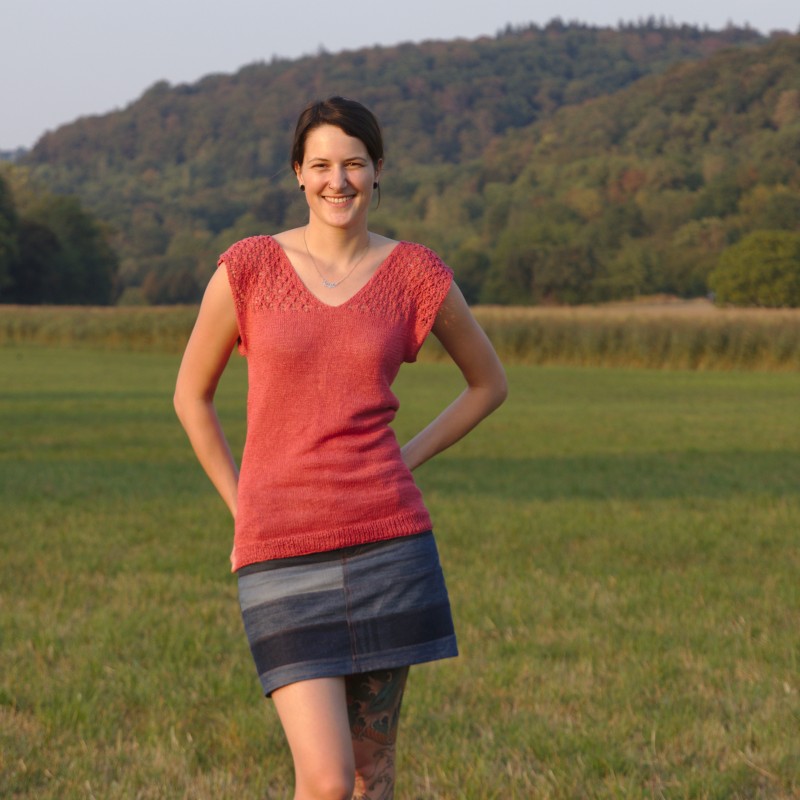 The yarn I found is Lino Mūka by WOLLEN Berlin. 100 % linen and available in beautiful colors for a reasonable price. I was super happy when I found it. However I'm not totally satisfied with it. The yarn is very thin. I think it was made for weaving and not for knitting. I held it double and used 2.5 mm needles, my gauge was  24 sts x 36 rows = 10 x 10 cm in stockinette stitch, still pretty thin. In addition the yarn seemed to be over-twisted when it arrived, which is okay and I think even a desirable feature in weaving yarn but not in yarn you intend to knit with. A soak in lukewarm water fixed that luckily. I also wasn't happy with the costumer service of WOLLEN Berlin. They sent me newsletters without me consenting and it took two emails to make them stop. I think the GDPR is a good think and I put some effort into implementing the law for my blog and I kind of expect other EU businesses to do the same. At least stop sending me your spam newsletters!
I wrote the instructions for 6 different sizes: xs (s, m, l, xl). The sizes correspond to the following bust measurements of the finished top: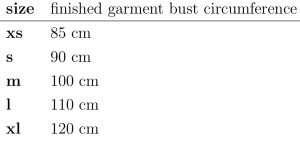 You should choose your size according to your bust measurement. The pattern has a schematic with detailed measurements of the top, so that you can adjust the pattern to your measurements where necessary. The top is best worn with 2 – 8 cm of negative ease. In the pictures I'm wearing the top with approximately 5 cm of negative ease.
The top features a v-neckline and a lace pattern at the shoulders. It has a relaxed fit but is slightly shaped at the waist. The top is knit from the top down and the only seams you have to worry about are those that join the dropped shoulders at the underarm. In the instructions I suggest using a three needle bind off for that. Because of the lace pattern the fabric at the neckline does not roll and is left unfinished. The pattern includes charted as well as written instructions for the lace pattern.
I do not recommend this pattern for beginners. The lace pattern in combination with picking up stitches for the v-neckline is a little complicated in my mind. However, if you have experience in knitting and if you have knit simple lace patterns before this top should not be too hard to knit for you :) Another warning: I only use metric measurements in my patterns.
If you want to use the same yarn as I did you'll need  4 (5, 6, 7, 8) skeins = 980 (1225, 1470, 1715, 1960) m = 200 (250, 300, 350, 400) g of WOLLEN Berlin Lino Mūka . The yarn is held double, also (or especially) when knitting the swatch. If you want to knit the top with an alternative yarn I would suggest you look for Fingering Weight yarns that let you obtain gauge. Because you don't need to hold the yarn double you'll only need 490 (613, 735, 856, 960) m.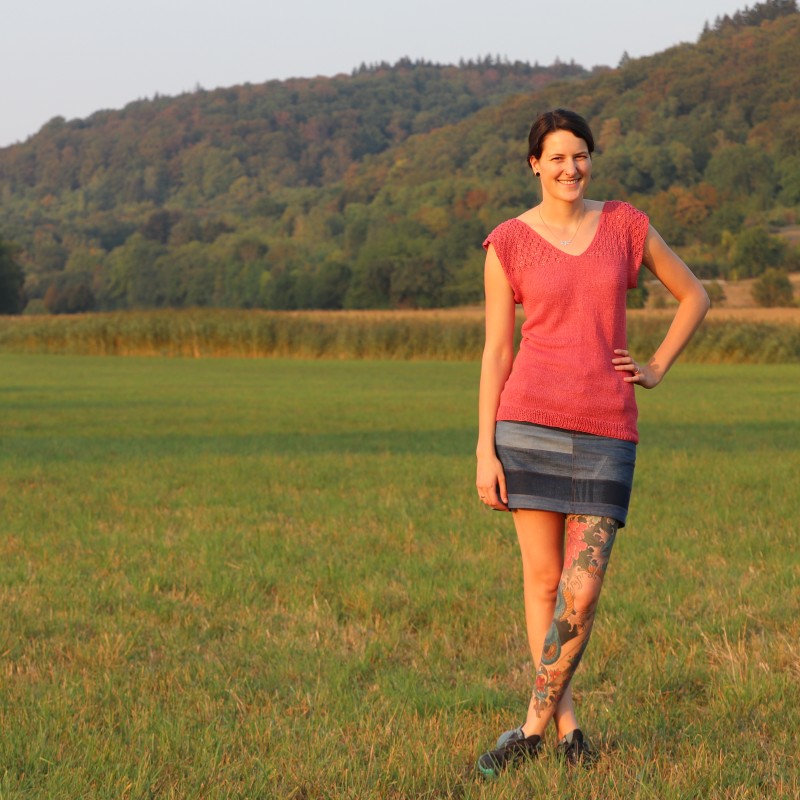 You can buy the Gunilla Top Knitting Pattern here!
With the code HalloGunilla you'll get 30 % off until end of April 2019.
I had great help bringing this knitting pattern to live. Some very nice people agreed to test knit for me. Thank you so much!
Two of them even provided me with pictures of their finished tops so that I can show you how the top looks on different women knit with different yarns.
Lilia made this top:
She used Pascuali Nepal for her top and obtained gauge with 2.5 mm needles. She knit size xs. The yarn really intrigues me and the color she choose is beautiful I think! You can find Lilia here on Ravelry, and here you ca find her project notes and even more pictures.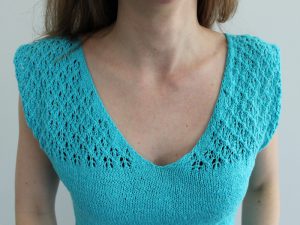 Sandra aka Rehgeschwister also provided me with pictures and helpful feedback :)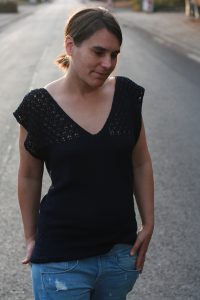 Sandra also used a different yarn than the suggested one. She knit with Zuleeg Silk Feeling in size s. The yarn is a little thicker and does not contain linen. Also Sandra's row gauge was a little off, so that her neckline turned out deeper. This gives the top a different look, that I like a lot.
Beate knit her Gunilla Top with Lino Mūka in size xs.
She also knit the top with less ease than I did and I think the fit is great! And look at the color! Beate made the armhole 8 rows less deep and because she suggested it I added notes to the pattern indicating what you have to do where to alter the depth of the armhole. She also used a provisional cast-on at the upper back. You can read more about her project in her project notes on Ravelry.
I really hope you like the top and the pattern. I would love to see some Gunillas out there in the world :) If you have any questions, remarks or suggestions don't hesitate to contact me :)
Macht's gut!
Katharina