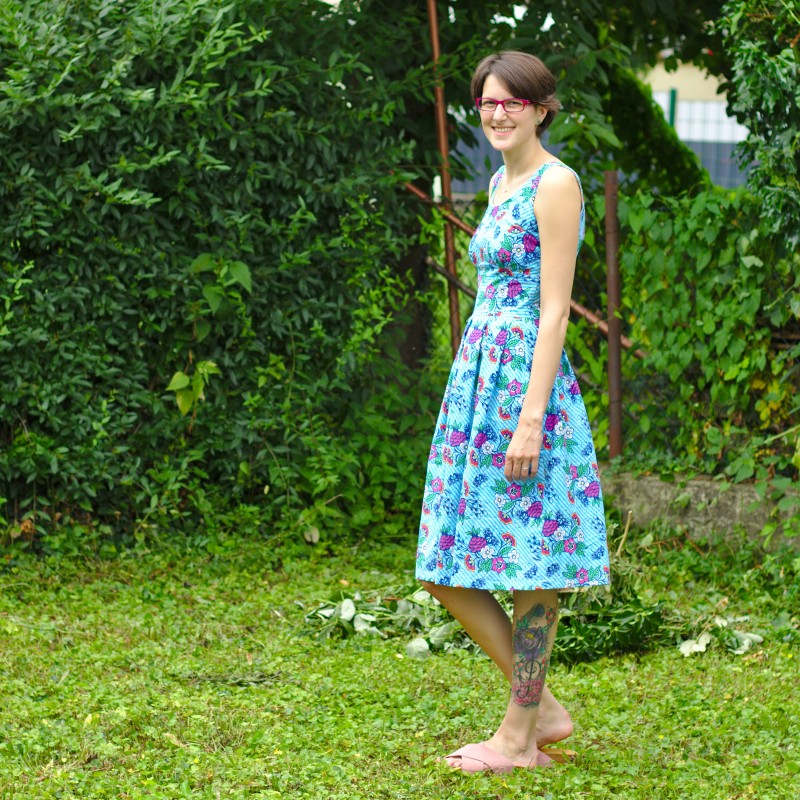 Surprise! I sewed another dress! ;) And because I get asked a lot, here's the explanation at the beginning of the post. I like sewing! And especially I like sewing dresses. That's why I do it so much ;) To me sewing is about the process itself not about having and wearing lots of beautiful dresses. So when I want to sew a dress I don't really ask myself how this dress should look to fit into my wardrobe, most of the time I don't even ask myself if I really need another dress. And because I like the process I sew a lot of different pattern right now. Sometimes it makes sense to sew the same pattern over and over again, but only if you really need something in your wardrobe. And i don't need dresses ;) Right now I still have some space in my wardrobe, that's because I have sewed a lot of dresses in the past that I don't wear any longer. I've only been sewing for 3 years or so and the dresses I sewed 2 years ago didn't last long and don't really fit me. Also I always used cheaper fabrics that wear out over time. The dresses I'm making right now I make to last. So I try to only buy fabrics that I really like and that are of a good quality. I think at some point I'll need to pace myself and sew fewer dresses or no new dresses at all. But right now I'm fine. Actually I still can use some summer dresses, unlined cotton dresses. Ever since I moved farther south they do make sense! And when Nanna, designer behind How To Do Fashion kindly offered me to pick one of her patterns I didn't need any more justifications!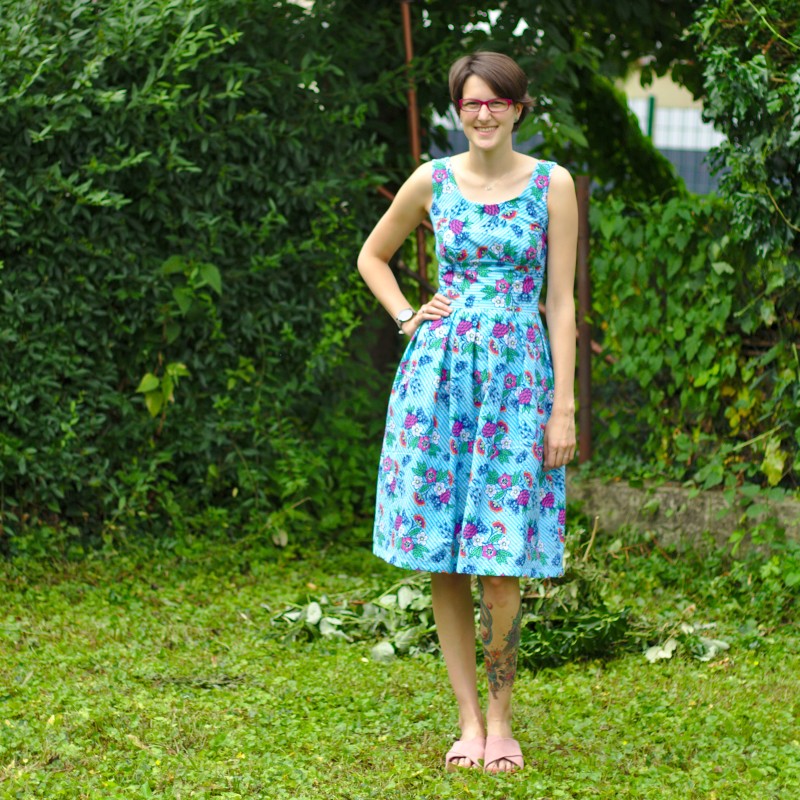 Because her patterns are really beautiful. To be honest, I didn't now her label before I got the mail and I'm glad she wrote me. She specializes in vintage patterns and those pattern really are vintage. Not this modern type of vintage, I think they really look classy and I like the fir of each one of them. I also think you can see that the designer is Scandinavian. Nanna is from Denmark. I have thought about that, but still cannot tell what it is. Maybe even the fabrics of the samples? However, I think it's great that there are European pattern designers who native language is not English, who translate their patterns in English. I think it is diverse and nice that we have so many languages here in Europe, but that gets in the way of our communication a lot. If you travel to a European country you can never be sure if the persons you will be talking too are able to speak one of the language you are able to communicate in. So Nannas patterns and instructions are available in both danish and English, hooray! I had some trouble picking one pattern but in the end decided to go for Svaneke. I picked that pattern because it looks like address but is in fact a shirt and a skirt. Because well, you now, dresses.. When the pattern arrived I was delighted to see that Nanna actually sent me 3 patterns! It was like Christmas!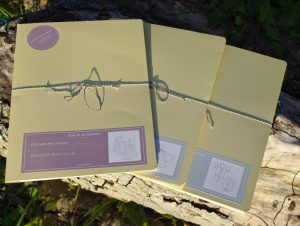 One of them is the Dragør Dress. So, now guess what I did! Yes, I sewed the dress first ;) Because I wanted to ;)
I really liked the packing of the patterns. Very stable and expensive looking. The pattern itself is printed on glossy and stable paper. Front and back of the paper are printed, so you cannot cut out the pieces. I always copy them anyway, because I need those height adjustments. I chose size 36 with the help of the measurement chart and lengthened the bodice by my standard 4 cm. A quick muslin revealed that the bodice fit me very well except for the straps that were too wide and also slipped down my shoulders. Also I hat it when my bra straps are showing, I loved that when I was 14. So obviously I hate that now.. So I rearranged the straps to sit on my shoulders. After checking the fit with a second muslin I cut into my fabric.
The pattern calls for something in the range of 2 m of 1.40 m wide fabric. I managed to cut everything from 1.50m of a 1.50 m wide fabric. I'm genius, I know ;) hehe. I bought the fabric in a local store. It actually is a super duper cool design fabric, designed by a German fabric designer. We have those here a lot. But sadly the descriptions of all of that, that design and the designer's blog are written in German, so no use in linking that up here. The fabric however is a cotton poplin and it has stripes that run diagonal to the grain. So I cut only the front waistband cross grain, to get horizontal stripes.
The zipper is inserted in the side seam, which was convenient to me, as I didn't ahve to match those stripes at the center back ;) I'm still not sure what I like better: center back or side seam zippers. Both have their advantages. It's harder to get onto dresses with side zippers, but easier to close them. You can use a shorter zipper for the side, but your arm always moves over the zipper metal thingy that I don't know the translation to right now. It is harder to get a encase all the seam allowances by the lining with a side zipper. It is possible though, but a little harder in my mind.
Adding the zipper to the side of the dress was the greatest challenge with this dress, everything else wasn't hard at all. Only the bodice is lined and the skirt simply is a gathered rectangle.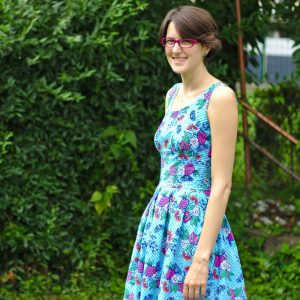 Sadly the instructions don't tell you how to get that neat finish. According to the instructions you sew the lining to the fashion fabric at the armholes and the neck and you sew the rest of the seams,  shoulders and side, as if you had only one layer of fabric, so that you can see the seam allowances on the inside of the bodice. The instructions don't come with the pattern. Instead you can look at them or download them online (here is the overview). There are instructions for both versions of th dress (the second one has a cowl neck) and some general tips and tricks and fitting tips. I really liked the fitting tips, I found the pictures very helpful. The instructions for the dress are kept rather short. The dress has 3 out of 5 difficulty stars and I don't think it is that hard to sew, but as the instructions aren't helping you with the details the difficulty star estimate is reasonable. One example is that the instruction tells you to insert the side zipper a few cm underneath the armhole. Then there is a link to a video that explains you how to insert an invisible zipper but not which steps you have to take in what order to insert the zipper not directly at the seam beginning but underneath. i don't think these steps are obvious, I have done that before, but not everybody has.
I thought about taking some photos of the lining of the sleeveless dresses as well as of inserting a side seam zipper. Does anyone need that? I guess there are instructions out there somewhere, so would that help anyone?
I didn't french seam my side seams this time. I tried to match the stripes at the sides and that would have been harder with a french seams. As you can see I had about 70 % success ;) I didn't hem by hand this time too. I figured that if I had serged seams I could also machine hem this dress ;) Also I don't have anything against machine hems but a lot against hand sewing ;) Oh and I added the label that was part of the pattern to the back of the lining. Looks professional, doesn't it?! ;)
I like how the dress fits me, I like the style of the dress and I like even more that this dress looks different from the dresses I already own. I like the slightly longer length, although I thought about shortening the skirt. The sewing process was fun too. The instructions weren't great, but I like that you can have a look at them before you buy your pattern. This way you can decide if they are enough for you.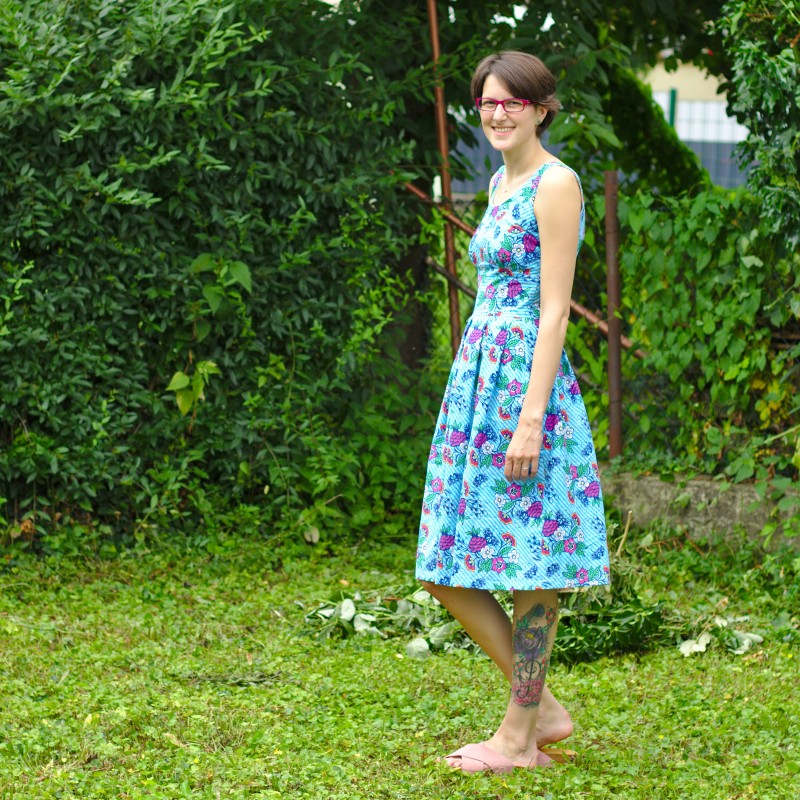 I got the pattern free of charge and without obligations. Nanna is a nice person and I wrote this post only because I wanted. The opinions in this post are my own, as usual.
Macht's gut!
Katharina