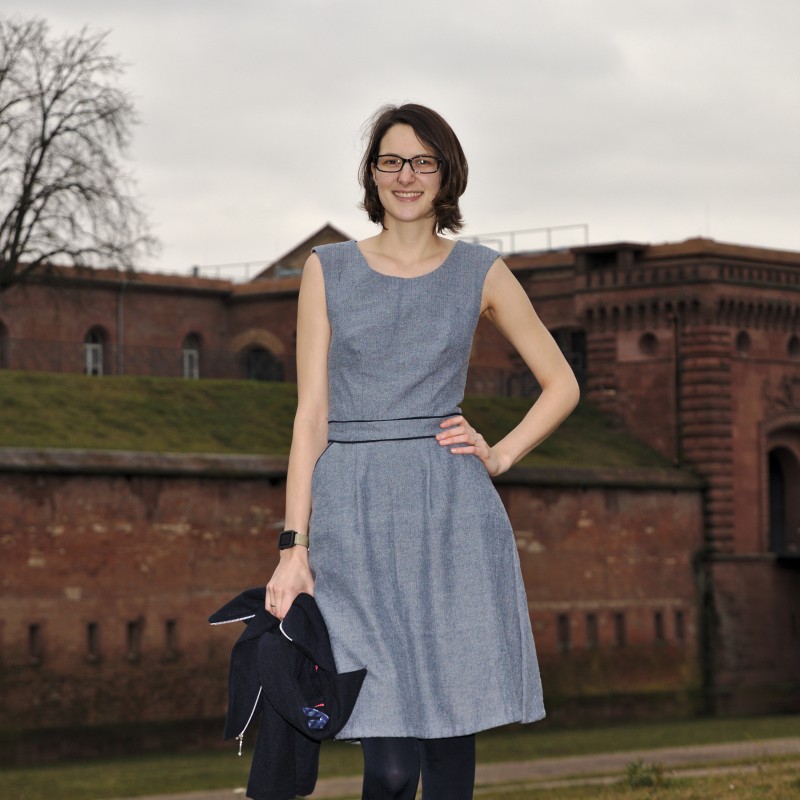 When I visited Marvin in America in autumn of last year I bought some pieces of fabric, for my collection ;) I made a dress from the first piece and – SURPRISE_ I amde a dress from the second piece as well ;) To my defense: I didn't plan that, it just happened! I Bought the fabric at Joann's in Raleigh. This was the only fabric store I went to, when I was in the US. Because obviously Walmart does not count!There were other fabric stores in Raleigh, but nothing that intrigued me enough. You might have seen a Joan N's before, if I'm informed right this a huge chain in the US. I hadn't and I was overwhelmed by how huge it was. I have never seen a fabric store this huge ever in my life. To be fair, Joann's isn't just a fabric store you can buy all kinds of crafty stuff there, but just the fabric department was bigger than anything I have seen in Europe so far. It was so huge that if you wanted to buy fabric you had to draw a number (!!11!). It took 20 minutes until my number was called and then I went to an isle in the middle of the store were 5 shop assistants were cutting fabric simultaneously. And I mean, that was in Raleigh! Raleigh isn't that big of a city, I imagine that the Joann's in bigger cities are even bigger!
As already mentioned I was a little overwhelmed and it took me a while until I was able to move again, haha. There was just sooo much fabric to chose from. So in the end I ended up buying only 2 fabrics (of course). One of which I'm showing you here today. It is a flannel, woven with white and navy blue threads and it has little colorful cotton dots on it. I usually wouldn't have picked a solid fabric like this one but I was so intrigued by the coloful dots! Sadly as it turned out: you cannot see them unless you com very near, but I didn't realize that when I saw it at the store. I wanted to buy enough to make a shirt from it, however that would have left a rest of 3/4 yards or so, so the vendor asked me if I wanted to buy th rest for half the price and of course I wanted that!
Afterwards I had to wait once again until it was my turn to pay. In the meantime I discovered the autumn edition of the SpinOff magazine, that I bought as well. I really liked it and unfortunately I haven't seen the magazine or anything like it here in Germany since.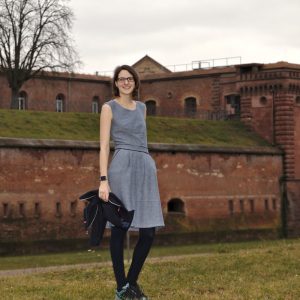 When I was home I measured the fabric (because I had no clue how much fabric I had actually bought… imperial measurements… ;)) and I had a little over 2 m. The fabric was 110 cm wide which immediately gave me the idea of making another Belladone dress. I have made it twice from 110 cm wide fabric and both times 2 m were sufficient. I know such things by heart btw :D I like wearing both dresses in winter because of their less flared skirts, their shorter length and their sleevelessness ;) It is easy to wear a cardigan with negative ease over them. So I decided to completely line the dress and while I was at it, omit the hole in the back, because who needs a hole in the back in winter?!
Deer and Doe has added a version without the back hole to the pattern, however my pattern is so old that I had to figure this out by myself. Okay, it wasn't that hard. Just laid the pattern paces for the back over each other and drew a straight line for the center back and DONE! When I cut the front skirt from lining fabric I did not remember to add the pockets to the pattern piece… you should do that ;)
I once traced the pattern in size 38. I'm in between size 36 and size 38 with Deer and Doe patterns, but I like the dress a little wider :) I also lengthened the dress by my usual amounts the first time I made it. I came to realize though that the waist band could sit a little farther down and the arm openings are a little tight, so I fixed both issues for this version.
While I was cutting into the fabric I realized that it looks a little dull. So I deiced to add some piping to the waistband and pockets. I used left over fabric from the Mona Jacket I made a while ago. I didn't use thread for the piping and it got a little uneven. But I think once someone is close enough to see the unevenness he/she will also see the colorful dots and immediately forget about the unevenness. So…. problem solved!
I again used the technique described on the BHL blog to completely shell the lining. I didn't finish the seam allowances in the bodices, and instead sewed both bodices together by hand at the lower waist seam.
I french seamed all the skirt seams and I hemmed the outer fabric by hand, the lining skirt is hemmed by machine ;)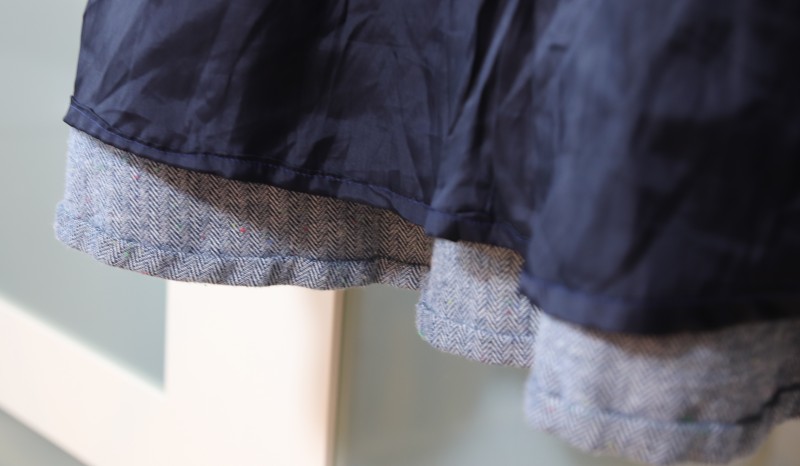 I didn't take one look into the instructions. But I know them. They're okay, a little too sparse for my taste.
Of course the dress now looks very harmonic paired with the Mona jacket, that is in its nature, so to say. I wore the Mona Jacket as one wears a cardigan, underneath my winter coat. And it was way too warm :D Wouldn't have thought that! The dress looks well with a whole bunch of my cardigans. The fabric is so dull that it literally pairs with everything, and I think that might be a plus after all :D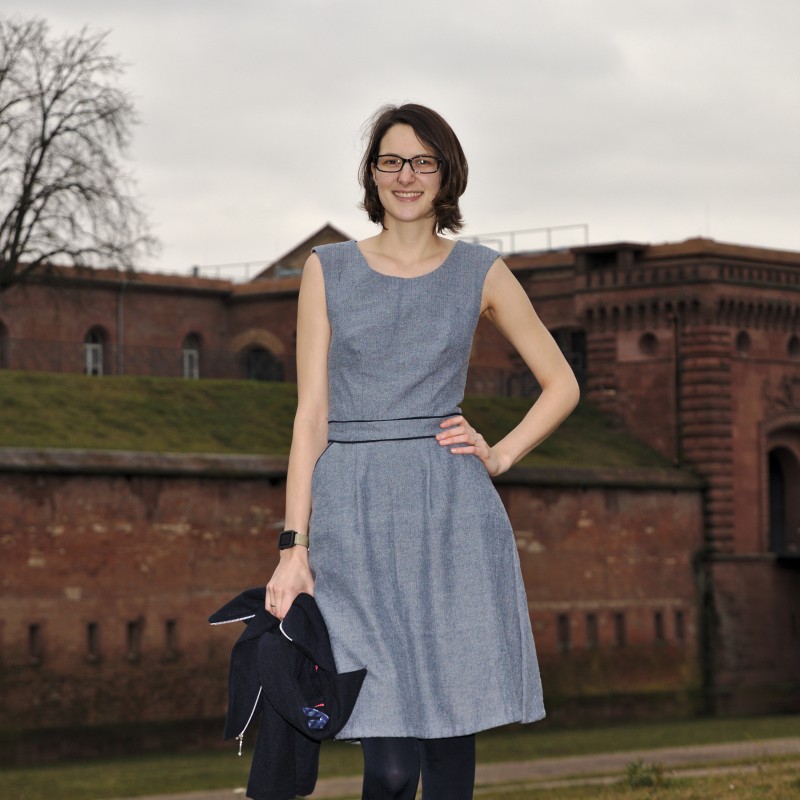 Such a reasonable dress! But still fun, once you come closer ;)
Macht's gut!
Katharina