Hi, I'm back! I don't know if anybody notices me gone, however I was visiting Marvin. He is in the US for a three month internship in Raleigh, North Carolina. So I visited him after the first half of his stay was over, I stayed there for eleven days, he took the days off and we spend our vacation in the area. And as it is still hot in th southern US I took a lot of my summer dresses with me ;) And I also used this vacation as an excuse to sew myself a new one ;)
I had the BHL Anna Dress Pattern on my PC since last Thanksgiving, when they were having a sale. I really like how the dress looks, however I have read and heard a lot of bad things about the pattern since then, and didn't find the motivation to start fiddling with the fit.
But then I found a really beautiful fabric, it was designed by Tula Pink, and it was on sale for only 10 €/m. As I have learned on my trip that price is pretty much normal in the US. However, here in Germany you usually pay 20 €/m for an 'American design' fabric.
I thought that this fabric would look lovely made into an Anna Dress and I finally found the motivation to give the pattern a try. If you google it you find a lot of negative reviews on this pattern. I decided to not read them in detail and instead make a muslin first and see how it fits.
If I had to guess I would say that around 50 % of the people who reviewed the pattern complained about a gaping neckline. On her super helpful blogpost on this pattern Meg of MadeByMeg explains that she eliminated the gaping by shortening the front and back piece in the sleeve area. I'm pretty tall, that would explain why I didn't need that alteration I think.
Apart from that I did all the alterations Meg did, except for the ones she made to fit the pattern specifically to her body. I widened the front at the sides and narrowed the back and adapted the skirt pieces as well. I had to lower the front neckline by 1 cm and I smoothened out the edges of the skirt pieces. I'm still not sure if the shoulder seam is right, is it too far back?
After all these alterations I made another muslin. I used some old Ikea fabric for that. And while I was cutting out the pieces I thought that having a dress with huge bugs on it would be kind of funny. So I decided to sew a complete test dress without pockets and without French seams, quick and dirty!
I liked how the dress fitted. I still wasn't sure about the shoulder seams though. And I should have worn the dress a little more before deciding it was all okay, because I think the side seams are a little too far in the back now. I shifted the side seams by 3 cm and I think 2 – 2.5 cm would have sufficed.
But I didn't have time, the vacation was about to start and so I cut into my precious fabric :)
The dress is unlined, the neckline has facings and the sleeve hems are turned in. I made all seams french seams and I stitched the facings and all hems invisibly down by hand.
I also added side seam pockets to the skirt. I always miss them in dresses that don't have them.
There is an invisible zipper in the back to open and close the dress.
Sewing wise this was a quick and easy make. And I really like the cut, those bust darts and sleeves are super cute if you ask me and the skirt has a nice stand. Marvin liked the dress too :) The fabric really feels nice against the skin. Also I only needed 2 m of the 1.10 m wide fabric to make this dress happen :) Oh and btw I sewed size 4/8 which is my usual BHL size, but one size smaller than I would need according to their measurement chart.
However I totally get why lots of people gave this dress a bad review. It seems like the BHL crew didn't put much time and effort into the pattern. Which is super sad and stupid, because all the other patterns I have tried were fine and the really destroy their reputation by putting out something so only half thought through.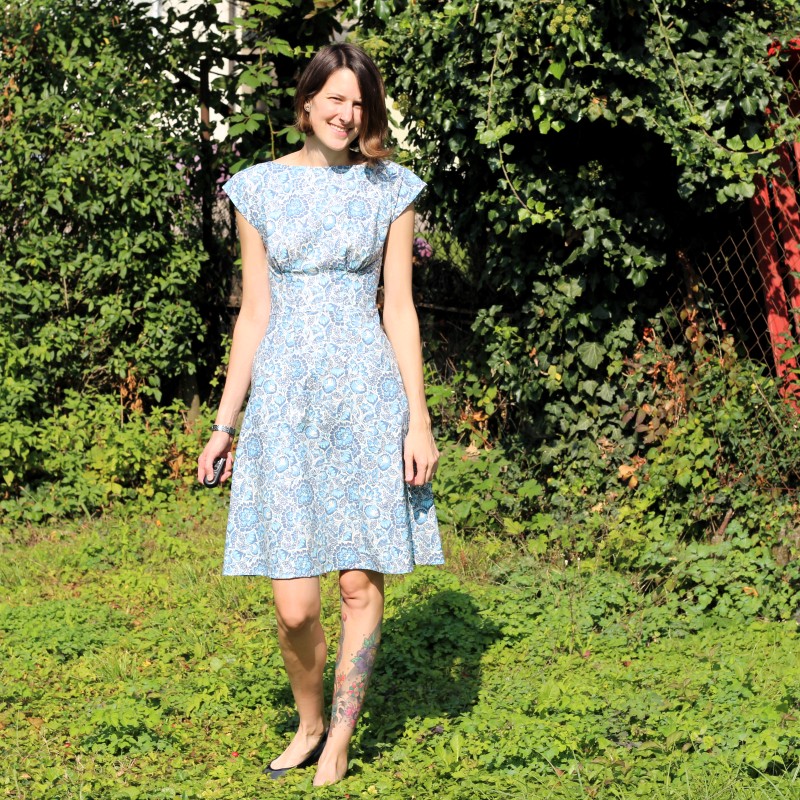 So, as a reward for those who have managed to read this blogpost until here I have two vacation pictures of me in my new dress. We went to Washington DC that day and rode bikes a lot, which worked out fine dress-wise but was stressful traffic wise. There seem to be fewer rules in American traffic (4 way stop, not right before left, you can almost always turn right when the lights are red..) and thus it was a little overwhelming at first. But I have to say that most of the people and drivers were much more considerate and looked out for each other than what I'm used to from Germany.
Here comes the first picture one of me in front of the Washington Monument: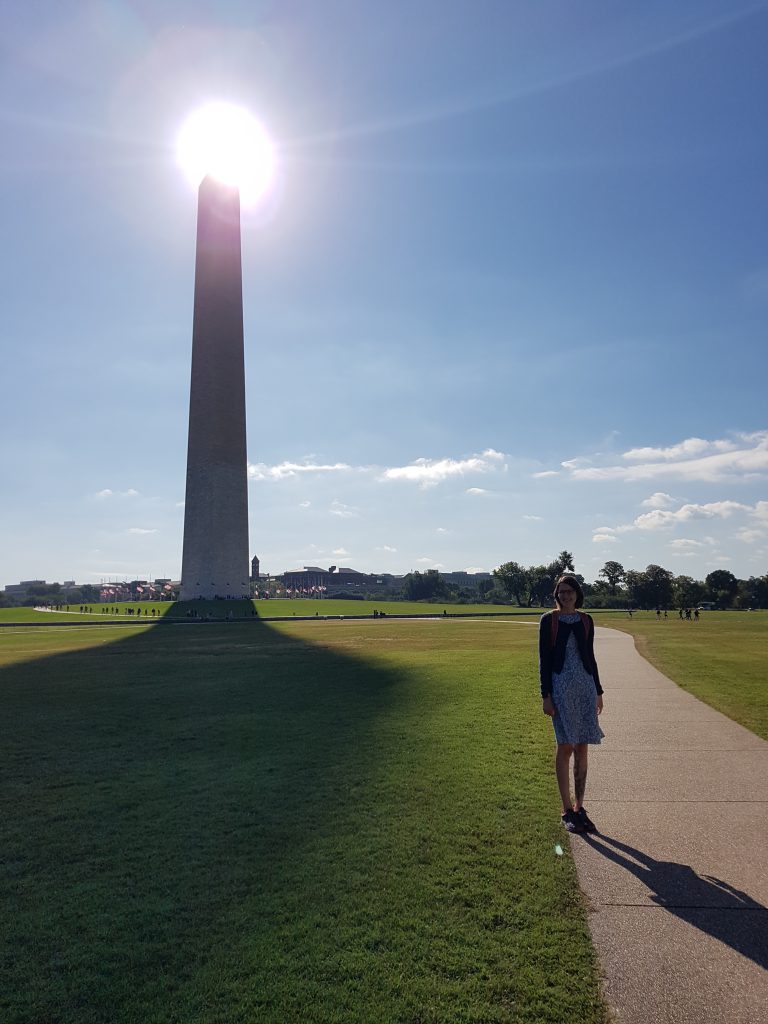 Here's another one in front of the Tidal Basin at the Jefferson Memorial: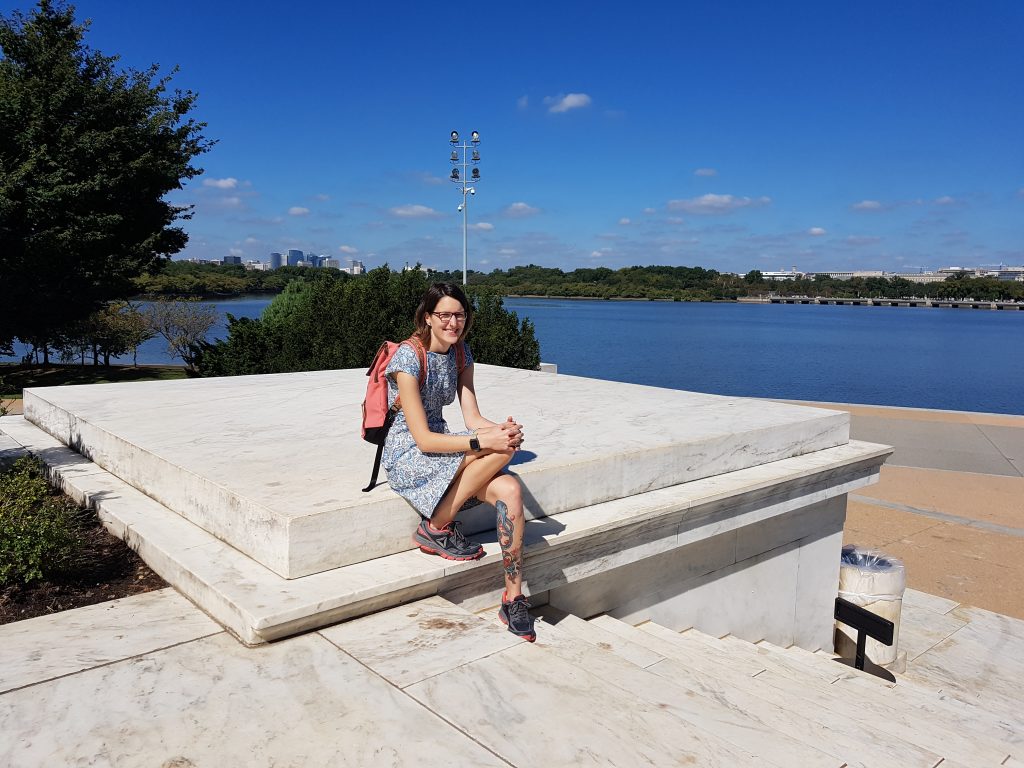 That's it for today! Thanks for stopping by!
Macht's gut!
Katharina