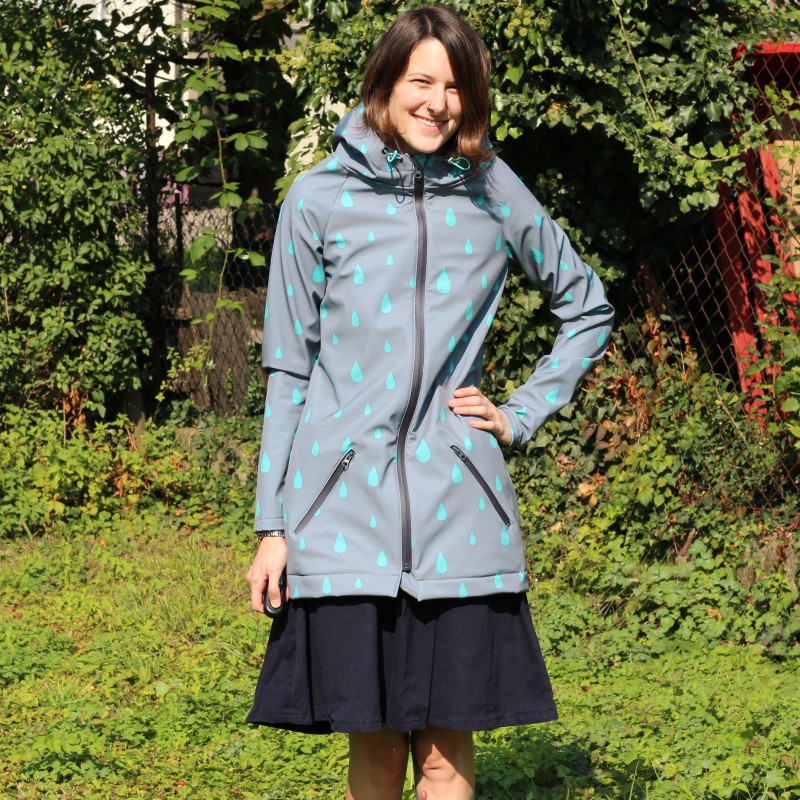 I had been thinking for a while about sewing one of those softshell jackets. Everybody has one and you can buy them anywhere here in Germany. I already have a memade raincoat in my closet, but after wearing it for a while I realized that it lets too much wind through and I can only wear it, when it is above 18 °C. So my holiday was coming up and I thought a softshell jacket would be practical to have. And so I had a goal and not that much time to achieve it. This is how tales of exciting adventures start, haha.I knew that the weather in Raleigh wouldn't be cold enough to justify making a thick jacket, but Marvin and I also went to Asheville into the mountains and I thought it could maybe be cold there. Well, I was wrong. I didn't wear my jacket while I was in the US. However it was super practical during my flights and my stays at the airports. I could stuff all my papers into the zipped pockets, they were save and it didn't take long to get them out everytime somebody wanted to see them. I also used the jacket as a blanket on the planes and of course I wore it in Germany on my way to NC and on my way back, here it already was cold enough.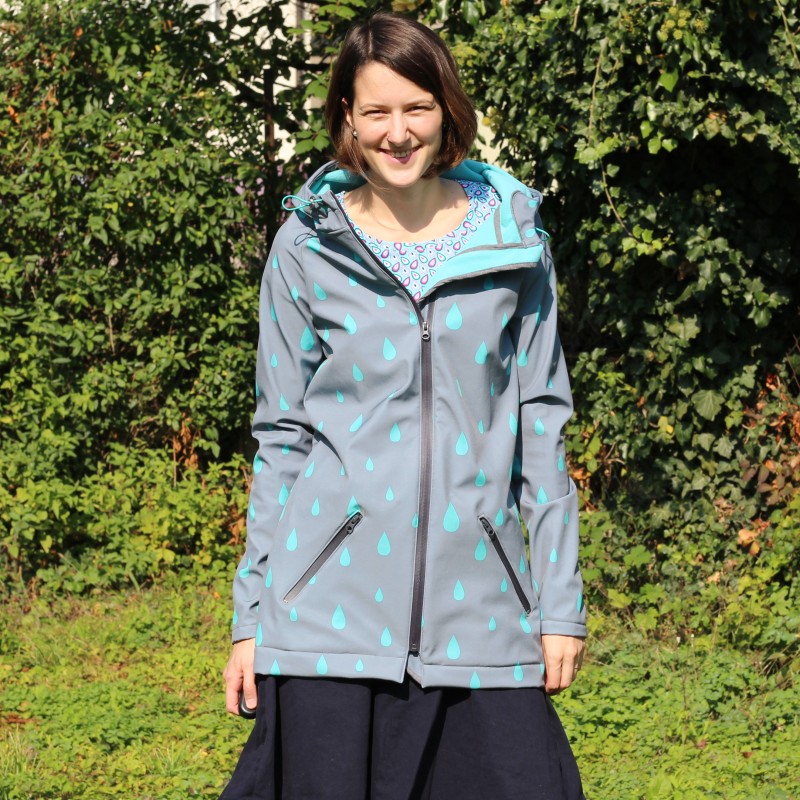 But let's start from the beginning.
In the beginning I started searching for a pattern. I had a hard time. I mostly found patterns of German Designers, they were expensive and there was so little information provided on the websites. Crucial information like: are the seam allowances included? ;) Or where is the size chart? In the mean time (which means while I am writing this post) my favorite German Sewing Pattern Designer Pattydoo released a softshell jacket sewing pattern. And I love how it looks! But well, that didn't help me 3 weeks ago, did it? So I decided to modify one of the jacket sewing patterns I already owned.
Luckily Marvin left his rtw Trigema softshell jacket here (he was wise enough to know he wouldn't need it;)) and so I had the chance to copy every single detail of his jacket for mine ;)) Especially seeing how the pockets and the zipper + facing were constructed helped a lot. I decided to work with the Minoru jacket pattern as I had already used it to make my raincoat and I already eliminated the gathers at the neckline. I still had a pleat on top of the sleeves and I couldn't remember why I didn't eliminate that to. So I did now, just rotated it out.
I redrafted the hood completely. I wanted one that consists of 3 pieces, because I have the impressions that hoods like that stay better on my head. The hood also has a little collar. I lengthened the sleeves to hem them by simply turning the end in.
I was ready to start looking for fabric :) And luckily the bi annual fabric market was taking place in Karlsruhe. And I tell you softshell fabric is all you can buy there these days! They seem to be a huuuuge hit. However I still had problems finding one, that was more or less suited for an adult. If you look through my clothes you can see that I am not that severe about wearing adult fabrics, but the fabrics there were too childish, even for me. I found one fabric that I liked and that looked like it might have been designed with an adult in mind. It was navy blue and had white bicycles on it. It cost 22 €/m where all the other fabrics cost around 15 €/m. I was so angry about that that I didn't buy the fabric, of course. I already thought about buying a solid colored fabric (I mean.. how boring is that?! ;)) when I came across this gray fabric with blue rain drops on it! Cut amirite?  ;) It might have been designed for children, but I liked it and it was only 10 €/m, so I bought 2 m of it.
While I was researching patterns I read several times that softshell is stretchy. Mine is not stretchy at all, a little on the bias, but not more than most woven fabrics.
Now that I had the fabric I started looking for a water repellent zipper. In my naivety I thought that this was something that is easy to get, as softshell was so easy to get. Turns out: nobody sold it on the market. So I went home and searched the Internet. I had no troubles finding black ones. Even blue and red ones were no problem. Apart from that I found bright green ones and pink ones and that was it. Lesson learned: first: buy the zippers, then: buy the fabric. Because the thing is: the fabric was also available with pink rain drops and had I known that I could only get my hands on pink water repellent zippers and not on turquoise ones, I think I would have gone with the pink fabric.
Oh well, too late for that insight! So I researched some more and in the end I found a seller with dark gray zippers. Well, better than nothing (or black.. or pink..) and so I ordered two 18 cm zippers for the pockets and one 75 cm zipper for the front closure.
I applied the pocket zippers like you would do in a bag. I attached the pocket bag later with some hand stitches to the front, so that they wouldn't move around too much.
I sewed all the inside seams with my serger. I didn't have matching serger thread, but I had gray thread and that was good enough for me. I bound the visible seams in the hood with some knit fabric straps. I rememberer to topstitch most of the seams from the outside, except for the raglan seams.
I applied eyelets to the hood and threaded some elastic through the hood front, to secure it, when it is windy. It wasn't much of an effort but I think it gives the jacket a much more professional look. :)
I had some difficulties with the front zipper. There were quite some layers there with the facing and all and the whole sandwich shifted under my foot. I had to use he seam ripper a few times here.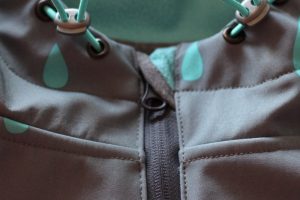 Unfortunately I applied the facing at the top in a manner that it is not peculiar to the zip, which makes the visible part of the facing look crumbled when I turn the zipper all the way up. Another thing I am not fond of is that the jacket is longer than the zipper. I did this on purpose, because I thought it would look fine, and now I don't like it that much. Well, live and learn!
I also bound the zipper edge with knit fabric straps, which took me ages!
But apart from all of that I'm satisfied. The jacket isn't perfect, nothing ever is and I have come to live with that;) I was happy to have it with me on my flights and I have worn it a few times since then. I think it looks nice with jeans and also with dresses and I like the length. I haven't tested the jacket in rain so far. I don't think it is much water proof. At least Marvins rtw softshell jacket isn't. But it is warm, wind proof and at least water repellent.
If you have any more questions on this jacket you're always welcome to ask them :) I have a lot more to tell about the jacket, but didn't want to write an exhausting blogpost about it.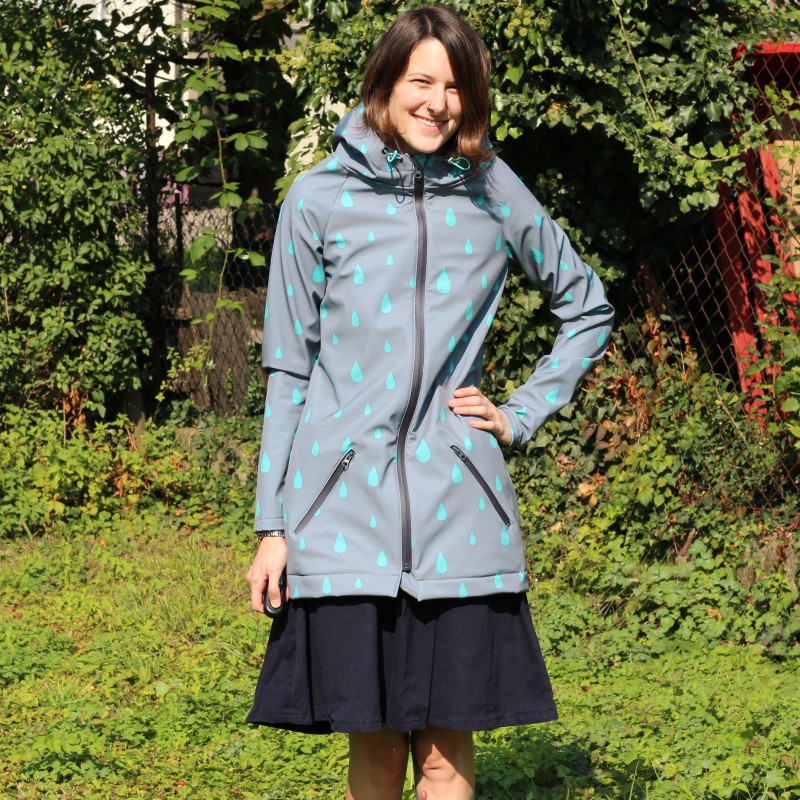 Thank you for reading and
macht's gut!
Katharina