The story of my latest Cardigan starts at Achern, a small city located in the black forest. All over the year there are  Naturparkmärkte (local farmers markets) taking place in several Black Forest cities. And the first one this year was taking place in Achern. Marvin and I went there and had a lot of fun! And I bought some regional raw wool :) The Schwarzwälder Spinnstube had a booth there too. They buy wool from local sheep owners, process it and sell it. You can buy wool in all its forms from them. The sell finished products as well as greasy raw wool.Their homepage is mostly in German, but it says that if you're interested you should feel free to contact them in English. Just in case I got you interested ;) I bought some roving from them at the market. Among others all the 350g of Coburger Fuchs Roving they had with them. The Cobuger Fuchsschaf is a domestic sheep breed from Germany. It is a very robust sheep and it is known for its beautifully colored wool. The sheep my wool is from live nearby in Oppenau in the Black Forest :)
I did not have the heart to dye the wool. It has such a nice color! And so I started spinning the undyed roving very thin and with a lot of twist, which makes a thread sturdier but also more rough and scratchy. I wanted sturdy and the raw fleece already was so coarse that I don't think it would have made a difference i softness ;) Usually the wool of the Coburger Fuchsschaf is used to make rugs from it (that is if it is not thrown away altogether). That's how soft it is, haha.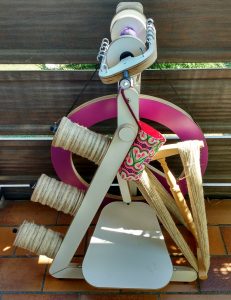 Spinning the roving was harder than what I had spun before. There still were knots in the fleece and some straw and grass here and there what made it harder to spin an even thread. But it was a nice experience to spin something that actually still looks and feels and smells like sheep, it felt so real, you know?!
Because I spun really thin his time I decided to 3ply the threads and I ended up with sport weight yarn with a grist of 425m /100g! Not bad!!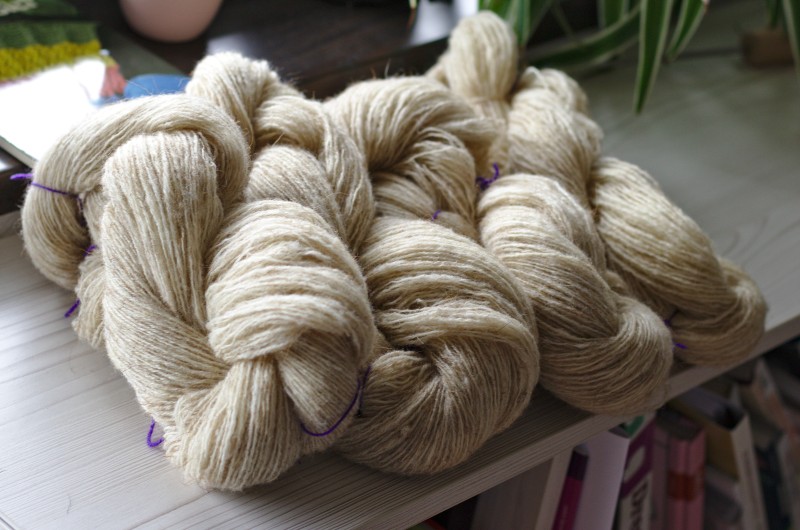 By the time the yarn was finished I had fallen in love with its color and so I didn't dye the yarn. Although I think it would also look lovely dyed in a light colorway so that you could still see the difference in the red, brown and white fibers.
After the yarn was finished (bathing, drying, winding) I knitted some swatches and decided to go with 2.5mm needles. My gauge was  22 sts x 31 rows = 10 x 10 cm.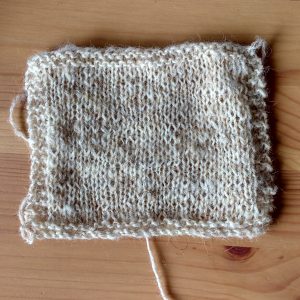 I kept looking for knitting patterns that required a at least similar gauge to mine but I didn't really find any that I liked. As I knew I wanted something simple I decided to just think of a pattern myself.
I knitted a simple top down raglan cardigan and to make it interesting I placed cables in the raglan 'seams', in the side and as well in the sleeve seams. As my construction was in fact seamless it would be more correct to say that I placed cables at places where seams would have been if the cardigan had seams :)
I think the cables match the color and texture of the yarn perfectly. I wouldn't have thought that this style is for me, but I really like this cardigan and the choices I made.
I knitted the button bands in garter stitch. I have seen that on many baby cardigans lately and I thought I'd try it. I like how it looks but as the button bands are so small this means that the cardigan somethings gapes open between the buttons. I thought about stabilizing the button bands but I think that would have made them too stiff.
The gaping is not only due to my choice of button bands but also because the cardigan turned out a little bit too tight. Especially at my arms. I didn't consider that I knit tighter in the round, i would have needed to adjust my needles or the amount of stitches. However I hope the cardigan will wear out a little with time ;)
Now a word to the scratchiness of this jacket: this jacket is scratchy :D The wool was very coarse and so the cardigan does not feel nice against my skin. However it is not worse than the Icelandic Lopi yarn I have worked with. And Icelandic wool is something people want to try and buy when they are in Iceland. And if they don't knit they will at least buy a super expensive sweater hand made from this itchy yarn. Don't get my wrong the high price is absolutely justified. I'm just so amazed that the Icelandic people where able to sell the scratchiness of their wool as a feature or a sign of quality. That is so clever.
And I'm a little sad that almost nobody seems to be interested in yarn from local European sheep (except Icelandic that is), especially Coburger Fuchs, its natural color is so beautiful. But instead the breed was almost extinct some decades ago and the wool is often thrown away. And all the big yarn producers only sell yarn from merino sheep living somewhere super warm, super far away, sometimes in bad conditions even. That is such a loss! I mean yes the wool is much finer and ofter than but now that I know the difference I think it also less interesting, a little dull even and with less character. I'm so glad I started spinning, I cannot tell you how much fun it is to make your own yarn from any breed of sheep you want, from sheep that live nearby and lead a happy live being outside all day. And you automatically learn about the breed and you get to knit with such interesting yarns! :) .
Also I think tis cardigan will outlive me, I don't think anything can destroy it, it is super sturdy! And although I have a lot of Cardigans in my closet at this point this one is special to me, I hope that I will look at it in 20 years and remember all the fun I had making it :)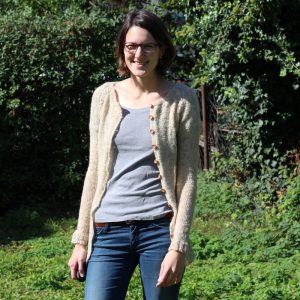 If you want you can have a look at this project on Ravelry here. And if you're interested in buying wool from the Coburger Fuchsschaf don't hesitate to ask me for help. If you know a little German here is another website where people sell yarn and roving from happily living Coburger Fuchsschafen, just because they like the breed so much and want other people to use the wool for something instead of throwing it away :)
Macht's gut!
Katharina