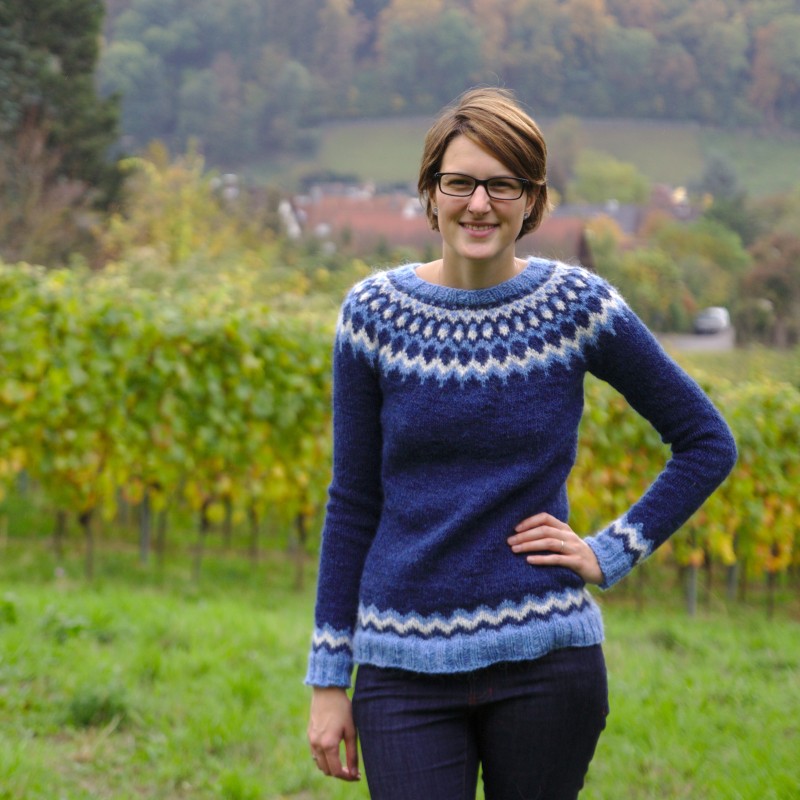 On to the next item of my knitted sweaters stack :) Back in May we visited Iceland were everything is expensive except for wool. I don't know how the Icelandic people did it but they imported sheep a while back, the sheep adapted to the climate and now they are know as Icelandic sheep. Their wool is very special. And it is very itchy, oh so itchy, but also very durable and warm. When you read something about Iceland like a guide or watch a documentary at some point Icelandic sweaters will be a topic. They all have a very colorful fair isle yoke and raglan sleeves otherwise they are kept very simple. You will be told, that everyone in Iceland is wearing them. After paying a visit I don't agree. People that work in tourism wear them, the other don't. But as half of Iceland's population work in tourism, maybe it is okay to say that they all wear those sweaters. What is definitely the case is that you can buy those sweaters literally anywhere. And all of those I saw were handknit. I've read that some people make some money alongside with knitting those sweaters. That is because you can really make a little money with them. The cheapest one I saw cost about 180 € and I saw others that cost more than 300 €. I think those prices are totally reasonable but I don't think you could sell a handknit sweater in Germany for that price. Nobody would buy it. I think it is great that those Icelandic knitters do not try to push the prices down on their handknits. Knitting is a craft and it should be appreciated and paid reasonably.
Before I went to Iceland I tried to find some information on the special Icelandic yarn. To me it seems like there is this one big yarn manufacturer Ístex. And that is it. They don't offer a big range of yarns, and I think the best-known yarn is Álafosslopi a bulky single yarn. I knitted with the thinner version of tis yarn Léttlopi. It still is Aran weight and it also is a single yarn. Which means it is not that stable, you should not pull it too hard. But it does felt very easily and once you finished sweater is felted a little it will become draft proof and warm. Plus the yarn is super light! I visited the official Álafoss/Ístex Store in Mosfellsbær (I think Ístex bought Álafoss at some point, or they became one or something). I would not do that again. The focus of the store was more in finished items and the yarn there was more expensive than it was in supermarkets. Yes, they sell wool in supermarkets in Iceland! Supercool! They even sell a lot of yarn in supermarkets. The selection isn't even limited. I bought my yarn at a  Nettó, the one in Reykjanesbær. One skein (50g /100m) cost 267 ISK (2,10 €) there. In the Álafoss Store one skein of the exact same wool cost 315 ISK (2,50 €).  If you buy more than a few skeins (which I obviously did, I mean come on!) you can save some money here. Plus some time, because you can remove the wool store from your list ;) The really crazy thing about those prices is however that 2 € per skein of 100 % wool is super cheap. Even for countries that are not Iceland.  In Iceland everything costs about twice as much as in Germany I'd say. Coffee and cake costs about 15 €.  I always measure in coffee and cake (in the black forest you can buy Schwarzwälder Kirschtorte and coffee for about 6€). So paying 2€ per skein in Iceland would be like paying 1 € per skein in Germany. That is just madness!
As I had done my homework I already knew how cheap the wool was and so there was enough room for some skeins to bring home. Hehe. I wanted to bring a lot! They have such beautiful colors plus the yarn is so light plus it is so cheap. But I knew that one Icelandic sweater would be enough for me. And the yarn really is special. It is so itchy and warm and most of the time it is too warm to wear such warm sweaters here especially inside. So I only bought yarn for one sweater for me, for one sweater for Marvin and some skeins for Susanne as a holiday gift. I thought I had bought enough yarn for my sweater. But idunno what happened I bought the exact amount of yarn that was suggested for my size by the pattern I chose. as if I didn't know that I am large and that I will need to lengthen the sweater. So I used up every last cm of the yarn. I have some white left, but those blues are totally gone :)
I found the pattern for free on Ravelry. It is Annas Lopapeysa by Anna Lewis. The instructions are pretty basic and only available in one size. Luckily in my size ;) It is suggested to use way more color than I did. But that would have meant that I had to buy and bring home more skeins so I decided to go with three colors:   300 g dark blue(1403) as main color and 100 g light blue(1402) and 50 g white (0051) as contrasting colors. That mans that this sweater weights less than 300 g which is really super light.
I didn't really follow the instructions. I used the fair isle chart and the stitch count but I decided to knit the sweater top down. Because why would you knit this thing bottom up? In the second row I increased too many stitches and I didn't realize that before I finished the yoke. Ugh.. So when all that color work was finished I had to frog and start again. I also knitted more waist and sleeve decreases. Mainly because i knew I had too little yarn ;) But know I like how the sweater fits me :)
Except for my stupid mistake everything went smooth. There is no real difficulty in knitting this ting, well except for the fair isle yoke. But at least you only have to knit with 2 colors at a time :) The sweater is the same from the front and from the back, which means: no short rows :) It still fits fine because you don not wear it that tight. I don't think anyone would survive that, because, did I already mention it?, the yarn is so itchy :D I have to wear something longsleeved underneath it and I usually do not have problems with wool directly on my skin. But this one had a lot of wiry spiky fibers. But the sweater is very warm and draft proof and also a little water proof and I don't think it will ever loose it's shape like merino wool does.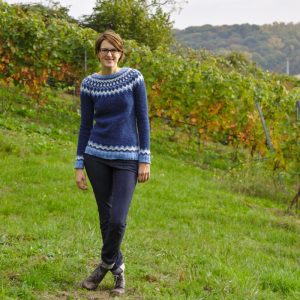 I knitted the sweater with 4.0mm needles and my gauge was 18 stitches x 24 rows = 10 cm x 10 cm. After finishing the knitting part I soaked the sweater in warm water and let it dry flat. Just from that the wool started felting. I don't think I can put this thing in my washing machine. i usually put everything in there, I mean why would it have a wool washing program if I could not use it?! But with this sweater I really have to think about it.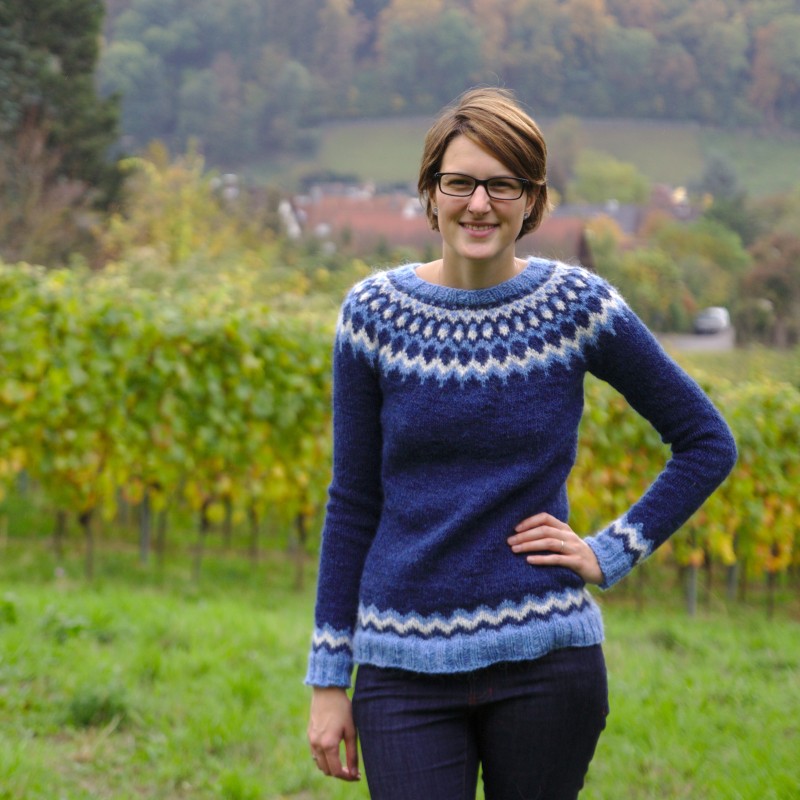 All in all I'm pretty pleased with my Icelandic sweater. I like the colors and the fit. It reminds me on my trip to Iceland and how I saved money buying yarn at the supermarket, hahaha. If you want you can take a look at this sweater on Ravelry! Have a great day :)
Macht's gut!
Katharina