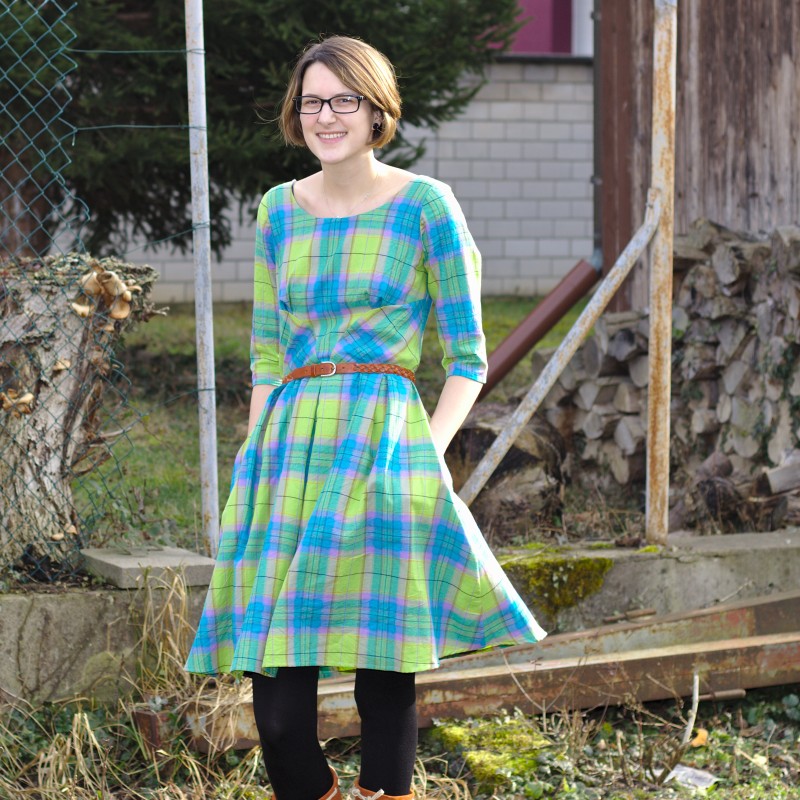 Maybe some of you remember: last summer Colette sent me their newest pattern to sew it up before they released it. It is called Rue, it features a fitted bodice and a flared skirt. The front bodice consist of three parts that, sewn together, create interesting seam lines. The dress didn't fit me that well, but to me it looked like it fitted me like it fitted the model on the envelope more or less.Well, turns out lots of people didn't like how the dress looked on the model and a lot of people had similar fitting issues. I think the discussion started when Sarai published a blog post with a version of Rue that looked much more fitted than the envelope Rue.  Also the style lines on Sarai's dress run completely underneath her bust, whereas in the sew along it was said, that the style line should run 1,5 cm below the bust apex. Then there was the third round of the sewing bee challenge hosted by pattern review where the participants were challenged to sew up Rue. And as far as I can see most of them had fitting issues and wrote negative reviews on the pattern. As a reaction to the criticism Colette stopped selling the pattern, wrote a post on the sewalong blog that they're going to redraft parts of the pattern, redrafted the pattern and published a new version of the bodice and sleeves some weeks later. Simultaneously Sarai published an apology, an explanation and a plan on how  to not make the same mistakes again in the future.
I only heard about all of this when Sari published the apology post. So I started to read backwards in time. I think that the criticism was valid and qualified and I thought that it was great that people wrote about the issues openly and in a constructive way. I also thought that the way Colette reacted to this was right and good.
So I thought everything was good now, but for some people it wasn't. I had the impression that  people, now that the primary issue was off the table, were not happy about the fact that Colette admitted a mistake and fixed it. I read comments like: "When Colette now need help with drafting, does this mean they didn't know how to draft patterns themselves?" And I really don't want to discuss this, but I want to say something general about how I think mistakes and people who make them should be treated.
I think that if someone admits a mistake, corrects it and apologizes for it there is no need to continue criticizing him for the mistake or for the apology, because that sends the wrong signal. Everybody makes mistakes, they are inevitable. The opposite of 'making mistakes' is not 'not making mistakes' but 'doing nothing'. So whatever you might think of Colette, criticizing anyone for or after admitting a mistake will make it only harder for other people to do the same thing (which is always the right thing). Also it increases the fear other entrepreneurs or people will have to get their ideas out there, because they know they will make mistakes and fear the reaction and consequences.
Also I think that if someone admits that he needs help, that that is a good thing, that takes guts. And whatever you think of Colette and their patterns and no matter if you'll bu their patterns ever again, you have to respect their step. I wish more companies and people in general would be more open about things they screwed up. It would safe other people a lot of trouble.
Apart from the fitting issues everything went smooth, when I tested the pattern. The mails I got were nice, my (in my mind) constructive feedback seemed to appreciated. The people at Colette however were clear to me about the fact that I was testing a finished product. But I had the impression that things I criticized about the instructions were explained more in depth in the sew along.
I wasn't aware the ill fit of the garment was the patterns fault. I thought it was my body. It is not uncommon for me to have a gaping neckline, and I think that simply lengthening stuff isn't enough when you're tall. My bones are also wider I and I have broader shoulder blades. It is kind of hard for me to determine if it is the pattern or me. And if I would have guessed that in this case it is the pattern I would have written that.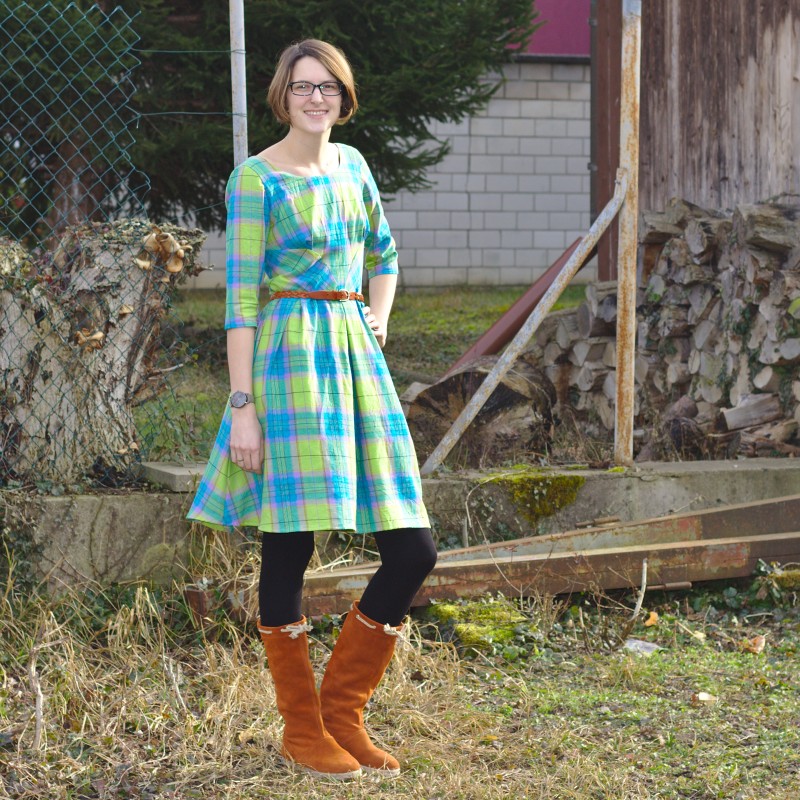 And because, despite the fit, I really like my first dress and because I got my hands on some beautiful bright flannel I decided to test the new version of the dress. Nobody asked me to do that, it was my decision alone.
Everybody who wants to can download the new bodice version of the dress in pdf, bodice and sleeves were completely redrafted and a first muslin showed that that helped against the gaping neckline. However, the sleeves were way too tight. Everywhere. And the proportions of the front bodice parts were not right on me. I had to lengthen the upper bodice part (2.5 cm) more than the lower one (1.5) to get the seam to run underneath my bust and usually it is the other way round. I lengthened the back bodice by 4 cm too and adjusted the back dart.
The lengthen/shorten lines are still a little confusing. The lines on the front bodice pieces are there to shift the seam line up or down. So there are two lengthening lines at the front and only one at the back. It is explained what you should do if you want to lengthen the whole bodice here in the sew along, but maybe it would have been wise to not call the lower front bodice line a lengthening line but a shifting line. Or so.
To gain more width at the sleeves I did a full biceps adjustment (and I love that it is called that, hooray for full biceps!) and widened the sleeve all the way to the hem, so that I could bend my arms.
Afterwards I made a second muslin. The sleeves were fine now, but I couldn't fully stretch my arms out, there was not enough fabric across my back. I searched the web for adjustments and here is what I did: I lowered the amscye, because it was too high (which come with my height I think) I widened the bodice front and back at the side seam directly under the arm hole a little and I redrafted the back arm hole shape a little. And then I didn't have the nerves to make another muslin and simply cut into the fabric ;)
It is not the most precious fabric I ever owned. It is a cotton flannel that I bought via ebay. From the right side the fabric looks like classic cotton but from he inside the fabric is very comfortable and soft and flannely :) It also is kind of loosely woven (like all flannels that I have worked with so far) so that I had to take in the bodice side seams a little were I cut the fabric on the bias.
I only had 2 m of fabric. Same old story. I simply always buy too little fabric and so pattern matching was a challenge. In the end I had to decide if I'd rather wanted symmetric sleeves or long sleeves and as I don't need a warm dress with short sleeves I went with long sleeves and I have no regrets ;) I mean it is totally noticeably that the sleeves were cut at different fabric sections, but I don't really mind. I also don't mind wrinkly linings, just in case you're wondering.
I completely lined the dress. With some rayon lining fabric. Sewing rayon comes right next after sewing flat felled seams on my list of least favorite sewing stuff :) I hate that it always shifts so much! I didn't use the lining bodice pattern pieces because I was too lazy to modify them. I also was too lazy to lower the neckline of the bodice for the lining. I simply cut the exact same pieces from lining and from fashion fabric and understitched the lining in the end: tada!
As I fully lined the dress I only frenched seamed all the seams below the waist, but left everything unfinished above the waist. Except for the sleeves seams, which are also french seamed.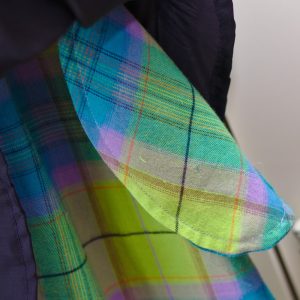 I stitched in the ditch at the waist so that no one will ever find out about these raw seam allowances ;)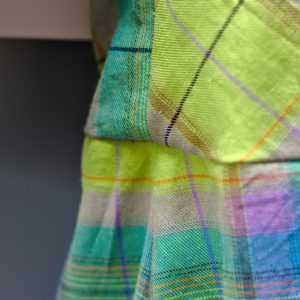 I think french seams make it easier to match patterns, as you have two shots on getting it right, so I didn't mind the extra work.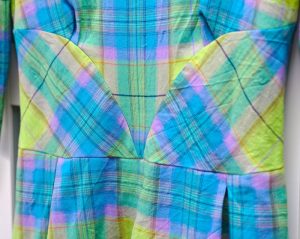 There are pattern pieces for in-seam pockets included in the pattern, and of course I used them. Because pockets.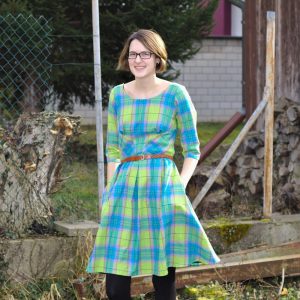 The front skirt consist of 3 pieces. One center panel and two side panels. I am not sure why. If this is a style decision or if there is some deeper meaning to this. As I was low on yardage and I naturally avoid extra work I taped both pattern pieces together and cut one huge front skirt piece. That worked great!
I failed at matching the pattern at the center back. As you can see I had to decide whether I wanted the waist seams or the pattern to match. It was a tough decision but in the end I matched the waist seam. Just please don't stare at it! I call it a feature to distract the viewer's eye. From something… (wrinkly lining for example.. okay AND wrinkly fashion fabric)
I didn't sew this much by hand this time. As you might have guessed: hand sewing is right after sewing rayon on the list ;) I hemmed the sleeves and skirt with my machine but I hand stitched the lining to the bodice at the sleeves by hand. The instructions want you to do that by machine but last time that didn't really work for me, too little space and a lot of annoyance and screaming, and so I thought it would be more relaxing to sew a little bit by hand. But it wasn't! Haha, no, really, it was okay. I survived it.
So, did I forget anything? I don't think so! All in all I'm super happy with this dress. The colors are perfect for this shitty weather and I love how comfortable it is! The modifications I did, that I didn't have the nerves to check, seem to  have worked. I mean 1 cm more room across my back wouldn't hurt, but the bodice fits me definitely a little better than the last muslin. I hope that is enough motivation for the next time to make the third muslin ;) But I don't think so! Because the bodice is wider than what I am used to I instinctively grabbed a belt when I went outside to take pictures, haha, but do like the dress without belt too :) And I love the little extra width of the sleeves! So much better, when you sit in front of a screen, typing stuff the whole day!
The dress also definitely fits me better than my first version. The modifications I made seem reasonable, I have a broad back and well, I work out a lot, hence the big biceps.. hahaha, well I actually do work out, no joke here, but I think the sleeves will be too tight on almost everyone who has arms!
So, this is it. Everything I had to say about this pattern. I tried to give you all the information so that you can make up your mind about this pattern by yourself. Whatever you think, remember: be nice to each other. And especially to me! :) And if you are a beginner: don't sew this dress, too much details.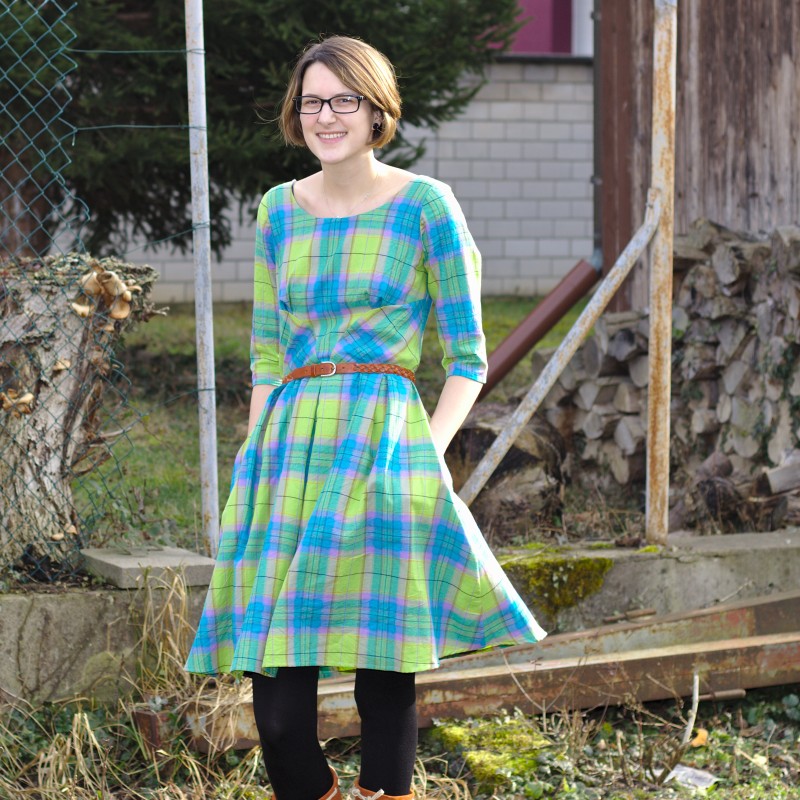 Macht's gut!
Katharina