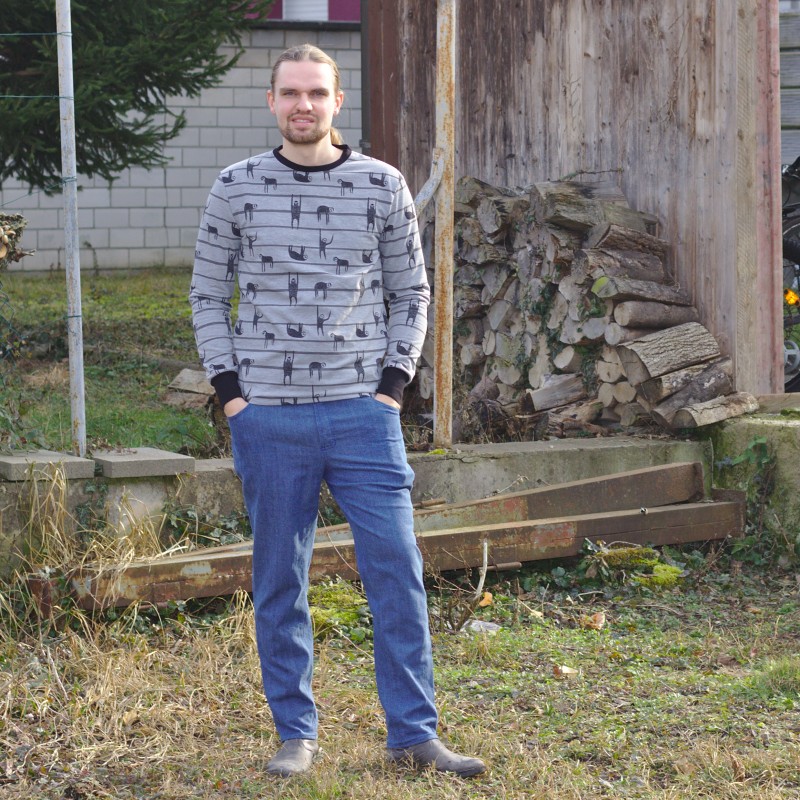 I did some unselfish sewing! For Marvin, of course. He was thinking about buying two or three new pairs of jeans.I couldn't let that happen, because, you know, that would be a total waste of fun! Also I thought that I now have a good fitting pattern for pants for him. It needed a little adjustment to pass as a pair of regular jeans, but nothing too difficult. Or least less difficult than finding a jeans pattern for men.So I used the Jedediah Pants pattern from Thread Theory. It is not my favorite pattern (or instruction) but after some attempts it now fits Marvin well in size 34. I left the back leg pattern piece unchanged and simply changed the curve of the front pocket on the front leg pattern piece as well as on the front pocket piece itself.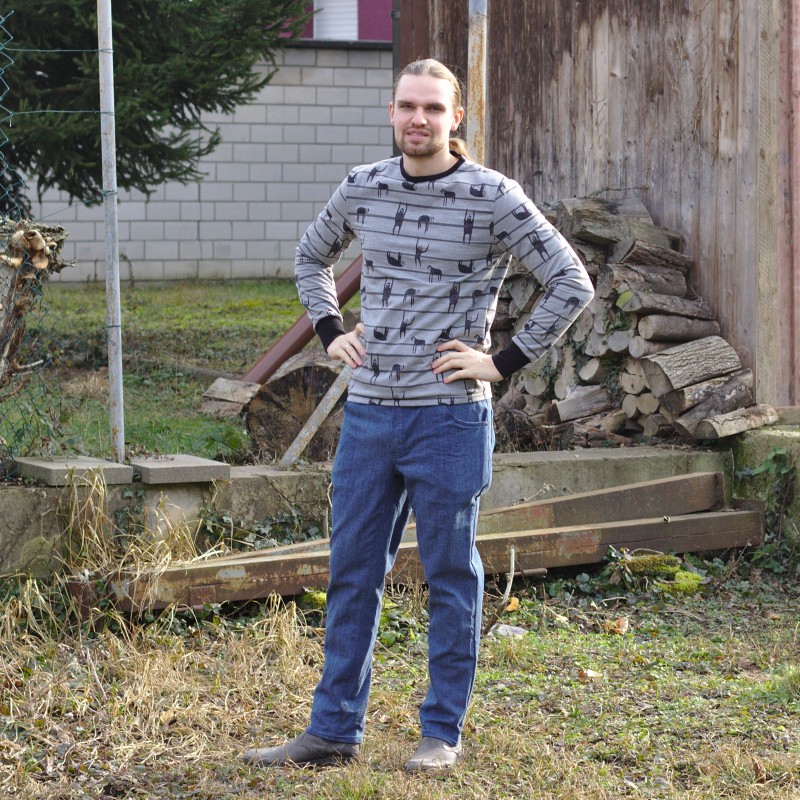 I wanted to let Marvin chose a color he likes from my (huge) stash of stretch denim. He didn't understand the principle and picked a fabric, not a color. He insisted that I use this exact fabric for his pair of pants, even though (or maybe because) it has some amount of stretch in it. So I didn't resist and cut the pieces in size 34 from this particular fabric. I should have gone a size down. But more on that later.
I would have chosen yellowish topstitching thread, because, I always chose yellowish topstitching thread, Marvin chose blue thread.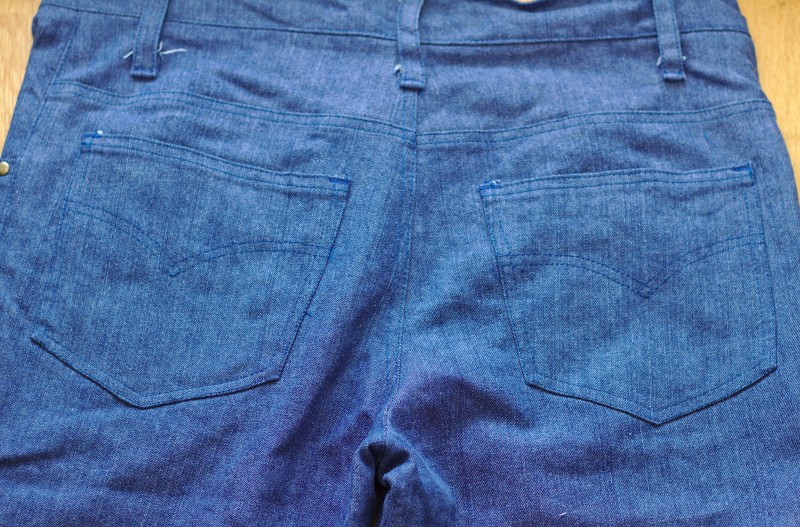 He even chose the back pocket embroidery from the ClosetCase Patterns back pocket design PDF.
Now you must know, that Marvin doesn't like trying on things I sew for him unless he can leave them on. Also I often sew when he is not home and so he tried the pair of pants on for the first time, when they were almost finished. Turned out, they turned out too baggy. At first we both thought they're just a little too baggy, but it got worse after he had worn the pants for two days. The fabric has absolutely no recovery it seems. I did what I could and took out some width where I could without unpicking everything. I also redid the hem to lengthen the legs a little more. But still the fit of this pair of jeans isn't that great.
Well, I think it could have been worse. There are some other issues I'm dissatisfied with. Like the waistband. It looks wavy. I think it simply does not have enough stability because there is no seam at the top of it. The waistband is one pattern piece that is folded in half. Next time I will cut two waistband pieces and we will see if that helps :) and while I'm at it I think I will also change the style of the coin pocket.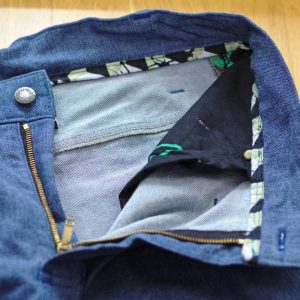 Even though the jeans didn't turn out as I would have liked I'm not mad or thinking I wasted time and fabric. I just see this pair as a more or less wearable muslin and next time I will baste the pieces together before I sew them and use a fabric without stretch. I already have sewn Marvin a pair of shorts from the same pattern from a fabric that had stretch. And so I thought I could get away with it. But I more and more think that there can be huge differences in stretchiness.
I bought the contrasting fabric at Ikea. It has cockroaches on it! :) I bought all the hardware locally. I bought the zipper at a Christmas market in Gengenbach in the Black Forest. There was a stall there where zippers were sold for 1 € per piece. YKK and Prym zippers for 1€. They were in a big bucket but I think I managed to find all pants zippers, that lock the pulley. So if you ever visit the Black Forest, Gengenbach is a lovely place to look at and to buy zippers :)
Marvin wears the pants even though they do not fit him great. And that is why I will make him another, improved pair. And that is why I bought him this fabric with sloths on! Genius, right? :) I knew Marvin would like it and so I brought some of it home. I was thinking of making him a sweater from it, but it would have been fine if he would rather have a pair of chill out pants from it. I mean the print is kind of, well, unusual ;) But he wanted a sweater and so I pulled out a pattern that I had bought ages ago but never used so far. It is another Pattydoo pattern, it is called Max. It only costs 2.99 €, it has seam allowances included and all of Pattydoo's designs fit me and Marvin great so far. She is a tailor and knows what she's doing. However, most of her instructions are only available in German. But most explanations on the pattern pieces are written in German and English. I think you won't have problems with this pattern even if you don't understand German.
I went with size M, and tried to fir the pattern piece on my 1,20m of fabric. It was the worst! In the end I managed to squeeze everything in, but I had to lengthen the sleeve cuffs. Marvin doesn't really like sleeve cuffs, but there was no way around them.
the fabric has absolutely no stretch to it, but the pattern is designed for knits. Initially I was planning on cutting one size larger, but I didn't have enough fabric, so I cut size M and Marvin stills fits into the sweater, puh!
You have to chose between some things when you buy the pattern. Do you want long or short sleeves, a v-neck or a scoop neck. And you only get what you chose. When I bought the pattern I chose the v-neck option. I hate sewing v-necks, I never get them right. And I don't think they look good enough to go through the trouble. So I altered the neckline. Worked like a charm! :)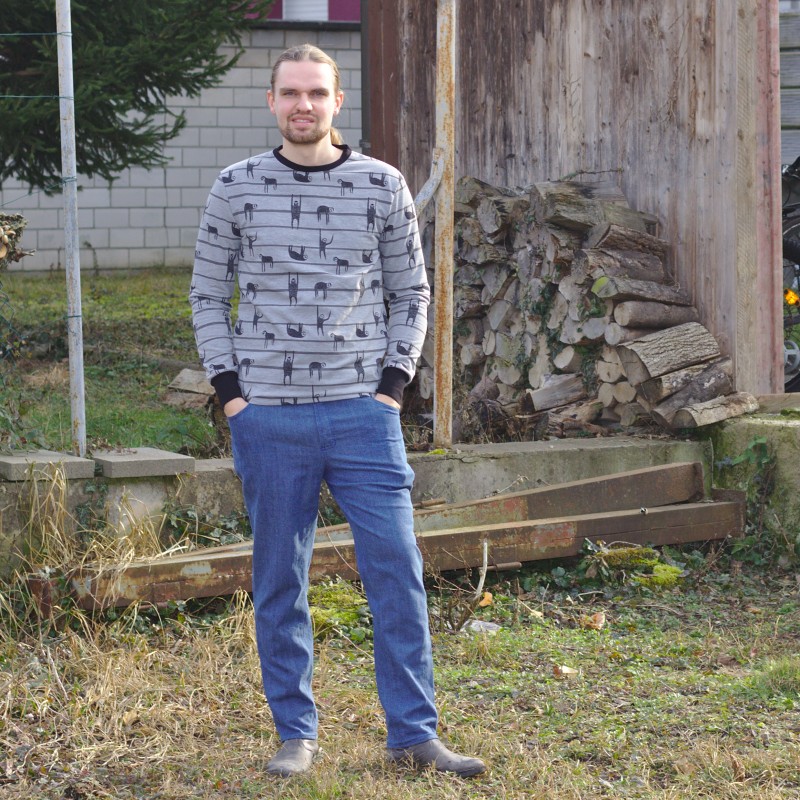 That's it for today! Thanks for reading :)
Macht's gut!
Katharina