Now that I spin my own yarn, my yarn drawer only gets more crowded. And I still have some yarn in it that I bought over two years ago. I'm not that much of a stockpiler when it comes to yarn and this is definitely the first time in my life yarn has survived that long. But every time I set my mind to finally make something from that old boring yarn I rather knit something from some much more fun handspun.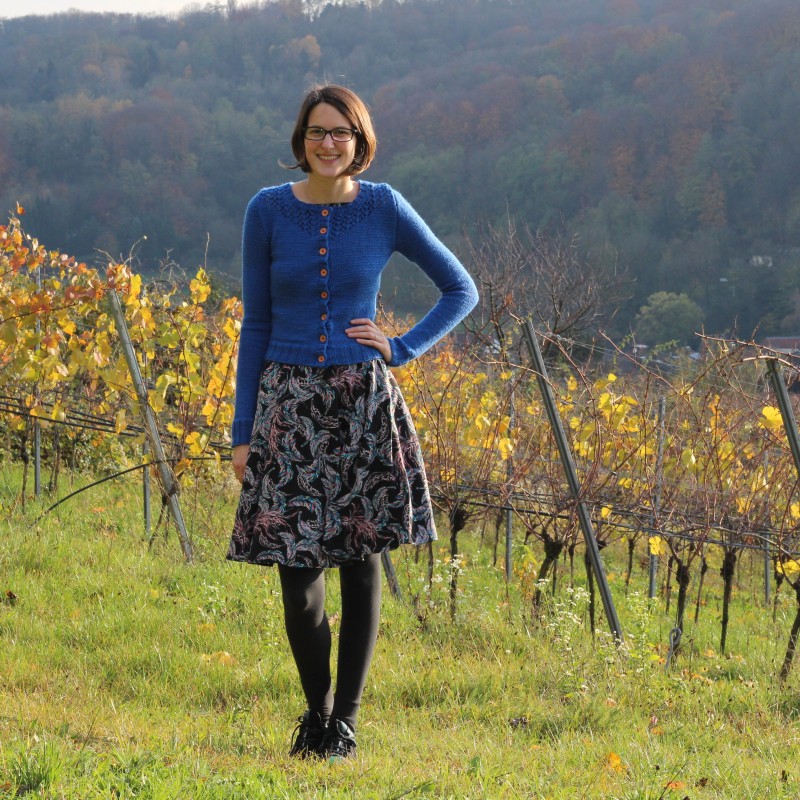 A few weeks ago I started the Christmas knitting and spinning and thus broke the circle. I was done with my recent knitting project, but I didn't have any new yarn that I had spun for myself. So I made use of the opportunity and finally made something from some bright blue Garnstudio Drops Karimsa Superwash (color no 07). The Fall Knit Along organized by Andi Satterlund was about to start. There was a poll on what pattern to knit earlier this year and like everyone else it seems I voted for the Salal Cardigan. The instructions were first published a year ago in Stranded Magazine and I shortly thought about buying the magazine then. But I wasn't that fond of the other patterns in the issue and so I decided to wait until the pattern was released individually one year later. That has happened one month ago.
The instructions call for Worsted Weight yarn, but the gauge (20 sts x 28 row = 4 x 4 ") revealed that this pattern could be made in DK Weight yarn as well. Perfect, Drops Karisma is DK and the suggested gauge of the yarn is 21 sts x 28 rows = 10 x 10 cm, which would have been almost perfect. However, I knit very loosely and my swatch revealed a gauge of 18 M x 26 R = 4×4″ with 3.5 mm needles. I didn't want to use smaller needles, because the fabric was already pretty stiff for my taste. But as luck had it I soon realized that I was in between sizes with the pattern anyway. The sizes in Andi's pattern are always finished measurements and they tell you with how much ease the garment should be worn. This cardigan shall be worn with 1 – 4 " of negative ease. My bust is 84 cm and left me with a decision between knitting the cardigan in size S with 0 cm of negative ease (finished bust measurement is 84 cm for this size), or knitting it in size XS with 10 cm/ 4″ negative ease (74 cm finished bust measurement). That is pretty extreme I thought. But as my swatch showed that my garment would turn out wider (and longer) when I knit everything as per the instructions I decided to go with size XS! Badass, I know ;). I didn't worry about the row gauge, the garment would turn out longer, but as I am pretty tall and would have had to lengthen the cardigan anyway that played right into my hands.
Before I finally cast on I carried the yarn around the world. It was with me in the States and it visited Duisburg and Dresden (okay, I exaggerated). On the 28th of October I was back home and had nothing better to do, so I finally cast on. I was done in under two weeks and wove in the loose ends on the 7th of November. This really was a fast knit. And it wasn't that exciting, a little dull to be honest. Apart from the lace section (which is very very tiny in size XS) there is only plain stockinette knitting. However it was also kind of relaxing to knit something that easy and I could knit while doing other things.. phoning, watching telly, riding the train…
There is not that much to say about the instructions. But I have seen more descriptive instructions written by Andi than this one. It was shorter and not that much 'row by row'. However I read that during the KAL Andi published improved versions of the pattern, something with the sleeves in another size. Maybe a pattern just gets better the longer it is released. I don't know.
During the KAL some people had problems with knitting the lace parts. They are knit symmetrically so the pattern for the left front differs from the pattern for the right front. The instructions for decreasing the lace repeats are not written row by row. What I found confusing for my size was, that the instructions said I should knit 16 rows of the lace motives and every 4th row knit one repeat fewer. But in the last 4 rows there already were no lace repeats left to omit. So I searched were I went wrong. I didn't find anything. So I just knit the remaining 4 rows without lace. After seeing some other projects knit in size XS this seems to be what the instructions want you to do. Next time I would knit the lace part a little longer, I think that looks nicer in the other sizes. I don't know what the other problems of the other participants were but it makes me think that this is not a beginner pattern, though it could be one, because neither the lace part nor any other part of this cardigan was hard to knit.
I stabilized the button bands as I have described in this bog post. The fabric has little whales on it and I haven't figured out what to make from it. I have enough for a dress and I think I'll make one :)
The cardigan fits perfectly into my wardrobe. My wardrobe mostly consists of red and blue tones. Also I'm very happy to finally have this yarn out of my stash. Oh, the buttons are simple wood buttons that came also from my stash.
When I was finished I had about 70 g left of the yarn. And because I wanted it out of my stash I immediately made something from it. A Christmas present for my cute little niece who is too young to see her present on the Internetz, so I can show it to you! :) I used the pattern 'Cheeky Monkey' from 'The Big Book of Knitting':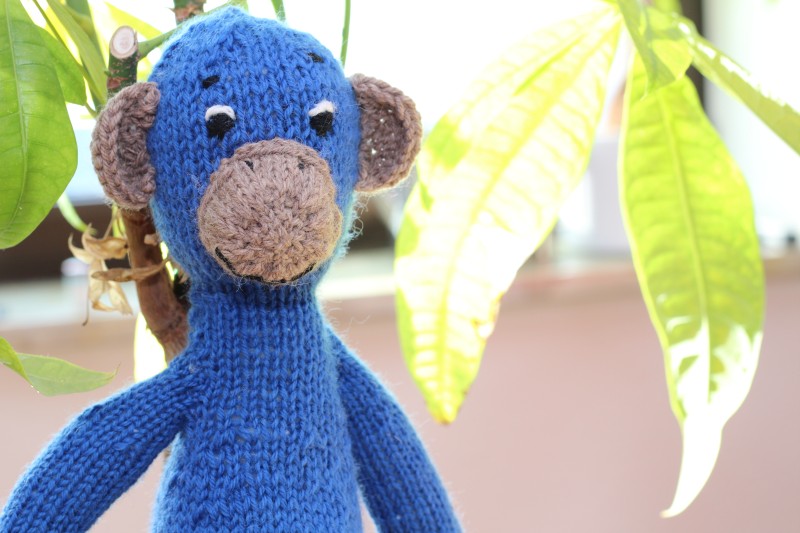 :) Cute right?
Thanks for stopping bye and have a great Wednesday :)
Katharina