It is not about what you deserve. It is about what you believe. And I believe in Love.
Yes, I saw the new Wonder Woman Movie. I was able to watch it during my flight to the US. By then I already had my eyes on the Wonder Woman Warp knitting instructions by Carissa Browning because one of my spinning group buddies brought her wrap with her last time, to show it off. And it worked on me ;) And I thought it would be nice to see the movie before knitting the wrap.In retrospect I think I could have lived without watching it. It was okay. I remembered the citation above. Not because I found it clever or heart warming or anything, but because if was THE statement of the movie. Wonder Woman says it at the climax of the story, just before she decides to save us all. I hope I didn't spoil anything  ;)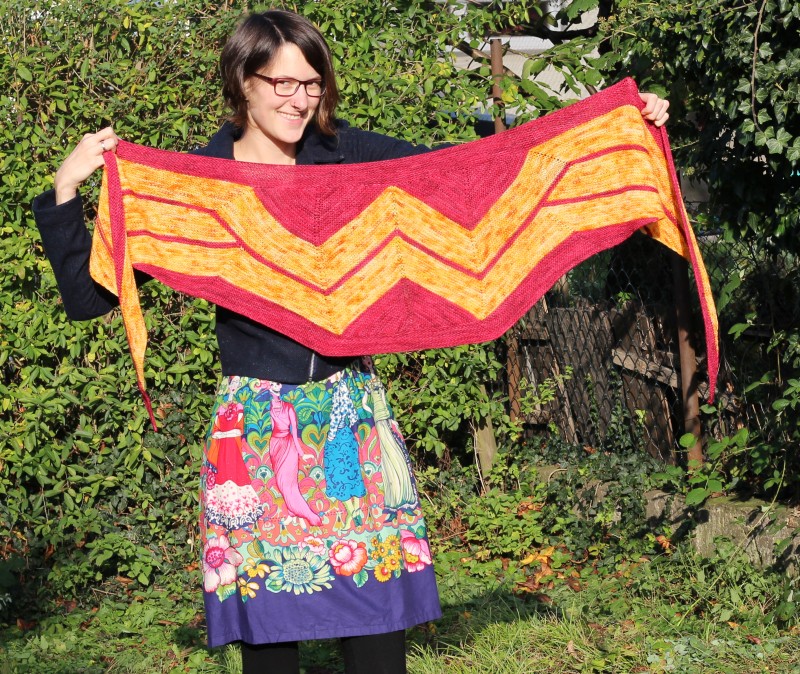 It was my birthday during my visit to Marvin and the US and I got a gift certificate for a yarn store, jaaaa! :) So on my last day we went to Warm'n'Fuzzy in Cary, North Carolina  :) My first reflex when I took a first look at the prices was to leave the store immediately and never come back, haha. 100 g sock yarn, merino superwash and nylon cost 30 $ on average I'd say. Before taxes. Never ever could anyone charge that much for one skein of regular yarn here in Europe. Nobody would be willing to pay that much.
But Marvin insisted that I should stay and find something that I'd like. So I went looking for yarn for a Wonder Woman Wrap. I would only need 200g, which was the most I could convince myself to let Marvin buy for me ;) I knew I needed 100 g of red and yellow sock weight yarn each for the bigger version of the wrap. I wanted to buy yarn that in the best case could only be bought in the US and nothing that I can easily buy in Europe. I had my eye on some yarn dyed by a French indie dyer, but left it there. I remembered to note the name, it was Artemis Yarns ;)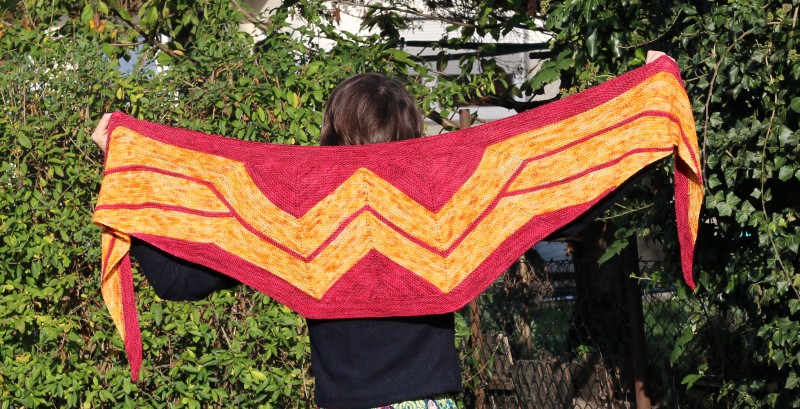 There were a lot of speckled yarns available in the store. Super trendy they seem to be. And I was thinking about buying speckled yarn at some point. I think I thought about buying every single skein that was available in the store at one point or another. It really took me a while until I had decided what I wanted. I wanted one skein in Black Cherry and one in Candy Corn of a yarn called Chaussette that was dyed in California by Brenda of Phydeaux Yarns. After Marvin had purchased the yarn for me, the store owner offered to wind it into skeins. They had an electric self build skein winder mechanism thingy there and I now know that I need one for myself at home. What a tedious work that is without electricity.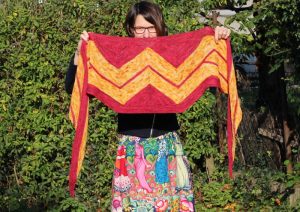 Everyone in the store was super nice. I got complimented on the top I was wearing and everyone was super helpful and friendly and Marvin made friend with the store dog. Haha. There even is a whole room for knitting courses and knitting meet ups. Looked really nice and if I would live nearby I would totally check it out. If you are ever near the store you should definitely pay a visit :) But bring big moneeeeeys!
I anticipated to cast the project on on my flight back, but my Featherweight Cardigan took me too long. So I started the wrap when I was back home.
I had a lot of fun knitting it. A big part in that played the super well thought through instructions. They are available as crochet– and as knitting instructions and both are available for free! I chose the knit version and knitted with 3.5 mm needles. The whole wrap is knit in garter stitch and all those lines and triangles are formed by short rows. The instructions are very clear and you are guided through this project step by step. I loved it! There are even two different sizes available. For the smaller one you only need 50 g of each color. I went with the bigger version.
And even though the rows got really long at the end I was never bored. The color changes and all those short rows make this an interesting and challenging knit. In the end I only had a few meters of both colors left, very satisfying :)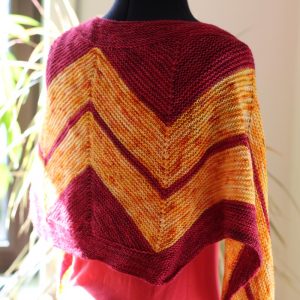 The only thing that annoyed me was all those loose ends I had to weave in at the end. There are quite some color changes and thus quite some loose ends to weave in..
After blocking, the wrap had quadrupled in size, as it is usual with garter stitch. I like the finished width though :)
All in all I highly recommend trying tis patter. It was so much fun! And I also recommend you visit the yarn store when you're near Cary, NC. I do not really recommend watching the Wonder Woman Movie though. Maybe while you knit the wrap. That could work! :)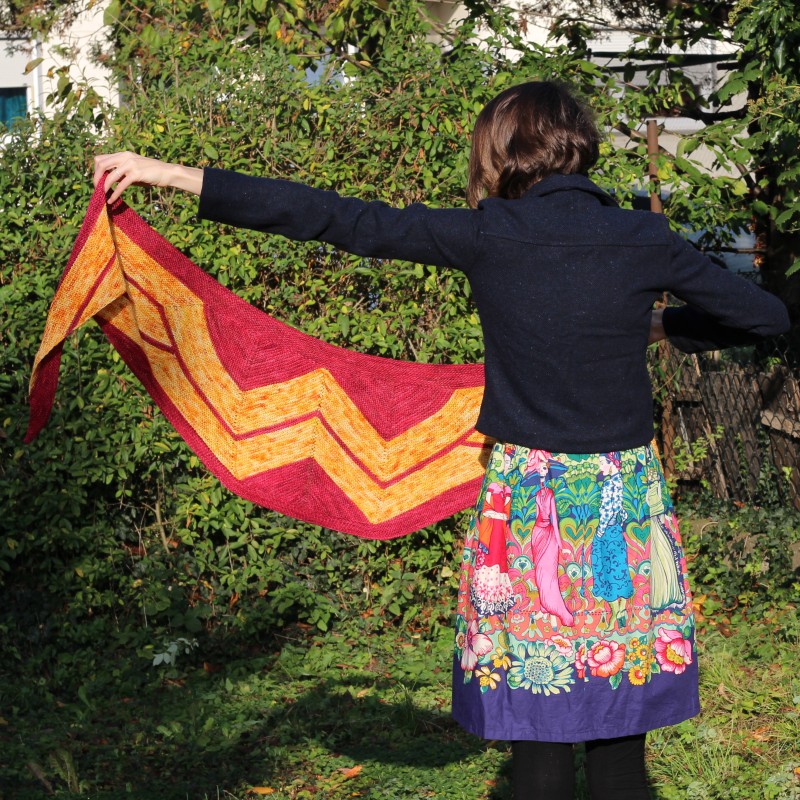 Thanks for reading and have a fine day y'all! :)
Katharina