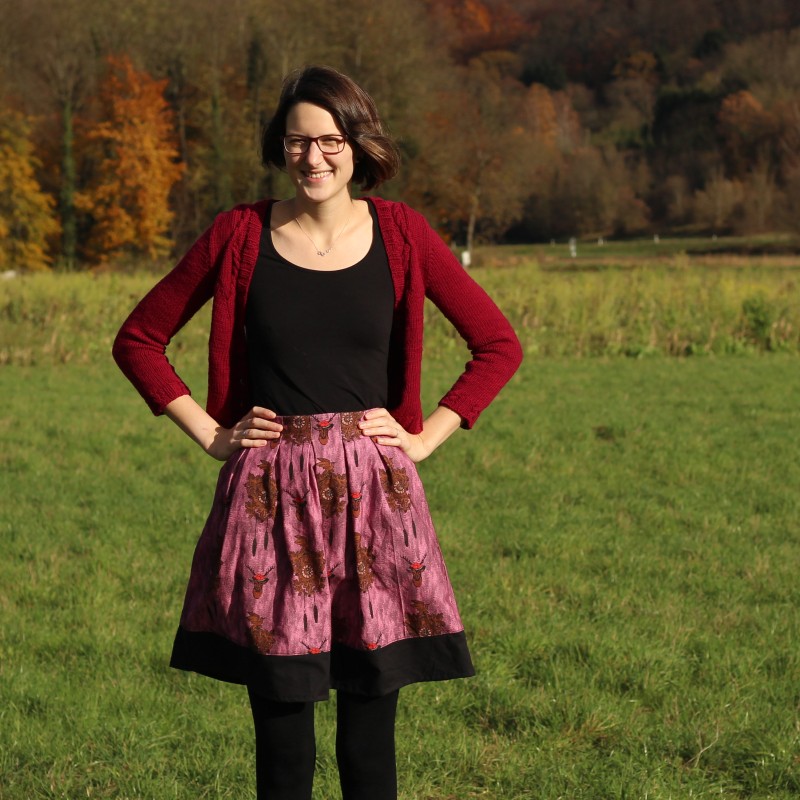 Surprisingly for me it is already December. And even more surprising is that I have so much things that need to be done right now ;) So, the same as every December so far.. I have a lot of planned blog posts. Earlier that year I carded alpaca fiber right off from the alpaca that Marvin and I often take walks with and I wanted to share my insights. I have also spun some of the alpaca already and I took a lot of pictures of the whole process. I also bought a new spinning wheel some month ago that I plan on reviewing here and even before that purchase I started a new hobby that I want to share: tablet weaving. I also started the construction of an electrical skein winding station, but it is still far from being finished. I sewed a new dress and right now I'm sewing a winter coat. In addition I am working on two knitting patterns simultaneously. And on top of all of that I also have a regular life with work and (well, mostly work…) a little cleaning and as much Marvin time as I can get :)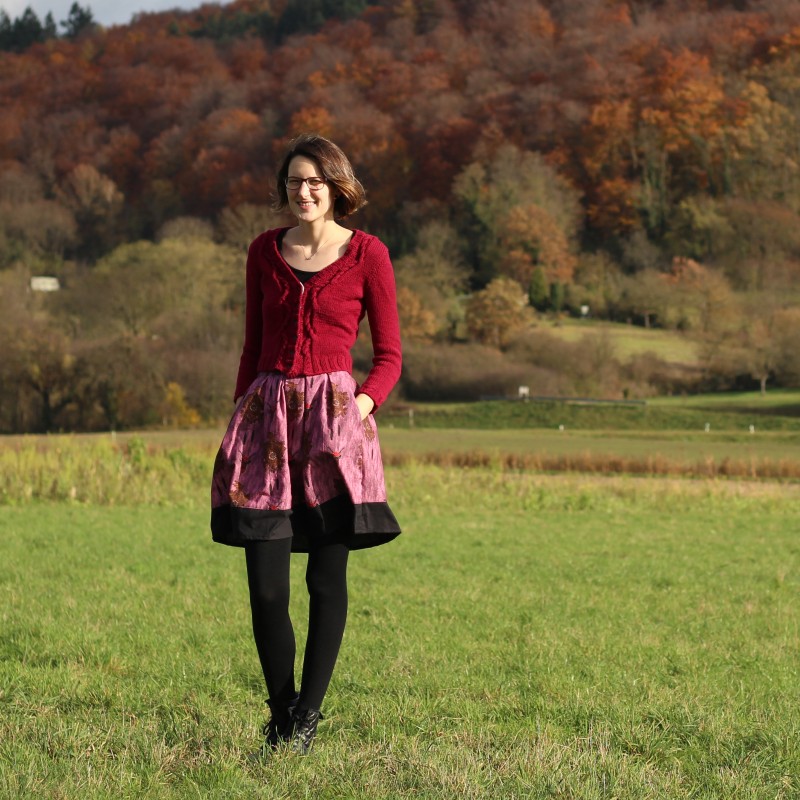 Today I am going to show something else. Of course ;) Those were just teasers and I really hope you will come back ;) Today is about my newest skirt. And the most exciting part about it is the fabric it is made from. I bought it when I went to a craft fair with Susanne my MIL in May. It took place not far from here, in Karlsruhe and to be honest I wouldn't have visited it if it wasn't so nearby. For your records I am talking about the Nadelwelt fair in Karlsruhe. The emphasis of this fair is on quilting. And I don't quilt. And I don't want to start, because really I have enough hobbies (I mean never say never, but.. really! I just started weaving). Luckily you can also buy fashion fabric, mostly for children though. And if you look for it you can find yarn vendors as well :)
The fabric I bought was neither a quilting fabric nor a fashion fabric (and I didn't buy yarn!) but a decor fabric I guess. It is pretty thick and sturdy, but that doesn't keep me from using a fabric to make a garment from it. You can make a skirt from everything! And look at this one! It has uckoo clocks and deers with Bollenhüten, hahahahaha I needed to have it! I'm a huge fan of the Black Forest and of kitschy things! The fabric was 20€/m so I only took 1 m. I thought that would be more than enough for a skirt. Unfortunately the seller cut a little less than 1 m and the fabric shrunk when I washed it and so I ended up with only about 80 cm. That really limited my pattern range.
Initially I thought 'Hollyburn' buuut, surprise: not enough fabric. So I pulled my Deer&Doe Chardon pattern in size 38 out of my collection. I have made almost all of my Chardons from stiff interior fabric so far, so this was a safe choice. But the fabric wasn't even enough for these super simple almost rectangular pattern pieces. So I had to improvise.
Well… improvise is a big word for what I did. I simply used the hem band pattern pieces and cut them in some black cotton fabric, cut the skirt pieces as long as my fabric allowed and applied the hem bands. And now it looks like I made that on purpose and not because I wanted to safe money, am I clever or what?!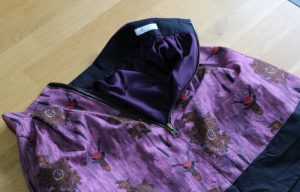 This time I sewed box pleats (a opposed to regular pleats) and I added a lining, the skirt is for winter and I hate when skirts stick to my tights and ride up. I also needed an exposed metal zipper, because I just can't get over how great I think that looks, haha. I used Megan Nielsen's Tutorial on how to apply an exposed zipper. I love this tutorial. It changed my relationship to exposed zippers and maybe THAT is the real reason why I always want to apply exposed metal zippers to all of my skirts ;)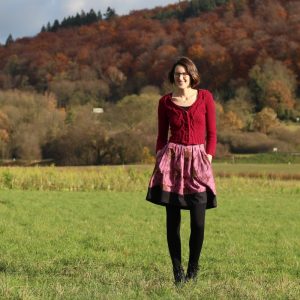 As already mentioned the pattern is kept pretty simple. Which is great for fabrics that have an obvious directional print. And also for very expensive fabrics, because you don't need that much fabric to make it. Pocket pattern pieces and seam allowances are included in the pattern. And some more optional pattern pieces. You can add a bow to the back of the skirt (which was a little too much for me.. I already had the pattern pieces cut out) or add belt loops. However, I am not a huge fan of the Deer&Doe instructions (or at least of those I have tested so far). They are kept pretty short, the technical drawings sometimes confuse more than they help and the worst thing: in the English version of the instructions all measurements are imperial. The horror! Haha. I honestly don't understand how people can live with those units. Not only have they always to think in fractions but how on earth is anyone supposed to memorize all those conversion rates. Like does anyone now how many feet a mile has? 5280, I googled it ;). But you people have to do some serious math every time you want to use another unit that measures the same thing. And because that is too hard everyone uses factions. What a vicious circle! What a nightmare!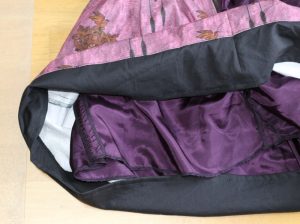 To get back to the subject: I overlocked all of the seam sallowness. The fabric was too thick for french seams and so I was done pretty quickly.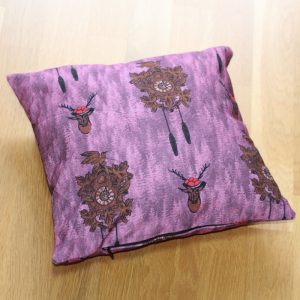 And because this is a decor fabric and I didn't ant anyone to think badly of me because I always only make clothes from decor fabrics I made a cushion cover as well. Am I a good decorating housewife or what?!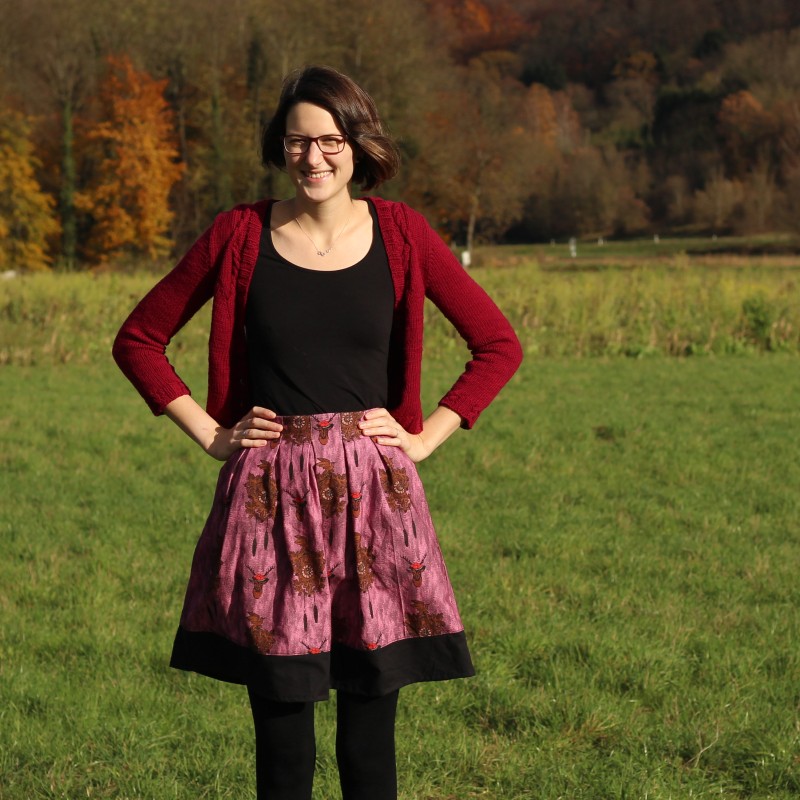 The cardigan on the pictures is my Marion cardigan and I made the tights as well.
Have a nice one y'all and think about converting to the metric system. It is much better! ;)
Macht's gut!
Katharina