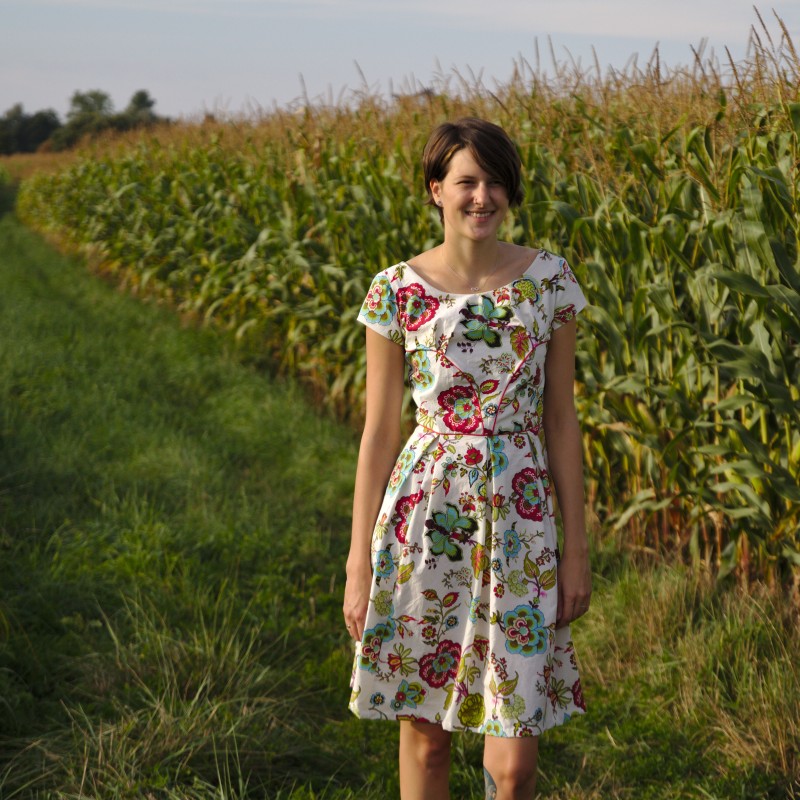 I sewed another dress ;) And I used a brand new pattern. And here's the story behind that: a while ago the people behind the sewing pattern label Colette were looking for bloggers who wanted to test their new pattern pre release and give them feedback. I write 'test' but the pattern was already ready and tested and everything it was more about trying it out, seeing if you like it and if you like the fit. There were some more rules. You had to be a blogger and in exchange for receiving the pattern free of charge you would have to write a blog post about the pattern. There were some more rules, like you should be a confident sewer and stick to a deadline and if you want you can rad all about it here. So that you know what I sold my soul for, hahahahahaha :D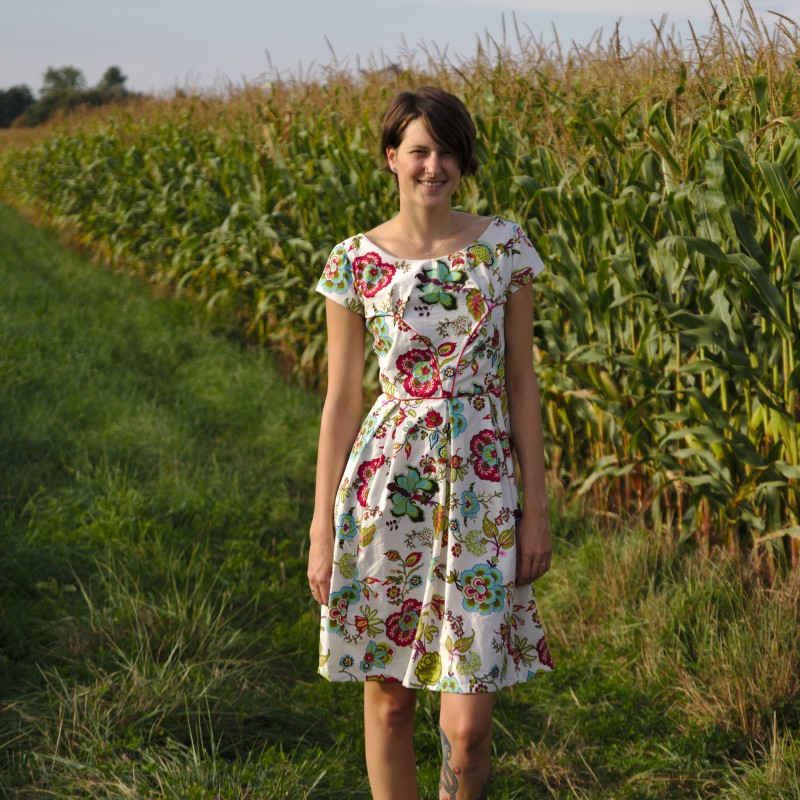 So what I did was to 'apply' and a little later I was told that Colette wanted to work with me. I was flattered and excited. And there for quite some times, like two or three month or so nothing happened.  Two weeks before the release of the latest pattern Rue I got an email in which I was asked if I'd like to test the pattern. It was said that I didn't have to test the pattern as there were only two weeks to the release which was a little last-minute. At this point of time I didn't even know what kind of garment I would be sewing if I said yes. I kind of got a strange feeling. Would I have to sew the pattern if it wasn't short notice? Even if it wasn't my style or I didn't like it? Or what? I reaaaly don't like to be forced to anything, especially when my hobby is concerned. Because after all it is just a hobby. So I wrote an email back, asking all the questions, asking for rules, and what would happen if I didn't like the pattern. And if there was the possibility that they could tell me first what it was I would be sewing before I say yes. Well, turned outr there basically were no rules. It was totally okay if I said no and I could still try some patterns in the future. Also there was no real deadline. Meg even send me the whole pattern to take a look at it before I decide to give it a try or not. The only thing that was important was that if I sew the pattern I'd give them feedback and write a post about it.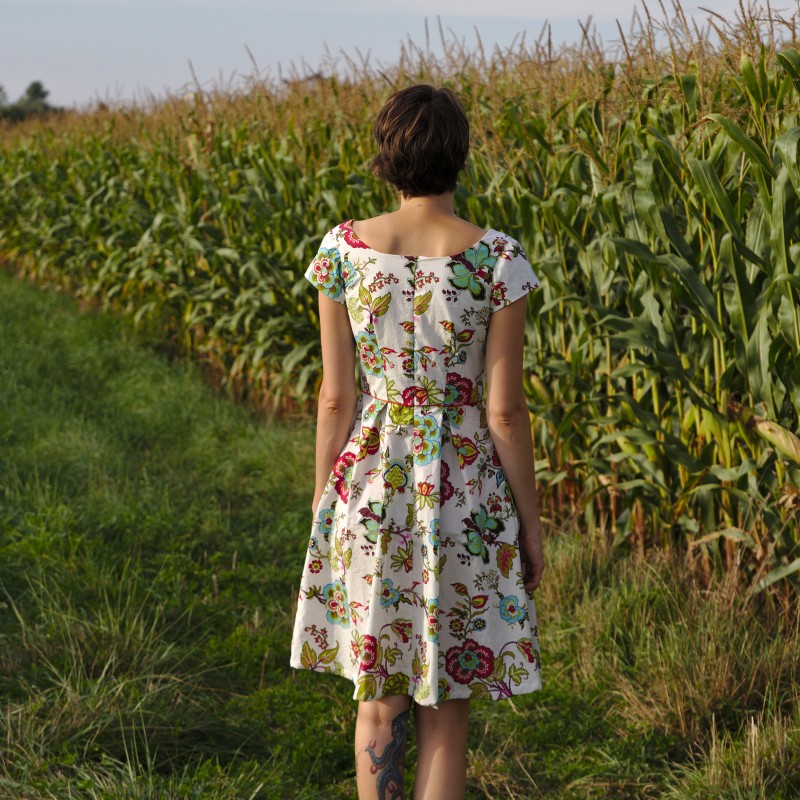 That's that! My strange gut feeling was gone, i took a look at the pattern and knew that I couldn't resist. The new pattern was a dress! As if I could resist sewing a dress! and better: a Colette dress! I'm totally biased,. I have to admit that! A lot of my sewing skills I learned from Colette instructions. And now that I need less guidance I still find it very relaxing to sew with their instructions. they're like a safety net. I know they're always very thought through and correct. In case I'll get stick they will help me out. Also, you know, I always have some dress making fabric in my stash. Always! So I could get started right away.
I bought the fabric to make an OAL skirt from it. Maybe you remember the story. I bought yarn, I bought fabric and it didn't really match, so I bought new yarn and fabric. Yada yada yada I didn't use the fabric. I bought in my favorite fabric store. They always have the most beautiful fabrics. this one was meant to become bedding (and I hope that is the right translation ;)). Because of that it was 2.80 m wide. I only bought 1 m, because I planned to make a skirt from it. But as it was twice as wide as I thought I could easily make a dress. I even still have some left overs. The fabric is mostly cotton and a little (20 % I think) polyester.
Because the fabric is mainly white and I tend not to wear white dresses in winter that much I decided to make another summer dress from it :) The pattern contains separate lining pattern pieces. Only the lower part of the front bodice is used for lining and shell. I lined the bodice with some cotton lawn but left the skirt unlined.
The pattern includes two versions. Both have the same bodice, but version 2 has mid length sleeves and a less wide skirt than Version 1 which I decided to sew..
What I think makes this dress special are the seam lines of the front bodice in combination with those crazy pleats. They remind me of gills somehow.. I am usually not a fan of piping. I'm not sure why not. Maybe that's because some seamstresses seam to overdo it or maybe because I've always sucked at adding piping ( I guess it was the 2nd ;)). Always looks crappy. I wondered a long time why my piping always turned out so uneven. Turns out it was because I didn't sew them with an invisible zipper foot. Now that I have one it was a piece of cake to sew the piping! And so I overdid it a little, haha :D Well initially I was so amazed by how great the piping turned out that I planned to add piping to the neck opening, the sleeves, the side seams, but Marvin hold me back ;) So I 'only' added piping to the front bodice seams and the waist seam :)
I had some bought red bias binding here, it didn't match the red in the dress 100% but it was the best I could find. I tried all the fabrics I had but everything else matched worse. So I went with it and I don't think it is that noticeable now. Looks fine to me!
There are seams in the front skirt. I now think they're kind of redundant. At least if your fabric is wide enough. You could just cut the whole front skirt at once on the fold. I didn't think of that and it is not that noticeable. But next time I would do that. Or I will keep the seams, but add the inseam pockets to those seam instead of the side seams. I think pockets in the side seams are always just a little to far at  the sides. So having pockets in the front skirt seams could be really great! I'd have to think about that!
Because there wasn't much time until the release of the pattern I went with the digital version and, printed it out and assembled it. I'm telling you this simply to tell you, that the digital Colette pattern now feature layers. So now you can toggle sizes on and off before printed and only print sizes you really need. That really sped me up.
I made a muslin for the bodice before cutting into my fabric. I went with size 2, which is my usual Colette size and also my size according to the sizing chart. I lengthened the bodice by my usual 4 cm, but I didn't lengthen the skirt, because I wanted it shorter. The muslin turned out okay. I noticed that the bodice was a little shorter and wider than what I am used to. But as the bodice looks shorter and wider on the mannequin as well I decided to gibe it a try!
Lengthening the bodice was a littler harder than average I'd say. The first issue was that there are lengthening and shortening lines in the pattern, but the line for the front bodice is missing. It is there for the back however. I didn't really have problems with lengthening, I do that in my sleep, but I wrote that as an issue in my review and I have seen that this alteration will be covered in the upcoming  Sew Along. Yay!
The sewing process was fast and easy and fun! I didn't finish any seams of the bodice, as I lined it, but all the skirt seams are french seamed. Here you can find a tutorial on how to make a french seam underneath an invisible zipper. Here is a tutorial on how to make french side seams with inseam pockets.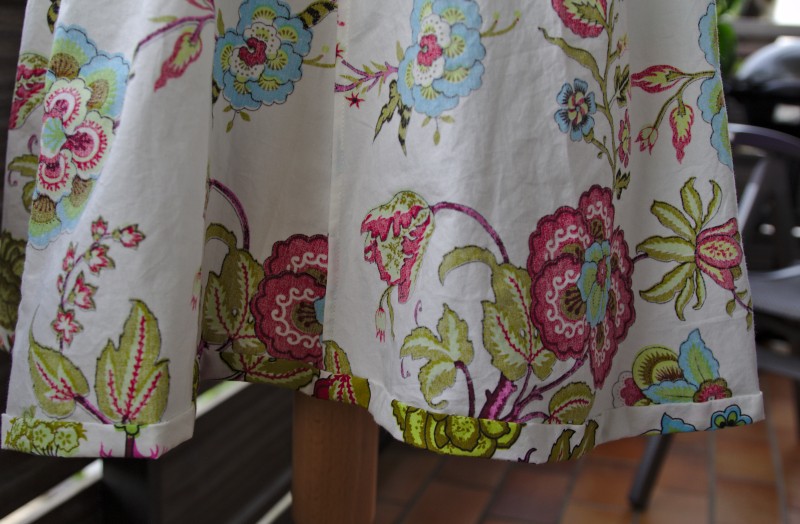 I hemmed the skirt by hand and I mostly sewed the lining bodice to the fashion fabric by hand too. I stitched the neck opening with my machine and I tried the method to sew shell to lining by machine at the arm holes that is described in the Colette instructions but I wasn't able to get a clean finish, there was too little space between the neckline and the shoulder seam.
The invisible zipper is from my stash.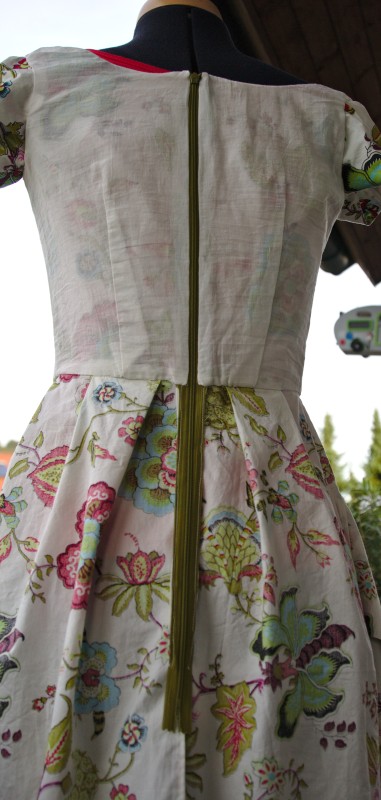 As expected I liked the instructions :) They're very detailed especially at those parts that are harder to understand.
What I didn't like concerning the instructions was that they contained two full pages filled with advertisements for the Seamwork mag. Seamwork mag belongs to Colette which makes it a little more okay, but in my opinion there shouldn't be any advertisement in a pattern that you paid 14 $ for. I wrote all of my critic, positive as well as negative in my review and it was taken very positively, which I think is great :)
Now to the finished dress! The bodice indeed is wider than what I am used to. I usually like my bodices to be super tight. But a wider bodice really is a lot more comfortable when you have to sit at a desk the whole day. I'm happy that I decided not to make it tighter. The waist seam sits a little (like 1.5 cm) above my natural waist. I like how that looks. I think the bodice might have looked a little too long if I lengthens it to my natural waist. I do have some problems with the scoop neck. I always have problems with scoop necks. Oh well. I think I still haven't realized that completely. I have straight shoulders and after a while of wearing the straps wander more and more to the center aka my neck. This makes the neckline look peculiar. As the sleeves are wide they don't really prevent the shoulders from moving. Well, I'll fix that next time. Along wit the armscye height. I would have needed to lengthen that ;) But not because the pattern is peculiar, but because I'm tall. And while I am at it: it was really hard to set in those sleeves without puckers. Just wanted to mention that.
I'm really happy with how the dress turned out. It has some flaws, but considering this is my first attempt on the pattern they're nothing :) I'm glad Colette is returning to its roots and I'm glad I got the chance to test this pattern and say what I think of it! I love saying what I think of things! And I love sewing dresses! Win win! ;)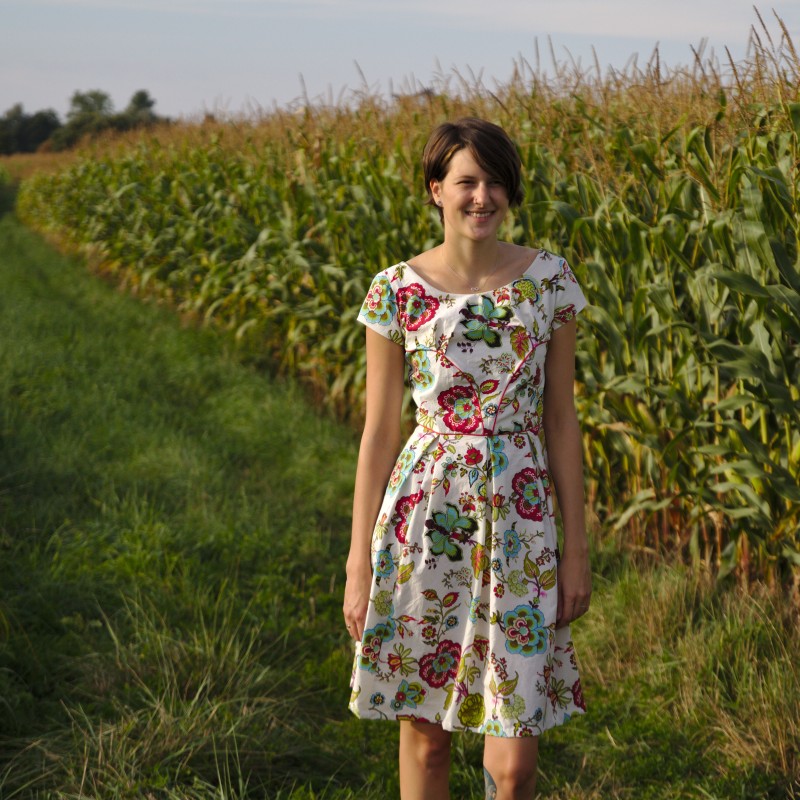 Have a nice Sunday and macht's gut!
Katharina