Sewing for Marvin is relatively easy: the only garments he needs are shorts and t-shirts. He doesn't wear much else the whole summer. While I can chose between wearing skirts, dresses or pants the only thing Marvin can wear in this climate we have here are shorts. When we lived a little farther north Marvin didn't wear shorts that often, he says he still doesn't like wearing them to work, but it's not like he has a choice now ;)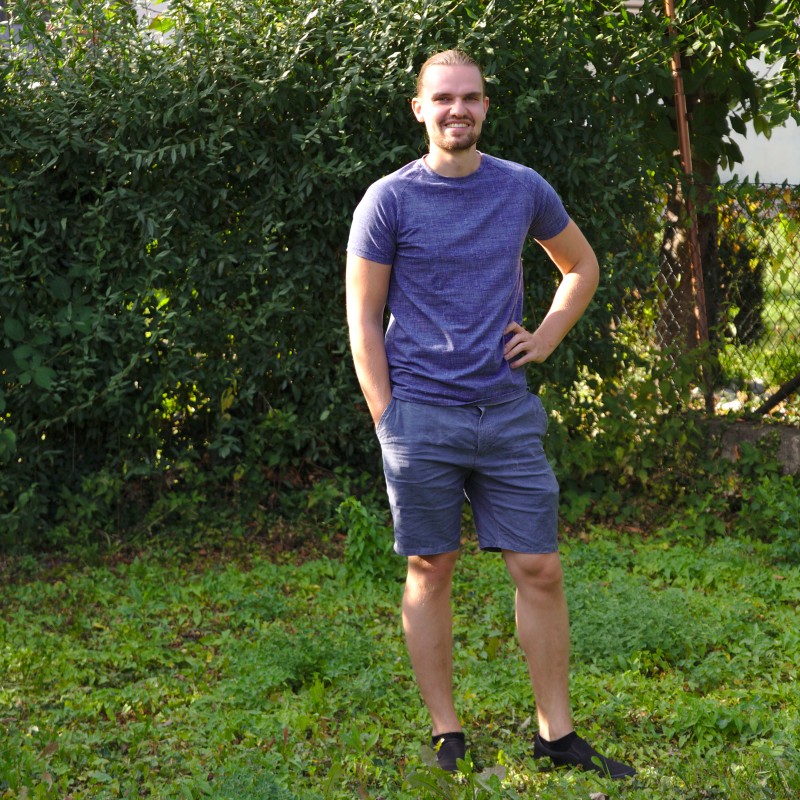 There aren't really many men shorts patterns on the market, but Marvin doesn't care. I once picked the Jedediah Pants pattern for him. Since then the answer to "can I sew something for you?" is "shorts" and the answer to "do you want something different this time?" is "no" ;) Okay, that's easy!
The first time I made the pants I measured Marvin to be size 32 and the pants turned out too small. Not like slim fir small , more like he wasn't able to zip the pants up. Afterwards I sewed a size 34 and that fit much better. So this time I didn't do anything different pattern-altering wise. Well the length of the pants might be different, I cut the shorts a little longer than needed and Marvin decides how long the shorts should be. If I had to guess I would say they are all equally long and end just above the knee ;) The front fly looks a little different too. I cut the pieces from the Jedediah pattern but then I work the Ginger Jeans Sew Along Method, just because I love that sew along and I kind of know the sew along by heart anyway ;)
The differences between the two pairs of pant aren't striking, but at least the fabrics are different.
The greyish one is half linen, half cotton and 4 % spandex. 104 % fabric, wow! ;) Hehe, It must be super comfortable with the linen and the spandex. I bought the fabric in a local store and like all fabrics I buy for Marvin it is something in between grey and blue. All the garments I made for him so far are either grey or blue. It's not like he requests that, its just, that I like both colours a lot. And he doesn't complain. I mean the good thing is, that all his memade clothes match each other.
When I bought the navy blue fabric it was actually beige. Ugh, beige! I dyed it together with some white fabric and made this skirt from it. I bought them both cheap as a winter pants fabrics bundle. I would have had enough fabric to make the blue one full length and the fabric would have been great for that. But you know, Marvin requested shorts.
When I sew something for myself I put it aside until I made photos of it. I'm not sure why  still do that. Part of my ritual to celebrate my new garment I guess. But when I sew something for Marvin he wears it right away. Which is great! He has worn the hell out of these linen shorts. The navy blue ones get worn a lot too, but I haven't washed them nearly as often as the linen shorts. It was kind of hard to take pictures of them, because either Marvin was wearing them or they were being washed. Sadly they already look a bit worn out. The fabric already looked washed out after I prewashed it. I took the wrong side of the fabric as right side, because on the wrong side it wasn't that bad.
The contrast fabric for the pockets is always a little hard to find. I try to use left overs for them and thus there is now Zebra fabric in Marvins pants. I used it as lining for my raincoat. The other pocketing fabric is a left over from my favourite shirt.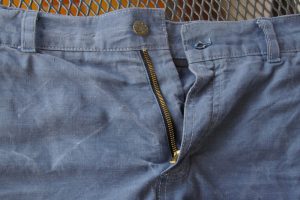 I find it a little hard to buy zippers for pants. I always try to save money and so one time I used a regular metal zipper, I had to change it because it always opened itself. Super annoying. So when I buy zippers now I mostly buy the special pants zipper by Prym or YKK.
I topstichted the blue pants with my favourite topstitching thread. It is called Goldafil and I buy it via ebay. It is not as stiff as the Gütermann thread. Because I didn't have matching topstitching thread for the grey pants I threaded two thread of the same grey colour through my needle which worked fine. The topstiching on the back pockets is what is suggested by the pattern. There even is a template included in the pattern.
I'm not happy with either pattern nor instructions.  I didn't even take a single look into the instructions this time. It is more confusing than it helps. When I'm not sure about the next step I refer to the  Ginger Jeans Sew Along.
What really annoys me with this pattern is the sizing. I measured a 32 for Marvin and he didn't fit into it. I'm not the only one having had this problem and the official Thread Theory statement is something like " these are slim fit pants". But as I mentioned the problem was not that they were slim fit, the problem was that they didn't fit at all. It's not the first time the measurement chart of a pattern company is off. But usually you have the same size in all the patterns of one pattern company. And so I sewed some Comox Trunks for Marvin. In size 34 and they were too big. I think something went wrong with the Jedediah Pants. So even if you have sewn patterns from Thread Theory you will need to sew this specific pattern one size larger than the other patterns.
Similar to his shorts picking behaviour Marvin has found his perfect t-shirt pattern too. It is the first one i ever made for him, how convenient for him. he doesn't want anything else. Ans so every time I see a blue and grey fabric I make a tee for him from it ;) The pattern was released by the German designer Pattydoo and is called Tom. The instructions are only available in German, but the price for the pattern is really low, like 3 € and the pattern is great and easily assembled. The fabric with the blueprints is from Stoff&Stil, they're Danish and I love them! Their designs are beautiful and the qualities of the fabrics have always been great. I bought the other fabric on a local fabric market.
And after letting me take a bunch of pictures of him (not without complaining I might add) Marvin found something more interesting. The neighbour's biggest pumpkin is hanging into our garden. So technically it's ours, right? ;)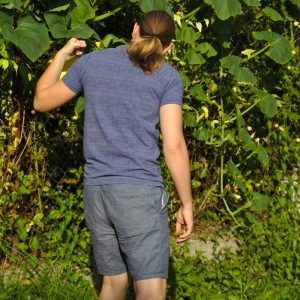 Macht's gut!
Katharina