This post begins, as many before it, with a story. Once at a time Marvin mentioned that it might be interesting to spin yarn. Just think of how great it would be if Marvin made yarn that I could use to knit me another sweater?! ;) So almost instantly after he mention it I bought a drop spindle with a top whirl (as it later turned out ;)) and some wool for practicing.Later on that year Marvin had the job interview that led us to Karlsruhe. While he was being interviewed I checked out the local yarn stores. I went to the store I later went to weekly knitting meetings and saw that the owner also sold fiber. Wheeeey. I bought some 100 g of blue and green merino top. About half a year after that, Marvin started spinning and plying his first thread and it looked perfect. So he wasn't interested anymore. You see, we have a lot in common Marvin and I, but our approaches of learning new things are totally different. I for myself like to start at the bottom and work my way up until I have perfected and covered it all. Marvin is more of a top down learner. And with this perfect thread he knew how it was done and was satisfied.
Well at this point you maybe know where the story is going. After moving again, which was exhausting, it took me a while to start the sewing and the knitting and I was kind of looking for something else. So at some point I found the spindle and the merino top I bought 2 years ago. So I thought I might as well give it a try. I wasn't even excited about it, I just wanted to have a reason to give the spindle away really. So I started spinning.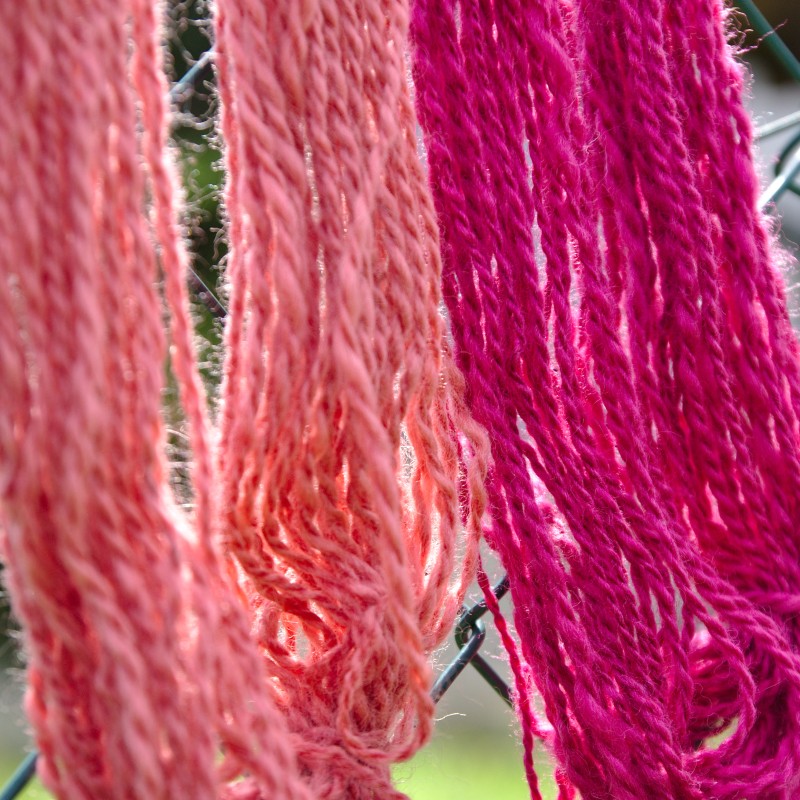 Well I didn't really just start. I looked for some help on youtube and found Chantimanou. Unfortunately for all you non-German speakers her video and instructions are all in German. But let me tell you, that I loved her videos. She is so passionate and knows her stuff. But what I liked the most is the excitement she spreads in her videos. It motivated me a lot to get started and to dig deeper into the topic. She always emphasized that it is not important to do everything by the rules but to have fun! And I ad fun! I almost forgot how much fun it was to learn something completely new. To reeeeally suck at something but to simply not care. To be overwhelmed by all those information and to discover so many new possibilities.
And really, I wouldn't have guessed, but there is so much new to learn here! And so many new things to buy. Well, let's be honest, that is one of the best parts with every new thing: gear! ;) I tried holding back a little, but in the end.. well.. I bought a spinning wheel. But that's stuff for another time.
Before getting started with the wheel I spun a lot on the drop spindle. After having spun and plied the 100g merino wool that I bought for Marvin, I bought another 200 g at the same store in different colors.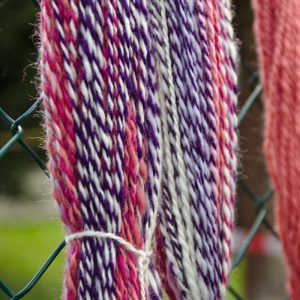 Half of it I spun and plied 2 threads not mixing colors and the other half is mixed.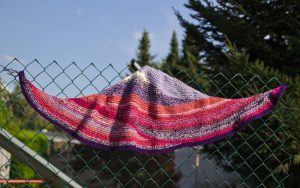 I knitted a shawl from it. Problem was that the yarn I made differed in thickness. Oh well. You know. If you start something new you get better by the second. And so my thread got thinner and more consistent while I made the yarn used in this shawl. As you might see the I started with the light purple thread and ended with the mixed one..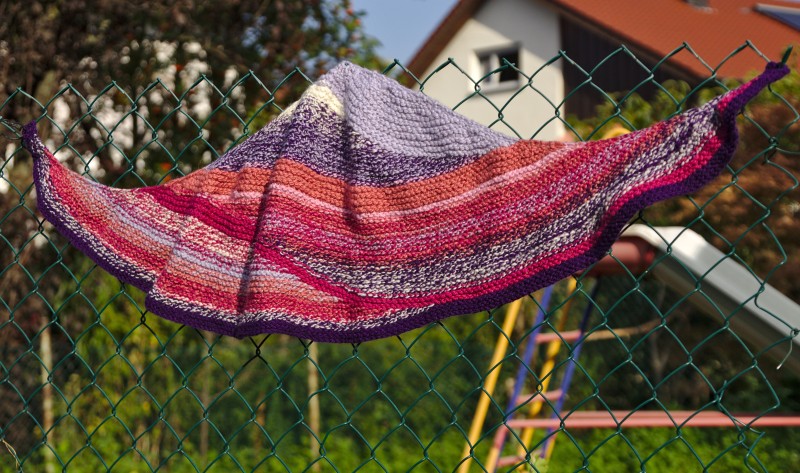 Although this isn't a super fancy shawl that wasn't even hard to knit I had a lot of fun knitting it. Just knowing I made the yarn got me sooo excited. I didn't really use a pattern for this, but the 'technique' used here is the same as in the  Color Affection Shawl by Veera Välimäki.
After having completed this project I bought some more fiber on ebay. At this point of time I didn't know were you order fiber. So.. ebay works. But the selection isn't that great plus you pay more. I ordered 200g of Merino d'Arles fiber. French merino sheep as I see it :)
I spun and plied the 200g white as they were and while I was doing this I found out only 3 km away from my home there was a spinning meeting that I then attended. On the date I attended it was special meeting that was all about dying. As I attended very spontaneous I couldn't bring anything to dye but it was fun anyways. I got to ask a lot of questions, meet new people and learn something about dying. And afterwards I bought some acid dye and wool at an online store that was recommended to me. It is German and called das Wollschaf, but I heard a lot of people talking about WorldOfWool. They sell from the UK and have a huge range of everything.
When Marvin and I made a short trip with our caravan I brought all my new stuff along. I dyed the already spun yarn green, I bought some Drops Fabel and dyed it green with it. Both were presents for Susanne, who likes green a lot. But I think it might have turned out a little too green even for her taste :) (But, is that even possible?)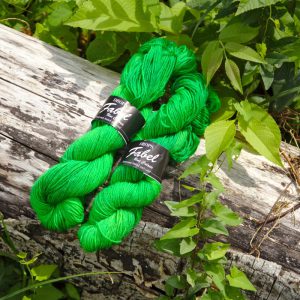 In a second run I died 600g  Dorset Horn. I used Ashford Acid Dye for that in colorways Emerald and teal. I mixed both colors and from time to time threw in some extra dye to get a semi solid dye. As you can see it didn't work 100 % but you can see I tried ;) I'm not sure if those irregularities will still be visible once I have spun and plied the yarn!
Until now I have spun about 300 g of it. I used my drop spindle for it and I'm planning on plying three treads with each other and make a sweater from the finished yarn.
I feel like I've already learned a lot. Not only about spinning but also about sheep and fibers. I wouldn't have believed that there is that much difference in wool. The merino fibers were totally different from the Dorset Horn fibers and they will make into garments with totally different properties. And when I buy yarn the only thing the label says is that it is wool, but I don't think anylonger that that tells the whole story.
So maybe you can tell, I'm totally into the whole topic right now. I cannot even tell you what it is. I mean the only thing I do is twist some sheep hair into a thread. Not a big deal. But I find it totally relaxing and soothing and a lot of fun. Plus in the near future I might be able to make a sweater directly from the sheep. Well, what I mean with that is that I can do every step from sheep to sweater myself and be sure that no one was hurt or exploited. I have even spotted an Alpaca Farm not far from where I live which means that it is possible that I get to now the alpaca my sweater will be made from! How cool is that?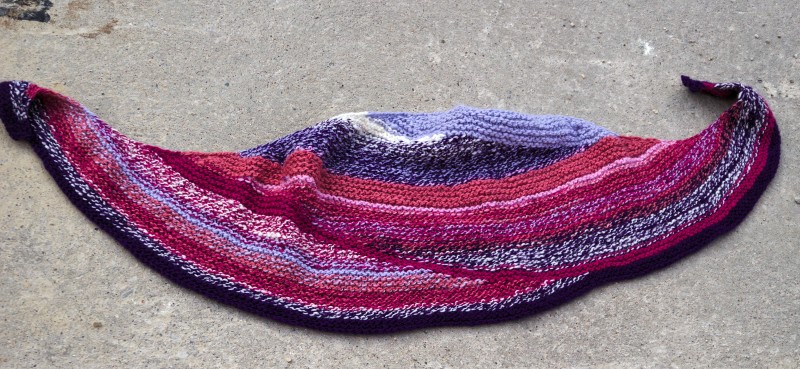 For every one who now might be thinking about trying it out (which I think would be great!) let me tell you that the hurdle to give it a try is very low. What you need is some kind of drop spindle, that you even make yourself (not that buying one was expensive) and some fibers. And that is it. If you like it you can dive into it a little more and if not you haven't spent that much on the try. I'm just telling you that because I think with knitting it is the other way round. With sewing too. You need a lot of tools before you can actually try it and it takes a while until you can see any success. Not so with spinning.
Now I'm off to a late summer holiday in Italy. You probably won't ear from me until October. And don't worry I'm brining my spinning wheel along with me;)
Katharina