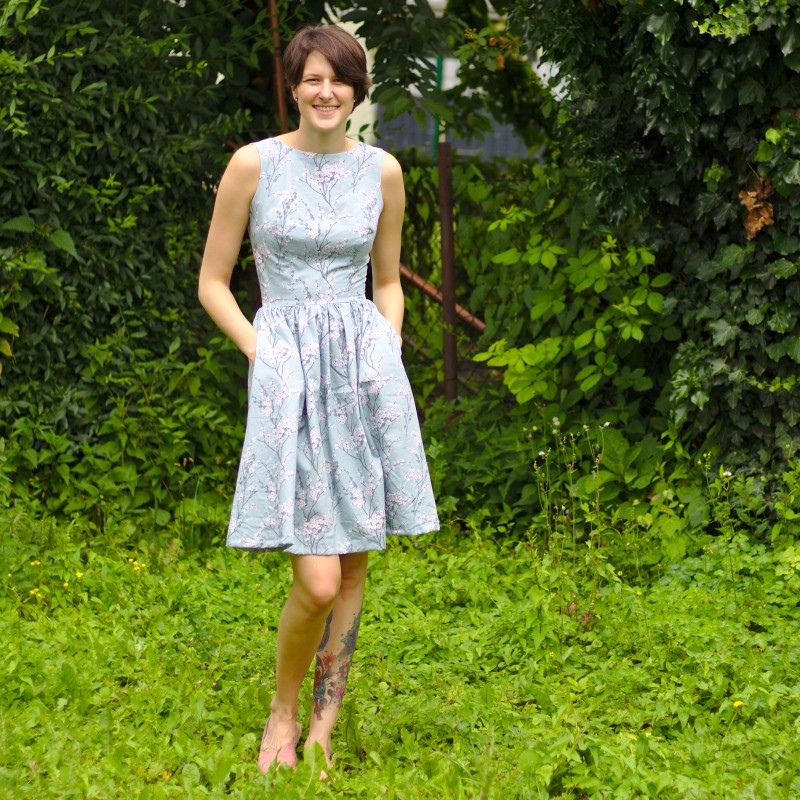 As announced in my post on my first attempt on the Emery Dress pattern, I adapted the pattern's bodice a lot and sewed a second version. I had problems with a gaping neckline and some weird sitting bust darts at the first attempt. I wore this dress three times since I showed it here and already the fabric is starting to unravel itself at the bust darts stitching. Also the gaping of the front neckline really annoys me and I don't think this dress will last until next summer, maybe it will not even last this summer.BUT I got a lot of very useful tips on what to do to get this gaping under control. One of my German follower suggested to change the inclination of  the shoulder seam and basically that's what needed to be done. I didn't know that I had straight shoulder, turns out: I have. I was very unsure about how to change the shoulders and so I grabbed the Bonnell Dress pattern out of one of my boxes , because that dress sits really well and I copied the angle of the shoulder seam and the height of the armscye from that pattern. I kept the original length and position of the shoulder seams though. I also decided to use the horizontal and vertical bust darts from the Bonnell Dress pattern and I lengthened the bodice by another 2.5 cm, all in all I lengthened this one by 6.5 cm, which is a lot! I copied all those changes for the back bodice pattern piece. After a first muslin I decided to lower the front neckline that I forgot to adapt when I shortened the armscye and then I was ready to go.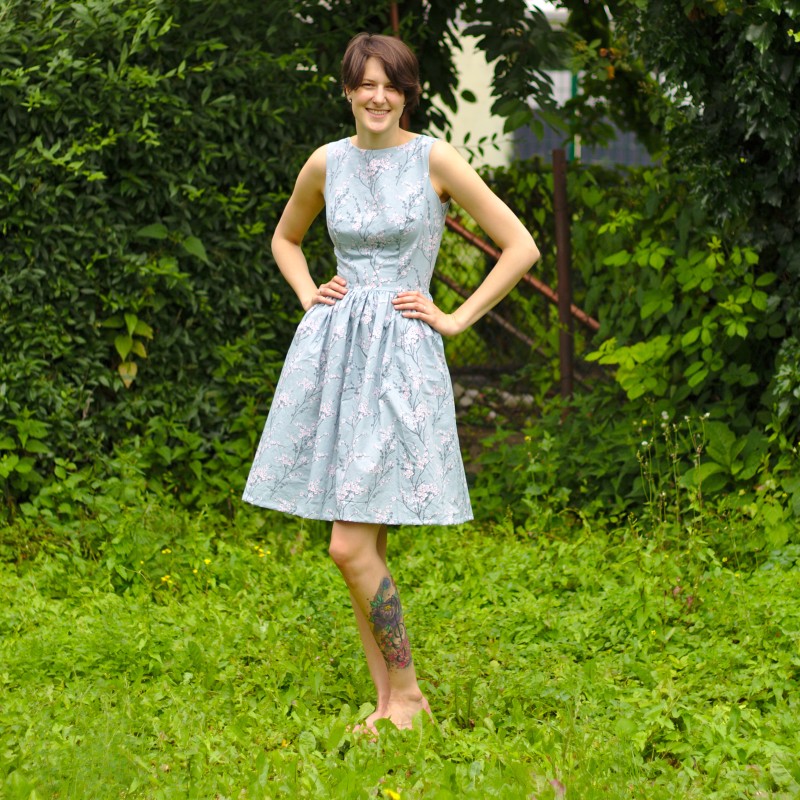 I bought the fabric online at Stoff&Stil. Stoff&Stil is my favourite online fabric store. I think they're danish and luckily they've expanded to Germany. Their fabrics' qualities are always very good and they have designs from boring to extraordinary.
This particular fabric is a light weight cotton fabric and it's print reminds me of that famous ice tea. In my mind the colors could be a little more colorful, but I really cannot complain, the print is gorgeous!
The fabric is only 1,10 m wide which meant that I couldn't make a circle skirt from it, but I think this gathered one looks fine too ;) I cut it a little wider and gathered it a little more to use the full width of the fabric.
The fabric, sadly for you, is sold out now.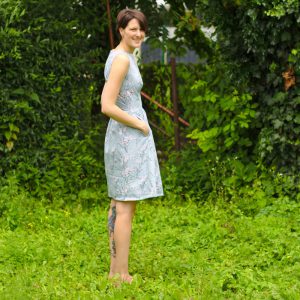 I thought about fully lining the dress, because somehow I like full lined dresses ;) You can wear them with tights without the need of a slip dress. I guess I simply don't like sewing slips ;) So I line all my dresses. But as in summer it gets hot here and because the fabric makes this dress into more of a summer's dress I decided to only line the bodice. I used a very light weight and loosely woven white cotton lawn for this.
I didn't sew the sleeves encased the seam allowances at the armscyes and the neckline between the fashion fabric and lining. To do that I first sew the shoulder seams at the lining and main fabric bodices. Then I sew lining and main fabric bodice right sides together at the armscyes and neckline. After trimming and notching the seam allowances I turn the bodice right sides out through the shoulder straps and in the last step I close the side seams.
There was no need for me to take a look at the instructions. I changed the way I sewed the bodice and the rest really isn't that hard to figure out.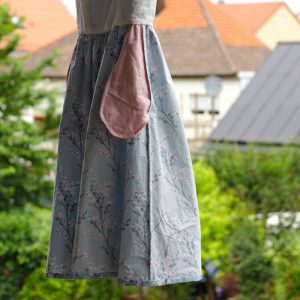 To challenge myself I french seamed as many seams as seemed possible to me. I'm not sure whether it is possible to french seam the center back seam where the zipper is in. I serged the seam allowances of that seam. But I hand sewed the hem.
Take a look at the fit of the bodice! Looks good doesn't it? :)
If you now would ask me whether I would buy this pattern again if I knew that I needed those major alterations I really couldn't give a good answer. Probably I wouldn't. But you know it is always nice to support someone who had the courage to set up her own  pattern designing business. And whether a pattern fits you out of the envelope our not really is coincidental if you haven't sewn anything from that designer before. So if you like that pattern I'd say go ahead and buy it and feel good for supporting Christine and have fun sewing :) I'm happy with my decision to buy the pattern, I'm happy with the dress, with the process and with my hobby, I cannot imagine anything more calming, confidence boosting, creative and rewarding.
And so I made some matching shoes for my dress ;) Hehe. The soles are specially sold for the purpose of making espadrilles from them. They're from Prym. You can buy a lot of haberdashery with them and all the samples are super colourful and kind of scream at you ;) You get a pattern with the soles, I modified it a little and used the dress' fabric as lining and some of my precious faux suede as main fabric. They're really comfy and didn't turn out as "self-made" as I'd thought :)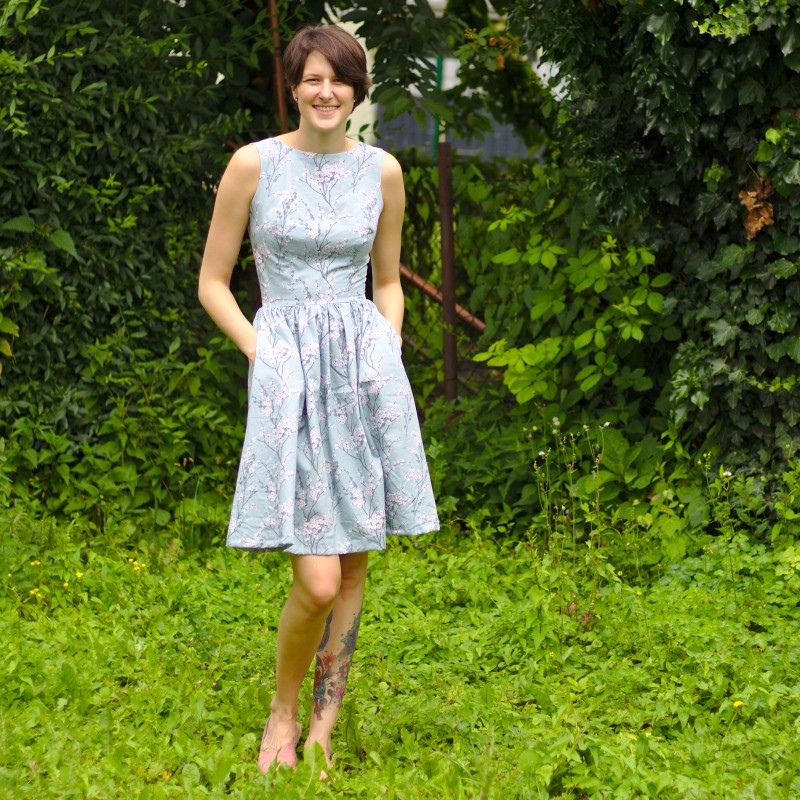 Have a great week :)
Katharina