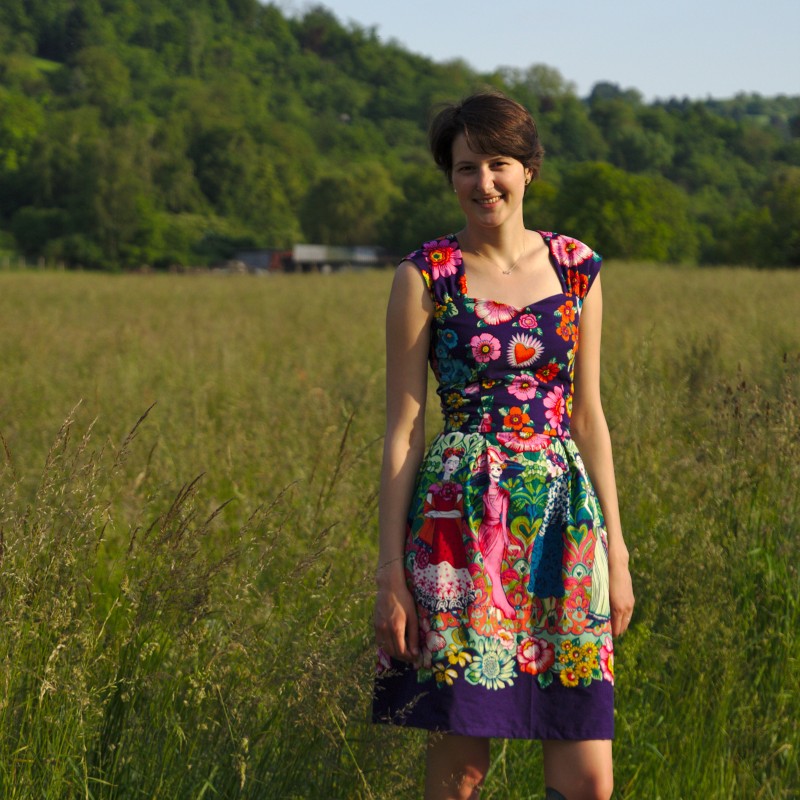 Hola todos! :) I bought some fabric. Well that's not news right?! But this fabric really is special! I bought it at a fabric market that takes place here in Karlsruhe twice a year. It was raining lot when I visited it, but at least it wasn't crowded. And so I had time to really look at all the beautiful fabrics and so I found this beautiful fabric at a stall that only sells quilting cottons. I normally wouldn't ahve looked there. It was very high priced, at least for my taste. 18 €/m and only 1.10 m wide. And so I didn't buy it instantly. I'm German after all! I am penny-wise! But when I found myself still thinking about buying that fabric after having seen the whole market I decided to go for it. I mean, I'm not a student anymore, I work full time. But I often have to remind myself of that if I see something beautiful that I probably couldn't have afforded two years ago, when I was still a student. This fabric is called Frida la Catrina (and thus literally was screaming my name ;)) and it was designed my Alexander Henry. It has those sugar skulls on it. Here they are called Mexican skulls, which is super unimaginative, but who am I to judge?! Those skulls were super trendy over here one or two years back and I know some and have seen a lot of people with sugar skull tattoos. I didn't want to go that far and so I simply bought that fabric and sewed a dress.
Buying the fabric was a little hard to. The seller was very German too and she only wanted to sell me 1,80m of this fabric. I could have insisted on 2,40m but again, the voice in my head said to go with 1,80m because that's cheaper. One pattern repeat is 60 cm long. She also cut totally peculiar so that I didn't have 3 full pattern repeats. More 2 7/8 repeats ;)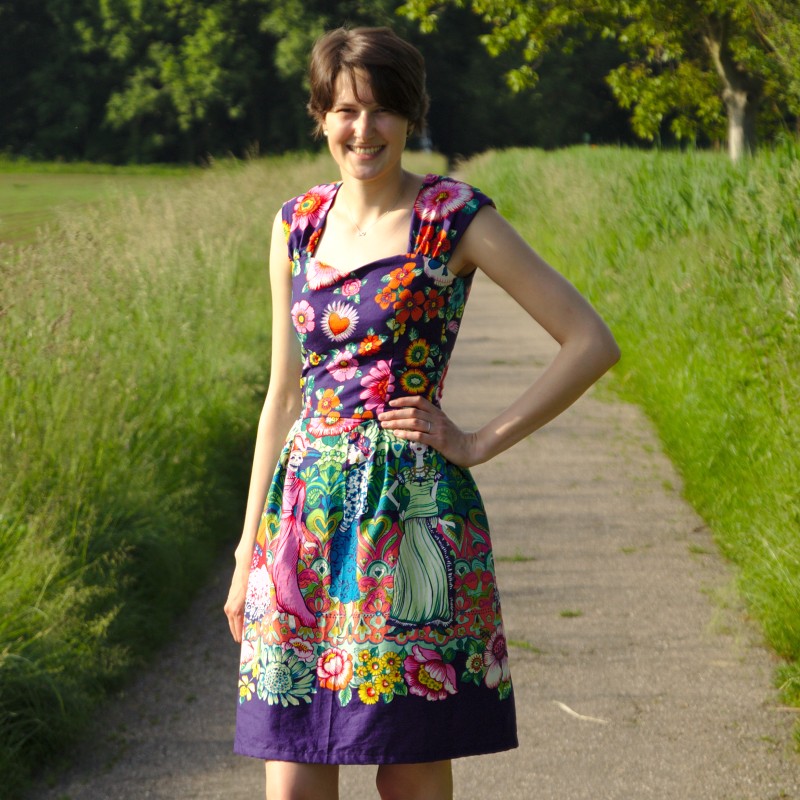 So here's the thing: it is madness to sew a dress with such a bold print from only 1,80m of fabric. But at that point of time I thought I let the future Katharina take care of that ;) Well, she did! I thought very hard what pattern I wanted and bought the Emery Dress pattern by Christine Haynes. As I didn't know that pattern I made a muslin and I made a dress from a fabric that I didn't love as much as this one.
I haven't blogged about that dress yet. And I didn't sew this dress from that pattern. Because, who would have guessed: I didn't have enough fabric..
I then spend a whole afternoon laying pattern pieces on my little piece of fabric to find the one that would fit it!In the end I settled on the Cambie Dress bodice. It isn't as high as other patterns because of the straps and therefore it fit on the upper part of the fabric and I didn't have to cut into the women. After another 4 hours or so I decided to make the skirt a gathered rectangle. I needed to cut the skirt straight at the top to match the print and I wanted as many women on my skirt as possible. I managed to place 2 pattern repeats on the skirt because the back of the bodice was so hight that it needed a part of the lower part of the third repeat. If you now what I mean…:D
This made it impossible to to add pockets, which saddens my. But on the other hand I didn't have to cut too much into the fabric.
As you can see the skirt is not gathered. I gathered it and then decided I didn't like it. I mean this print is so noisy and the gathered skirt made it even worse. It took about 3 more hours to think of the solution: a pleated skirt! ;)
I made box pleats at the sides, which i think looks great, I will totally do that again as an alternative to side seams. I also box pleated in between the ladies on my skirt with the intention of hiding as little as possible of their faces. Compared to that, cutting the bodice was a piece of cake. I just had to take care not to place a skull or something directly on a boob or something, and as you can see: I managed that ;)
This is my 5th or something Cambie Dress. I simply love that neckline! I again sewed size 6 and apart from the length I didn't change much. I omitted the waistband this time. I simply lengthened the bodice by another 3 cm and sewed the skirt directly to the bodice.
The pattern calls for a full lining of the dress and that's what I did. I just like lined dresses. I used a purple poly sateen fabric that I bought in Paris and that I finally used the last pieces of. I had this fabric for a year now and it didn't seem to end, well, now it has!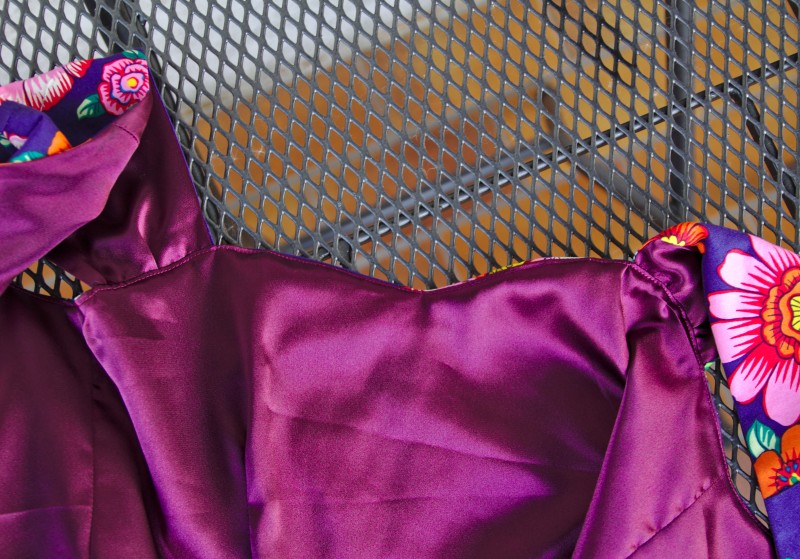 I have read on some blogs and forums that inevitably the lining will peek at the neckline. And it did on my former Cambie Dresses. That wasn't that bad, as the color was similar. But this time I didn't want the lining to show and so simply understitched the lining at the neckline which was not a problem at all. I did the understitching after having set in the sleeves and now there's no lining showing. So don't let people tell you lies about necklines! It's just not true what they say!
Because I was so proud of myself for solving the peeking issue I allowed myself to make a regular machine stitched hem ;)
My résumé on this dress is that it turned out a little more noisy, restless or whatever you want to call it. Well, the fabric is bright and colorful. I thought the dress would look more harmonious in th end. Don't get me wrong I really love this dress and I love wearing it, I just want to express that sometimes the fabrics you thought were the most amazing ones turn out to be great dresses. But not dresses that your heart beats for. It is peculiar, I found that the dresses my heart does beat for began as experiments or stash bustings, like my Raspberry Floralex Dress, that I made from bed sheets or my newest Hawthorn Dress. I love those dresses with all my heart but I didn't love the fabrics. They were okay ;) So, this leads me to the assumption that I should always buy fabrics, even if I don't like them super much ;)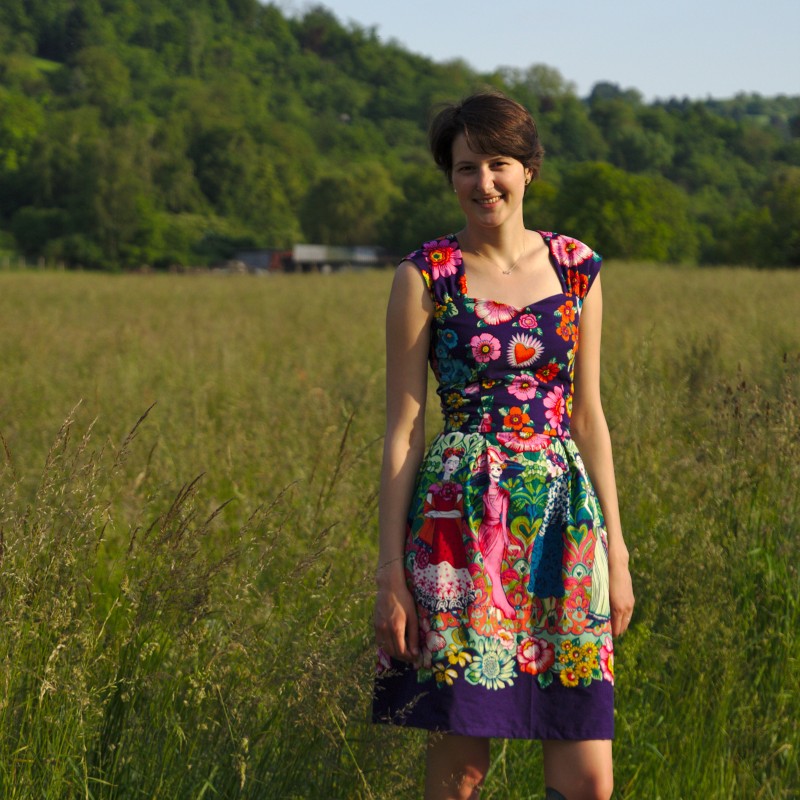 Macht's gut!
Katharina