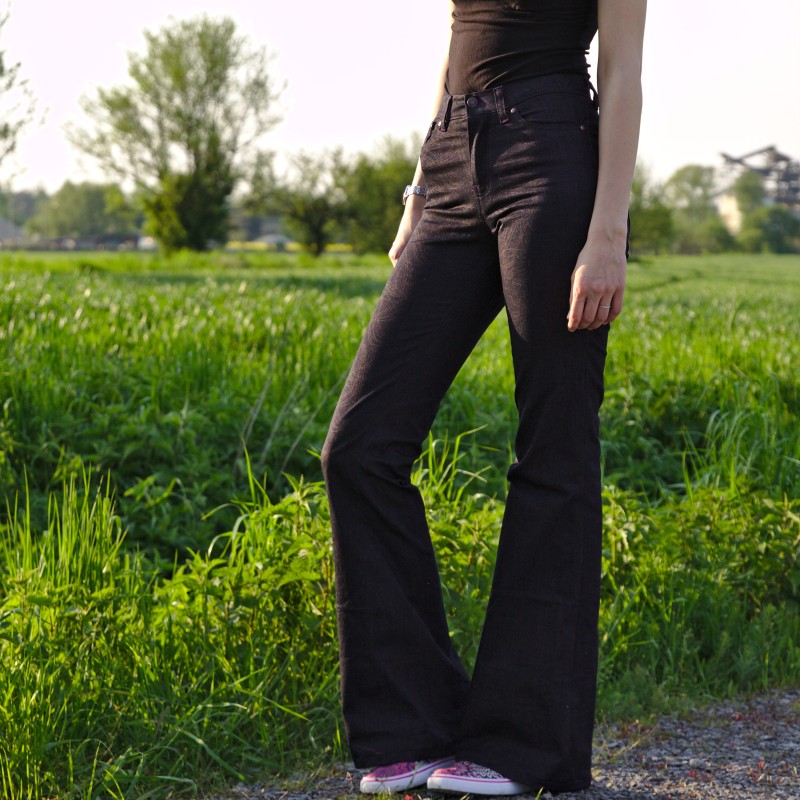 I love sewing jeans. So if some of you thought that it was only a matter of time until I tried the Birkin Flares pattern, they might have been right ;) Those Birkin Flares pop up everywhere right now, but I would have waited with making them. I'm still not sure if I even like Flares and the rise of these pants is really high, not what I'm used to. See the problem is, flared rtw pants always looked stupid on me, because they where too short, like always. I also didn't fit into high waisted pants, because of my rather wide hips. But well, now I can sew, I can modify patterns and when Annika gave me the pattern as a a present I had no excuses and started right away. Annika translates instructions and patterns to German and then she sells them. She gave the pattern to me without any obligations, just like that, she's so nice :)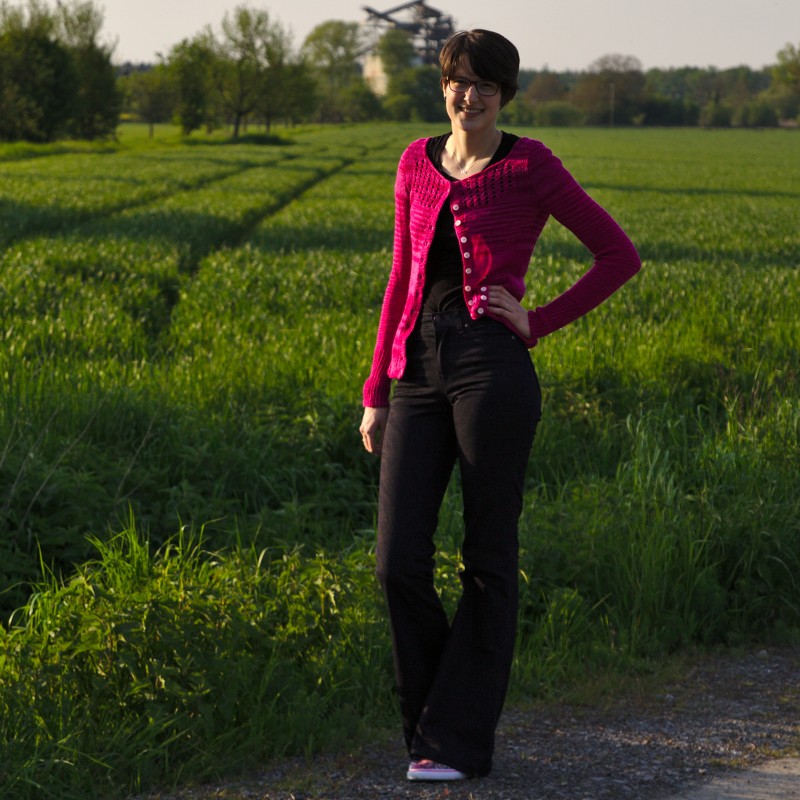 I picked a rather boring denim fabric from my stretch. It is very dark blue and if you take a closer lok at it you can see, that there are lines drawn on the fabric. The fabric has 4 % spandex. I thought that using a dark fabric that I'm not totally in love with using also dark top-stitching thread would be a good idea for a first attempt on a jeans pattern. This way you can focus on the sewing steps and don't have to worry about ruining your fabric or wonky top-stitching. I didn't have dark blue topstitching thread at home so I used threaded two ordinary dark blue thread through my needle, to make it look like I actually used real thick top-stitching thread ;)
I recently bought a 1/4″ foot for my machine and used it for this pants for the first time. I am really pleased with it. My seams are much more parallel and even! I used purple thread for all those bar tacks and the button hole. I think it makes for a great contrast.
I was a little afraid of finding the right size for me. So I measured myself very thoroughly and found that, according to the measurement chart, the waistband had to be cut in size 27 and the part around my hips had to be sewn in size 29. So I graded the seamlines. For the legs I cut size 28, just because 27 sounded so small and I usually wear size 28 in rtw pants.
Then it was time to lengthen those legs! The pattern is drafted for an leg in-seam length of 34 ". That is a lot! The instructions tell you that 34″ is the perfect length to wear the flares with high heels. The rtw jeans length that I usually need is 35 to 36″. So I lengthened the legs by a 2 3/8 " (which should be about 6 cm..). There were 2 lengthening lines at the legs of the pattern, but I needed 3. I lengthened at the thigh, the knee and the calf. I also lengthened the bodice of the pants by 1 cm, there were no lengthening lines there.
The crazy thing now is, that that wasn't enough. My hem is tiny and I still feel like the legs could be a little longer!D
I decided not to make a muslin. I mean denim fabric with spandex behave all so differently from another. So I simply basted everything together before I really got started with sewing. There is 5/8″ seam allowances included, so I thought I was safe. And I was. The pants fit like they were. I didn't have to alter anything. Nothing! That speaks for the quality of this measurement chart!
What I didn't realize when trying on the basted version was that I would need a longer zipper. The problem is, that the pants are 2 sized smaller in the waist than they are at the hips, which makes pulling them over my hips a little more different. I mean it still works (must look funny though) but next time I'll use a longer zipper.
I only stabilized the waistband where the button goes, so that it is still a little elastic and I find that very comfortable. All in all the height is something I still have to get used to. Everything is so tight around the area around my belly and I feel like you can see more from my body than with low rise pants. After checking with Marvin, who didn't see my point at all, I started feeling comfortable in these pants! I love how they look! And I love the flared legs! It's a slightly differer style than what I usually wear but that makes it even more fun :)
Again the legs twist! They always do! I always crawl around on the floor trying to cut in the grain, every leg by itself and still those legs twist! Phoebe kindly linked me a pdf that explains where leg twist comes from and how to prevent it, these pants were already cut at that point, but I will totally read through that for my next pair!
On to the instructions! There is a Sew Along, but as Annika kindly gave me the pattern and German translation of the instructions I decided to test them. So I cannot say anything about the quality of the Sew along! Maybe next time!
All in all the instructions aren't that different form those of the Ginger Jeans. The fly is sewn in a different way, the waistband is assembled a little different, the assembling steps differ a little in their order. I did some things the way I am used to, and I followed the instructions with some things. I did the suggested method to create the front fly and I liked it. I especially liked that there are a lot of notes in the instructions concerning the stitch settings you should use for that step. I think that helps a lot, especially for people who don't have experience in sewing jeans.
I especially liked that there are a lot of notes in the instructions concerning the stitch settings you should use for that step. I think that helps a lot, especially for people who don't have experience in sewing jeans.
In the German version of this post I'm writing something about how I liked the German translation of the pattern. Not very interesting for you! When reading the translation it again became clear to me that it's not only that different languages use different words, the styles kind of differ too. English written things are often much more casual and I like that when I read English texts. But if someone translates that literally into German it just sounds wrong somehow. German written text are much more formal. Part of that comes from that we have this formal form of addressing someone (we use "Sie" and "Du", depending on the relationship we have with the person). I really hate that. It brings you into a lot of awkward situations, because you often don't know how to address someone (and what do you do, if you speak before a group of people you ahve different relationships with?) . But it is not only that. German distinguishes between written and spoken words a lot more than English does I think. Well, let's summarize that there is so much more to translating someone than simply translate the words.
Have a look a this lather patch, the pattern piece is included in the pattern! Great idea, I think that makes a very professional look! :) I think now it is really time to sew some more dresses though!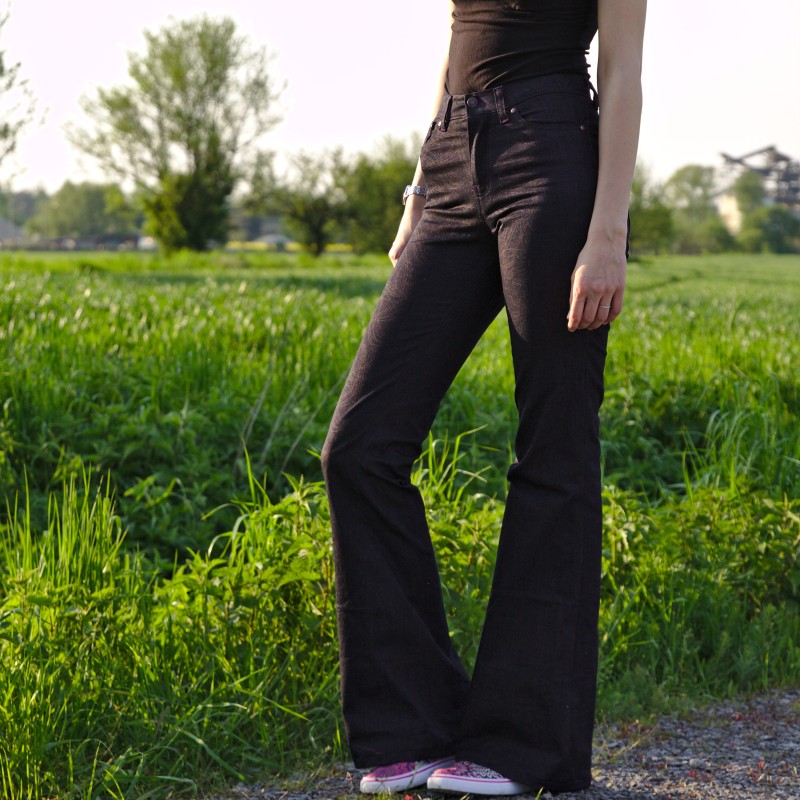 Macht's gut!
Katharina