Last I week I mentioned that I gave the Emery Dress Pattern a try! Well here it is! I thought a lot about buying this pattern for the last two years. The thing is that there is nothing special about it and I really don't like the product pictures of this dress. Looks ultra conservative to me. But there are so many adorably cute version out there in the Internet. The dress features horizontal and vertical bust darts, vertical back darts at the top and the bottom of the bodice, a fitted bodice and flared, gathered skirt and sleeves, either short or 3/4 length. As I said, nothing special. And surely nothing that I couldn't have done by myself. But idon'tknow, there was something about this dress so that I always came back to the pattern page and when I bought the fabric for my Frida La Catrina Dress I had this pattern in mind, and so I bought it.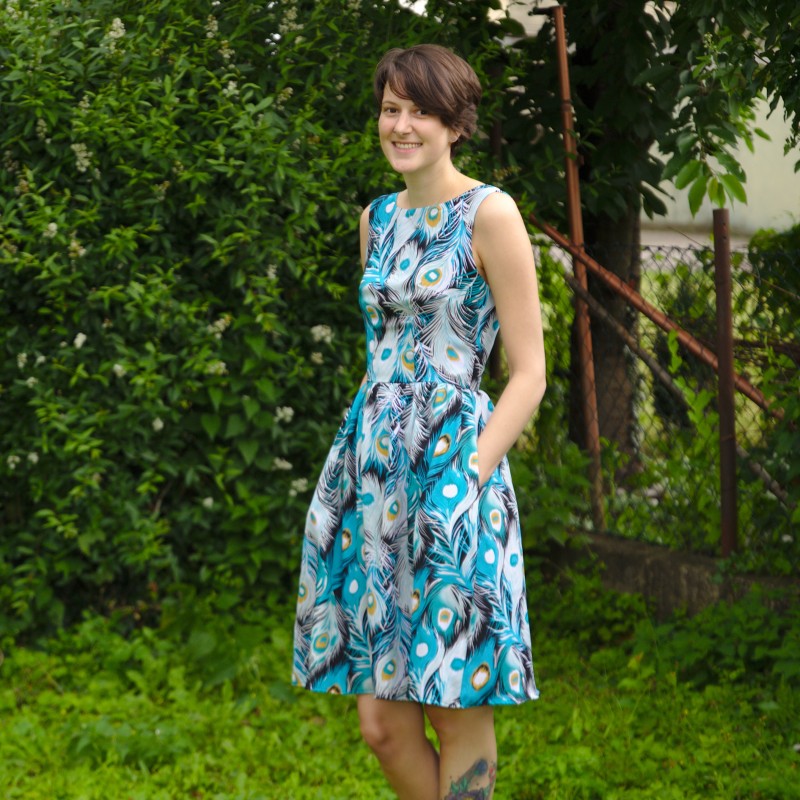 If I was 100 % pleased with the pattern I guess I would eventually have stopped telling myself that I could have altered a fitting pattern to this dress. Everything went fine in the beginning. I chose size 4 according to my bust measurement, I lengthened by my usual amounts and made a muslin. I only made a muslin for the bodice and I didn't add a zipper but asked Marvin to pin the back shut. I didn't have that much motivation to find the perfect fit for this muslin and it seemed okay! I already knew I wanted to make my first version from a fabric that I think looks great but is 100% plastic and thus not my most precious one.
Tge sewing process was fun and easy. Because I omitted the sleeves I lined the bodice so that the seam allowances of the neckline and sleeve holes were encased withing lining and fashion fabric. I also lines the skirt. The instructions don't call for that but well, I like my skirts lined so that I can wear them with tights, plus the fabric didn't feel that good against the skin. The pattern has inseam pockets and I sewed them. I think a dress needs pockets ;) I french seemed the skirt seams and because that was so exhausting I machine hemmed the dress ;) Well, no, I did that because I hate hand stitching hems, it always takes me ages ;)
Oh, and did I already mention that I bought an invisible zipper foot? It works great. I used it to insert the zipper of this dress and it was inserted in no time. Also I found it easier to match the waist seams! Not that I find that inserting zipper is that hard that you need a special foot for that. But I was a lot faster and it was a lot more comfortable. For those of you who fear inserting invisible zippers: don't! I don't know why invisible zippers are said to be hard to be inserted. They're not. In m y mind an invisible zipper is the easiest way to add a closure to a dress or skirt. Much easier than visible zippers or button holes. Just try it! The only thing you need to take care of is to check that your zipper is opened when you're sewing it to the dress. You don't even need to sew that close to the zipper teeth, you'll see!
So, on with the dress! The instructions were okay. The seam allowances are included (which is a great plus for me!) and I didn't need to look that much at the instructions, as it was kind of clear how this dress has to be assembled. At least it was to me, I have sewn some dresses by now. But if you haven't the instructions will guide you through the process. There was nothing surprising or new or anything, which makes this a great beginner's dress I think.
I didn't even need to understitch the lining, as the neckline is so straight that the lining doesn't peek out.
What isn't so great about the dress is how it fits me. There are two things I could have noticed when I made the muslin. The first is that the bodice is about 2 cm too sort and end above my natural waist. The second thing is that the vertical bust darts are too close together. They don't point to the middle of my breasts. I've read that they should do that and I saw when I made the muslin that those darts did not do that. But the fit looked fine than and so I thought I'd give it a a try. I even liked how the darts looked. Turns out the people are right, the darts have to be farther apart. Now I have some wrinkling and such going on, as you can see here: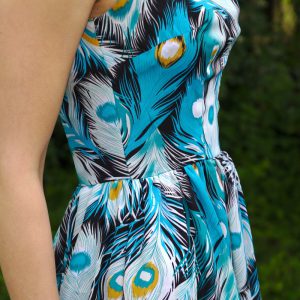 It's not that bad, the fabric is very busy you can hardly notice it, but I will change that for future versions.
Another problem I have is that the neckline gapes just a little in the front and in the back. Not that badly but noticeable. I think the reason for that is that the dress is drafted with sleeves. The neckline is broad, but without sleeves the straps always slide a little to the inside which produces the gaping. If I had sleeves they would prevent that. I'm not sure how to alter that. Is that an armhole issue? Or what? Any ideas?
All in all I'm satisfied with the dress and I will sew this pattern again. I still think I would have been faster and the dress would have been better if I had altered a fitting pattern. But this way it was much more exciting ;)
Macht's gut!
Katharina