I don't like buying fabric that has only one color! And I don't like sewing it either. But from time to time I just need a garment that is a little more unflashy. So I bought the fabric I used for my Bruyere Blouse in also in another color, a darker blue. Just recently I had a job interview, it was really spontaneous and I didn't have anything to wear! I also didn't have the time to sew something fancy and it came to my mind to sew a dress I could wear!The dark blue fabric was just right for my plans and after some research on the Internet I decided to go with Colette's Laurel dress. I saw it on Karin's Blog, she used a knit fabric for the dress and it looks fabulous!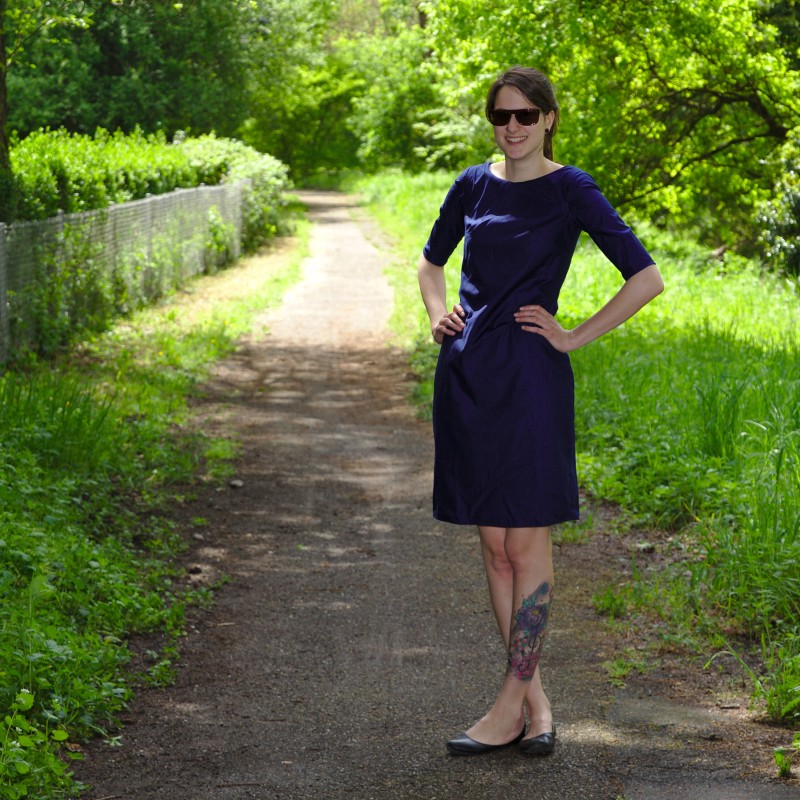 What a waste! Such a simple shape AND such a simple fabric! But what could I do? Can't go to a job interview with a dress having racoons on it!
I sewed size 2, like I always do with Colette's sewing patterns. I did a few alterations. I lenghtened the whole thing A LOT! And because I heard a lot of sewist are having problems with wrinkles above the bust, I changed the armhole shape according to this drawing. It worked fine! Also I made the dress tighter at the waist, otherwise I am lost in the dress! I also lined the whole thing, just sewed the whole dress from lining and sewed dress and lining together at the neck line.
This was a really quick sew! It actually has no difficult parts. But it got a little too short, at least for a dress you wear to a job interview. So I decided to buy clothes and that was like it always is really hard. But I found a Blazer that was too wide and pants that were to short and too tight and changed them, so that they fitted to some extend. I must have looked very good in my outfit, because I got the job ;) In July I am working in Stuttgart as a software developer and I am really excited! The job seems to be great! And I am taking a month off between my two jobs, I just need time to relax before I start something new. And you know what that means: a lot of sewing time ;)
I haven't figuered out yet what I am going to do with this dress! It isn't my favourite shape or my favourite fabric, but on the photos I think it looks quite nice. Maybe I am gping to wear it maybe not, time will tell :)
I am thinking about shortening the whole thing, but from the photos I think it actually has a neat length…
I should have pressed the dress before taking pictures, but believe me the fabric is a real ass when it comes to wrinkling!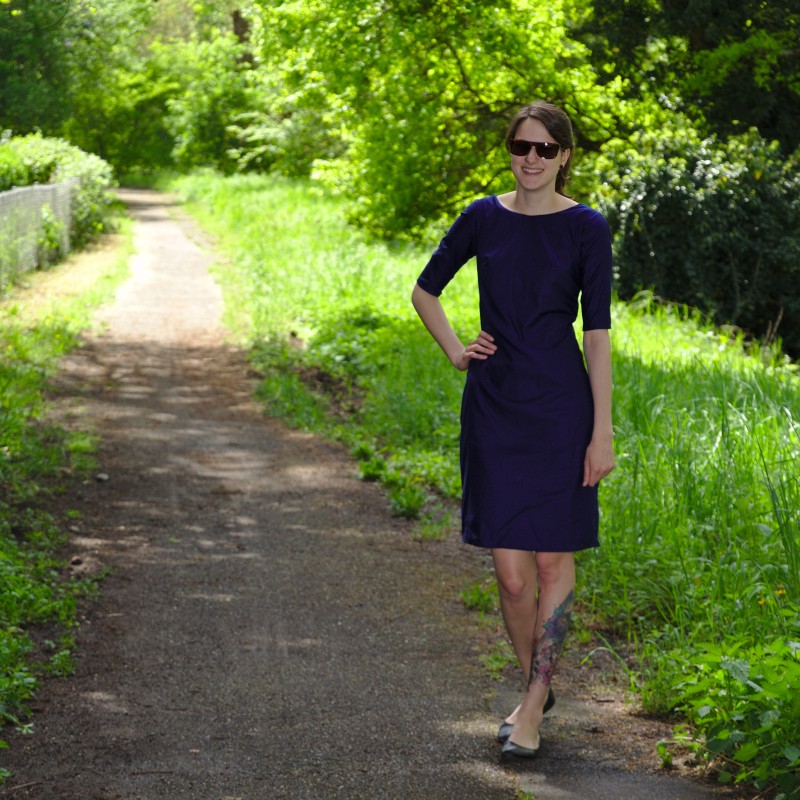 I am going to take a look around at the sew&show link party, lots of beautiful dresses there!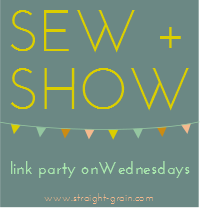 Another thing: I am going to participate in MeMadeMay '15! Last year I really regretted that I didn't take part! I endeavoured to only wear selfmade clothes during May '15. Underwear and tights do not count ;) If you're thinking about participating as well click the button below and Zoe will explain everything in detail to you :)
– Katharina