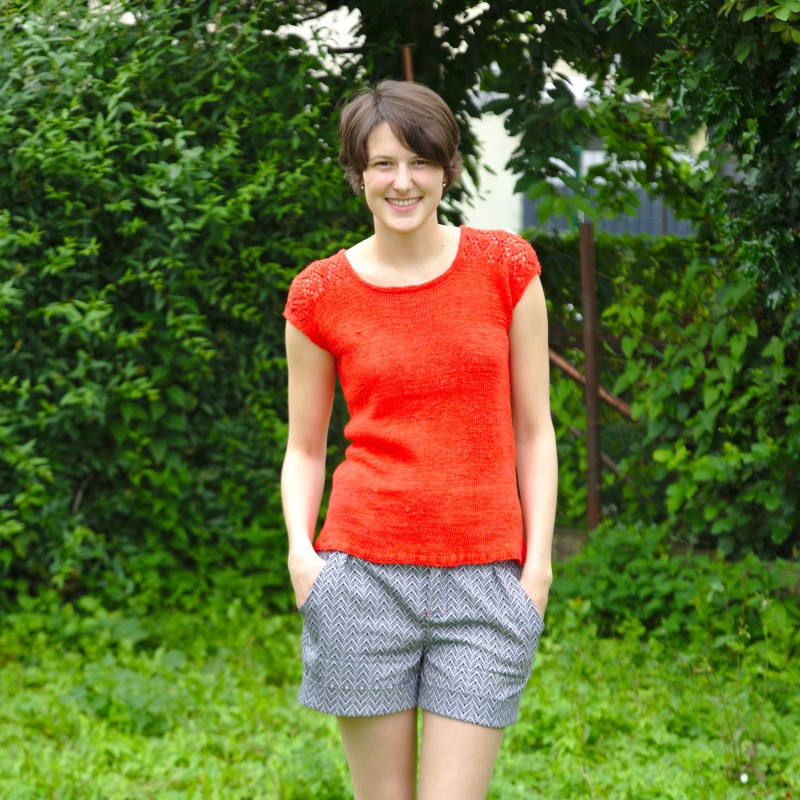 It is June and it is Outfit Along! Like in the last 2 years, I'm participating. same procedure as every year, you have to knit one garment and to sew one garment and thus create an outfit. The knitting part is organized by Andi , the sewing part is handled by Lauren. Each of them picks a pattern and provides a Craft Along giving tips and helping to create the outfit. In the last two years the suggested sewing pattern was a dress, the suggested knitting pattern was a Cardigan. You didn't have to pick the suggested patterns, and I didn't.It is about the main idea to create some kind of outfit. In Andi's Ravelry Group, the participants can communicate and show their finished garments. You can also ask for help there, if you need any. Even if I didn't stuck to the suggested patterns in the last years I sewed a dress and knitted a cardigan. Cause, that's just what I do. Dress, Cardigan, what else would I need? But this year all is different. Instead of picking something that is in my comfort zone, Andi published a top pattern for the official OAL pattern and Lauren picked a skirt pattern!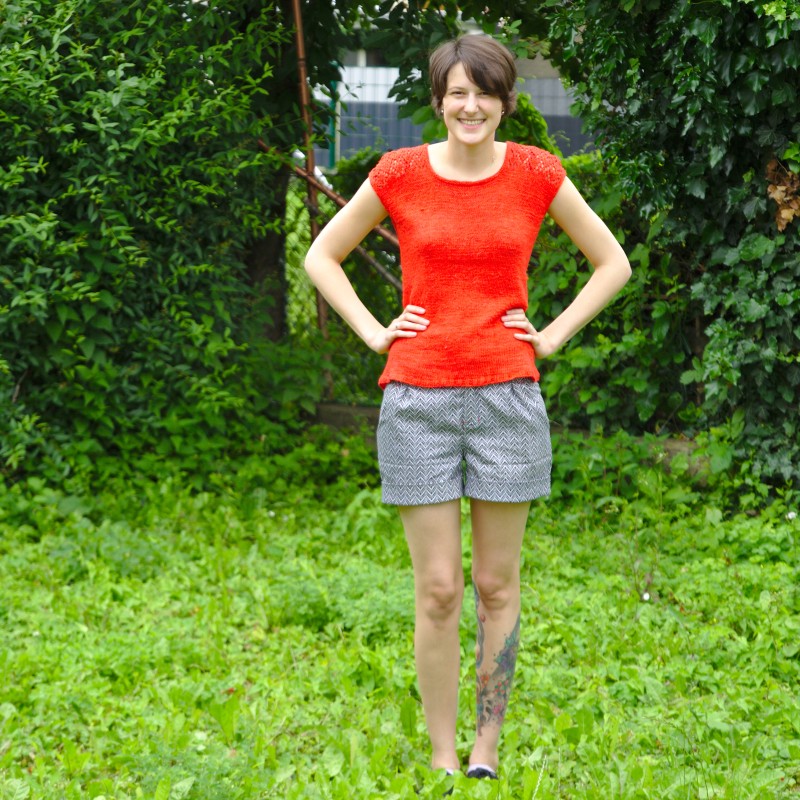 One might think that that should not upset my that much! Well… I'm really a dress/cardigan person. I kind of always knit cardigans, or pullovers. That's because I find the whole idea of knitting a tshirt stupid. I got this idea in my mind that you should only knit for winter, woolen stuff you know?! Also I really don't like kitting cotton. But when I saw Zinone I almost instantly upset my principles. I mean, principles are stupid and this top does look cute, plus Andi calls for linen yarn which is not cotton and thus okay! ;)
So I started looking out for some linen yarn! I tell you, it wasn't easy. Especially because the gauge the instructions call for is so peculiar. 24 sts x 28 rows. All yarns that I found that had 24 sts needed a lot more rows to get to 4 ". I did think about buying the suggested yarn, but it is a little difficult getting it on this continent. If you really want to have it you will be able to buy it somewhere in the Internet, but it will cost you. And I hate buying expensive stuff.. ;) You cannot expect from me to upset all my principles for one project!
So I simply bought some yarn from a private seller at ebay. He must have had this 300 g of Austermann Kreta in his storage for quite a while. The label said that is was manufactured in West Germany. As I was born past the fall of the wall, there is a very good chance (or better: probability) that this yarn is older than me! And it sure smelled like that! Was also very dirty and so I gave it a bath. That was fun! You see there is no wool in the yarn! And so I could use my usual washing powder. Okay, that's not fun. Not even to me! Washing in general is okay I guess, but not fun. The yarn isn't 100 % linen. It is 50 % linen, 50 % rayon. And it is a wick yarn made for much thicker needles than I used. With 2.5mm needles I almost got the gauge. Wasn't perfect and I also don't like doing swatches. So I thought,: whatever, the top is loose-fit and went on.
The row gauge really was a little off still. I simply lengthened while knitting. But that's not what I advice anyone to do! I'm lazy as hell, but I don't want people to thing I'm advocating pro not swatching neatly. You should knit a whole swatch, wash it and if you have to do the math! I'm just a risk loving person who likes to rib her pullovers open as I have done a lot so far, but I'm not complaining.
The instructions were, in my mind, different from Andi's other instruction that I have knitted so far. This pattern is definitely NOT for beginners! No, no no! Don't even think about it. It is much shorter (but still precise), the lace section is super hard to remember and it is extremely hard to find a mistake if you have one stitch too many or too less at the end of the row. Also there were two inconsistency in the pattern, that Andi almost instantly corrected. Like a missing abbreviation explanation and a mix up at the beginning of the rounds. Small issues, really. Someone who has some knitting experience just reads over those things. I had the impression that the instructions are kept so short, because it was written for at least intermediate knitters who don't have to and don't want to read the instructions in depth. Not that I want to scare anyone. The whole thing really isn't that hard if you have knitted lace before, or let's say if you have managed to knit something like the Hetty Cardigan before.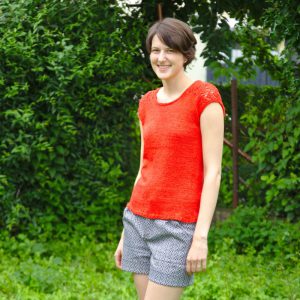 Once you're over the lace part and you start knitting in rounds everything gets very uninteresting. It is just knitting in the round for days. I could have gone for the full lace back, it is in the instructions as well, but I tend to not wear garments that require a special bra (here: a nude one). I simply don't wear them. I know, I sometimes find it hard to live with myself, too ;).
All in all this top came together very quickly. It is great if you finish the bodice and.. you're done! No sleeves, wheeey! And because this top made me realize that I can knit tops (I mean: I can knit tops!) I bought some more yarn and already started a second version. I decided to go a little tighter for the next version. Tis red top is knitted in size S, I think XS would have been fine too.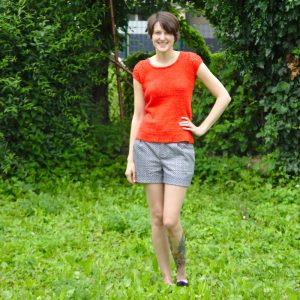 When I was done (well, I it was more of an out of yarn situation to be honest) the top wasn't long enough. As I'm a MacGyver type of gall I put this thing in my washing machine (regular and not wool program, how great is this?) and pulled a few times tightly on this thing. Et voila: it has a nice length now ;)
Naturally I didn't have matching fabric in my stash. I didn't even care to look. Truth is: I wanted a reason to buy some fabric, mehehehehe. So when I visited my parents in law (cause I'm married muhahaha, to my husband!) I went to my favorite fabric store together with my MIL (again, you know, I'm married). I bought two fabrics (well, I bought two fabrics for this project. I didn't leave the store with 'just' two pieces of fabric), because I forgot to bring the yarn, and wanted to go sure I had at least one matching fabric. When I was home I realized that the second piece I had bought didn't go well together with the yarn. What I had left was a cotton fabric with some stretch, that screamed "shorts". And so I went with shorts instead of sewing another Hollyburn skirt, as suggested.
I thought about buying a pattern. But then I thought it would be nice to hack something (just because that does sound so great;)). And I hacked the Deer&Doe Chataigne Shorts pattern into some regular shorts, with a regular waistband and a front fly. I have sewn this pattern 3 times and wanted something more boring, especially because this fabric really is messy and you cannot look at it for long.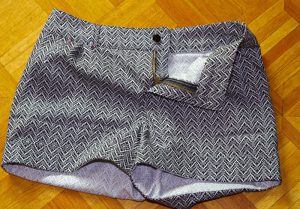 I used the Ginger Jeans front fly Tutorial  and the pattern pieces from the Ginger Jeans pattern front fly parts. And I don't exactly can recall what happened, but I ended up with this asymmetrical front. You cannot really see it in the pictures because the fabric is so weird, but I'm telling you it does look super peculiar as the button is kind of 3 cm left from my belly.. I cut both front pieces together on fold fabric, they are the same!
What happened there? I really don't know. I'll just hide it under my super cool new knitted tee, hahahaha. or I'll tell people that this a super cool new feature. Like when the Levis Jeans had these twisted legs! Ha! You didn't know if that was on purpose or not. Looked a little stupid but also fascination at the same time! Like this asymmetrical waistband ;)
If you have any questions or remarks or whatever just let me know! :) I hope you're having a great Wednesday and if you haven't you should totally try knitting tops! It's fun! :)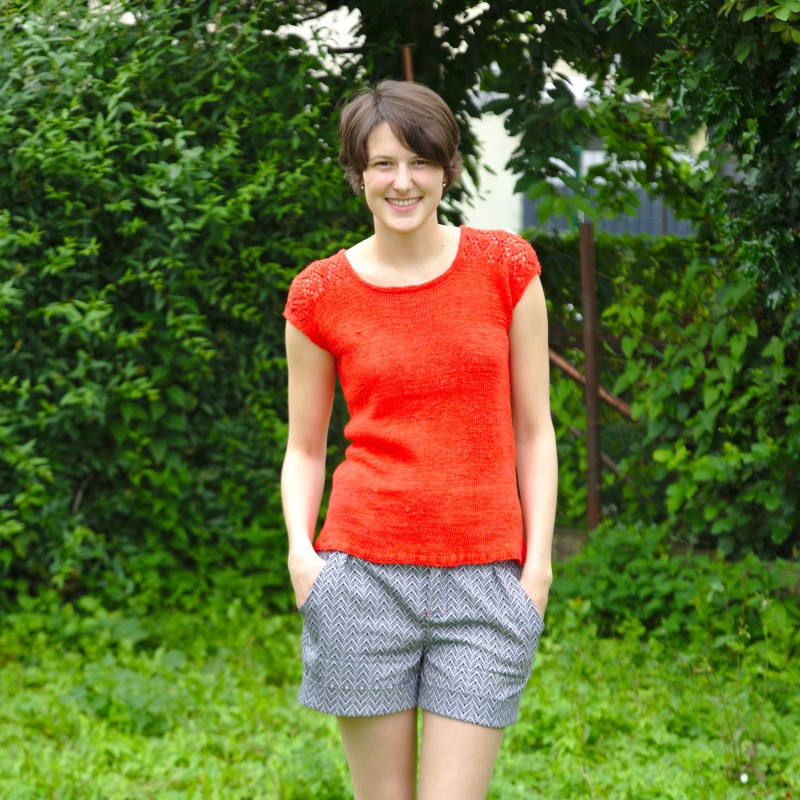 This is not going to be the only outfit I'll make for the OAL. The story continues. I had this second fabric that looked stupid with my yarn. So I wet and bought some more yarn. I didn't bring the fabric and when I returned home I realized that this yarn didn't match with the fabric as well. And so I bought another fabric. Long story short: I'm about to finish my second Zinone and combination partner. But more on that soon :)
Katharina