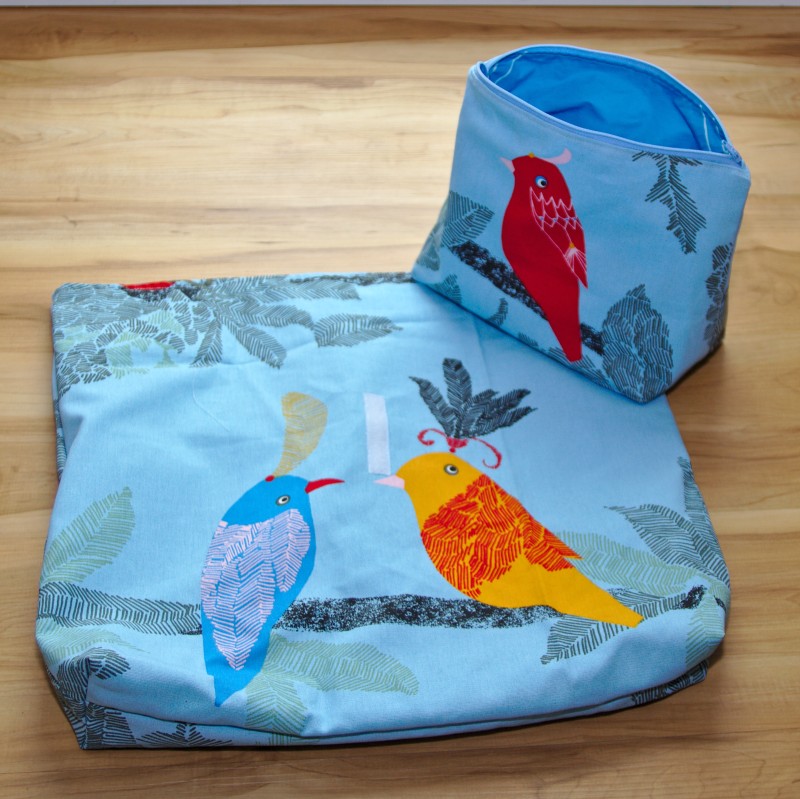 I'm glad I already wrote that I'd participate in this year's Bag Sew Along over at Katharina's blog I think otherwise the bags I'll show you wouldn't exist. Sewing bags just isn't that much fun for me as sewing clothes is. I don't know what it is but it is really hard for me to get motivated when it comes to sewing bags. And this month' theme is sports bags. I have a great and functioning sports bag. I is huge and I once bought it when I needed it to carry my sports clothes and my university stuff.No it is laying around in my office as my office is right next door to a gym and 2 times a week I spend my lunch breaks there. So there really is no need for a a fancy sports bag. BUT what I almost forgot when I tried to convince myself not to sew a bag is that I need a bag to carry my worn sports clothes to my washing machine at home. All the showering stuff and my shoes sty together with the sports bag in the office, the towel and the worn clothes come back with me and a bag that is either in my sports bag or in my work bag and contains all the stuff. It therefore need to be a little water proof, as I'm placing my wet towel in it after showering. So what better could use than a beautiful shopping bag?!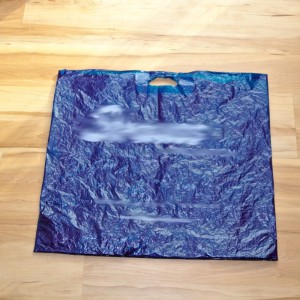 Yes this is the bag I carried my sports clothes in for the last 7 month! And when I thought about it I had to admit that I might indeed need another sports bag!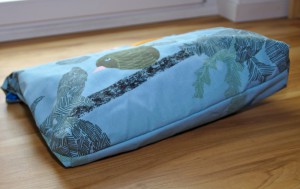 I'm starting to understand now why people participate in sew alongs. Without the sew along I still would have used this magnificent old shopping bag ;)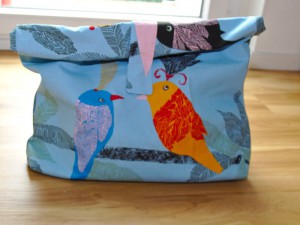 With this sew along my motivation level was high enough to sew my this bag! However it is based on my old shopping bag  to make the transition as smooth as possible ;)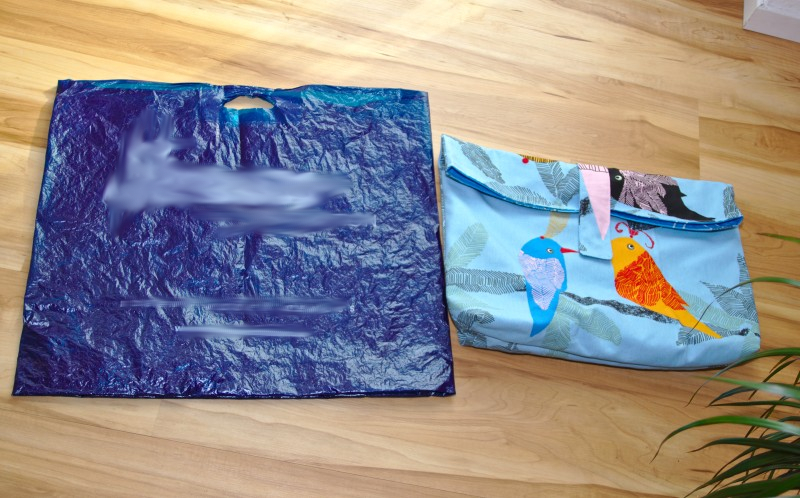 I just laid the plastic bag on my fabric and cut two rectangles from the ikea-bird-fabric and two from a coated cotton ikea fabric. It isn't a beautiful fabric, really, but it does its duty which is keeping the humidity in.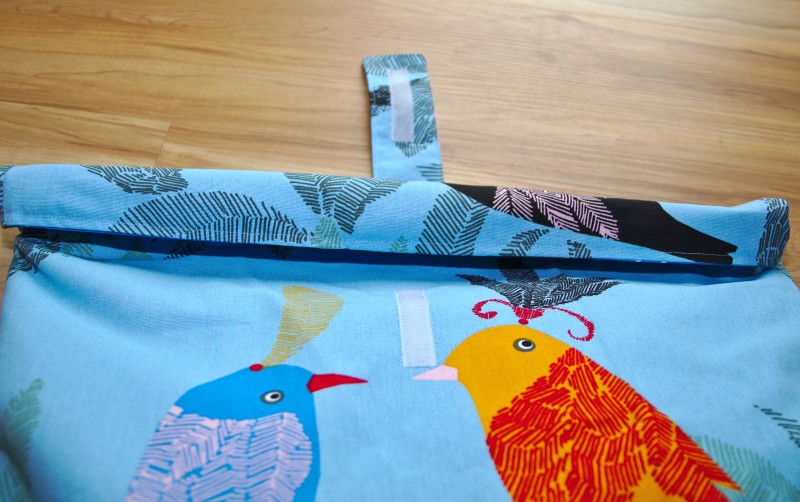 The only 'feature' I added to my 'bag' was this flap that can be used to close the bag with Velcro Tape.
I thought about making this bag more fancy, but more would have been to much. I need to get this bag into my work bag and there isn't that much room in there. An additional zipper would have only make the whole construction more stiff and thus harder to squeeze into the bag.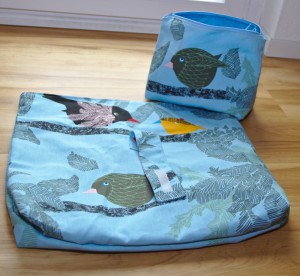 The bag now has the perfect size to put into my work bag, it is easy to open and close, it is waterproofs enough to carry my wet towels AND it has birds on it! What a success!
When I finished the bag in like half an hour or so I still had some motivation left to make a matching washbag. I used a pattern I had drafted some time a go and written an instruction to. I called it Kulturbeutel Alfred it is free but it is only available in German.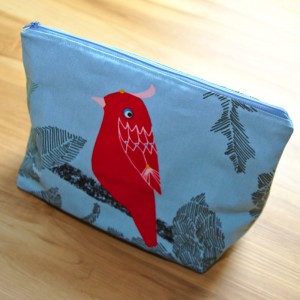 I used elastic instead of interior pockets for this version as I didn't have enough fabric for the pockets. I plan on using the elastic like this: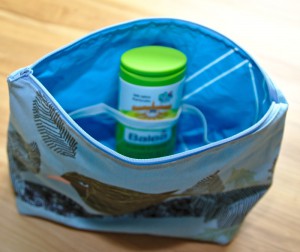 Here are some more pictures of the finished bag:
I am very proud of myself to having sticked to my plans of sewing sports bags. To be honest: I really needed them. But to me sewing things I need is never as much fun as sewing things that I want :) So as a reward I think I'm gonna treat myself to a round of pants sewing. Or maybe I 'need' another dress? I'm not sure yet ;)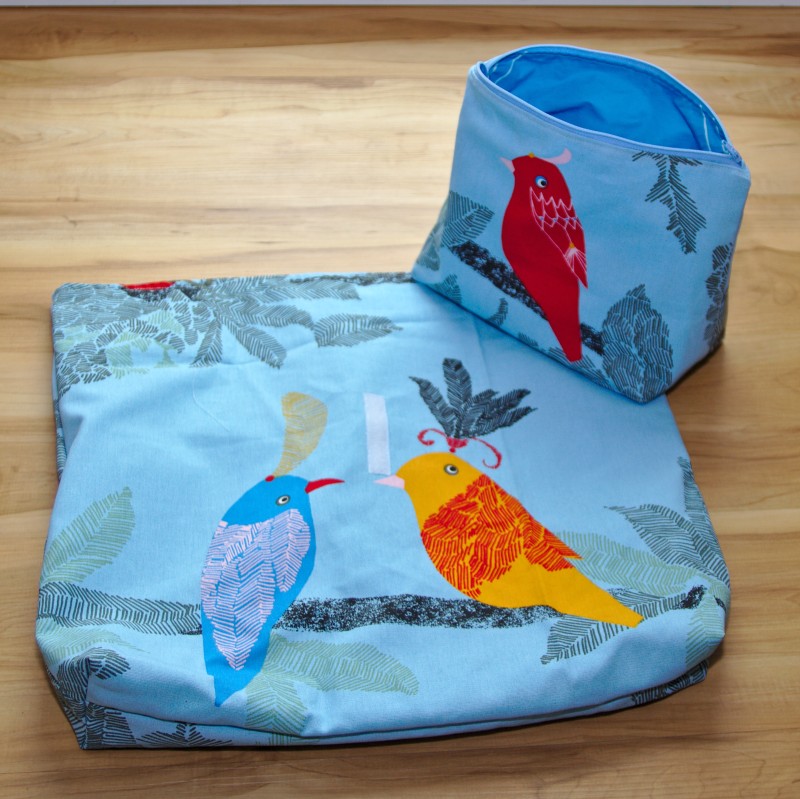 Macht's gut!
Katharina