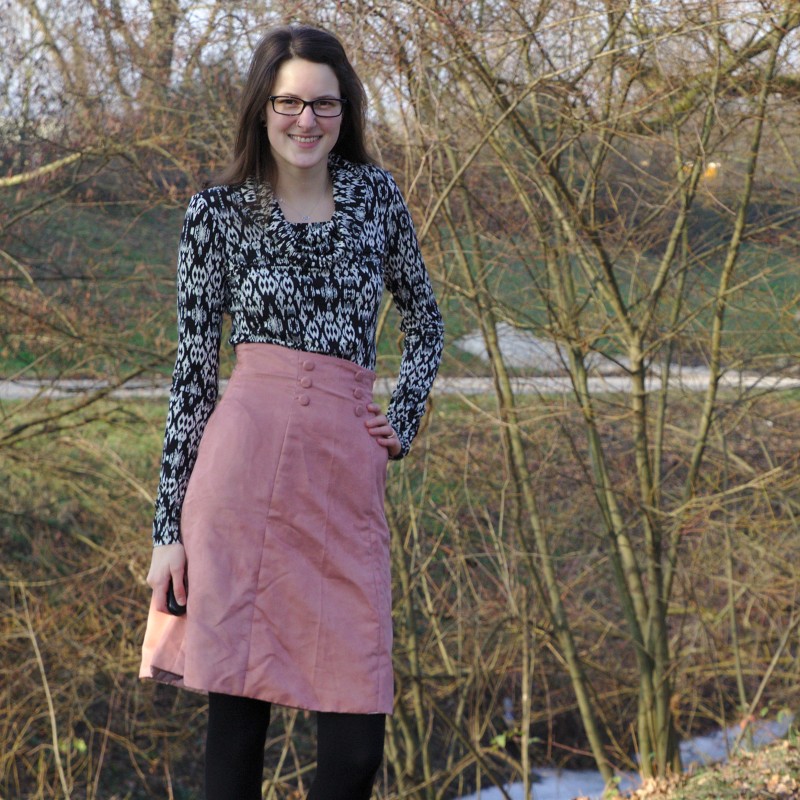 I sewed a skirt! I already announced that I will sew a lot a skirts this winter, so no one is allowed to complain ;) When it comes to skirts I would love to only sew Hollyburns and Kellys and Brumbys, but well I don't want to bore myself and everyone else and so I told myself that it was time for a fresh skirt pattern and I chose: Anémone. Anémone is a Deer&Doe pattern and seeing so many beautiful versions of it in the Internet made me want to try it.I usually don't go for this shape. I like fitted bodice and flared skirts. But this skirt is kind of fitted around the bottom and I am lucky that the skirt fits me as I didn't make a muslin but have broad hips, which is not a problem with flared skirts but with this one it could have been.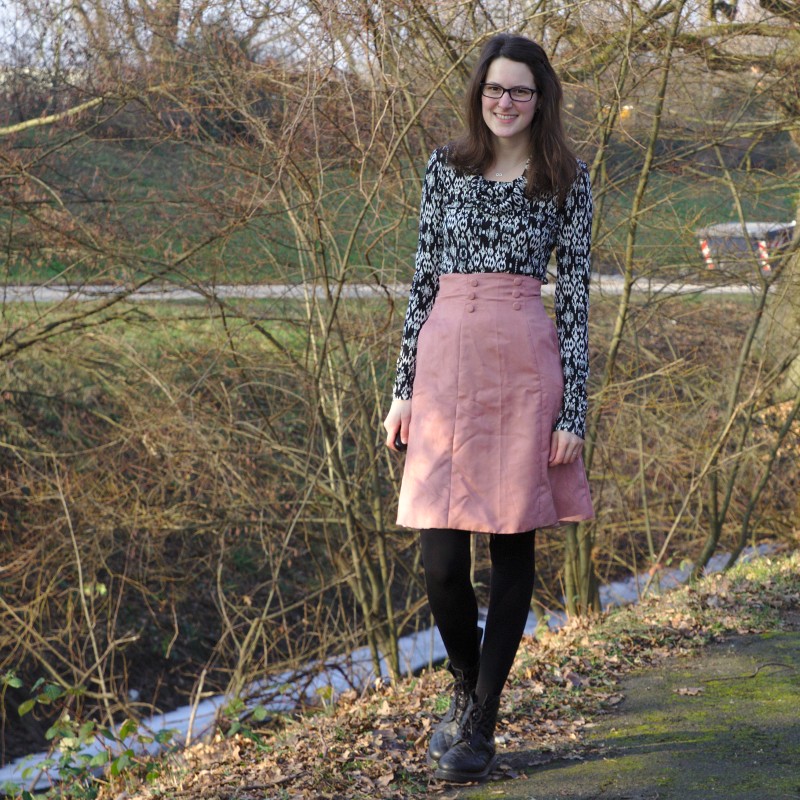 Since I saw this fabric the first time I'm deeply in love with it. It is a pink faux suede. Last year I discovered that those faux suede fabric exists and i am still amazed by them! And this one is even pink! Well, I think I was the only one in the fabric who liked it, because people were looking pitiful at me. As if I was colorblind or something. But I didn't let myself being irritated by that and made a skirt from it! And: I still have a lot left because this slim skirt doesn't need more than 1 meter of fabric, maybe even less.
I won't lie to you, sewing- and pressing wise this fabric was a real pain in the ass. Plus it is 100 % made from plastic and it seems to be highly inflammable.. I wouldn't not recommend finishing your seams with a lighter.. :D
So well, I finished my seams with my serger only to discover after finishing these thousand of seams that the lining is sewn to fashion fabric skirt instead of doing a "real" hem. So I cannot show you the inside of the skirt.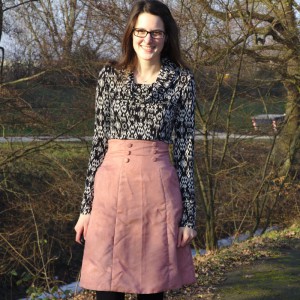 Another "speciality" of this pattern is that it has no facings at the top. It is just fashion fabric sewn against lining which makes it hard to interface the top. Because it is not interfaced it wrinkles as you can see in the photos. I understitched the lining but sometimes the lining peaks out.
Much worse is the hem. You just cut the pattern pieces once from fabric once from lining, sew too similar skirts and press a little more seam allowances up on the lining than on the skirt. Then you join both pieces by hand. I mean it does look nice and neat as there are no visible seams but the lining does peak out quite often.
Luckily my lining fabric has a similar color, so this is not too bad for me, but you should definitely consider that when you chose your lining fabric.
The pattern comes in two variations. Two length, one version buttons the other one with those design elements that look like gills. I choose to go for buttons. I used fashion fabric to cover them. They have absolutely no function than to look nice. And I like them! I chose the longer version of the skirt but with my 1.86m it looks like the shorter version on normally large people ;) I sewed size 38.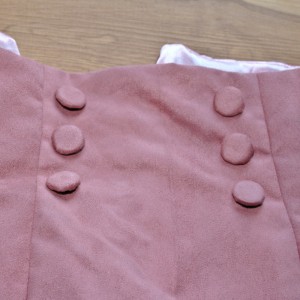 The instructions are typical Deer&Doe instructions. They are neither good nor do they totally suck. I kind of got the feeling like they didn't put much effort into them. There's no real explanations on how the apply the zipper, everything is kept short, there aren't many drawings and sometimes steps are missing. The pattern pieces for lining and skirt are the same which is very convenient for Deer&Doe but not for the seamstress, also I really would have liked a facing! I had this feeling when I made the Chardon skirt, too and so I don't think I will buy anymore Deer&Doe Skirt patterns.
I thought it would be a good idea to add pockets to the skirt as I love pockets! As it turned out the skirt is too tight to have pockets and my pockets turned out so tiny that my hands don't really fit into them. Fail!  Also you can see, that when my hand are (kind of) into the pockets the lining lurks out.
As I didn't have a matching invisible zipper I decided to use nail polish to make the one I had look more color matching. I saw Carolyn do that once and I was happy to have a chance to try that out too :)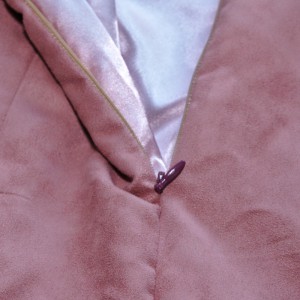 I didn't find anything that matched the skirt when I looked into my closet (well I didn't look that hard..) and so I decided to make another shawl collared  Renfrew.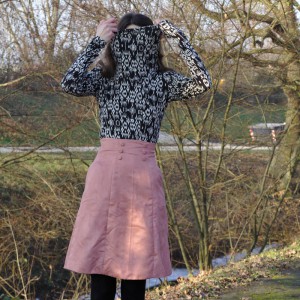 Somebody asked me lately how I finish my seams with a twin needle without having the fabric to form rolls between the two seamlines. I like to serge the raw edges before hemming to stabilize them.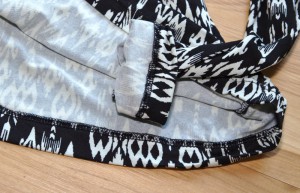 Afterwards I sew with the twin needle directly onto that serged seam, so that both needles catch it. This way the seam is always flat even if the fabric is thin or slippery.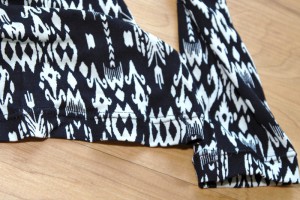 So, that's it from me for today. Have a nice day and macht's gut!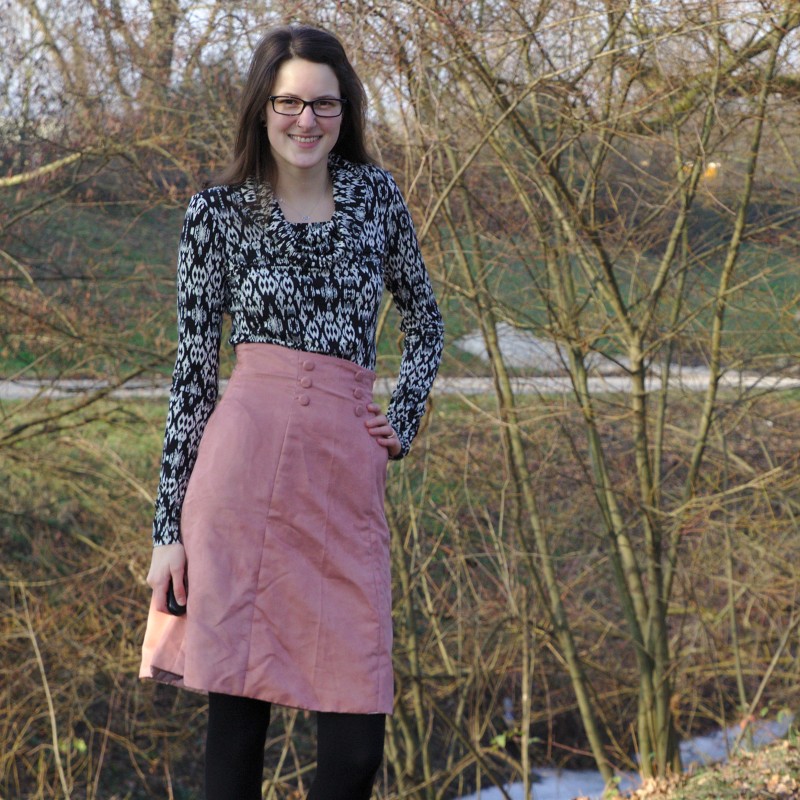 Katharina