I think a lot of my posts start with Usually I don't.., but..  I don't know why I even have principals. Its not like I would actually act according to them ;) So, here it is: Usuall I don't show knitted socks on my blog, BUT Regia released a new sock yarn collection on thursday and I was asked to test! I felt like the huge knitting star (which I am!) when I got the E-Mail :D But I stopped my retarded grinning when I was asked for a mediakit? A what?! :D I sent them something, I didn't even have numbers, no statistics plugin installed.. I installed it. So if you now want a mediakit! I don't have one, but at least I am little better prepared to become the star I deserve to be ;) Next 'problem' was that Marvin didn't want to take pictures of socks.  Like it was beneath his dignity to photograph my feet. I am not a fan either of feet, but you have to take what you get…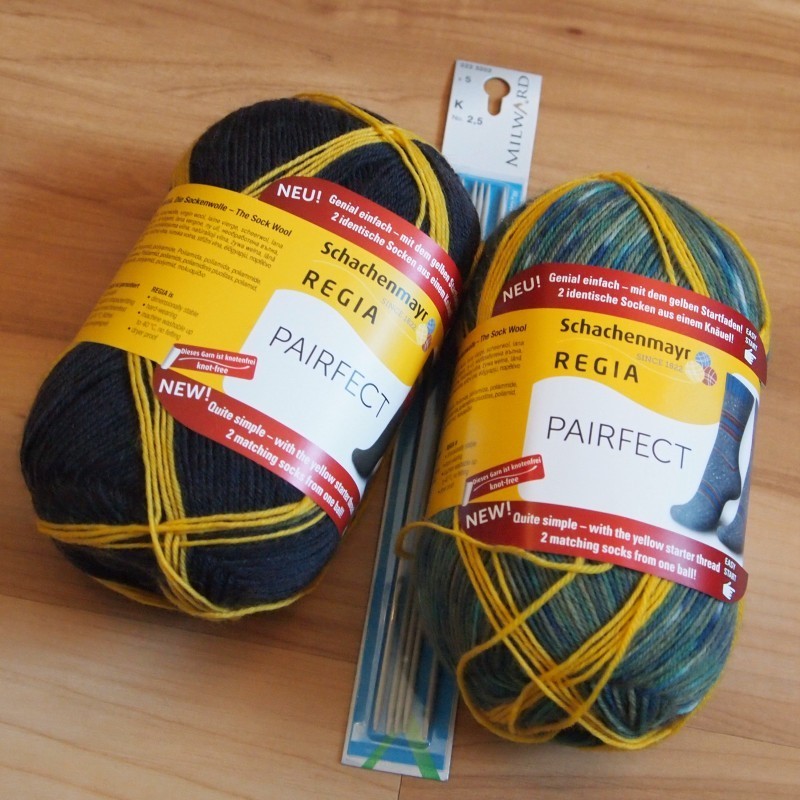 Regia sent me 2 skeins of the yarn called pairfect. It is called pairfect because a piece of the yarn is dyed yellow and it indicates where you have to start your second sock to get two perfectly similar socks! I got a greenish yarn and another one with stripes on the shaft (it is shaft here, or upper or whatever?). To be honest I didn't liek the colors. They're neither for men nor for women. I think its a waste to knit socks from yarn that isn't purple. Or at least pink. Or absolutely colorful! Or without any color for men. There are other colors in this pairfect series, but I'm not a fan! I want girly colors! And just imagine what you could do with this technique! Knit socks that look dip-dyed or something! In pink! So, I like the idea and I particularly like what Regia has done with it, for example a ribbing that has a contrasting color, but there's much more potential here. For those of you who think having a pair of perfectly matching socks is not important I just have to say: shut up you low-brow! I know people who measure the length of the color they begin with to get perfectly matching socks! And who doesn't want that?!
When I started my first problem was to figure out whether to begin the sock at the toe or at the cuff.. Looking at the instruction helped, you need to begin at the cuff. So I begun, and I really showed off that Regia picked me :D And everybody was wondering why the socks didn't look like those on the pictures… That was because I used the thread from outside the skein. I should have used the thread from inside the skein. So I frogged everything and restarted. But as tehre was a lot of yarn wrapped around my skein I couldn't get to the inner thread, so I decided to knit toe up. This lead to an extra high shaft! I used all the yarn I could and I knew exactly where to stop the sock, it was indicated by the blue ribbing color! Yay! The pattern I used is simply a switch (okay, that is what I found on dict.cc, I don't know how to translate this. It is a faux cable, looks like a cable but isn't!) and a stitch that I knit through the back loop.
I finished those socks during our train trip to the north and started the second pair. I finished them on our back travel. I knitted them in stockinette, in order nor to disturb the stripes (and because I'm lazy..) and I love the effect! It was fun knitting those, because I was always excited to get to the next color. When I got the the heel it got kind of boring. Brown.. ugh! I have proof for that: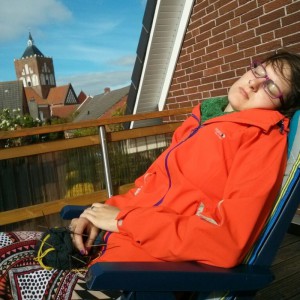 Hahaha, Marvin the photographer really got a feeling for the right moment :D
All in all I don't think this yarn is a revolution as its praised. But its such a cool idea. I always fell for those new 'innovative' stuff, like those needles that have a square cross section! I love those! And I definitely needed to try this yarn! I would really appreciate some more colors however!
And you?
-Katharina