I've made another dress from a Butterick–pattern that Marvin brought back with him from the US. You might remembered that a year ago Marvin stayed for three month in North Carolina and only at the end of his stay I found out that there was a huge sale at Butterick, every pattern could be bought for 2.99 $. I only ordered seven patterns, because it wasn't clear whether the package would arrive in time. In the end it arrived the evening before Marvin left. One of them is the retro Butterick pattern B5748. I bought it mostly because I liked Andi's many versions of it a lot (here, here and here are some of them).
I have some similar patterns to this one in my stash. The Elisalex an Flora Dress pattern hack for example. This pattern has a not-pleated fuller skirt and bust darts instead of princess seams though and it only cost me 2,99 $, so I bought it anyway.
What I really like about Butterick patterns is that 1.5cm seam allowances are included in the pattern and the instructions are always thorough and feature a lot of pictures. When I started sewing I sewed a lot of Burda patterns and I feel like it made my start into sewing more difficult because those pattern lack those two features. So I always try to think of noting if a pattern comes with thorough instructions and included seam allowances.
Tracing the pattern was done really fast, as the pattern only consist of four pattern pieces (front and back skirt, front and back bodice). I made my common changes, lengthened the bodice and straightened the shoulder seams. I left the skirt as it was. Lengthening full skirts is always so much work, I think it is easier to simply redraw them by yourself. Only that that isn't that simple as well, because you always need a tool to help you draw large circles. After my first muslin I moved the bust darts a little and I was ready to go.
I usually trace all Butterick pattern in size 8. According to their measurement chart I would need a size 12, but when I made my favorite shirt pattern for the first time I found out that even size 10 was too wide. Right now I'm in the process on gaining some weight and my latest Butterick dress has become a little tight around the waist and so I decided to go with size 10 this time. I'm planning on gaining at least a few kilos more, so it's better if the dress is a little loose. Which it is as you can see :)
I altered the back neckline, I raised it by 7 cm, because I found out that I don't like deep back necklines, my back tends to get cold somehow and that feels very uncomfortable. The back neckline still is lower than the front neckline however.
I have been wondering how it would be possible to cut a full circle skirt from an only 110cm wide fabric, without a center front seam. The envelope says that it's possible. The solution is to cut the skirt with the side seams in direction of the grain and not as usual with the center aligned with the fabric grain. Something you should definitely consider if your print has a direction. I had a 150cm wide fabric but the skirt pieces were just a little to long to cut them with the centers in the direction of the grain, so that I followed the instructions on this one. I ended up using 3 m of fabric. I have a lot of fabric left over but none of it still has the full fabric width. If you make the skirt a little shorter you can get away with only using 2m of 150cm wide fabric. I tried that when I made the dress' lining.
The instructions tell you to put an invisible zipper into one of the side seams. I don't know why there is a center back seam then. I put my zipper into the center back seam. I have tried side seams and in two out of three cases they worked out fine. In the third case the zipper is much stiffer than the fabric and creates bumps when I wear it. It is also uncomfortable when I sit down.
I only glanced at the instructions but didn't follow them. The dress is fully lined and it is explained in depth how to line the bodice so that all the seam allowances are encased between fabric and lining. There are no separate pattern pieces for the lining. The skirt pieces have a second hem line that show you to cut the lining skirt a little shorter.
The pattern also does not come with a pattern piece for pockets. So I added in seam pockets by myself. I overlocked all seam allowances that needed finishing. The fabric is very stiff and since I'm gaining weight I thought it would be easier to alter the width of the dress later on, if the seams were not finished with french seams. I overlocked the hem of the lining skirts as well and machine stitched the hem of the outer skirt. That took long enough, no way I will ever again hand stitch a hem of a circle skirt!
I sewed the shell and lining together at the waist seam with some hand stitches. That meant that I didn't have to finish the seams of the bodices, because they are not in danger of fraying.
I liked the pattern! It is very simple which makes it a great beginner pattern. The simplicity also makes it a great basic pattern that can easily be altered. I think this is also a great pattern for bold prints and I will definitely use it again.
Now to the fabric. I have been trying to decrease my fabric stash by not allowing myself to buy new fabric for a while. But after a while I found that I spend less and less time sewing. So two weeks ago I decided that it was time to buy fabric and start making and having fun. So I bought this thick and sturdy cotton fabric printed with roses all over. I am not a fan of roes. You know.. too cliché. This print reminds me a little of those old school motives including roses and skulls. They were hugely popular when I was 12 years old. And I am very picky about both: skulls and roses. I don't like them when they are too graphic or even worse, when they are realistic. However I found myself liking this print. Maybe it is the color, maybe it is the lack of skulls, whatever it was I bought it and brought it home. I also bought some Acetate lining because the fabric is too rough to wear against my bare skin. I only just found out that Acetate is not made from plastic but from natural materials and that it breathes. It took me 5 years to find that out. 5 years of always searching for rayon lining and not finding it in the color I needed, when I could have just bought some Acetate lining in any color of the rainbow. Live and learn!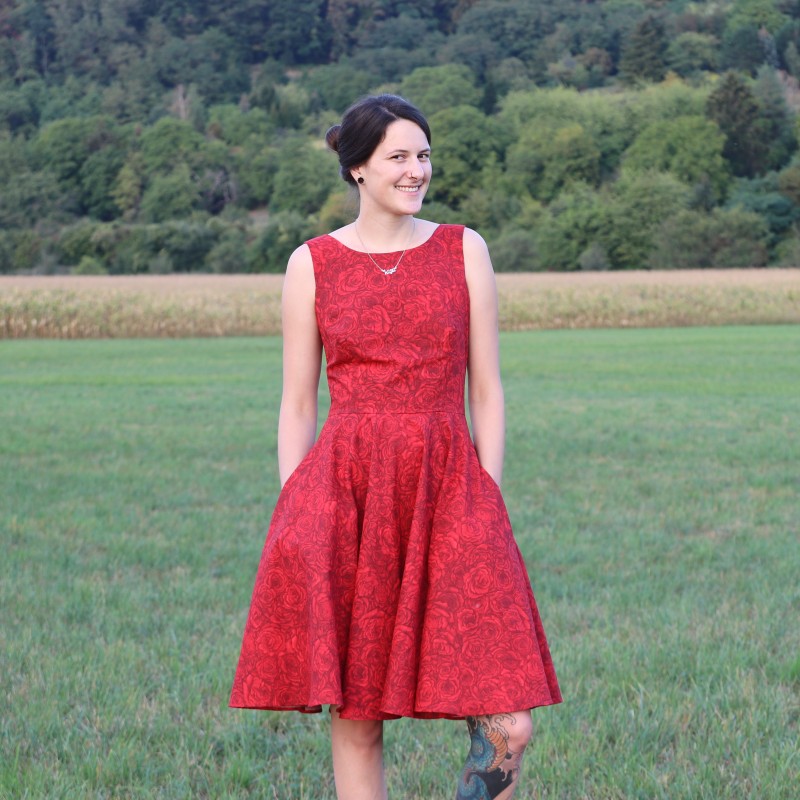 And that's it from me for today. I really like this dress and I had so much fun making it. I think I will just give all those fabrics that I have collected and never used over the years away. Totally stupid to loose my sewing mojo over them!
Macht's gut!
Katharina