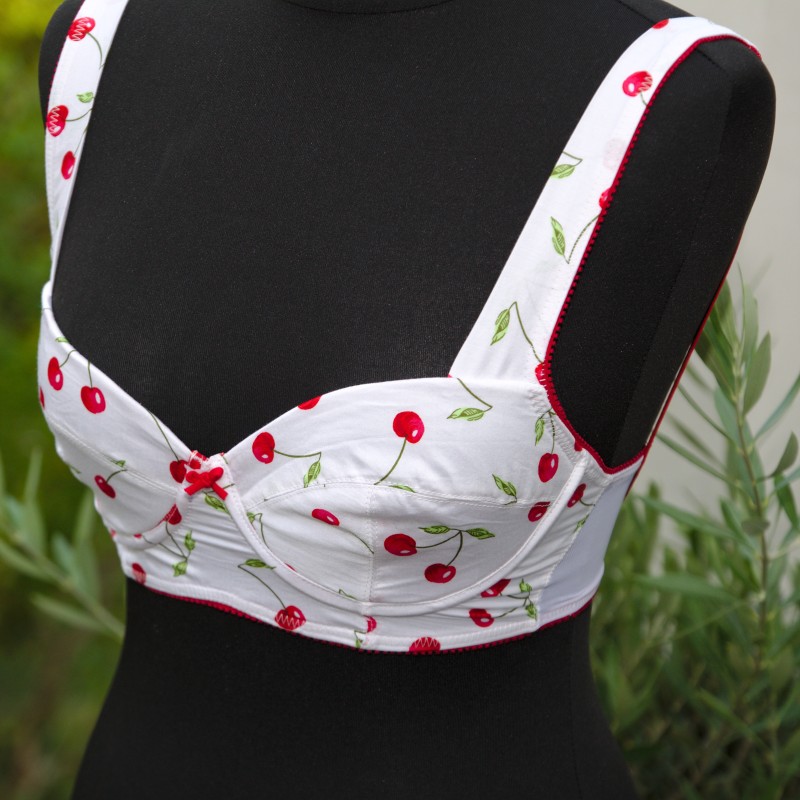 As already announced, I made a Boylston Bra! In general I prefer to wear bras that are lined with foam and after sewing those great fitting Marlboroughs (here and here) I was eager to try the new Orange Lingerie Boylston Bra pattern that can be lined with foam. In the beginning I wasn't sure about those broad straps, but when I saw more and more Boylston Bras appearing in the net I decided to give the pattern a try.
It wouldn't have been so hard to add normal straps but the idea of broad straps in beautiful fabrics somehow settled and I went for it.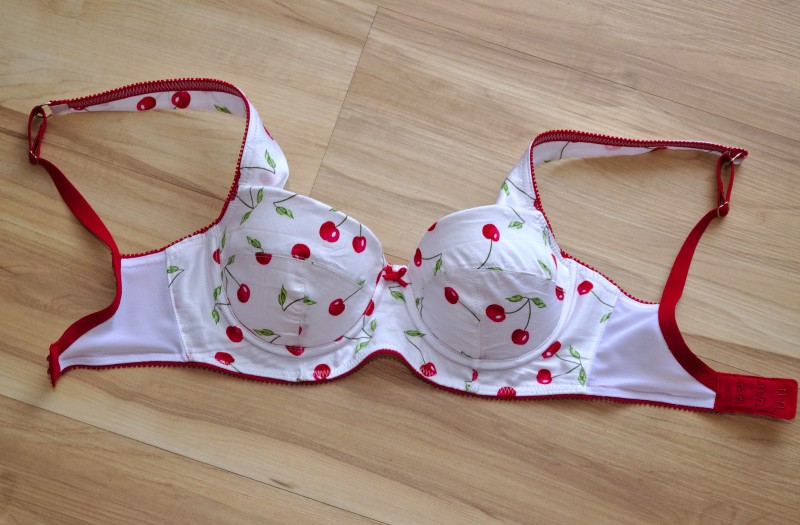 I really had only a tiny bit of this cotton satin cherry print fabric left over from my cherry dress and I already made matching button band stabilizations from it. But when I saw Lauren's Boylston Bra I knew I needed to make a bra from my tiny left over piece. And now I have a matching bra to my dress and my matching jacket! Wheeeey!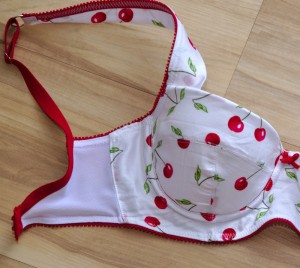 It was really hard to cut all the pieces from the fabric but in the end I managed it! The straps are now a little shorter than they should have been but I don't think you can tell if you have nothing to compare.
Julia wrote a great instruction, explaining how to sew the foam lining or the Boylston Bra. I used that instructions and everything worked out fine!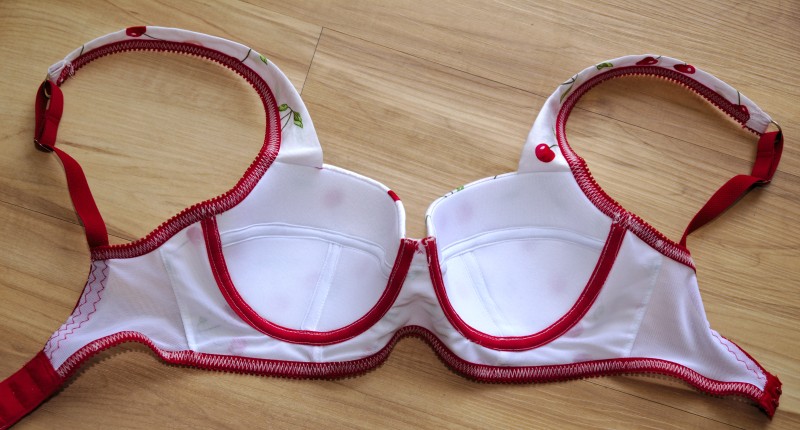 I think it is a little sad that there is no explanation in the original pattern how to do that. It is rather expansive and I would have expected that. I also found it hard to find out which part of the bra belongs were. I had some difficulties assembling the cups, because I wasn't sure which side of the pattern piece belongs to which seam. It was a little confusing to me, that you should use a fabric with none to little stretch but you should align the pattern pieces with the stretch direction. When there is no stretch there is no stretch direction one might think…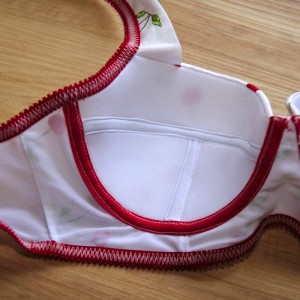 But all in all I'm happy with how the bra turned out, it fits okay. I sewed size 30D again. According to the instructions I am a 34 B, what is peculiar. I feel like the Boylston Bra is little bit tighter than the Marlborough and the cups could be a little bit larger for me.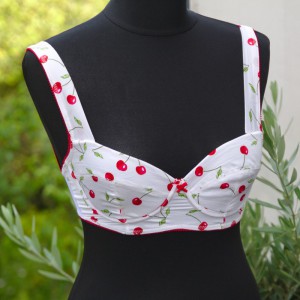 I bought the elastics and stuff in a kit. I had to redraw the band to fit my smaller bra catch.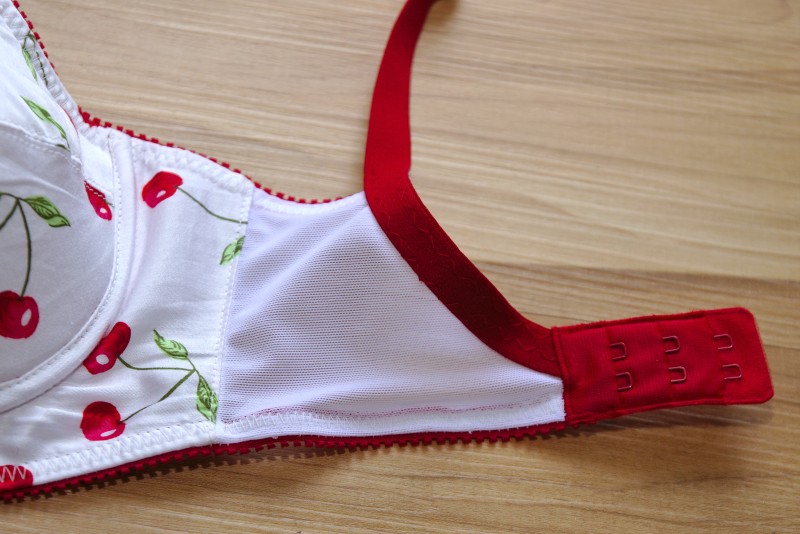 I didn't always switch the yarn from red to white or from white to red so the bra doesn't look super clean from the inside, but whatever!
I'm a little sad that I didn't have enough fabric to make matching undies. You see, I really need to make another Boylston Bra to make good for that ;)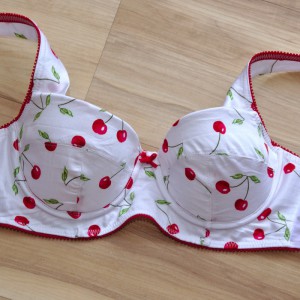 I used up all of my supplies now, which is good. I think I'll wait a little until I reorder, because I don't need as many bras as I want to sew right now ;)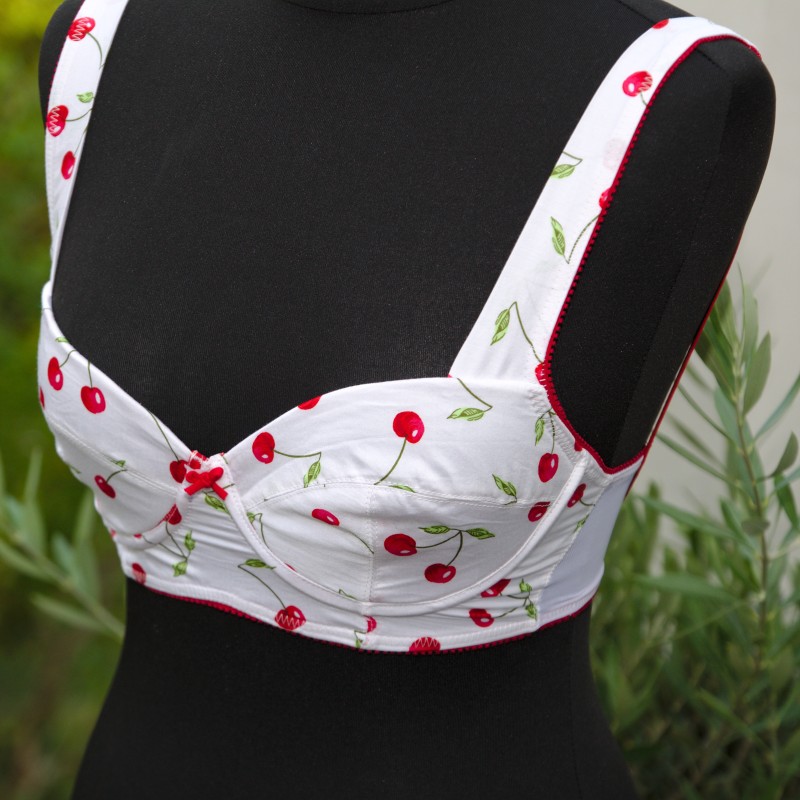 Macht's gut!
Katharina