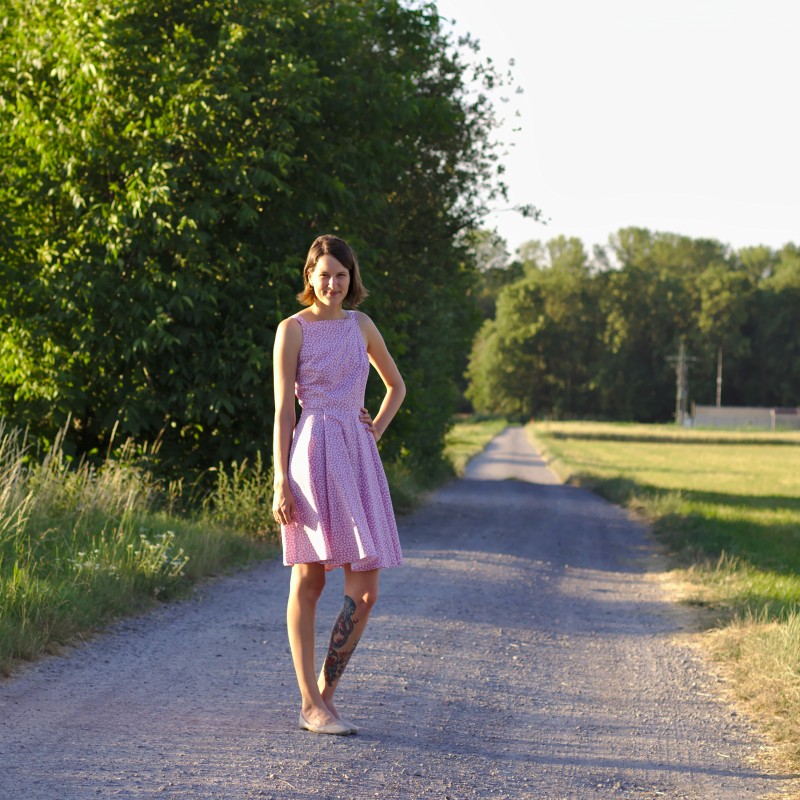 It is time to show you another dress. And to sew some more. It is hard to believe but last year I discovered a gap in my wardrobe: it was lacking breezy summer dresses and breezy tops. I must have been in denial about the gross weather in summer in southern Germany in the Rhine area. It is humid and it is hot! And it is getting worse every year. And what is even worse is that I have the impression other people are happy about that.Apart from the fact that I can't do a single thing of those I like the most it scares me that the average temperatures have increased so fast. And I don't understand how people can justify driving alone in a car everyday to work. In cities like Stuttgart were the air pollution is alarmingly high. I think one problem is, that the local public transport collapses regularly. Or that the AC only works every second time I ride with the trans-regional train, which makes the ride sometimes unbearable. It seems to me the whole country is surprised that it is summer and the climate changes and everybody forgot to take measurements. So what I do is to try to make the summer as bearable as possible for myself. And now we're on topic again: I sewed myself some breezy dresses. And today I'll show you one of them.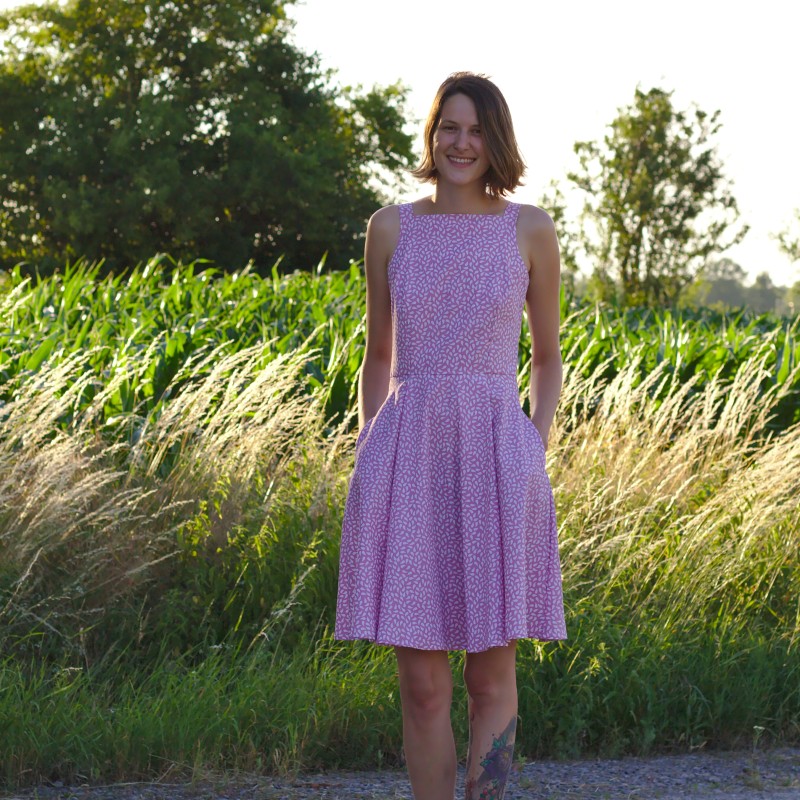 I made it from a cotton fabric that I bought at a local fabric market. I like cotton for summer dresses that I intent to wear to work, because, well, I have to ride that train. It not only is freakishly hot in there it is also pretty dirty and I'm glad to have a relatively thick layer of clothing between me and the cushions (that is if I get a place to sit.). Rayon or silk are just a tiny bit tooo breezy to wear on a train. I always wanted to try linen, but haven't found the right quality yet.
So, cotton fabric! I bought 2 m. It has a plain little pattern and I bought it mostly because I liked the shade of pink. I knew I wanted to make a dress from it and as the fabric was wide (like a little more than the usual 1,40m) I decided to make the BHL Flora Dress. Originally I bought the pattern because I liked the wrap bodice variation. I made that variation twice, but I only wear the dresses in winter with a a cardigan, because the fit of the first dress isn't right and because the cleavage of the second dress is too much for my taste.
2 years ago I tried the tank top variation and I liked it surprisingly much. I like that the bodice is so high at the back and the front but that the dress is still summery. But I don't wear the dress in summer either, because the fabric I chose is 100 % plastic and I completely lined the dress. Great justification to sew this pattern again, isn't it? :)
It wasn't much work sewing this dress. The pattern was already cut out, I had already determined my size, which is 4/8, I learned that the hard way. For my first dress I relied on the measurement chart which suggested to sew size 6/10, which turned out to be too big. I didn't make muslins then.
As per instructions I completely lined the bodice. It wasn't as hot as today when I did that and so I chose to line the bodice with the same fabric which might be a little too thick. I think facings or  lighter fabric as lining would have been a good idea.
I didn't line the skirt and so I finished the seams the French way ;) I also added inseam pockets to the dress, they are not included in the pattern, but I need them! The dress has an invisible zipper in the back seam and I hemmed it with a machine made blind stitch.
When skirts are as wide as this one I refrain from hemming them by hand. I don't like hand sewing, I rather knit or spin. However I basted the lining to the bodice by hand.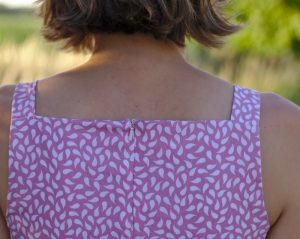 I let the dress hang a few days before hemming, but nothing happened. I'm not complaining! The fabric is very stable and and firmly woven. However it is not very heavy. What a nice fabric!
A word on the initial changes I made: I had to lengthen the bodice by 4 cm, which is completely normal. The skirt has its original length as it was so wide that I would have had to change the slope of the side seams to lengthen it and still be able to fit it on the fabric. I am very happy with the instructions of the pattern. I didn't look much into them this time. But as this was one of the first dress patterns I ever sewed I know that they helped me a lot once.
And that is all I have to say about this dress. Except for: I really like how it turned out! :)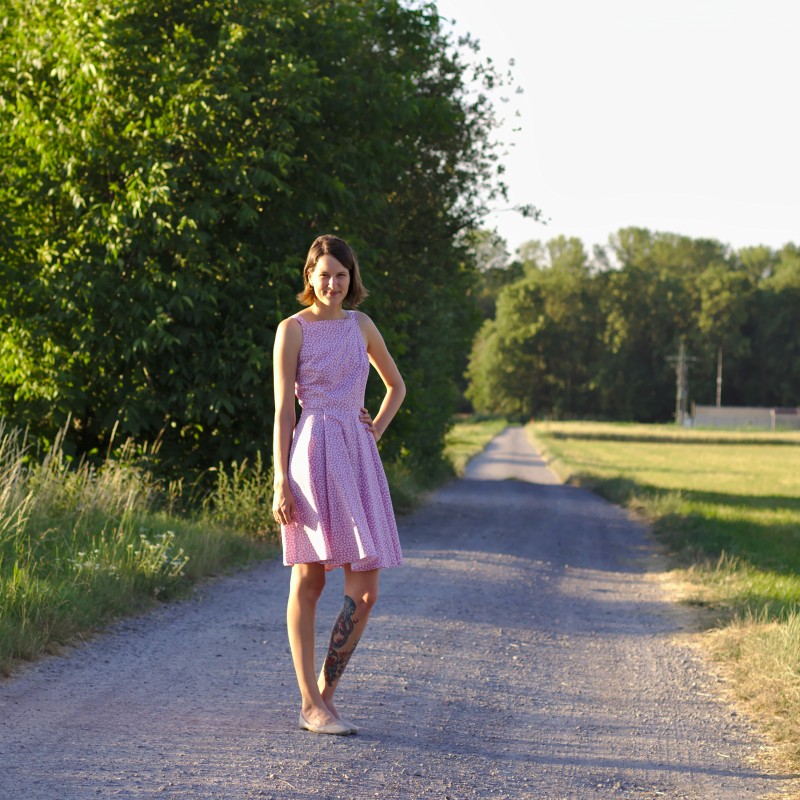 Macht's gut!
Katharina