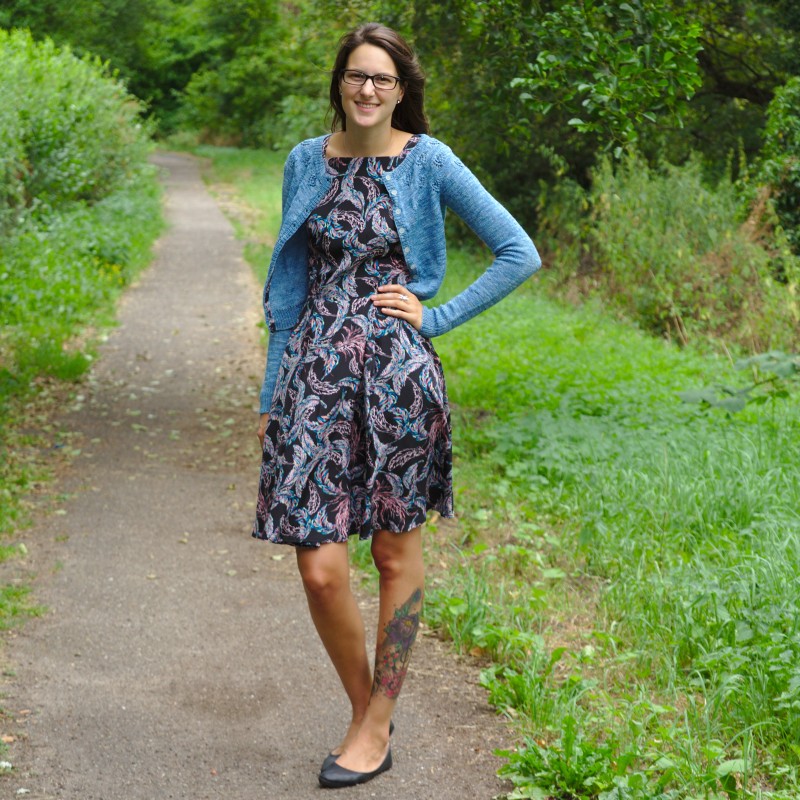 All year I have been waiting for this years Outfit Along! It was such a great experience to participate in it last year and it opened some new doors to me knit wise as well as sewing wise. For those of you you haven't heart about it yet the Outfit Along is about sewing a whole outfit. Lauren is presenting a dress she picked on her blog and writing in detail about all the steps it takes to make it. And Andi writes in her blog about the knitting pattern she picked. But everyone is free to chose her own patterns and make her own outfit. Last year it was such a great experience to make my own outfit and to see the outfits of all of the other participants. I got a lot of inspirations participating. And it was the first time I tried an indie sewing pattern. I sewed the Sewaholic Cambie Dress and Andi's Myrna Cardigan. I found both to be very expensive, I wasn't used to spending so much money on patterns. But as it turned out I wasn't used on working with such great instructions either. The experience really changed my sewing. I started buying expensive patterns and I feel like I learned a lot over the last year while sewing patterns that teach you how to sew. And since then I stopped knitting bottom up and almost all of my knitted creations are top down and seamless. I just love that! And I started falling in love with Andi's Designs. Also she's such a nice gal!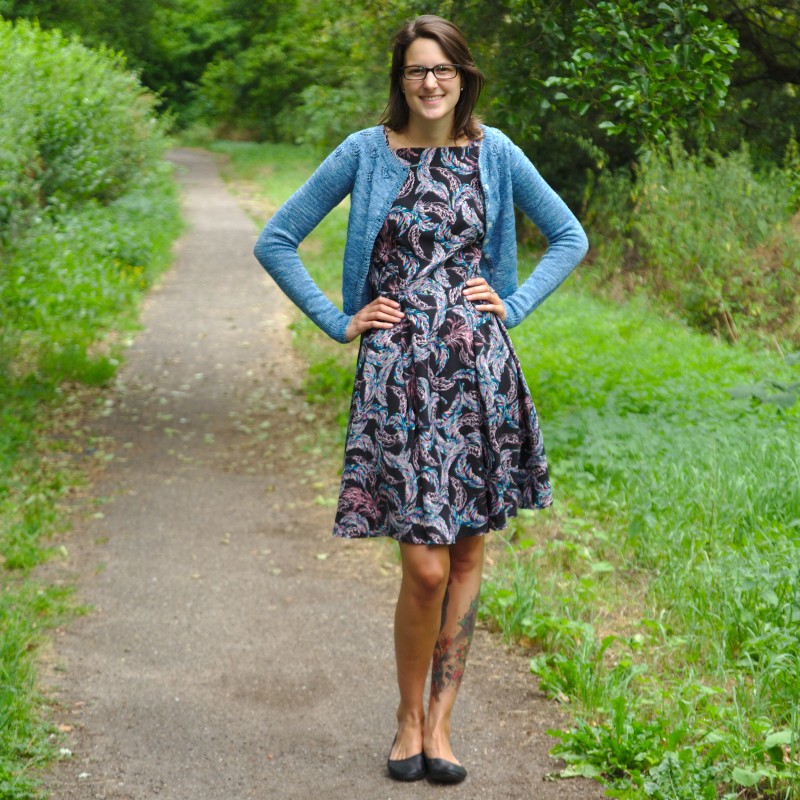 As you see last year everything was new for me, new and overwhelming! And I wanted to try everything. And thus my outfit was a little imperfect. The dress' bodice is a little too long, I accidentally sewed in a visible zipper, the zipper is too short. The cardigan turned out too stiff, because my yarn was too thick and I nearly don't wear it because it has short sleeves.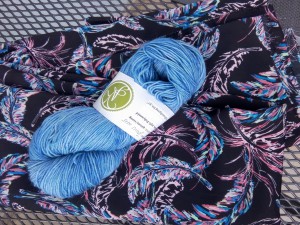 So this year I decided to make myself an outfit that I will definitely really love. I chose patterns I already new I liked, the Flora Dress by BHL and Peacock Eyes Cardigan by Justyna Lorkowska. That meant that I didn't go with the suggested patterns. The fabric and the yarn are from my stash were they have been waiting for that special project! The fabric is from a fabric market in Maastricht /Netherlands that I visited over a year ago. I love that print! The fabric has an awful texture tho..
The yarn is from this years Craft fair in Karlsruhe. It is hand dyed with vegetable dye and is beautifully semi solid. It is called Alte Künste Sockenwolle and the color way is Jeans (here in Germany we don't say denim. Denim fabric is jeans fabric and denim color is jeans color). The yarn is produced locally as far as I can see, and I think that's great!
To try something new I went this time with the tank top version of the flora dress. I made a muslin to check the fir and the back was a little too tight around the bust area, so I changed that a little. I also lengthened the bodice (4 cm) and the skirt (6cm) but that is something I always do. I cut size 4/8. When I sewed my first Flora Dress in the suggested size 6/10 I found that it was too loose and since then I am sewing a 4/8 in BHL patterns.
I completely lined the dress as the fabric feels really disgusting on my skin!
Sewing the tank top version was easier than sewing the faux wrap bodice. I really like that high neckline. I'm kinda into high necklines right now..
I made a really small hem by sewing 0.7 cm from from the fabric edge and pressing 0,7 cm twice. That always works great with wide skirts.
There is a little more to tell about that cardigan. I made this cardigan once but in full length as it is suggested by the pattern. After knitting the waist increases I kept on knitting in stockinette for some rows and went on with the ribbing. I think a cropped cardigan looks much better with this kind of dress. However I made the sleeves full length. Because I had enough yarn and too less long sleeved cardis ;)
The cardigan is knitted in one piece from the top down and seamless. Oh how I love that! I started this project while I was on vacation on Italy and I got a lot done during the trip back home.
What really annoyed me was that the yarn bled out so much. 15 minutes knitting and my hands were dyed blue. I wrote that on Ravelry and Margit stumbled across my project and wrote me. Margit is the one who dyed the yarn. She apologized and told me that this bleeding out was normal, because my yarn was dyed with indigo, au contraire it is a sign of quality if the yarn bleeds a little (it's not a bug….) so I wore my blue hands with pride from then on ;) It really didn't bother me that much but just to be sure I washed my cardigan when it was finished. Margit suggested to wash it by hand hand but I went with the washing machine (more time to sew…;)) and nothing happened. I hope it will stay like this. But even if it looses a little color now and then.. I couldn't stay mad at this beautiful yarn! :D
I knitted with 3mm and 2.5 mm needles and used 250 g (1050 m) of the yarn (so I have about 50 g left, yay).
I stabilized the bottonbands according to the tutorial I wrote here with the dress' fabric. The buttons are from the Craft's fair as well.
Today begins the third week in my new job and I decided to celebrate that with wearing this outfit ;) So I officially start wearing dresses at this new job now :)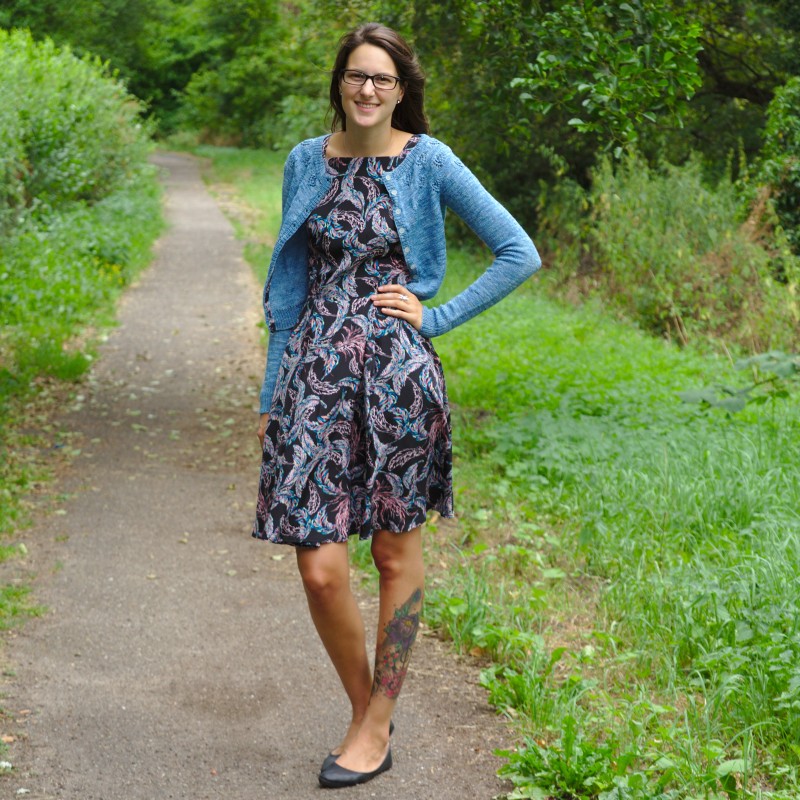 If you still want to know more about the project you can look at it on ravelry. Or take a look at all those finished OAl Outfits on Ravelry.
Thank you for reading  and tschüss!
Katharina