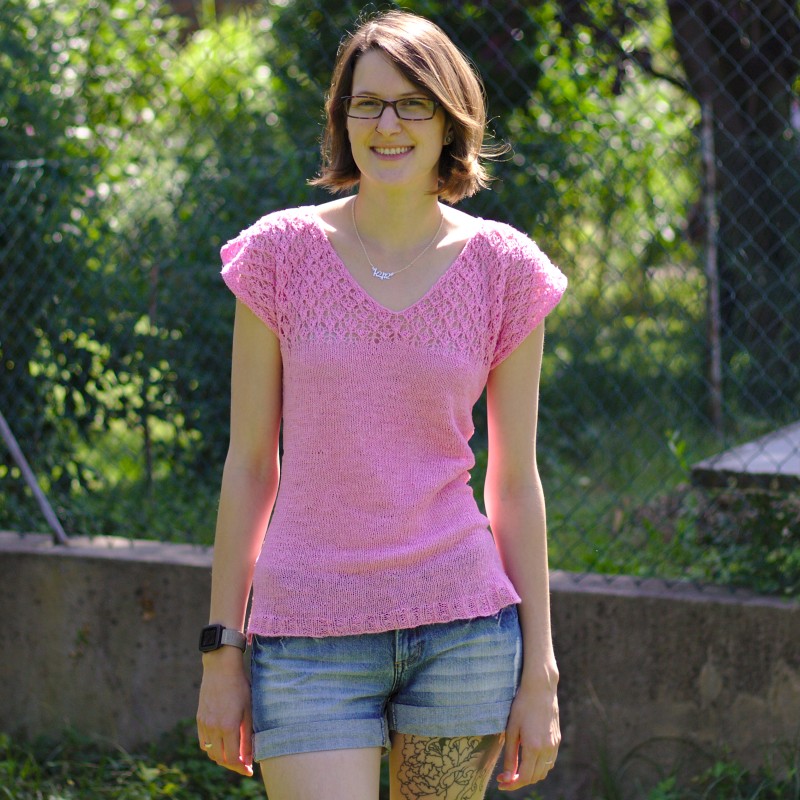 A year ago I knitted a summer top for the first time. What a revelation! Since then I have been on the look out for an affordable 100 % linen yarn. And I haven't found it yet. For a time I was eyeballing with Quince and Co. Sparrow. Though the yarn is produced in Italy it is sold from the US, which makes it very expensive here in Europe. And what nonsense to transport a yarn from Europe to the US and than back to Europe, what an unnecessary waste of energy. So, you see, I had no other choice than to start spinning my own yarn ;) Ha, no, that was not the reason I started but I think it was one of many small reasons. The big reason, obviously was, that it is lot of fun to spin :) But being able to make your own yarn just the way you want it, definitely is an advantage.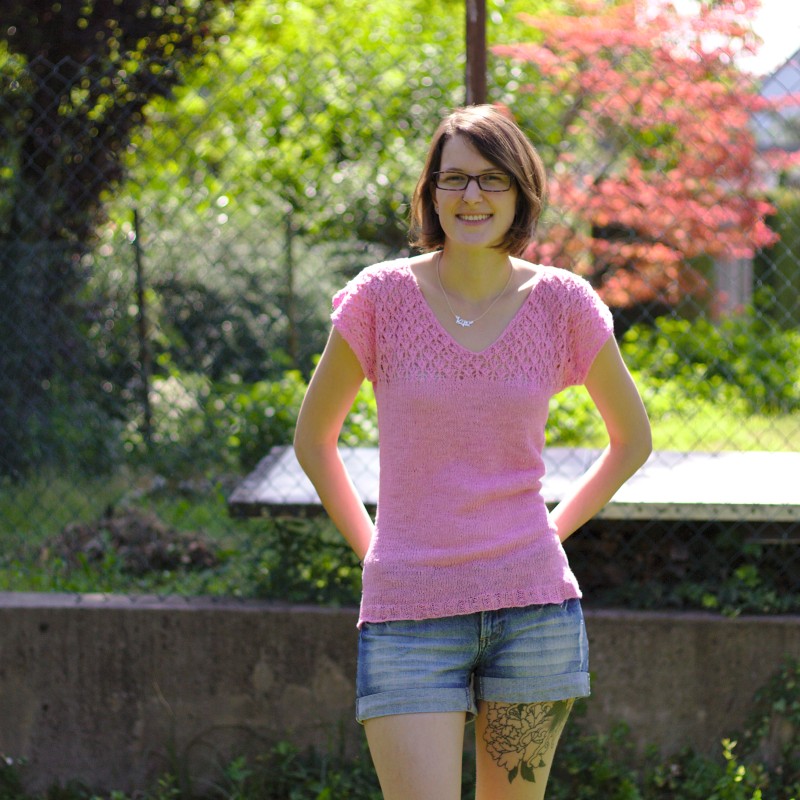 Spinning flax seems to be some kind of art form ;) Or at least it was at some point in history. People once had a lot of tools to make linen, starting with tools to grow it, comb it and in the end spin and weave it. There are ancient techniques and special spinning wheels to make flax into yarn and it was hard to find out which of them someone needs nowadays. Because today you can buy industrially combed flax.
So I skipped the whole part where you grow and comb flax and bought some bleached linen roving at Wollknoll. I decided not to worry about tools I didn't have and just try it. I ordered 500g and just dove into it with my regular wool spinning wheel and without preparing the fiber.
And that worked out surprisingly well. Now I think all those tools were needed to make spinning flax more efficient and make it easier to handle, because there were no machines combing the material into a nice homogeneous roving. But I'm not an expert here, all I want to say is: I didn't have any problems at all, I didn't have to pull super hard on the fiber and the single didn't break that often. It was definitely different from spinning wool, though. The fibers are much longer than anything I have spun before and they are very stable and much less bendable than wool fibers. It wasn't more difficult to spin just different and a little annoying. Marvin said it didn't look so gemütlich (there actually is no real translation for this word, haha, Germans and the Gemütlichkeit!) and so we both were happy when the yarn was finally finished ;)
I spun in short draw and 2-plyed the singles so that the yarn would come out as thin as possible and that it did! I forgot to measure the grist, but I estimated the Wraps per Inch to 14 which suggest the yarn is Fingering Weight.
I knitted a swatch with my 2.5 mm Nova Cubics circular needles and my gauge was 23 sts X 32 rows = 10 x 10 cm. As you can see in the picture above the fabric still is very see through. But I didn't manage to knit tighter because of the not-so-bendable yarn, the stitches just couldn't be bent more than that.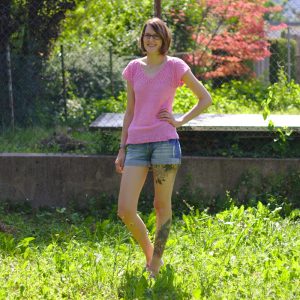 With the gauge and my measurements in mind I wrote myself knitting instructions for a lacey top. I wanted drop shoulders and a lace pattern at the upper part of the top. I got the lace pattern from an old knitting book and made the sleeves circa 5 cm wide each. I knitted top down and seamlessly, which meant that I started with the back part and picked up stitches for the fronts from the top of the back. After I finished the sleeve seams with a 3 needle bind off In knitted stockinette stitch in rounds. I added some decreases and increase to shape the top a little.
The most exciting part were the lace fronts as I had to increase stitches and take care that the pattern was still correct and symmetrical. I made a v-neck, obviously :) Initially I had planned to knit around the neck opening, but in the end I didn't like how that looked and now the neck is unfinished.
I was glad that, when I first tried the top on, it fitted :) However the lace part is a little too deep, so that for the pictures I wore a nude bra underneath the top. Just to be safe ;) When I knitted the top the yarn was still white and I have remembered to take a picture of me wearing the white top before dyeing it:
White looked nice too.. but.. meeeh.. white… I already had the pink dye and I really wanted to try it ;) I bought Dylon Dye in Flamingo Pink. I only used 40g of the dye powder because I wanted the top to be light pink. I'm not that sure whether I like the color or not. It is a little tooo girlishly pink I think.. Maybe. But at the same time I know that whatever color the top would have had I would have had doubts about it. Because I know myself by now. And as I haven't managed until now to dye exactly the color I have in my mind I have always been disappointed with everything I ever dyed. So I'll just wait and see whether I like the color or not. And if not I will simply dye over it.
The Dylon dye was great by the way. Much better than Simplicol in my mind. It came as a powder and I didn't have to add anything, which meant that I could only use part of the dye and didn't have to through away the rest. The Simplicol dye that I have used was liquid and I also needed additional salt, which made it hard to only use part of the package.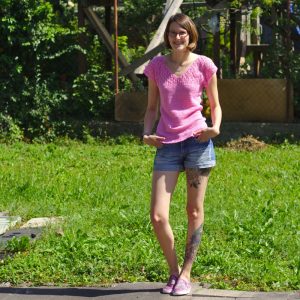 I washed the top twice in the machine so far. So far so good, it survived that without a problem. The fabric still is stiff and hard and not so soft on my skin, but if you believe what people are saying it will get softer with every wash. Hooray! Oh and also: please applaud my spinning! The irregularities in the fabric you see are 100% from an irregular yarn, because my knitting in the round is very regular by now. You can see irregularities, but they aren't that bad!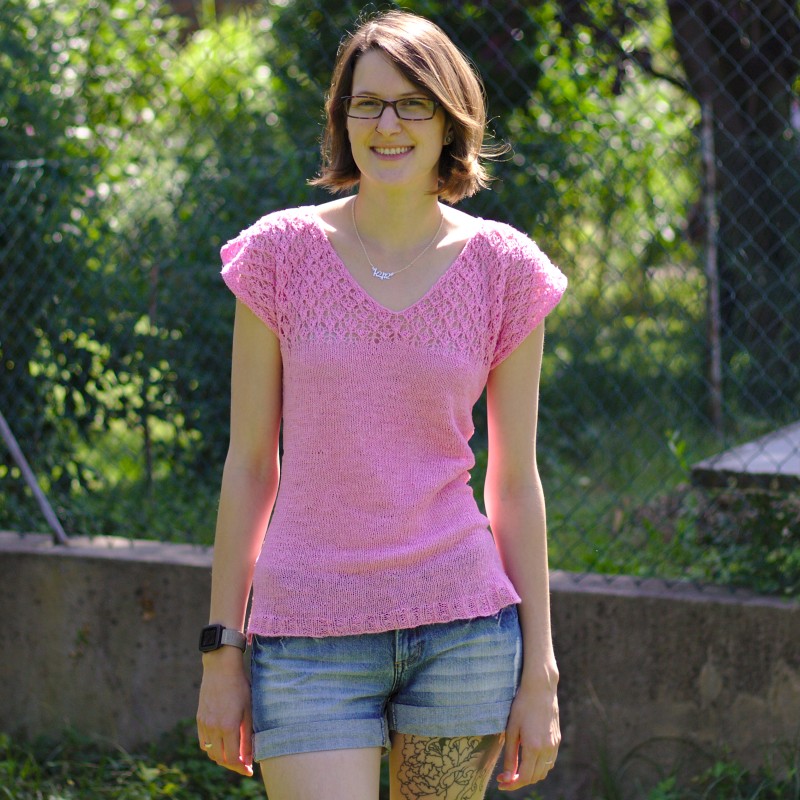 I used up about 200g for this top, which means that I have enough left to make another one :)
Macht's gut!
Katharina