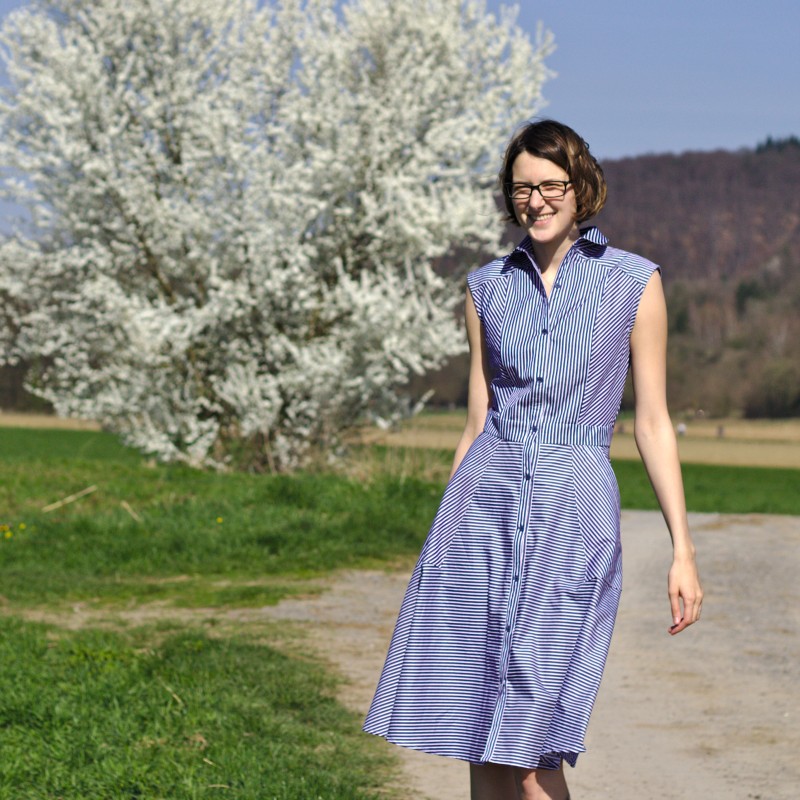 Finally I can show you the newest member of my shirt dress family! It has been finished and in my closet for a while now, I took the pictures in March, but the pattern has only been released this weekend so I waited patiently. I test sewed this dress in February and March for Megan Nielsen. It is called Matilda and it is a cute little shirt dress with lots of smart details. I got an email from the Megan Nielsen Team and all I had to do was click on a button, if I was okay with the conditions and wanted to test sew. No race, no application, no stress. The pattern arrived a few days later in my digital mailbox. Everything was prepared, there was a form to fill out and I knew whom to write if I got into troubles. The whole process seemed very professional and thought through right from the beginning.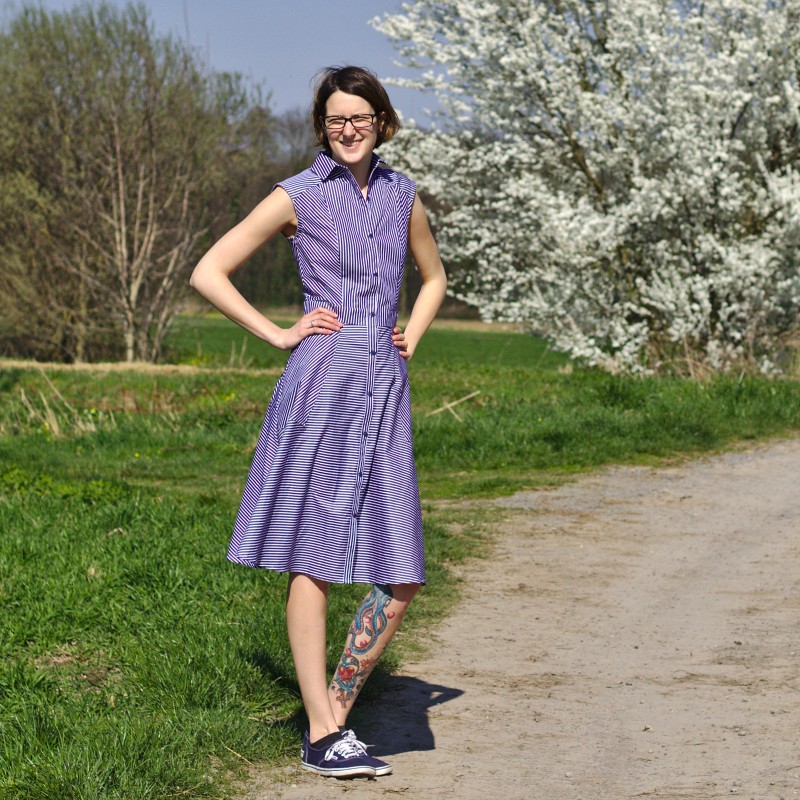 Let's move on to the dress. It's a shirt dress, like I've said, with breast pockets, statement pockets, waistband, A-line skirt, front and back yokes, princess seams, drop shoulders and a collar featuring a collar stand. The seam lines screamed 'stripes' to me and so I made a little detour when we visited Marvin's family in February, to stop by my favorite fabric store. I found some light weight cotton fabric with very narrow blue and white stripes there, perfect for shirts and thus perfect for a shirt dress. I bought 2,5 m of it, because the pattern called for 3.20m. And ..you know me.. I have never bought the amount of fabric that is suggested by the pattern and I have gotten into trouble multiple times for that. But I'm a scrimper and I will never learn. However I ended up using only about 2 m of it. And now I think I'm very clever and I will continue buying less fabric than suggested, ha!
Before cutting into the fabric I printed out the line drawing of the pattern multiple times and drew some blue lines with a marker on it to see the effect different directions of the stripes would have. In the end I decided on this version (and in reality Marvin decided on this version. Not that he wanted to, I nagged him until he gave in and decided on this version):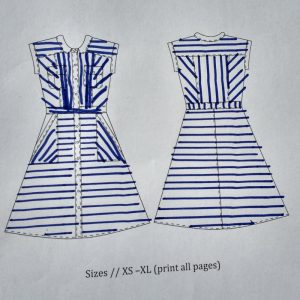 After seeing my 'fashion drawing'. Maybe you now understand why this is the first drawing you have ever seen here! I reeeeally suck at drawing. And I don't really care. Can't be good at everything.
This time I decided to sew size XS. Usually I go for size S in Megan Nielsen patterns, even though the measurement chart suggest I'm a size XS. I don't even know why I always do that, but all the skirts I've made so far fit me well. The Darling Ranges dress though could be a little tighter. So i decided to rely on the chart this time and sew size XS. I made a muslin before cutting into my fabric. With the Darling Ranges dress I had to adjust the shoulder slope but this dress fit me well after I had made my usual lengthening.
I omitted the breast pockets because I thought they would be too much with the striped fabric. I also omitted the sleeve bands for the same reason. I cut the pattern pieces out but when it was time to attach the sleeve bands I decided the dress looked a little calmer without them and I finished the sleeves with binding instead. Another change I made was to cut the back skirt on the fold instead of cutting two pieces and sewing them together at the center back seam. My fabric was wide enough to allow for that and I could spare the time to match the stripes at the center back.
I was happy that I didn't chose wider stripes, I think it would have been much more work to cut all the pieces symmetrically. I didn't have to care that much about that, because nobody will notice. I tried to omit marching stripes which was relatively easy with all those pattern pieces. I simply cut the stripes in different directions when two pattern pieces met :) I had to match stripes at the side seams though and I did a decent job methinks.
I thought about topstitching more and I even topstitched my first seams but removed it because I thought it looked too much. So I only topstitched those seams that otherwise would have needed handstitching like the collar, the button bands, the sleeves and the hem.
Because of the drop shoulders I knew that this dress was for summer (I think the sleeves will look stupid underneath a tight cardigan) I didn't even bother thinking about lining this dress. Also I have never lined a shirt dress in my life before, I find it much easier just to wear a slip dress underneath. However, the lack of lining made it absolutely necessary to french seam all the inside seams. Ha, no I'm just kidding ;) I Just like doing french seams and I did my best here. I also find it easier to match stripes and use french seams, you have two attempts to get it right.
I thought about installing red buttons, or something more striking. But again I thought that would have been too much (and again in reality Marvin thought it was too much and again, he didn't have a choice.. poor Marvin). Now the buttons are very plain and blue.
I really loved the instructions. They have everything. Lots of tips and suggestions for variations and modifications and very explanatory technical drawings. They explanations are kept short and are very clear. I know that everybody likes different styles of instructions but I think these are for almost everybody and certainly for people who need pictures to understand and for people who like reading better.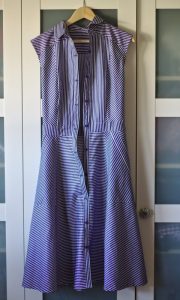 Apart from that I think this pattern is a little more sophisticated than the other Megan Nielsen patterns I have tried so far. Usually there are far less pattern pieces and one of them usually is a rectangle. Even the Darling Ranges dress had a rectangular skirt. And I like Megan Nielsen Designs because they are so simple and yet special because of all those smart little details. That makes them easy to sew too. Sewing this dress is definitely more work and not that simple, but still simple for the outcome. If you know what I mean. I think it looks like it was harder to sew than it actually was :) And you really have a lot of options here.
Another thing that I think was very positive was the test sewing process itself. Everything was so well managed and in order and just efficient. There were mistakes in the instructions and things that weren't super clear, but nothing big. And the mistakes were immediately fixed. Even though I am not living in the same time zone as the Megan Nielsen team I got answers and corrections pretty quickly. Everybody was nice and I always felt appreciated for criticizing. I also liked that the test sewing was in March and the pattern came out just now. That left everyone enough time to really work on inconsistencies and such, there was no rush. I think this was the most professional test sewing I ever participated in.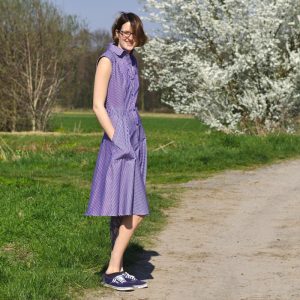 And the best thing is: I really like my new dress. I like how it fits me, that it is a little looser, what makes it perfect for summer! I was already on the look out for a shirt dress with a collar stand and this really came at the perfect time. I also love how the front of the bodice looks, the shape of the yokes is great. And those style lines! :) And those huuuge pockets! I'm glad I was able to test sew this one, it was a lot of fun! :)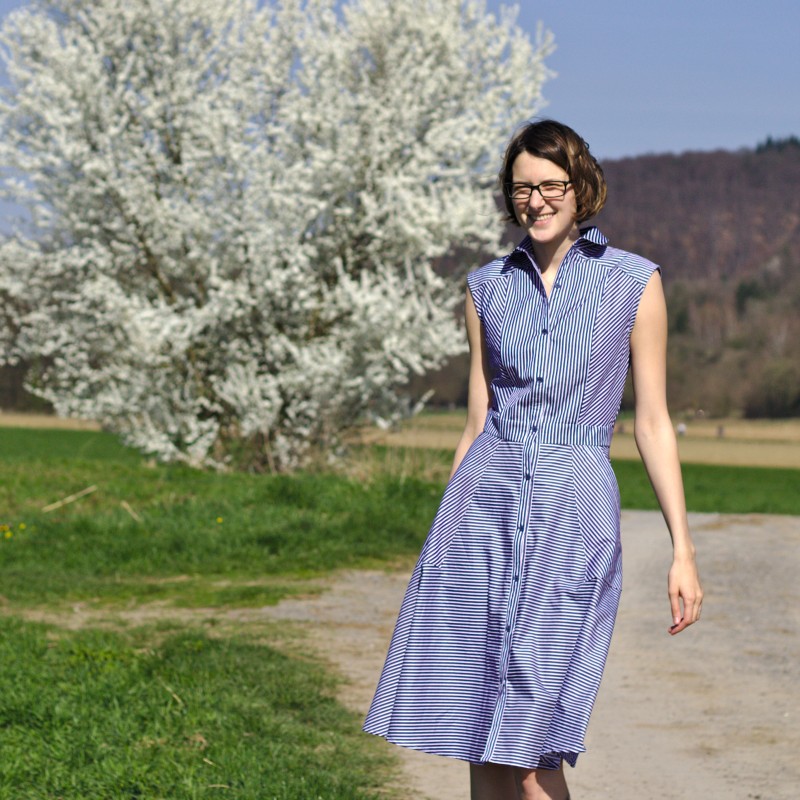 Last but not least an outtake. I wanted to tale a picture of the dress all buttoned up but the bright light was just too much for me.
Macht's gut!
Katharina