This is already my fifth time participating in the Outfit Along (OAL). It started back in 2014 when I knit my first seamless top down sweater and sewed my Indie-Designer pattern. Both were eye opening experiences. For everyone who does not know the Outfit Along, you can read about it here. In summary it is a knit along combined with a sew along with the goal of making a whole outfit during June and July and showing it off on Raverly. The event is organized by Andi Satterlund and Lauren aka Lladybird.Andi always publishes a new knitting pattern specifically for The OAL and Lauren always picks a featured sewing pattern. The knitting pattern is a full length linen summer top called Waters, the sewing pattern is the famous Lander Pants Pattern.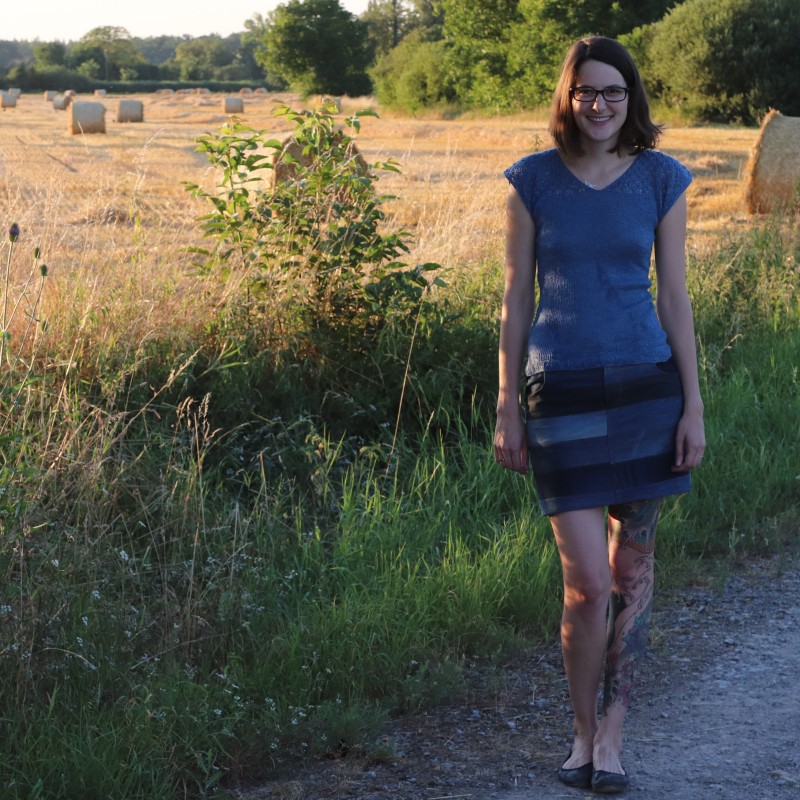 I wasn't sure if I was going to participate this year, I knew I would have the same problems with the Waters Top as I had with the Zinone Top 2 years ago: finding a suitable yarn. The suggested yarn is Quince&Co Sparrow, which is lovely but kind of hard to get and thus unreasonably expensive here in Germany. When I was looking for yarn to make Zinone I wasn't able to find a similar yarn that would have allowed me to obtain the gauge. I am also not that super fond about the Lander Pants. They're nice and all, but well… Those clothes that a lot of people like right now are just what I personally like to wear a lot. Which is fine. My time will come again ;)
But not participating really wasn't an option, was it? Plus I still had 300g handspun linen yarn in my stash that I made last year. I mean the OAL is much more fun when you make the same clothes everybody else is making, but if you don't it still is fun anyways :)
And so I decided to make another top from the linen yarn. Similar to the one I already made from this yarn. I really like this top especially when it is hot! However I made some adjustments first. I decided that I had to stop knitting the lace pattern earlier, it definitely reached to deep, so deep in fact that sometimes I didn't feel comfortable wearing the top with nothing underneath. Also I had to lengthen the fronts in the sleeve area, so that the shoulder seam isn't centered on my shoulders but a bit behind my shoulders. I also decided to knit with smaller needles: 2.0 mm. Pretty small! Apart from that I stuck to the notes I made last time.
The yarn was white when I knit the top. I dyed the top afterwards in my washing machine. I used a deep blue color, but didn't use so much of it, so that it wouldn't turn out too dark. Unfortunately that didn't work out so well and I'm sure you can see the two darker spots on the front of the top. I hope they will fade a little after washing the top more. If not I will have to dye the whole top darker. I'm sure that will look nice too.
It took me ages to decide what to sew. I wanted to knit the top full length so waist skirt was out. Some days I thought shorts other days I thought skirt and I just couldn't make up my mind. I didn't have anything appealing in my stash and in the end I was pragmatic and decided to sew a denim skirt. I wanted to do that for a long time, but it just didn't sound like something fun to sew in my head. I have made a denim skirt from a Burda pattern ages ago, but I never really liked it. So I decided not to use the Burda pattern I bought back then but to hack a jeans pattern into a denim skirt pattern. Because I wanted to make the skirt from non-stretchy fabric I used the pattern of the 1083-202 jeans.
It actually wasn't that much I had to change. Get rid of the crotch seam, straighten the center back and front seams, widening and straitening the side seams underneath the hip a little and I was good to go. I knew I had to test the hacked pattern first but didn't feel like making a muslin. So I decided to make a wearable muslin from Marvin's old jeans. I cut the legs of several of his old pants into 8 cm wide stripes and sewed them together.
And that looked so nice that I decided to put some effort into this wearable muslin. I overlocked all the seams and topstichted them. For the back yoke, belt loops and waistband I used some left over fabric from a pair of jeans I made for Marvin.
I cut the pockets from old jeans too. The tops of the back pockets once were hems! How clever is that?! :D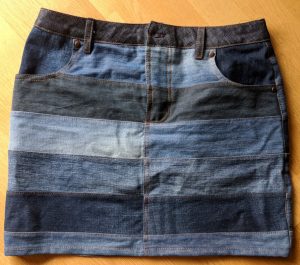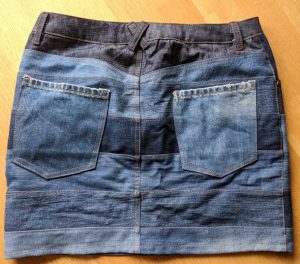 When I cut out the skirt's pieces I tried to align the stripes and that worked out quite alright I think :) The whole sewing process was straightforward. Sewing a denim skirt isn't that different from sewing jeans, it's actually easier. I sewed the front fly as per the Closet Case Ginger jeans front fly tutorial. All the extra seam allowances and topstitching made it a little harder to sew this skirt, but it really was alright. Before I sewed the side and center seams I basted the skirt together to see if it fit me. Because you know, I didn't test the pattern and now that I had put so much effort into this skirt already I wanted to make sure that I would be able to wear it. Turns out the skirt was too tight. Nothing that a 1.5cm seam allowance could not fix ;) I sewed the center and seams seams with a 0.7 cm seam allowance and that did the trick, the skirt fits :)
In the middle of the process Marvin made a remark about the length of the skirt. He thought it looked short. I measured my favorite rtw denim skirt to determine the right length but I was worried form that point on that the skirt would turn out too short. But I'm quite happy with the length. Denim skirts should not bee too long in my opinion and this one is long enough in my opinion and Marvin's too. Phew ;) I'm quite happy with the whole skirt not just the length. I think it is perfect with the uni colored top, interesting but not distracting. And I had so much fun making this skirt! Just cutting and sewing stuff together not worrying about grain lines, color compositions and such and not having a real plan. I should do that way more often.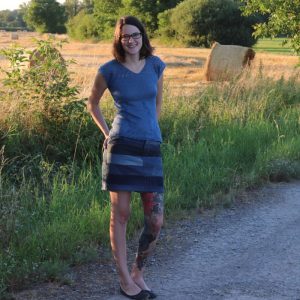 I'm thinking about writing a pattern for the top. But first I'll ave to find a thin summer yarn that I like. Preferably linen or rayon and not cotton. Well, linen is great, I think I need to find a linen yarn.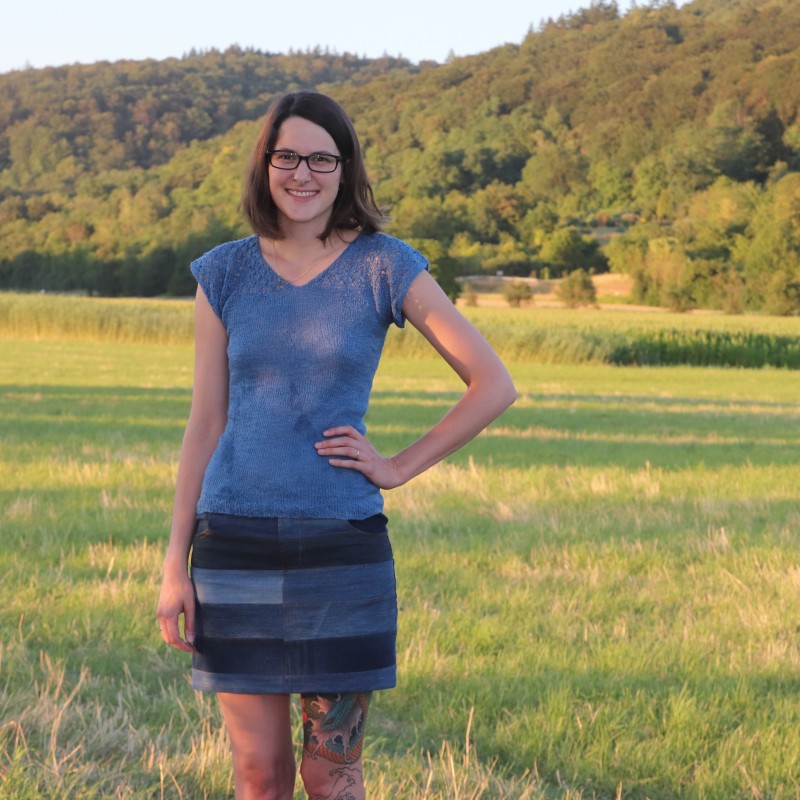 You should definitely check out what the others have made during the OAL and if you want you can find my project on Ravelry here! :)
Have a good one!
Katharina