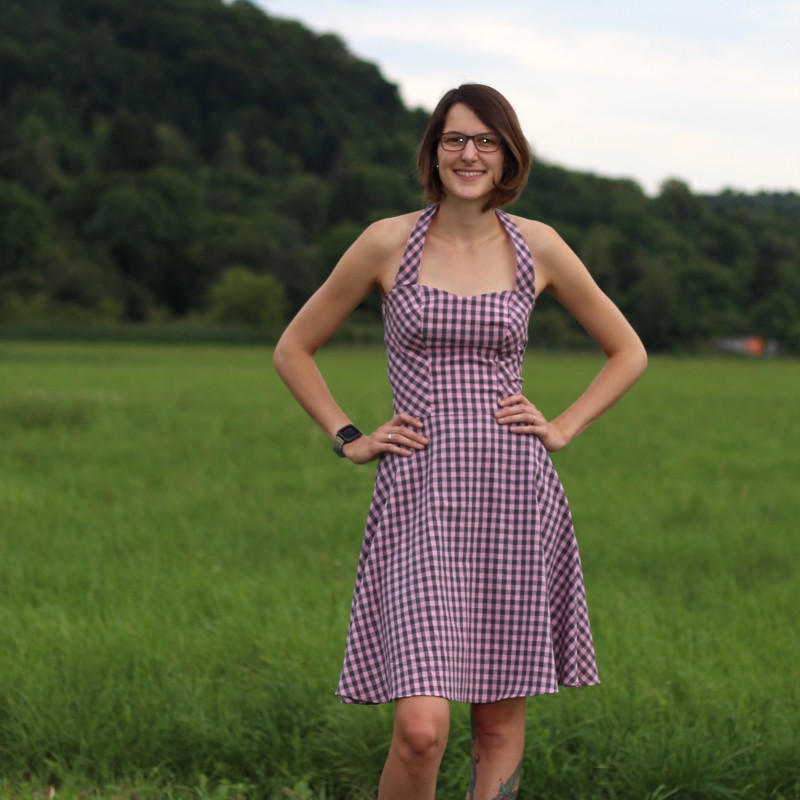 As promised here's another summer dress :) I didn't plan to make this dress, this dress wanted to be made :) I had the fabric in my stash for quite a while, but I wasn't too happy with the colors and I wanted to sew another halter-neck dress from the Great British Sewing Bee Book by Tessa Evelegh and one day the fabric and the pattern found together in my head. And I knew I wanted to give the thing a try right away!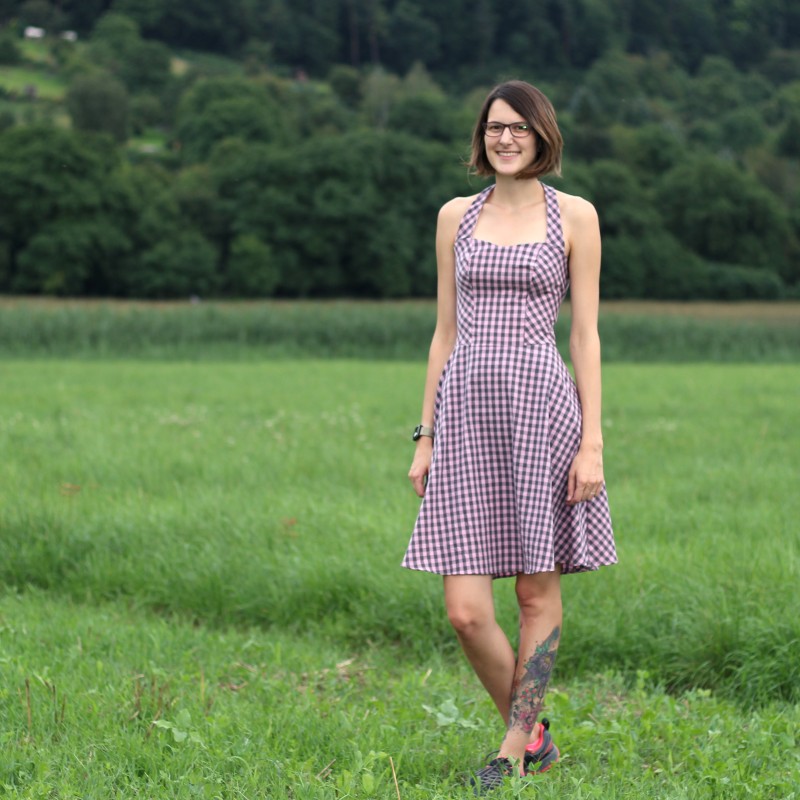 This time I wanted a real halter-neck dress. Last time I replaced the halter-neck strap with shoulder straps. How boring. But at this time I tended not to wear dresses when they called for a special kind of bra. But theses days I kind of stopped wearing bras. So problem solved ;)
When fabric and pattern came together in my head I thought that the princess seams of the pattern would be perfect to use with a plaid fabric! I looove plaid fabric and I love going craaaazy with plaids. Hahaha. I also really like the sweetheart neckline of this dress. And it fit me almost right out of the envelope (after lengthening) and I wore my first version of this dress a lot this summer.
Sounds like a perfect match, right? Weeeell, I bought the fabric and thought I'd make a shirt from it. So I only bought 1.5 m. And because I wasn't so fond of the fabric I'd already used parts as a lining for something (I don't even remember for what exactly). It was a real challenge. Especially cutting the bodice sides on the bias. But I managed it! The skirt is quite a bit shorter than in the original pattern, but there is a 5 cm hem allowance included that I didn't use, so in the end my skirt's length is fine! :) I had to line the halter neck strap with another fabric and I used this fabric for the facing pieces too. I didn't have enough of that fabric to make pockets though. So no pockets.
I thought about moving the zipper to the center back. But that would have needed more fabric and I installed a side zipper to my first version and liked it.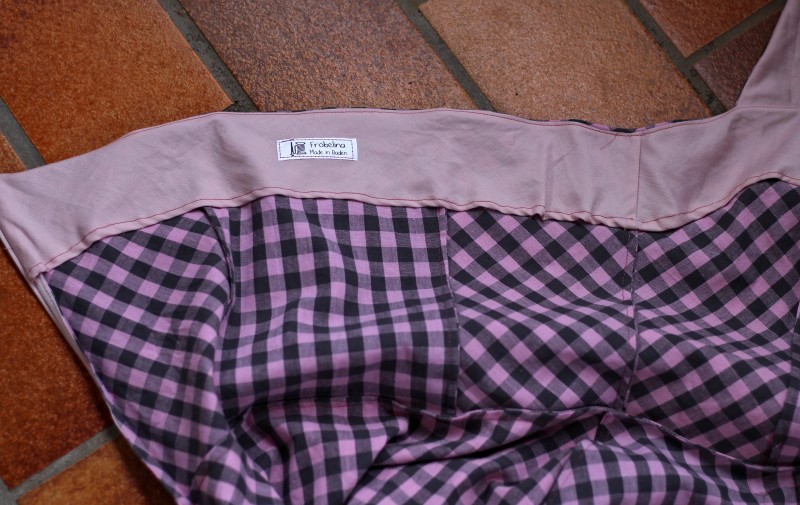 Everything came together pretty quickly. I didn't line the dress which sped up the process. I french seamed all the seams. Luckily I didn't have enough fabric to even think about pattern matching, so I didn't have to fuss about that while sewing ;)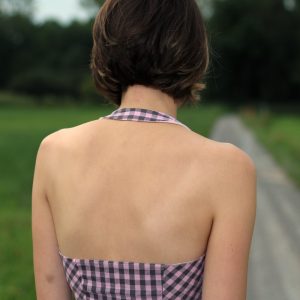 Before I attached the halter-neck strap I tried the dress on to determine its perfect length. I didn't have to change anything. Which means that people who are smaller than me, might need to adjust the length of the strap.
I let the dress hang for a few days before hemming it, which in this case was a good idea, I had to adjust the hem a lot at the sides. Afterwards I simply machine stitched the hem into place. I did fasten the facings with some hand stitches, though I don't like hand sewing. But I like moving facings even less…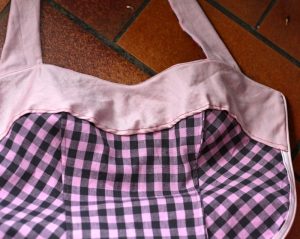 I didn't like the instructions in the book. I was happy though that there is a measurement chart and seam allowances included . But like with most sewing books there are lots of general explanations in the first half on the book and the instructions for sewing up the pattern are kept suuuper short, because it is assumed that you have read everything in the first half of the book. The drawings are not very helpful and I dearly missed some markings on the pattern to determine which side is the side seam of the side bodice pieces, but you have to figure that out by yourself. However, it is not a mystery how this dress comes together and I didn't run into any problems even without instructions.
As you can see in the pictures the dress fits and I feel comfortable in it. However, the halter-neck strap might be a little too long. Actually I'm not quite sure what it is. The instructions tell you to reinforce the bodice seams with boning, which I didn't do, bu I think that would have helped keeping th dress up. Part of the problem is also the very soft fabric, it has no stand at all. However, this is more of a minor issue, I just noticed it and at no point I was fearing I would lose the dress ;)
As I said, I didn't dislike the side zipper in my previous version of the dress. But as the fabric of this dress here has much less stand I can feel the zipper a lot more. The dress is much stiffer at the side were I applied the zipper. So next time I will think about actually moving the zipper to the center back.
Apart from theses issues I'm happy with how the dress turned out. I really like the combination of fabric and pattern :) And the dress feels so summery and breezy :)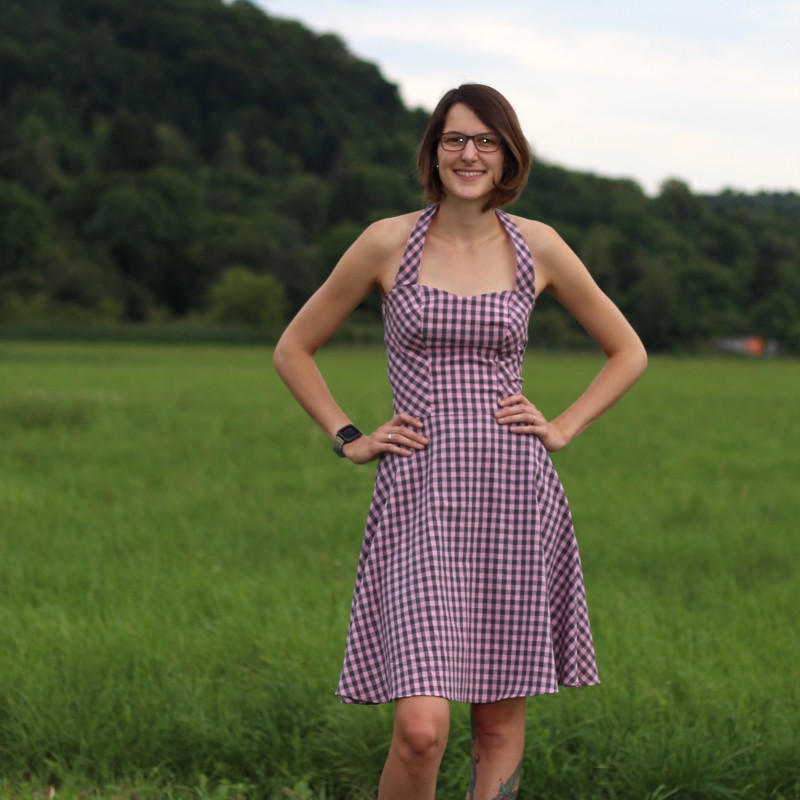 That's all I have to say about this dress. But don't worry, this will not be the last summer dress of this year, ha! ;)
Macht's gut!
Katharina